Abstract
Despite being an autotrophic organism, Galdieria phlegrea (Galdieriaceae) has the ability to use glycerol thereby switching to heterotrophy in the dark and mixotrophy in the presence of light. To examine cellular changes during the switch to mixotrophic metabolism and finally to photoautotrophic metabolism, heterotrophic cells of G. phlegrea were exposed to light and split into two subcultures. Cells exposed only to light but cultivated in medium containing glycerol grew with a recovery time of at least 3 days. In a parallel culture, the simultaneous removal of glycerol from the culture medium and light exposure allowed Galdieria cells to rapidly recover their growth rate due to their ability to rapidly absorb ammonium from the medium. However, contrary to expectation, a higher content of total soluble protein was observed in light-exposed cells cultivated in medium containing glycerol compared to cells cultivated without glycerol. In addition, the level of Rubisco in cells exposed to light and cultivated without glycerol was higher than those in cells cultivated in medium containing glycerol, indicating full photosynthetic functionality after only 3 days of light treatment. The greater chlorophyll a content confirms that the photosynthetic activity of cells cultivated without glycerol recovers earlier than that of heterotrophic cells exposed to light but still cultivated in medium containing glycerol.
Access options
Buy single article
Instant access to the full article PDF.
US$ 39.95
Tax calculation will be finalised during checkout.
Subscribe to journal
Immediate online access to all issues from 2019. Subscription will auto renew annually.
US$ 79
Tax calculation will be finalised during checkout.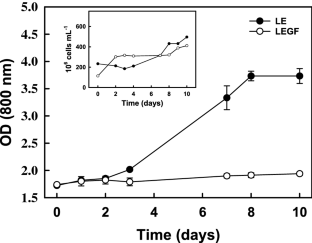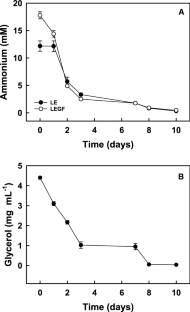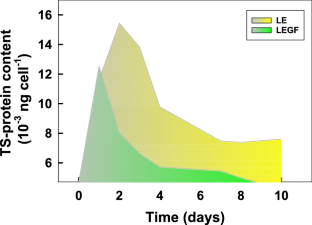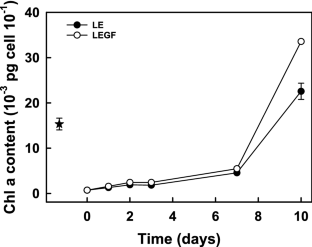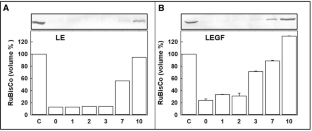 References
Allen MB (1959) Studies with Cyanidium caldarium an anomalously pigmented chlorophyte. Archiv Microbiol 32(3):270–277

Barcytė D, Elster J, Nedbalová L (2018) Plastid-encoded rbcL phylogeny suggests widespread distribution of Galdieria phlegrea (Cyanidiophyceae, Rhodophyta). Nord J Bot 36(7):e01794

Bondioli P, Della Bella L (2005) An alternative spectrophotometric method for the determination of free glycerol in biodiesel. Eur J Lipid Sci Technol 107:153–157

Bradford MA (1976) Rapid and sensitive method for the quantitation of microgram quantities of protein utilizing the principle of protein-dye binding. Anal Biochem 72:248–254

Carfagna S, Lanza N, Salbitani G, Basile A, Sorbo S, Vona V (2013) Physiological and morphological responses of Lead or Cadmium exposed Chlorella sorokiniana 211–8K (Chlorophyceae). SpringerPlus 2:147–154

Carfagna S, Bottone C, Cataletto PR, Petriccione M, Pinto G, Salbitani G, Vona V, Pollio A, Ciniglia C (2016) Impact of sulfur starvation in autotrophic and heterotrophic cultures of the extremophilic microalga Galdieria phlegrea (Cyanidiophyceae). Plant Cell Physiol 57(9):1890–1898

Carfagna S, Landi V, Coraggio F, Salbitani G, Vona V, Pinto G, Pollio A, Ciniglia C (2018) Different characteristics of C-phycocyanin (C-PC) in two strains of the extremophilic Galdieria phlegrea. Algal Res 31:406–412

Girard JM, Roy ML, Hafsa MB, Gagnon J, Faucheux N, Heitz M, Tremblay R, Deschênes JS (2014) Mixotrophic cultivation of green microalgae Scenedesmus obliquus on cheese whey permeate for biodiesel production. Algal Res 5:241–248

Gross W (2000) Ecophysiology of algae living in highly acidic environments. Hydrobiologia 433:31–37

Gross W, Oesterhelt C (1999) Ecophysiological studies on the red alga Galdieria sulphuraria isolated from South-West Iceland. Plant Biol 1:694–700

Gross W (1998) Revision of comparative traits for the acido- and thermophilic red algae Cyanidium and Galdieria. In: Seckbach J (ed) Enigmatic microorganisms and life in extreme environments. Kluwer Scientific Academic Publishers, Dotrecht, pp 437–446

Gross W, Schnarrenberger C (1995) Heterotrophic growth of two strains of the acidothermophilic red alga Galdieria sulphuraria. Plant Cell Physiol 36(4):633–638

Guschina IA, Harwood JL (2006) Lipids and lipid metabolism in eukaryotic algae. Prog Lipid Res 45(2):160–186

Kaveh D, Harel E (1973) Light-induced changes in the pattern of protein synthesis during the early stages of greening of etiolated maize leaves. Plant Physiol 51:671–676

Laemmli UK (1970) Cleavage of structural proteins during the assembly of the head of bacteriophage T4. Nature 227:680–685

Martinez-Garcia M, Stuart MCA, van der Maarel MJEC (2016) Characterization of the highly branched glycogen from the thermoacidophilic red microalga Galdieria sulphuraria and comparison with other glycogens. Int J Biol Macromol 89:12–18

Merola A, Castaldo R, De Luca P, Gambardella R, Musachio A, Taddei R (1981) Revision of Cyanidium caldarium. Three species of acidophilic algae. Gi Bot It 115:189–195

Nzayisenga JC, Eriksson K, Sellstedt A (2018) Mixotrophic and heterotrophic production of lipids and carbohydrates by a locally isolated microalga using wastewater as a growth medium. Bioresour Technol 257:260–265

Oesterhelt C, Gross W (2002) Different sugar kinases are involved in the sugar sensing of Galdieria sulphuraria. Plant Physiol 128:291–299

Oesterhelt C, Vogelbein S, Shrestha RP, Stanke M, Weber APM (2008) The genome of the thermoacidophilic red microalga Galdieria sulphuraria encodes a small family of secreted class III peroxidases that might be involved in cell wall modification. Planta 227:353–362

Ohlroggeav J, Browseb J (1995) Lipid biosynthesis. Plant Cell 7:957–970

Patel AK, Joun JM, Hong ME, Sim SJ (2019) Effect of light conditions on mixotrophic cultivation of green microalgae. Bioresour Technol 282:245–253

Pinto G, Ciniglia C, Cascone C, Pollio A (2007) Species composition of Cyanidiales assemblages in Pisciarelli (Campi flegrei, Italy) and description of Galdieria phlegrea sp.nov. In: Seckbach J (ed) Algae and cyanobacteria in extreme environments. Springer, Dordrecht, pp 489–502

Pfannschmidt T, Allen JF, Oelmuller R (2001) Principles of redox control in photosynthesis gene expression. Physiol Plant 112:1–9

Roostaei J, Zhang Y, Gopalakrishnan K, Ochocki AJ (2018) Mixotrophic microalgae biofilm: a novel algae cultivation strategy for improved productivity and cost-efficiency of biofuel feedstock production. Sci Rep 8:12528

Sadava D, Moore K (1987) Glycerol metabolism in higher plants: glycerol kinase. Biochem Biophys Res Commun 143:977–983

Sakurai T, Aoki M, Ju X, Ueda T, Nakamura Y, Fujiwara S, Unemura T, Tsuzuki M, Minoda A (2016) Profiling of lipid and glycogen accumulations under different growth conditions in the sulfothermophilic red alga Galdieria sulphuraria. Bioresour Technol 200:861–866

Stadnichuk I, Rakhimberdieva M, Bolychevtseva Y, Yurina N, Karapetyan N, Selyakh I (1998) Inhibition by glucose of chlorophyll a and phycocyanobilin biosynthesis in the unicellular red alga Galdieria partita at the stage of coproporphyrinogen III formation. Plant Sci 136:11–23

Tischendorf G, Oesterhelt C, Hoffmann S, Girnus J, Schnarrenberger C, Gross W (2007) Ultrastructure and enzyme complement of proplastids from hetrotrophically grown cells of the red alga Galdieria sulphuraria. Eur J Phycol 42(3):243–251

Viana MB, Freitas AV, Leitão RC, Pinto GAS, Santaella ST (2012) Anaerobic digestion of crude glycerol: a review. Environ Technol Rev 1:81–92

Vivek N, Sindhu R, Madhavan A, Anju AJ, Castro E, Faraco V, Pandey A, Binod P (2017) Recent advances in the production of value added chemicals and lipids utilizing biodiesel industry generated crude glycerol as a substrate - metabolic aspects, challenges and possibilities: an overview. Bioresour Technol 239:507–517

Zhan J, Rong J, Wang Q (2017) Mixotrophic cultivation, a preferable microalgae cultivation mode for biomass/bioenergy production, and bioremediation, advances and prospect. Int J Hydrogen Energy 42(12):8505–8517
Acknowledgements
This research was supported by the program STAR-2018 (Sostegno Territoriale alle Attività di Ricerca) funded by University of Naples Federico II and Compagnia di San Paolo.
Ethics declarations
Conflict of interest
The authors declare that the research was conducted in the absence of any commercial or financial relationships that could be construed as a potential conflict of interest.
Additional information
Publisher's Note
Springer Nature remains neutral with regard to jurisdictional claims in published maps and institutional affiliations.
About this article
Cite this article
Salbitani, G., Cipolletta, S., Vona, V. et al. Heterotrophic Cultures of Galdieria phlegrea Shift to Autotrophy in the Presence or Absence of Glycerol. J Plant Growth Regul 40, 371–378 (2021). https://doi.org/10.1007/s00344-020-10109-0
Received:

Accepted:

Published:

Issue Date:
Keywords
Galdieria phlegrea

Glycerol

Heterotrophy

Light

Mixotrophy