Abstract
Deep placement of nitrogen (N) fertilizer has become one of the effective management practices for increasing crop yield and improving N recovery efficiency (NRE). However, it is unclear how different N fertilization depths affect grain yield, nitrogen use efficiency, and root characteristics in direct-seeded rice (DSR) in South China. Here, we conducted stainless steel-box experiment to evaluate the effects of different N fertilization depths at four fertilization depths (0, 4, 8, and 12 cm, written as D0, D4, D8, and D12, respectively) with a conventional ammonium bicarbonate fertilizer (TN = 17.7%) (150 kg N ha−1) and a control (no N fertilizer applied, CK) on grain yield, NRE, and root characteristics of DSR. The results indicated that both D8 and D12 significantly increased grain yields by 72.91 and 81.84%, respectively, compared with CK. The highest nitrogen agronomic efficiency (NAE) and NRE were found under D12 treatment, which were increased by 165.42 and 129.45% compared to D0, respectively. We also found that deep placement of N fertilizer (both D8 and D12) could also promote rice root growth such as larger root length, root superficial area, and thicker root diameter. Furthermore, nitrate reductase (NR), glutamine synthetase (GOGAT), and glutamine synthetase (GS) activities of flag leaves at the heading stage were also increased. The result shows that both 8 and 12 cm are relatively reasonable fertilization depths depended on adopted rice varieties when ammonia bicarbonate fertilizer is used in DSR production.
Access options
Buy single article
Instant access to the full article PDF.
US$ 39.95
Tax calculation will be finalised during checkout.
Subscribe to journal
Immediate online access to all issues from 2019. Subscription will auto renew annually.
US$ 79
Tax calculation will be finalised during checkout.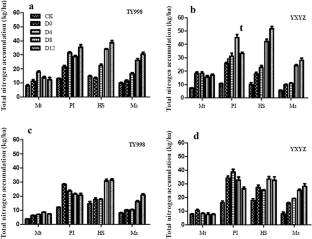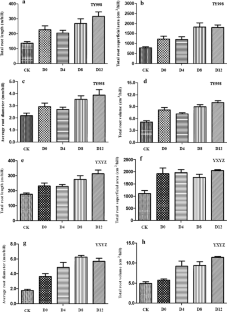 References
Adviento-Borbe MA, Linquist B (2016) Assessing fertilizer N placement on CH4 and N2O emissions in irrigated rice systems. Geoderma 266:40–45

Alimata B, Fofana B, Sansan Y, Ebenezer S, Robert A, Opoku A (2015) Effect of fertilizer deep placement with urea supergranule on nitrogen use efficiency of irrigated rice in Sourou Valley (Burkina Faso). Nutr Cycl Agroecosyst 102:79–89

Chen S, Cai SG, Chen X, Zhang GP (2009) Genotypic differences in growth and physiological responses to transplanting and direct seeding cultivation in rice. Rice Sci 16(2):143–150

Chen S, Liu SW, Zheng X, Yin M, Chu G, Xu CM, Yan JX, Chen LP, Wang DY, Zhang XF (2018a) Effect of various crop rotations on rice yield and nitrogen use efficiency in paddy-upland systems in southeastern China. Crop J 6:576–588

Chen XF, Wang ZM, Shi QH, Luo XW, Mo ZW, Zhang MH, Yang WW, Zhang XF (2018b) Effects of mechanical deep fertilization treatment on yield and root distribution of super rice. China Rice 24(6):13–17 (in Chinese with English abstract)

Geng JB, Sun YB, Zhang M, Ch Li CL, Yang YC, Liu ZG, Li SL (2015) Long-term effects of controlled release urea application on crop yields and soil fertility under rice-oilseed rape rotation system. Field Crops Res 184:65–73

Guo GH, Liu XJ, ZhangY SJL, Han WX, Zhang WF, Christie P, Goulding KWT, Witousek PM, Zhang FS (2010) Significant acidification in major Chinese croplands. Science 327(19):1008–1010

Ke J, He RC, Hou PF, Ding C, Ding YF, Wang SH, Liu ZH, Tang S, Ding CQ, Chen L, Li GH (2018) Combined controlled-released nitrogen fertilizers and deep placement effects of N leaching, rice yield and N recovery in machine-transplanted rice. Agric. Ecosyst. Environ 265:402–412

Huda A, Gaihre YK, Islam MR, Singh U, Islam MR, Sanabria J, Satter MA, Afroz H, Halder A, Jahiruddin M (2016) Floodwater ammonium, nitrogen use efficiency and rice yields with fertilizer deep placement and alternate wetting and drying under triple rice cropping systems. Nutr Cycl Agroecosyst 104:53–66

Kirda C, Topcu S, Kaman H, Ulger AC, Yazici A, Cetin M, Derici MR (2005) Grain yield response and N-fertilizer recovery of maize under deficit irrigation. Field Crops Res 93:132–141

Li HS (2006) Principles and techniques of plant physiology and biochemistry. Higher Education Press, Beijing (in Chinese)

Li S, Jiang H, Wang J, Wang Y, Pan S, Tian H, Duan M, Wang S, Tang X, Mo Z (2019) Responses of plant growth, physiological, gas exchange parameters of super and non-super rice to rhizosphere temperature at the tillering stage. Sci Rep 9:10618

Li XW, Wang HY, Zhou JM, Hu FQ, Zhu DJ, Chen ZM, Liu YZ (2016) Effect of N fertilization pattern on rice yield, N use efficiency and fertilizer–N fate in the Yangtze River Basin, China. PLoS ONE 11:1–20

Liu H, Hussain S, Zheng M, Peng S, Huang J, Cui K, Nie L (2015a) Dry direct-seeded rice as an alternative to transplanted-flooded rice in Central China. Agron Sustain Dev 35:285–294

Liu K, Yang R, Lu J, Wang X, Lu B, Tian X, Zhang Y (2019) Radiation use efficiency and source-sink changes of super hybrid rice under shade stress during grain-filling stage. Agron J 111:1–11

Liu TQ, Fan DJ, Zhang XX, Chen J, Li CF, Cao CG (2015b) Deep placement of nitrogen fertilizer reduces ammonia volatilization and increases nitrogen utilization efficiency in no-tillage paddy fields in central China. Field Crops Res 184:80–90

Pan SG, Liu HD, Mo ZW, Bob P, Duan MY, Tian H, Hu SJ, Tang XR (2016) Effects of nitrogen and shading on root morphologies, nutrient accumulation, and photosynthetic parameters in different rice genotypes. Sci Rep 6:32148

Pan SG, Wen XC, Wang ZM, Umair A, Tian H, Duan MY, Mo ZW, Fan PS, Tang XR (2017) Benefits of mechanized deep placement of nitrogen fertilizer in direct-seeded rice in South China. Field Crops Res 203:139–149

Peng SB, Huang JL, Sheehy John E, Laza Rebecca C, Viseras Romeo M, Zhong XH, Centeno Grace S, Khush Gurdev S, Cassman Kenneth G (2004) Rice yields decline with higher night temperature from global warming. PNAS 101:9971–9975

Rochette P, Angers DA, Chantigny MH, Gasser MO, MacDonald JD, Pelster DE, Bertrand D (2013) Ammonia volatilization and nitrogen retention: how deep to incorporate urea? J Environ Qual 42(6):1635–1642

Savant NK, Stangel PJ (1990) Deep placement of urea super granules in transplanted rice: principles and practices. Fertil Res 25:1–83

Setyanto P, Makarim AK, Fagi AM, Wassmann R, Buendia LV (2000) Crop management affecting methane emissions from irrigated and rainfed rice in Central Java (Indonesia). Nutr Cycl Agroecosyst 58:85–89

Su W, Liu B, Liu XW, Lia XK, Ren T, Cong RH, Lu JW (2015) Effect of depth of fertilizer banded-placement on growth, nutrient uptake and yield of oilseed rape (Brassica napus L.). Europ J Agronomy 62:38–45

Tian ZW, Zhong W, Liu XX, Gu SL, Yu JH, Zhang L, Zhang WW, Jiang D, Cao WX, Dai TB (2016) Postponed and reduced basal nitrogen application improves nitrogen use efficiency and plant growth of winter wheat. J Integ Agric 17:2648–2661

Wang DY, Xu CM, Ye C, Chen S, Chu G, Zhang XF (2018a) Low recovery efficiency of basal fertilizer-N in plants does not indicate high basal fertilizer-N loss from split-applied N in transplanted rice. Field Crops Res 229:8–16

Wang WQ, Peng SB, Liu HY, Tao Y, Huang JL, Cui KH, Nie LX (2017) The possibility of replacing puddled transplanted flooded rice with dry seeded rice in central China. A review. Field Crops Res 214:310–320

Wang ZX, Zhang FF, Xiao F, Tao Y, Liu ZH, Li GH, Wang SH, Ding YF (2018b) Contribution of mineral nutrients from source to sink organs in rice under different nitrogen fertilization. Plant Growth Regul 86:159–167

Wang JL, Fu ZS, Chen GF, Zou GY, Song XF, Liu FX (2018c) Runoff nitrogen losses and related metabolism enzyme activities in paddy field under different nitrogen fertilizer levels. Environ Sci Pollut Res 25:27583–27593

Xu JZ, Liao LX, Tan JY, Shao XH (2013) Ammonia volatilization in gemmiparous and early seedling stages from direct seeding rice fields with different nitrogen management strategies: a pots experiment. Soil Till Res 126:169–176

Yao YL, Zhang M, TianYH ZM, Zhang BW, Zhao M, Zeng K, Yin B (2018) Urea deep placement for minimizing NH3 loss in an intensive rice cropping system. Field Crops Res 218:254–266

Zhong C, Cao XC, Bai ZG, Zhang JH, Zhu LF, Huang JL, Jin QY (2018) Nitrogen metabolism correlates with the acclimation of photosynthesis to short-term water stress in rice (Oryza sativa L.). Plant Physiol Biochem 125:52–62
Acknowledgements
The research was supported by The Key R & D Program of Guangdong Province (2019B020221003) and National Natural Science Foundation of China (31471442 and 41705092). The authors also would like to express their appreciations to Haowen Luo, Kunlong Yu, Yuqing Chen, Zhenzhao Pan, and Anyi Chen for their hard work and valuable suggestions for field experiment.
Ethics declarations
Conflict of interest
The authors declare no competing interests.
Additional information
Publisher's Note
Springer Nature remains neutral with regard to jurisdictional claims in published maps and institutional affiliations.
About this article
Cite this article
Chen, Y., Fan, P., Mo, Z. et al. Deep Placement of Nitrogen Fertilizer Affects Grain Yield, Nitrogen Recovery Efficiency, and Root Characteristics in Direct-Seeded Rice in South China. J Plant Growth Regul 40, 379–387 (2021). https://doi.org/10.1007/s00344-020-10107-2
Received:

Accepted:

Published:

Issue Date:
Keywords
Deep placement of fertilizer

Grain yield

Nitrogen recovery efficiency

Root characteristics

Direct-seeded rice