Abstract
Polysaccharides extracted from seaweeds can function as plant biostimulants. The aim of this study was to assess the effects of Polysaccharide Enriched Extracts (PEEs) obtained from 17 Moroccan seaweeds, on tomato seed germination and plant growth. Three concentrations (0.02, 0.05 and 0.1 mg mL−1) of PEEs were applied to tomato seeds to evaluate their effect on 3 germination parameters: germination percentage (GP), germination speed (GS) and mean germination time (MGT). Metabolomic analysis by GC–MS was subsequently performed on seedlings. In the second experiment, four PEEs concentrations (0.02, 0.05, 0.1 and 0.2 mg mL−1) were used as foliar spray or as soil application to tomato plants. Their growth parameters (number of leaves, shoot length, fresh and dry weight of stem and roots) and biochemical parameters (chlorophyll a and b) were measured. Results indicated a significant increase of GP and GS associated with a significant reduction of MGT of tomato seeds treated with 0.02 mg mL−1 of PEEs obtained from Gigartina sp., Gigartina pistillata, Chondracanthus acicularis, Gelidium crinale, Schizymenia dubyi, Cystoseira. foeniculacea and Fucus spiralis. Similar results were also obtained by application of higher PEEs concentration (0.1 mg mL−1) extracted from Ulva rigida, Codium tomentosum, Codium decorticatum and Bifurcaria bifurcata. Metabolomic analysis on seedlings detected the presence of some metabolites which could possibly be involved in seed germination enhancement or inhibition. The results of the second experiment showed that the same PEEs cited above at the same concentrations enhanced plant dry weight and chlorophyll a content except Gigartina sp., C. foeniculacea and C. decorticatum. Furthermore, soil application of PEEs was more effective in improving plant growth parameters than foliar application. The study shows the potential of PEEs from Moroccan seaweed to be used as biostimulants for a sustainable agriculture.
Access options
Buy single article
Instant access to the full article PDF.
US$ 39.95
Tax calculation will be finalised during checkout.
Subscribe to journal
Immediate online access to all issues from 2019. Subscription will auto renew annually.
US$ 79
Tax calculation will be finalised during checkout.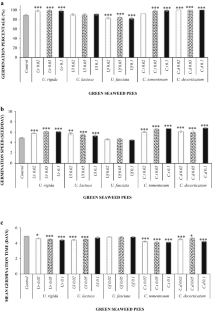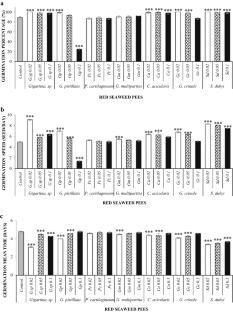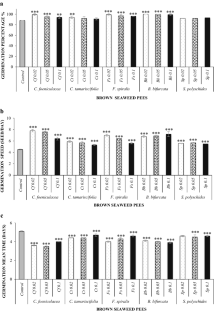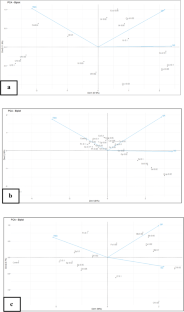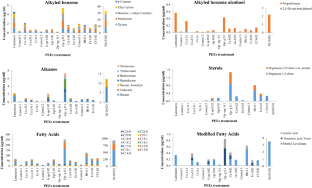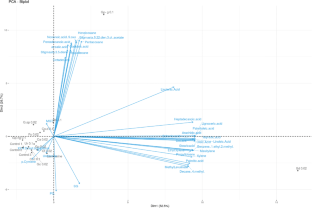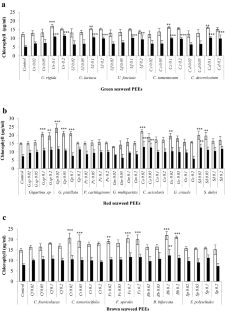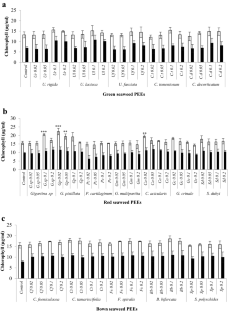 References
Arthur G, Stirk W, Van Staden J (2003) Effect of a seaweed concentrate on the growth and yield of three varieties of Capsicum annuum. S Afr J Bot 69:207–211

Baligar VC, Fageria NK (2015) Nutrient use efficiency in plants: an overview. In: Nutrient use efficiency: from basics to advances. Springer, pp 1–17

Baskin CC, Baskin JM (2014) 'Seeds: ecology, biogeography, and evolution of dormancy and germination, 2nd edn. Elsevier/Academic Press, San Diego, CA

Batabyal S, Dalal T, Tah J (2014) Effect of different seed-sources on germination parameters by means of artificial seed germination of Santalum album L. Int J Pure Appl Biosci 2(2):149–152

Ben Salah I, Aghrouss S, Douira A, Aissam S, El Alaoui-Talibi Z, Filali-Maltouf A, El Modafar C (2018) Seaweed polysaccharides as bio-elicitors of natural defenses in olive trees against verticillium wilt of olive. J Plant Interact 13(1):248–255

Bewley JD, Bradford KJ, Hilhorst HWM, Nonogaki H (2013) Seeds: physiology of development, germination and dormancy, 3rd edn. Springer, New York

Bharath B, Nirmalraj S, Mahendrakumar M, Perinbam K (2018) Biofertilizing efficiency of Sargassum polycystum extract on growth and biochemical composition of Vigna radiata and Vigna mungo. Asian Pac J Reprod 7(1):27

Bi F, Iqbal S, Arman M, Ali A, Hassan MU (2011) Carrageenan as an elicitor of induced secondary metabolites and its effects on various growth characters of chickpea and maize plants. J Saudi Chem Soc 15(3):269–273

Castellanos-Barriga LG, Santacruz-Ruvalcaba F, Hernández-Carmona G, Ramírez-Briones E, Hernández-Herrera RM (2017) Effect of seaweed liquid extracts from Ulva lactuca on seedling growth of mung bean (Vigna radiata). J Appl Phycol 29(5):2479–2488

Castro J, Vera J, González A, Moenne A (2012) Oligo-carrageenans stimulate growth by enhancing photosynthesis, basal metabolism, and cell cycle in tobacco plants (var. Burley). J Plant Growth Regul 31:173–185

Chaiklahan R, Chirasuwan N, Triratana P, Loha V, Tia S, Bunnag B (2013) Polysaccharide extraction from Spirulina sp. and its antioxidant capacity. Int J Biol Macromol 58:73–78

Chen JH (2006) The combined use of chemical and organic fertilizers and/or biofertilizer for crop growth and soil fertility. In: International workshop on sustained management of the soil-rhizosphere system for efficient crop production and fertilizer use, vol 16. Land Development Department Bangkok, Thailand, p 20

Costache MA, Campeanu G, Neata G (2012) Studies concerning the extraction of chlorophyll and total carotenoids from vegetables. Rom Biotechnol Lett 17:7702–7708

Cortina PR, Asis R, Peralta IE, Asprelli PD, Santiago AN (2017) Determination of volatile organic compounds in Andean tomato landraces by headspace solid phase microextraction-gas chromatography-mass spectrometry. J Braz Chem Soc 28(1):30–41

Demir N, Dural B, Yildirim K (2006) Effect of seaweed suspensions on seed germination of tomato, pepper and aubergine. J Biol Sci 6(6):1130–1133

Di Filippo-Herrera DA, Muñoz-Ochoa M, Hernández-Herrera RM, Hernández-Carmona G (2019) Biostimulant activity of individual and blended seaweed extracts on the germination and growth of the mung bean. J Appl Phycol 31(3):2025–2037

Djami-Tchatchou AT, Ncube EN, Steenkamp PA, Dubery IA (2017) Similar, but different: structurally related azelaic acid and hexanoic acid trigger differential metabolomic and transcriptomic responses in tobacco cells. BMC Plant Biol 17(1):227

Dmytryk A, Michalak I, Wilk R, Chojnacka K, Górecka H, Górecki H (2015) Innovative seed treatment with algae homogenate. Waste Biomass Valori 6(4):441–448

Du Jardin P (2012) The science of plant biostimulants—a bibliographic analysis. Final report. Contract No.: 30-CE0455515/00-96, Ad Hoc Study on Bio-Stimulants Products. Ordered by European Commission

Du Jardin P (2015) Plant biostimulants: definition, concept, main categories and regulation. Sci Hortic 196:3–14

EL Arroussi H, Benhima R, Elbaouchi A, Sijilmassi B, EL Mernissi N, Aafsar A, Meftah-Kadmiri I, Bendaou N, Smouni A (2018) Dunaliella salina exopolysaccharides: a promising biostimulant for salt stress tolerance in tomato (Solanum lycopersicum). J Appl Phyco 30(5):2929–2941

Ermakova S, Kusaykin M, Trincone A, Tatiana Z (2015) Are multifunctional marine polysaccharides a myth or reality? Front Chem 3:1–4

Gonzalez A, Castro J, Vera J, Moenne A (2013a) Seaweed oligosaccharides stimulate plant growth by enhancing carbon and nitrogen assimilation, basal metabolism and cell division. J Plant Growth Regul 32:443–448

Gonzalez A, Contreras RA, Moenne A (2013b) Oligo-carrageenans enhance growth and contents of cellulose, essential oils and polyphenolic compounds in Eucalyptus globulus trees. Molecules 18:8740–8751

Gonzalez A, Contreras RA, Zuniga G, Moenne A (2014) Oligocarrageenan kappa-induced reducing redox status and activation of TRR/TRX system increase the level of indole-3-acetic acid, gibberellin A3 and trans-zeatin in Eucalyptus globulus trees. Molecules 19:12690–12698

Hernández-Herrera RM, Santacruz-Ruvalcaba F, Briceño-Domínguez DR, Di Filippo-Herrera DA, Hernández-Carmona G (2018) Seaweed as potential plant growth stimulants for agriculture in Mexico. Hidrobiológica 28(1):129–140

Hernández-Herrera RM, Santacruz-Ruvalcaba F, Ruiz-López MA, Norrie J, Hernández-Carmona G (2014) Effect of liquid seaweed extracts on growth of tomato seedlings (Solanum lycopersicum L). J Appl Phycol 26(1):619–628

Hernández-Herrera RM, Santacruz-Ruvalcaba F, Zañudo-Hernández J, Hernández-Carmona G (2016) Activity of seaweed extracts and polysaccharide-enriched extracts from Ulva lactuca and Padina gymnospora as growth promoters of tomato and mung bean plants. J Appl Phycol 28(4):2549–2560

Hong DD, Hien HM, Son PN (2007) Seaweeds from Vietnam used for functional food, medicine and biofertilizer. J Appl Phycol 19:817–826

Hu X, Jiang X, Hwang H, Liu S, Guan H (2004) Promotive effects of alginate-derived oligosaccharide on maize seed germination. J Appl Phycol 16(1):73–76

Kadmiri MI, Chaouqui L, Azaroual SE, Sijilmassi B, Yaakoubi K, Wahby I (2018) Phosphate-solubilizing and auxin-producing rhizobacteria promote plant growth under saline conditions. Arab J Sci Eng 43(7):3403–3415

Kamthan A, Kamthan M, Chakraborty N, Chakraborty S, Datta A (2012) A simple protocol for extraction, derivatization, and analysis of tomato leaf and fruit lipophilic metabolites using GC-MS. Protocol Exchange

Kazmi RH, Willems LA, Joosen RV, Khan N, Ligterink W, Hilhorst HW (2017) Metabolomic analysis of tomato seed germination. Metabolomics 13(12):145

Khan ZH, Khan MMA, Aftab T, Idrees M, Naeem M (2011) Influence of alginate oligosaccharides on growth, yield and alkaloid production of opium poppy (Papaver somniferum L.). Front Agric China 5(1):122–127

Khan W, Rayirath UP, Subramanian S, Jithesh MN, Rayorath P, Hodges DM, Prithiviraj B (2009) Seaweed extracts as biostimulants of plant growth and development. J Plant Growth Regul 28(4):386–399

Kumar G, Sahoo D (2011) Effect of seaweed liquid extract on growth and yield of Triticum aestivum var. Pusa Gold J Appl Phycol 23(2):251–255

Laporte D, Vera J, Chandía NP, Zuñiga E, Matsuhiro B, Moenne A (2007) Structurally unrelated oligosaccharides obtained frommarine macroalgae differentially stimulate growth and defense against TMVin tobacco plants. J Appl Phycol 19:79–88

Liu S, Ruan W, Li J, Xu H, Wang J, Gao Y, Wang J (2008) Biological control of phytopathogenic fungi by fatty acids. Mycopathologia 166(2):93–102

Marriott KM, Northcote DH (1975) The breakdown of lipid reserves in the endosperm of germinating castor beans. Biochem J 148(1):139–144

Michalak I, Dmytryk A, Schroeder G, Chojnacka K (2017) The application of homogenate and filtrate from Baltic seaweeds in seedling growth tests. Appl Sci 7(3):230

Mzibra A, Aasfar A, El Arroussi H, Khouloud M, Dhiba D, Kadmiri IM, Bamouh A (2018) Polysaccharides extracted from Moroccan seaweed: a promising source of tomato plant growth promoters. J Appl Phycol 30(5):2953–2962

Patti GJ, Yanes O, Siuzdak G (2012) Innovation: Metabolomics: the apogee of the omics trilogy. Nat Rev Mol Cell Biol 13(4):263

Paulert R, Talamini V, Cassolato JEF, Duarte MER, Noseda MD, Smania A Jr, Stadnik MJ (2009) Effects of sulfated polysaccharide and al- coholic extracts from green seaweed Ulva fasciata on anthracnose severity and growth of common bean (Phaseolus vulgaris L.). J Plant Dis Protect 116:263–270

Paupière MJ, Müller F, Li H, Rieu I, Tikunov YM, Visser RGF, Bovy AG (2017) Untargeted metabolomic analysis of tomato pollen development and heat stress response. Plant Reprod 30:81–94

Rayirath P, Benkel B, Hodges DM, Allan-Wojtas P, MacKinnon S, Critchley AT, Prithiviraj B (2009) Lipophilic components of the brown seaweed, Ascophyllum nodosum, enhance freezing tolerance in Arabidopsis thaliana. Planta 230(1):135-147

Saucedo S, Contreras RA, Moenne A (2015) Oligo-carrageenan kappa increases C, N and S assimilation, auxin and gibberellin contents, and growth in Pinus radiata trees. J For Res 26:635–640

Shukla PS, Borza T, Critchley AT, Prithiviraj B (2016) Carrageenans from red seaweeds as promoters of growth and elicitors of defense response in plants. Front Mar Sci 3:81

Thompson R, Burstin J, Gallardo K (2009) Post-genomics studies of developmental processes in legume seeds. Plant Physiol 151:1023–1029

Trezzi JP, Jäger C, Galozzi S, Barkovits K, Marcus K, Mollenhauer B, Hiller K (2017) Metabolic profiling of body fluids and multivariate data analysis. MethodsX 4:95–103

Tuhy Ł, Chojnacka K, Michalak I, Witek‐Krowiak A (2015) Algal extracts as a carrier of micronutrients‐utilitarian properties of new formulations. In: Marine algae extracts: processes, products, and applications, pp 465–488.

Vera J, Castro J, Contreras RA, Gonzalez A, Moenne A (2012) Oligocarrageenans induced a long-term and broad-range protection against pathogens and the reversion of infections in tobacco plants (var. Xanthi). Physiol Mol Plant Pathol 79:3139

Vijaya M, Rani PU, Rajna S (2018) Induced indirect defense in chilli plant, Capsicum annuum L. due to feeding stress caused by herbivore, Spodoptera litura. J Entomol Zool Stud

Wei R, Wang J, Su M, Jia E, Chen S, Chen T, Ni Y (2018) Missing value imputation approach for mass spectrometry-based metabolomics data. Sci Rep 8(1):663

Yakhin OI, Lubyanov AA, Yakhin IA, Brown PH (2017) Biostimulants in plant science: a global perspective. Front Plant Sci 7:2049

Zhai R (2013) Effects of the brown seaweed, Ascophyllum nodosum, on the nodulation and growth of alfalfa (MSc. Thesis). Dalhousie University, Canada

Zhang A, Sun H, Wang P, Han Y, Wang X (2012) Modern analytical techniques in metabolomics analysis. Analyst 137(2):293–300

Zou P, Lu X, Zhao H, Yuan Y, Meng L, Zhang C, Li Y (2019) Polysaccharides derived from the brown algae Lessonia nigrescens enhance salt stress tolerance to wheat seedlings by enhancing the antioxidant system, and modulating intracellular ion concentration. Front Plant Sci. https://doi.org/10.3389/fpls.2019.00048
Acknowledgements
The authors would like to thank the Research & Development Direction of the OCP Group for their scientific and technical contribution and for supporting the funding of this study. Special Acknowledgements to the members of Green Biotechnology laboratory in MAScIR Foundation for their support during the accomplishment of experiments. A huge thanks to Yassin Kasmi and Chanda Mutale-joan for their precious help in the article redaction. The authors thank the journal reviewers for their valuable comments and propositions.
Ethics declarations
Conflict of interest
The authors have no conflict of interest.
Additional information
Publisher's Note
Springer Nature remains neutral with regard to jurisdictional claims in published maps and institutional affiliations.
About this article
Cite this article
Mzibra, A., Aasfar, A., Benhima, R. et al. Biostimulants Derived from Moroccan Seaweeds: Seed Germination Metabolomics and Growth Promotion of Tomato Plant. J Plant Growth Regul 40, 353–370 (2021). https://doi.org/10.1007/s00344-020-10104-5
Received:

Accepted:

Published:

Issue Date:
Keywords
Biostimulants

Polysaccharide-enriched extracts

Seaweed

Seed germination

Plant growth

Metabolomic study