Abstract
There is limited knowledge about the effects of the severity and timing of drought stress on oat (Avena sativa) yield and the critical stages at which water management could be effectively implemented. A controlled study was conducted to identify a variety-specific critical stage, and to examine the physiological mechanisms of drought stress on photosynthesis (Pn) and yield formation in two contrasting genotypes. We found that compared with sufficient water supply (AW), grain yield was reduced by 36%, 69% and 44% in 'Shadow', and by 31%, 33% and 41% in 'Bia' under the severe stress imposed either at jointing, heading or post-anthesis stage. The grain/leaf area (LA) ratio increased by 18–32% and biomass distribution to stems + leaves decreased by 5.2–6.2% of Bia under moderate stress (MS) as compared to AW. This, along with the improved harvest index, led to a comparable yield. Under AW, Shadow displayed 13–16% larger LA duration (LAD) and had significantly higher Pn at the heading and post-anthesis stages, leading to 13% to 20% more spikelets panicle−1 and 13–21% greater groat yields than Bia. It can be concluded that (1) water stress at heading for Shadow and at post-anthesis for Bia was detrimental to grain yield through reduced LA and LAD with a reduced sink size, (2) under the MS, greater grain yield of the hulled Bia was attributable to a stronger sink activity, and (3) higher groat yield of the naked Shadow under AW was associated mainly with a higher source activity and more spikelets panicle−1.
Access options
Buy single article
Instant access to the full article PDF.
US$ 39.95
Tax calculation will be finalised during checkout.
Subscribe to journal
Immediate online access to all issues from 2019. Subscription will auto renew annually.
US$ 79
Tax calculation will be finalised during checkout.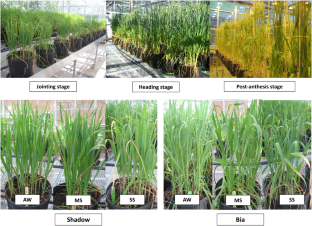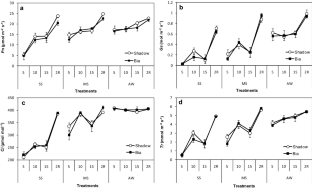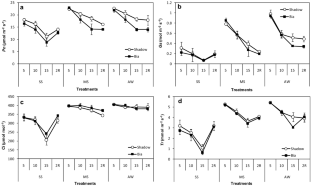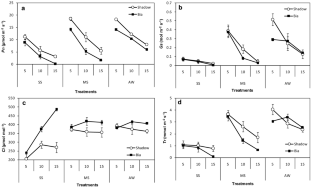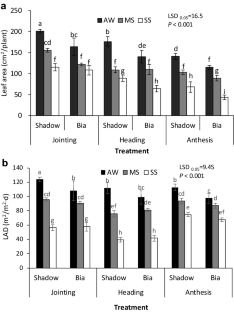 References
Abid M et al (2016) Adaptation to and recovery from drought stress at vegetative stages in wheat (Triticum aestivum) cultivars. Funct Plant Biol 43:1159–1169. https://doi.org/10.1071/FP16150

Abid M, Tian Z, Zahoor R, Ata-Ul-Karim ST, Daryl C, Snider JL, Dai T (2018) Chapter two—pre-drought priming: a key drought tolerance engine in support of grain development in wheat. In: Sparks DL (ed) Advances in agronomy, vol 152. Academic Press, Cambridge, pp 51–85. https://doi.org/10.1016/bs.agron.2018.06.001

Alexander G, Pierre H, Urs F (2007) Photosynthetic performance and water relations in young pubescent oak (Quercus pubescens) trees during drought stress and recovery. New Phytol 174:799–810

Brouwer J, Flood RG (1995) Aspects of oat physiology. In: Welch RW (ed) The Oat Crop: Production and Utilization. Springer, Dordrecht, pp 177–222. https://doi.org/10.1007/978-94-011-0015-1_7

Browne RA, White EM, Burke JI (2006) Responses of developmental yield formation processes in oats to variety, nitrogen, seed rate and plant growth regulator and their relationship to quality. J Agric Sci 144:533–545. https://doi.org/10.1017/S0021859606006538

Cattivelli L et al (2008) Drought tolerance improvement in crop plants: an integrated view from breeding to genomics. Field Crops Res 105:1–14. https://doi.org/10.1016/j.fcr.2007.07.004

Chaves MM et al (2002) How plants cope with water stress in the field? Photosynthesis and growth. Ann Bot 89:907–916. https://doi.org/10.1093/aob/mcf105

Coffman FA, Frey K (1961) Influence of climate and physiologic factors on growth in oats. Oats Oat Improv. https://doi.org/10.2134/agronmonogr8.c12

da Silva AJ, Magalhaes JR, Sales CRG, Pires RCD, Machado EC (2018) Source-sink relationships in two soybean cultivars with indeterminate growth under water deficit. Bragantia 77:23–35. https://doi.org/10.1590/1678-4499.2017010

Dolferus R, Ji X, Richards RA (2011) Abiotic stress and control of grain number in cereals. Plant Sci 181:331–341. https://doi.org/10.1016/j.plantsci.2011.05.015

Du T, Kang S, Sun J, Zhang X, Zhang J (2010) An improved water use efficiency of cereals under temporal and spatial deficit irrigation in North China. Agric Water Manag 97:66–74. https://doi.org/10.1016/j.agwat.2009.08.011

Finnan JM, Spink J (2017) Identification of yield limiting phenological phases of oats to improve crop management. J Agric Sci 155:1–17. https://doi.org/10.1017/S0021859616000071

Fischer RA (2007) Understanding the physiological basis of yield potential in wheat. J Agric Sci 145:99

Ge T, Sui F, Bai L, Tong C, Sun N (2012) Effects of water stress on growth, biomass partitioning, and water-use efficiency in summer maize (Zea mays L.) throughout the growth cycle. Acta Physiol Plant 34:1043–1053. https://doi.org/10.1007/s11738-011-0901-y

Gorash A, Armoniene R, Mitchell Fetch J, Liatukas Ž, Danytė V (2017) Aspects in oat breeding: nutrition quality, nakedness and disease resistance, challenges and perspectives. Ann Appl Biol 171:281–302. https://doi.org/10.1111/aab.12375

Inoue T, Inanaga S, Sugimoto Y, El Siddig K (2004) Contribution of pre-anthesis assimilates and current photosynthesis to grain yield, and their relationships to drought resistance in wheat cultivars grown under different soil moisture. Photosynthetica 42:99–104. https://doi.org/10.1023/B:PHOT.0000040576.52128.ed

Javaid T, Farooq MA, Akhtar J, Saqib ZA, Anwar-ul-Haq M (2019) Silicon nutrition improves growth of salt-stressed wheat by modulating flows and partitioning of Na+, Cl− and mineral ions. Plant Physiol Biochem 141:291–299. https://doi.org/10.1016/j.plaphy.2019.06.010

Ji X et al (2010) Importance of pre-anthesis anther sink strength for maintenance of grain number during reproductive stage water stress in wheat. Plant Cell Environ 33:926–942. https://doi.org/10.1111/j.1365-3040.2010.02130.x

Jin J, Wang G, Liu X, Pan X, Herbert SJ (2005) Phosphorus application affects the soybean root response to water deficit at the initial flowering and full pod stages. Soil Sci Plant Nutr 51:953–960. https://doi.org/10.1111/j.1747-0765.2005.tb00133.x

Kadam NN et al (2014) Chapter three—agronomic and physiological responses to high temperature, drought, and elevated CO2 interactions in cereals. In: Sparks D (ed) Advances in agronomy, vol 127. Academic Press, Cambridge, pp 111–156. https://doi.org/10.1016/B978-0-12-800131-8.00003-0

Kholová J, Hash CT, Kumar PL, Yadav RS, Kočová M, Vadez V (2010) Terminal drought-tolerant pearl millet [Pennisetum glaucum (L.) R. Br.] have high leaf ABA and limit transpiration at high vapour pressure deficit. J Exp Bot 61:1431–1440. https://doi.org/10.1093/jxb/erq013

Kottmann L, Wilde P, Schittenhelm S (2016) How do timing, duration, and intensity of drought stress affect the agronomic performance of winter rye? Eur J Agron 75:25–32. https://doi.org/10.1016/j.eja.2015.12.010

Li P-F, Ma B-L, Xiong Y-C, Zhang W-Y (2017) Morphological and physiological responses of different wheat genotypes to chilling stress: a cue to explain yield loss. J Sci Food Agric 97:4036–4045. https://doi.org/10.1002/jsfa.8271

Li Y, Tao H, Zhang B, Huang S, Wang P (2018) Timing of water deficit limits maize kernel setting in association with changes in the source-flow-sink relationship. Front Plant Sci. https://doi.org/10.3389/fpls.2018.01326

Ma BL, Biswas DK, Zhou QP, Ren CZ (2012) Comparisons among cultivars of wheat, hulled and hulless oats: Effects of N fertilization on growth and yield. Can J Plant Sci 92:1213–1222. https://doi.org/10.4141/cjps2011-167

Mahadevan M, Calderini DF, Zwer PK, Sadras VO (2016) The critical period for yield determination in oat (Avena sativa L.). Field Crops Res 199:109–116. https://doi.org/10.1016/j.fcr.2016.09.021

Marshall A, Cowan S, Edwards S, Griffiths I, Howarth C, Langdon T, White E (2013) Crops that feed the world 9. Oats—a cereal crop for human and livestock feed with industrial applications. Food Secur 5:13–33. https://doi.org/10.1007/s12571-012-0232-x

Meharg C, Meharg AA (2015) Silicon, the silver bullet for mitigating biotic and abiotic stress, and improving grain quality, in rice? Environ Exp Bot 120:8–17. https://doi.org/10.1016/j.envexpbot.2015.07.001

Ozturk A, Aydin F (2004) Effect of water stress at various growth stages on some quality characteristics of winter wheat. J Agron Crop Sci 190:93–99. https://doi.org/10.1046/j.1439-037X.2003.00080.x

Peltonen-sainio P (1991) Effect of moderate and severe drought stress on the pre-anthesis development and yield formation of oats. J Agric Sci Finl 63:379–389. https://doi.org/10.23986/afsci.72417

Peltonen-Sainio P (1993) Contribution of enhanced growth rate and associated physiological changes to yield formation of oats. Field Crops Res 33:13

Peltonen-Sainio P (1994) Yield component differences between naked and conventional oat. Agron J 86:510–513

Peltonen-Sainio P (1997a) Groat yield and plant stand structure of naked and hulled oat under different nitrogen fertilizer and seeding rates. Agron J 89:140–147

Peltonen-Sainio P (1997b) Leaf area duration of oat at high latitudes. J Agron Crop Sci 178:149–155. https://doi.org/10.1111/j.1439-037X.1997.tb00483.x

Peltonen-Sainio P (1999) Growth and development of oat with special reference to source-sink interaction and productivity. In: Smith DL, Hamel C (eds) Crop yield: physiology and processes. Springer, Berlin, pp 39–66. https://doi.org/10.1007/978-3-642-58554-8_2

Peltonen-Sainio P, Mäkelä P (1995) Comparison of physiological methods to assess drought tolerance in oats. Acta Agric Scand Sect B 45:32–38. https://doi.org/10.1080/09064719509410931

Peltonen-Sainio P, Forsman K, Poutala T (1997) Crop management effects on pre-and post-anthesis changes in leaf area index and leaf area duration and their contribution to grain yield and yield components in spring cereals. J Agron Crop Sci 179:47–61. https://doi.org/10.1111/j.1439-037X.1997.tb01146.x

Peltonen-Sainio P, Rajala A, Känkänen H, Hakala K (2015) Chapter 4—improving farming systems in northern Europe. In: Sadras VO, Calderini DF (eds) Crop physiology, 2nd edn. Academic Press, San Diego, pp 65–91. https://doi.org/10.1016/B978-0-12-417104-6.00004-2

Pinheiro C, Chaves MM (2011) Photosynthesis and drought: can we make metabolic connections from available data? J Exp Bot 62:869–882. https://doi.org/10.1093/jxb/erq340

Ramanjulu S, Sreenivasulu N, Sudhakar C (1998) Effect of water stress on photosynthesis in two mulberry genotypes with different drought tolerance. Photosynthetica 35:279–283

Rouhi V, Samson R, Lemeur R, Damme PV (2007) Photosynthetic gas exchange characteristics in three different almond species during drought stress and subsequent recovery. Environ Exp Bot 59:117–129. https://doi.org/10.1016/j.envexpbot.2005.10.001

Sadras VO, Mahadevan M, Zwer PK (2017) Oat phenotypes for drought adaptation and yield potential. Field Crops Res 212:135–144. https://doi.org/10.1016/j.fcr.2017.07.014

Saint Pierre C, Crossa JL, Bonnett D, Yamaguchi-Shinozaki K, Reynolds MP (2012) Phenotyping transgenic wheat for drought resistance. J Exp Bot 63:1799–1808. https://doi.org/10.1093/jxb/err385

Salman AA, Brinkman MA (1992) Association of pre- and post-heading growth traits with grain-yield in oats. Field Crops Res 28:211–221. https://doi.org/10.1016/0378-4290(92)90041-7

Sanchez-Martin J, Rispail N, Flores F, Emeran AA, Sillero JC, Rubiales D, Prats E (2017) Higher rust resistance and similar yield of oat landraces versus cultivars under high temperature and drought. Agron Sustain Dev. https://doi.org/10.1007/s13593-016-0407-5

Simone L, Jean-Francois H, Gea G, Sergio E (2017) Poaceae vs. abiotic stress: focus on drought and salt stress, recent insights and perspectives. Front Plant Sci 8:1214

Soratto RP, Crusciol CAC, Castro GSA, Costa CHMd, Ferrari Neto J (2012) Leaf application of silicic acid to white oat and wheat. Rev Bras de Ciência do Solo 36:1538–1544

Subedi KD, Ma BL (2005) Ear position, leaf area, and contribution of individual leaves to grain yield in conventional and leafy maize hybrids. Crop Sci 45:2246–2257. https://doi.org/10.2135/cropsci2004.0653

Tambussi EA, Bort J, Araus JL (2007) Water use efficiency in C3 cereals under Mediterranean conditions: a review of physiological aspects. Ann Appl Biol 150:307–321. https://doi.org/10.1111/j.1744-7348.2007.00143.x

Tambussi EA, Nogués S, Araus JL (2005) Ear of durum wheat under water stress: water relations and photosynthetic metabolism. Planta 221:446–458

Thapa S et al (2018) Physiological responses to water stress and yield of winter wheat cultivars differing in drought tolerance. J Agron Crop Sci 204:1–12. https://doi.org/10.1111/jac.12263

Valentine J (1995) Naked oats. In: Welch RW (ed) The oat crop: production and utilization. Springer, Dordrecht, pp 504–532. https://doi.org/10.1007/978-94-011-0015-1_16

Wang L, Zhang T, Ding S (2006) Effect of drought and rewatering on photosynthetic physioecological characteristics of soybean. Acta Ecol Sin 26:2073–2078. https://doi.org/10.1016/s1872-2032(06)60033-4

Wang X, Vignjevic M, Jiang D, Jacobsen S, Wollenweber B (2014) Improved tolerance to drought stress after anthesis due to priming before anthesis in wheat (Triticum aestivum L.) var. Vinjett J Exp Bot 65:6441–6456. https://doi.org/10.1093/jxb/eru362

Wang T et al (2017) Recently-released genotypes of naked oat (Avena nuda L.) out-yield early releases under water-limited conditions by greater reproductive allocation and desiccation tolerance. Field Crops Res 204:169–179

Xu Y-D, Zhu K-Y, Zhang X-C, Wang Z-Q, Yang J-C (2019) Analysis in agronomic and physiological traits of green super rice. Acta Agron Sin 45:70–80

Yang J (2015) Approaches to achieve high grain yield and high resource use efficiency in rice. Front Agric Sci Eng 2:115–123

Zhang Y, Zhang Y, Wang Z, Wang Z (2011) Characteristics of canopy structure and contributions of non-leaf organs to yield in winter wheat under different irrigated conditions. Field Crops Res 123:187–195. https://doi.org/10.1016/j.fcr.2011.04.014
Acknowledgements
This study was financially supported, in part, by the Excellent Young Scientist Foundation of Inner Mongolia Agricultural University of China (2014XYQ-4), Natural Science Foundation of China (31560373), and the Canadian Agricultural Partnership project J-002090.001.04 through the Collaborative Research and Development Agreement between Agriculture and Agri–Food Canada (AAFC) and the Canadian Field Crop Research Alliance (CFCRA). We are thankful for the technical assistance provided by Doug Balchin (retired), Lynne Evenson, Erik Pavey, and Catherine Lim of AAFC. This is a joint contribution between AAFC and Inner Mongolia Agricultural University. AAFC-ORDC contribution No. 19-095.
Ethics declarations
Conflict of interest
The authors declare there are no conflicts of interest.
Additional information
Publisher's Note
Springer Nature remains neutral with regard to jurisdictional claims in published maps and institutional affiliations.
Electronic supplementary material
Below is the link to the electronic supplementary material.
A flow chart illustrating the mechanism of source-sink adjustment of the timing and severity of drought stress on photosynthesis and grain yield of two contrasting oat genotypes. Pn: photosynthetic rate, LA : leaf area, LAD: post-anthesis leaf area duration, GY: Grain yield, BIO: biomass, GRY: Groat yield, SN: spikelet number per panicle , GNS: grain number per spikelet, HI: harvest index, GLR: grain-leaf area ratio
About this article
Cite this article
Zhao, B., Ma, BL., Hu, Y. et al. Source–Sink Adjustment: A Mechanistic Understanding of the Timing and Severity of Drought Stress on Photosynthesis and Grain Yields of Two Contrasting Oat (Avena sativa L.) Genotypes. J Plant Growth Regul 40, 263–276 (2021). https://doi.org/10.1007/s00344-020-10093-5
Received:

Accepted:

Published:

Issue Date:
Keywords
Drought stress

Photosynthesis

Critical period for yield

Naked oat

Conventional oat