Abstract
Germination is a crucial event in plant lifecycle mediated by a complex hormonal crosstalk. In this study, we revealed an antagonistic interaction between phytohormone abscisic acid (ABA) and gibberellins in epigallocatechin-3-gallate (EGCG)-retarded germination and early seedling growth in tomato. High concentrations of EGCG (0.5 mM and 1.0 mM) decelerated the seed germination and reduced the germination rate and biomass accumulation in seedlings. EGCG-induced inhibition in seedling growth was associated with oxidative stress and changes in antioxidant enzyme activity. Moreover, EGCG treatment increased the ABA content and decreased the GA3 content, leading to a significant reduction in the ratio of GA3/ABA in a dose-dependent manner. EGCG-induced changes in ABA and GA levels were attributed to the changes in expression levels of genes involved in their metabolism. Either exogenous GA application or endogenous ABA deficiency both alleviated EGCG-induced inhibition in early seedling growth. These results suggest that EGCG inhibits seed germination and early seedling growth by affecting the balance between ABA and GA in tomato. These findings are important to better understand the role of flavonoids in seed germination and their implications in controlling seed dormancy.
Access options
Buy single article
Instant access to the full article PDF.
US$ 39.95
Tax calculation will be finalised during checkout.
Subscribe to journal
Immediate online access to all issues from 2019. Subscription will auto renew annually.
US$ 79
Tax calculation will be finalised during checkout.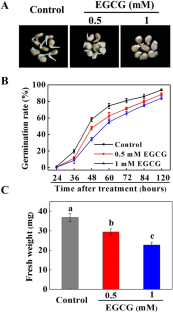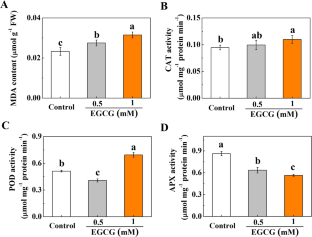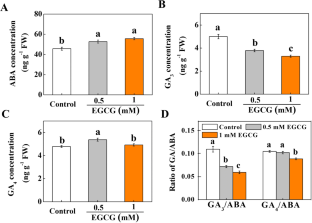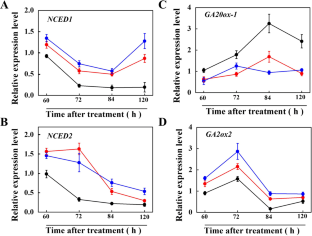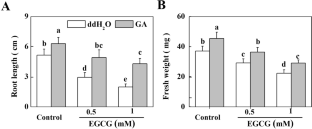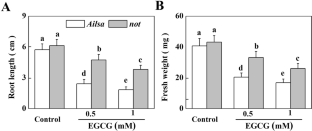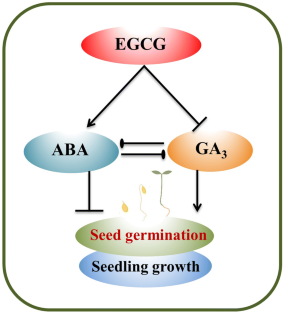 References
Agati G, Azzarello E, Pollastri S, Tattini M (2012) Flavonoids as antioxidants in plants: location and functional significance. Plant Sci 196:67–76. https://doi.org/10.1016/j.plantsci.2012.07.014

Ahammed GJ, Li Y, Li X, Han W-Y, Chen S (2018) Epigallocatechin-3-gallate alleviates salinity-retarded seed germination and oxidative stress in tomato. J Plant Growth Regul 37:1349–1356. https://doi.org/10.1007/s00344-018-9849-0

Ahammed GJ, Wang Y, Mao Q, Wu M, Yan Y, Ren J, Wang X, Liu A, Chen S (2020a) Dopamine alleviates bisphenol A-induced phytotoxicity by enhancing antioxidant and detoxification potential in cucumber. Environ Pollut 259:113957. https://doi.org/10.1016/j.envpol.2020.113957

Ahammed GJ, Wu M, Wang Y, Yan Y, Mao Q, Ren J, Ma R, Liu A, Chen S (2020b) Melatonin alleviates iron stress by improving iron homeostasis, antioxidant defense and secondary metabolism in cucumber. Sci Hortic 265:109205. https://doi.org/10.1016/j.scienta.2020.109205

Bailly C (2019) The signalling role of ROS in the regulation of seed germination and dormancy. Biochem J 476(20):3019–3032. https://doi.org/10.1042/BCJ20190159

Bais HP, Venkatachalam L, Biedrzycki ML (2014) Stimulation or inhibition conflicting evidence for (±)-catechin's role as a chemical facilitator and disease protecting agent. Plant Signal Behav 5:239–246. https://doi.org/10.4161/psb.5.3.10573

Bewley JD, Bradford KJ, Hilhorst HWM, Nonogaki H (2013) Seeds: physiology of development, germination and dormancy. Springer, New York

Bicalho EM, Santos TRSD, Garcia QS (2018) Abscisic acid and the antioxidant system are involved in germination of Butia capitata seeds. Acta Bot Bras 33:174–178. https://doi.org/10.1590/0102-33062018abb0193

Bradford MM (1976) A rapid and sensitive method for the quantitation of microgram quantities of protein utilizing the principle of protein-dye binding. Anal Biochem 72:248–254. https://doi.org/10.1016/0003-2697(76)90527-3

Brunetti C, Di Ferdinando M, Fini A, Pollastri S, Tattini M (2013) Flavonoids as antioxidants and developmental regulators: relative significance in plants and humans. Int J Mol Sci 14:3540–3555. https://doi.org/10.3390/ijms14023540

Cao H, Han Y, Li J, Ding M, Li Y, Li X, Chen F, Soppe WJJ, Liu Y (2019) Arabidopsis thaliana Seed dormancy 4-like regulates seed dormancy and germination by mediating the gibberellin pathway. J Exp Bot 71:919–933. https://doi.org/10.1093/jxb/erz471

Du L, Li J, Zhang X, Wang L, Zhang W (2018) Pomegranate peel polyphenols inhibits inflammation in LPS-induced RAW264.7 macrophages via the suppression of MAPKs activation. J Funct Foods 43:62–69. https://doi.org/10.1016/j.jff.2018.01.028

Fan J, Zhu W, Kang H, Ma H, Tao G (2012) Flavonoid constituents and antioxidant capacity in flowers of different Zhongyuan tree penoy cultivars. J Funct Foods 4(1):147–157. https://doi.org/10.1016/j.jff.2011.09.006

Fei P, Ali MA, Gong S, Sun Q, Bi X, Liu S, Guo L (2018) Antimicrobial activity and mechanism of action of olive oil polyphenols extract against Cronobacter sakazakii. Food Control 94:289–294. https://doi.org/10.1016/j.foodcont.2018.07.022

Hasan MK, Ahammed GJ, Sun S, Li M, Yin H, Zhou J (2019) Melatonin inhibits cadmium translocation and enhances plant tolerance by regulating sulfur uptake and assimilation in Solanum lycopersicum L. J Agric Food Chem 38:10563–10576. https://doi.org/10.1021/acs.jafc.9b02404

Hodges DM, DeLong JM, Forney CF, Prange RK (1999) Improving the thiobarbituric acid-reactive-substances assay for estimating lipid peroxidation in plant tissues containing anthocyanin and other interfering compounds. Planta 207(4):604–611. https://doi.org/10.2307/23385611

Hong G, Wang J, Hochstetter D, Gao Y, Xu P, Wang Y (2015) Epigallocatechin-3-gallate functions as a physiological regulator by modulating the jasmonic acid pathway. Physiol Plantarum 153:432–439. https://doi.org/10.1111/ppl.12256

Landi M (2017) Commentary to: "Improving the thiobarbituric acid-reactive-substances assay for estimating lipid peroxidation in plant tissues containing anthocyanin and other interfering compounds" by Hodges Planta, et al 1999 207:604–611. Planta 245:1067. https://doi.org/10.1007/s00425-017-2699-3

Li H, Torres-Garcia J, Latrasse D, Benhamed M, Schilderink S, Zhou W, Kulikova O, Hirt H, Bisseling T (2017a) Plant-specific histone deacetylases HDT1/2 regulate GIBBERELLIN 2-OXIDASE2 expression to control arabidopsis root meristem cell number. Plant Cell 29:2183–2196. https://doi.org/10.1105/tpc.17.00366

Li Z, Xu J, Gao Y, Wang C, Guo G, Luo Y, Huang Y, Hu W, Sheteiwy MS, Guan Y, Hu J (2017b) The synergistic priming effect of exogenous salicylic acid and H2O2 on chilling tolerance enhancement during maize (Zea mays L.) seed germination. Front Plant Sci 8:1153. https://doi.org/10.3389/fpls.2017.01153

Li X, Zhong Y, Pang X, Yuan Y, Liu Y, Zhang Z (2018) Trypsin and ascorbic acid have a synergistic effect on the quality of apple processing by protecting apple cells from oxidative damage. J Food Biochem 42:e12582. https://doi.org/10.1111/jfbc.12582

Li X, Li Y, Ahammed GJ, Zhang X-N, Ying L, Zhang L, Yan P, Zhang L-P, Li Q-Y, Han W-Y (2019) RBOH1-dependent apoplastic H2O2 mediates epigallocatechin-3-gallate-induced abiotic stress tolerance in Solanum lycopersicum L. Environ Exp Bot 161:357–366. https://doi.org/10.1016/j.envexpbot.2018.11.013

Liu CC, Ahammed GJ, Wang GT, Xu CJ, Chen KS, Zhou YH, Yu JQ (2018) Tomato CRY1a plays a critical role in the regulation of phytohormone homeostasis, plant development, and carotenoid metabolism in fruits. Plant Cell Environ 41:354–366. https://doi.org/10.1111/pce.13092

Livak KJ, Schmittgen TD (2001) Analysis of relative gene expression data using real-time quantitative PCR and the 2(T)(-Delta Delta C) method. Methods 25:402–408. https://doi.org/10.1006/meth.2001.1262

Shi J, Shi G, Tian Z (2016) Effect of exogenous hydrogen peroxide or ascorbic acid on senescence in cut flowers of tree peony (Paeonia suffruticose Andr.). J Hortic Sci Biotechnol 90:689–694. https://doi.org/10.1080/14620316.2015.11668732

Shu K, Qi Y, Chen F, Meng Y, Luo X, Shuai H, Zhou W, Ding J, Du J, Liu J, Yang F, Wang Q, Liu W, Yong T, Wang X, Feng Y, Yang W (2017) Salt stress represses soybean seed germination by negatively regulating GA biosynthesis while positively mediating ABA biosynthesis. Front Plant Sci 8:1372. https://doi.org/10.3389/fpls.2017.01372

Shu K, Zhou W, Chen F, Luo X, Yang W (2018) Abscisic acid and gibberellins antagonistically mediate plant development and abiotic stress responses. Front Plant Sci 9:416. https://doi.org/10.3389/fpls.2018.00416

Tuan PA, Kumar R, Rehal PK, Toora PK, Ayele BT (2018) Molecular mechanisms underlying abscisic acid/gibberellin balance in the control of seed dormancy and germination in cereals. Front Plant Sci 9:668. https://doi.org/10.3389/fpls.2018.00668

Vishal B, Kumar PP (2018) Regulation of Seed Germination and abiotic stresses by gibberellins and abscisic acid. Front Plant Sci 9:838. https://doi.org/10.3389/fpls.2018.00838

Wang HZ, Zhang LZ, Ma J, Li XY, Li Y, Zhang RP, Wang RQ (2010) Effects of water stress on reactive oxygen species generation and protection system in rice during grain-filling stage. Agric Sci China 9:633–641. https://doi.org/10.1016/s1671-2927(09)60138-3

Wang F, Guo ZX, Li HZ, Wang MM, Onac E, Zhou J, Xia XJ, Shi K, Yu JQ, Zhou YH (2016) Phytochrome A and B function antagonistically to regulate cold tolerance via abscisic acid-dependent jasmonate signaling. Plant Physiol 170(1):459–471. https://doi.org/10.1104/pp.15.01171

Wang B, Wei H, Xue Z, Zhang WH (2017) Gibberellins regulate iron deficiency-response by influencing iron transport and translocation in rice seedlings (Oryza sativa). Ann Bot 119:945–956. https://doi.org/10.1093/aob/mcw250

Xiong LG, Chen YJ, Tong JW, Huang JA, Li J, Gong YS, Liu ZH (2017) Tea polyphenol epigallocatechin gallate inhibits Escherichia coli by increasing endogenous oxidative stress. Food Chem 217:196–204. https://doi.org/10.1016/j.foodchem.2016.08.098

Xu D, Cao H, Fang W, Pan J, Chen J, Zhang J, Shen W (2017) Linking hydrogen-enhanced rice aluminum tolerance with the reestablishment of GA/ABA balance and miRNA-modulated gene expression: a case study on germination. Ecotoxicol Environ Saf 145:303–312. https://doi.org/10.1016/j.ecoenv.2017.07.055

Yiu JC, Tseng MJ, Liu CW (2011) Exogenous catechin increases antioxidant enzyme activity and promotes flooding tolerance in tomato (Solanum lycopersicum L.). Plant Soil 344(1–2):213–225. https://doi.org/10.1007/s11104-011-0741-y

Zhao S, Li J, Wang L, Wu X (2016) Pomegranate peel polyphenols inhibit lipid accumulation and enhance cholesterol efflux in raw264.7 macrophages. Food Funct 7:3201–3210. https://doi.org/10.1039/c6fo00347h

Zhang Y, Liang Y, Zhao X, Jin X, Hou L, Shi Y, Ahammed GJ (2019) Silicon compensates phosphorus deficit-induced growth inhibition by improving photosynthetic capacity, antioxidant potential, and nutrient homeostasis in tomato. Agronomy 9:733. https://doi.org/10.3390/agronomy9110733

Zhang Z, Wu P, Zhang W, Yang Z, Liu H, Ahammed GJ, Cui J (2020) Calcium is involved in exogenous NO-induced enhancement of photosynthesis in cucumber (Cucumis sativus L.) seedlings under low temperature. Sci Hortic 261:108953. https://doi.org/10.1016/j.scienta.2019.108953
Acknowledgements
This research was partially supported by the National Natural Science Foundation of China (31950410555); the National Key Research and Development Program of China (2018YFD1000800); the Science and Technology Innovation Project of the Chinese Academy of Agricultural Sciences (CAAS-ASTIP-2014-TRICAAS); and Henan University of Science and Technology (HAUST) Research Start-up Fund for New Faculty (13480058). We are grateful to the Tomato Genetics Resource Center at the California University for tomato (Ailsa Craig and notabilis) seeds.
Ethics declarations
Conflict of interest
The authors declare that they have no conflict of interest.
Additional information
Publisher's Note
Springer Nature remains neutral with regard to jurisdictional claims in published maps and institutional affiliations.
Electronic supplementary material
Below is the link to the electronic supplementary material.
About this article
Cite this article
Ahammed, G.J., Li, Y., Cheng, Y. et al. Abscisic Acid and Gibberellins Act Antagonistically to Mediate Epigallocatechin-3-Gallate-Retarded Seed Germination and Early Seedling Growth in Tomato. J Plant Growth Regul 39, 1414–1424 (2020). https://doi.org/10.1007/s00344-020-10089-1
Received:

Accepted:

Published:

Issue Date:
Keywords
Abscisic acid

Gibberellin

Epigallocatechin-3-gallate (EGCG)

Flavonoids

Seed germination

Seedling growth