Abstract
The R2R3-MYB transcription factors play an important role in regulating secondary metabolism biosynthesis and abiotic stress in plants. In this article, we report the identification of the transcription factor gene, FtMYB31, from the popular Eurasian crop tartary buckwheat (Fagopyrum tataricum) that enhances accumulation of the nutritionally beneficial compound rutin in transgenic tobacco leaves. The FtMYB31 complete cDNA coding sequence was isolated from the leaves of tartary buckwheat, and multiple protein sequence alignments and conserved domain analysis showed it contained a typical R2R3 MYB domain. Subcellular location experiments showed the FtMYB31 protein is localized in nucleus. The phylogenetic tree clustered FtMYB31 with VvMYBPA1 from Vitis vinifera, and AtMYB123 from Arabidopsis thaliana, belonging to the Subgroup 5 cluster. Comparison by qRT-PCR of FtMYB31 transcripts and those from rutin synthesis-related genes showed a relationship between FtMYB31, Ft4CL, and FtUFGT transcripts and rutin content in different tissues of F. tataricum, with correlation coefficients of − 0.68, 0.69, and 0.47, respectively. Transgenic experiments indicated that FtMYB31 upregulated CHS, F3H, and FLS genes in transgenic tobacco and enhanced the accumulation of rutin and total flavonols. These results suggest that FtMYB31 encodes an R2R3-MYB transcription factor that positively regulates flavonol biosynthesis in tartary buckwheat and tobacco and is a possible target for genetically modifying tartary buckwheat to enhance the content of beneficial compounds such as rutin.
This is a preview of subscription content, log in to check access.
Access options
Buy single article
Instant access to the full article PDF.
US$ 39.95
Tax calculation will be finalised during checkout.
Subscribe to journal
Immediate online access to all issues from 2019. Subscription will auto renew annually.
US$ 99
Tax calculation will be finalised during checkout.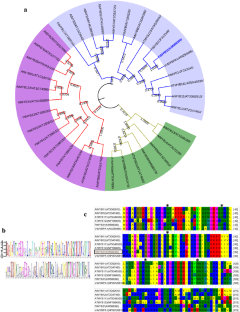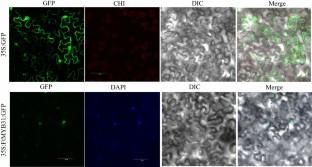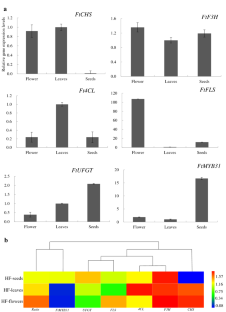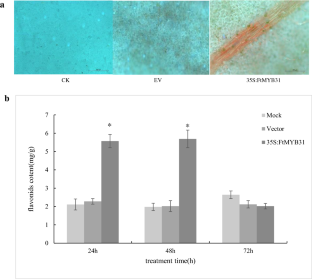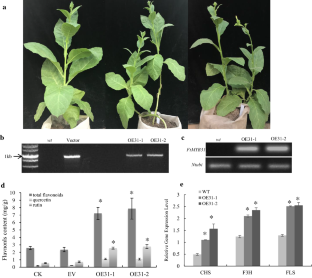 References
Aharoni A, De Vos CH, Wein M, Sun Z, Greco R, Kroon A, Mol JN, O'Connell AP (2010) The strawberry famyb1 transcription factor suppresses anthocyanin and flavonol accumulation in transgenic tobacco. Plant J 28(3):319–332

Ahmed A, Khalid N, Ahmad A, Abbasi NA, Latif MSZ, Randhawa MA (2014) Phytochemicals and bio-functional properties of buckwheat: a review. J Agr Sci 152(3):349–369

Bai YC, Li CL, Zhang JW, Li SJ, Luo XP, Yao HP, Chen H, Zhao HX, Park SU, Wu Q (2014) Characterization of two tartary buckwheat R2R3-MYB transcription factors and their regulation of proanthocyanidin biosynthesis. Physiol Plantarum 152(3):431–440

Bogs J, Jaffé FW, Takos AM, Walker AR, Robinson SP (2007) The grapevine transcription factor VvMYBPA1 regulates proanthocyanidin synthesis during fruit development. Plant Physiol 143(3):1347–1361

Bovy A, Schijlen E, Hall RD (2007) Metabolic engineering of flavonoids in tomato (Solanum lycopersicum): the potential for metabolomics. Metabolomics 3(3):399–412

Chen YH, Yang XY, He K, Liu MH, Li JG, Gao ZF, Lin ZQ, Zhang YF, Wang XX, Qiu XM, Shen YP, Li Z, Deng XH, Luo JC, Deng XW, Chen ZL, Gu HY, Qu LJ (2006) The MYB transcription factor superfamily of Arabidopsis: expression analysis and phylogenetic comparison with the rice MYB family. Plant Mol Biol 60(1):107–124

Dubos C, Stracke R, Grotewold E, Weisshaar B, Martin C, Lepiniec L (2010) MYB transcription factors in Arabidopsis. Trends Plant Sci 15(10):573–581

Gao F, Yao HP, Zhao HX, Zhou J, Luo XP, Huang YJ, Li CL, Chen H, Wu Q (2016) Tartary buckwheat FtMYB10 encodes an R2R3-MYB transcription factor that acts as a novel negative regulator of salt and drought response in transgenic Arabidopsis. Plant Physiol Bioch 109:387–396

González M, Carrasco B, Salazar E (2016) Genome-wide identification and characterization of R2R3 MYB family in Rosaceae. Genomics Data 9:50–57

Gou XB, Jing-Man XU, Wang JX, Jiang Y, Han SY (2014) The protective effect of extract of rutin from buckwheat on renal injury of type 2 diabetes rats. China J Mod Med 24(7):7–10

Grotewold E, Drummond BJ, Bowen B, Peterson T (1994) The myb-homologous P, gene controls phlobaphene pigmentation in maize floral organs by directly activating a flavonoid biosynthetic gene subset. Cell 76(3):543–553

Hichri I, Barrieu F, Bogs J, Kappel C, Delrot S, Lauvergeat V (2011) Recent advances in the transcriptional regulation of the flavonoid biosynthetic pathway. J Exp Bot 62(8):2465–2483

Horsch RB, Fry JE, Hoffmann NL, Eichholtz D, Rogers SG, Fraley RT (1985) A simple method for transferring genes into plants. Science 227:1229–1231

Hou SY, Sun ZX, Linghu B, Wang YG, Huang KS, Xu DM, Han YH (2015) Regeneration of buckwheat plantlets from hypocotyl and the influence of exogenous hormones on rutin content and rutin biosynthetic gene expression in vitro. Plant Cell Tiss Org 120(3):1159–1167

Jiang P, Burczynski F, Campbell C, Pierce G, Austria JA, Briggs CJ (2007) Rutin and flavonoid contents in three buckwheat species Fagopyrum esculentum, F. tataricum, and F. homotropicum, and their protective effects against lipid peroxidation. Food Res Int 40(3):356–364

Kalinová JP, Vrchotová N, Tříska J (2018) Contribution to the study of rutin stability in the achenes of tartary buckwheat (Fagopyrum tataricum). Food Chem 258:314–320

Katiyar A, Smita S, Lenka SK, Rajwanshi R, Chinnusamy V, Bansal KC (2012) Genome-wide classification and expression analysis of MYB transcription factor families in rice and Arabidopsis. BMC Genomics 13(1):1–19

Koes R, Verweij W, Quattrocchio F (2005) Flavonoids: a colorful model for the regulation and evolution of biochemical pathways. Trends Plant Sci 10(5):236–242

Kreft S, Strukelj B, Gaberscik A, Kreft I (2002) Rutin in buckwheat herbs grown at different UV-B radiation levels: comparison of two UV spectrophotometric and an HPLC method. J Exp Bot 53(375):1801–1804

Kreft I, Fabjan N, Yasumoto K (2006) Rutin content in buckwheat (Fagopyrum esculentum, Moench) food materials and products. Food Chem 98(3):508–512

Li Y, Chen M, Wang SL, Ning J, Ding XH, Chu ZH (2015) AtMYB11 regulates caffeoylquinic acid and flavonol synthesis in tomato and tobacco. Plant Cell Tiss Org 122(2):309–319

Liu B, Zhu Y (2007) Extraction of flavonoids from flavonoid-rich parts in tartary buckwheat and identification of the main flavonoids. J Food Eng 78(2):584–587

Livak KJ, Schmittgen TD (2001) Analysis of relative gene expression data using real-time quantitative PCR and the 2−ΔΔct method. Methods 25:402–408

Logacheva MD, Kasianov AS, Vinogradov DV, Samigullin TH, Gelfand MS, Makeev VJ, Penin AA (2011) De novo sequencing and characterization of floral transcriptome in two species of buckwheat (Fagopyrum). BMC Genomics 12(1):1–30

Luo XP, Zhao HX, Yao PF, Li QQ, Huang YJ, Li CL, Chen H, Wu Q (2018) An R2R3-MYB transcription factor FtMYB15 involved in the synthesis of anthocyanin and proanthocyanidins from tartary buckwheat. J Plant Growth Regul 37(1):76–84

Mehrtens F, Kranz H, Bednarek P, Weisshaar B (2005) The Arabidopsis transcription factor MYB12 is a flavonol-specific regulator of phenylpropanoid biosynthesis. Plant Physiol 138(2):1083–1096

Meng X, Yin B, Feng HL, Zhang S, Liang XQ, Meng QW (2014) Overexpression of R2R3-myb gene leads to accumulation of anthocyanin and enhanced resistance to chilling and oxidative stress. Biol Plantarum 58(1):121–130

Murphy A, Peer WA, Taiz L (2000) Regulation of auxin transport by aminopeptidases and endogenous flavonoids. Planta 211(3):315–324

Ohnishi O (1998) Search for the wild ancestor of buckwheat III. The wild ancestor of cultivated common buckwheat, and of tatary buckwheat. Econ Bot 52(2):123–133

Pandey A, Misra P, Chandrashekar K, Trivedi PK (2012) Development of AtMYB12 expressing transgenic tobacco callus culture for production of rutin with biopesticidal potential. Plant Cell Rep 31(10):1867–1876

Pandey A, Misra P, Trivedi PK (2015) Constitutive expression of Arabidopsis MYB transcription factor, AtMYB11, in tobacco modulates flavonoid biosynthesis in favor of flavonol accumulation. Plant Cell Rep 34(9):1515–1528

Saito K, Yonekura-sakakibara K, Nakabayashi R, Higashi Y, Yamazaki M, Tohge T, Fernie AR (2013) The flavonoid biosynthetic pathway in arabidopsis: structural and genetic diversity. Plant Physiol Bioch 72:21–34

Stracke R, Werber M, Weisshaar B (2001) The R2R3-MYB gene family in Arabidopsis thaliana. Curr Opin Plant Biol 4(5):447–456

Stracke R, Ishihara H, Huep G, Barsch A, Mehrtens F, Niehaus K, Weisshaar B (2007) Differential regulation of closely related R2R3-MYB transcription factors controls flavonol accumulation in different parts of the Arabidopsis thaliana seedling. Plant J 50(4):660–677

Stracke R, Jahns O, Keck M, Tohge T, Niehaus K, Femie AR, Weisshaar B (2010) Analysis of PRODUCTION OF FLAVONOL GLYCOSIDES-dependent flavonol glycoside accumulation in Arabidopsis thaliana plants reveals MYB11-, MYB12- and MYB111-independent flavonol glycoside accumulation. New Phytol 188(4):985–1000

Sun ZX, Hou SY, Yang WD (2011) Effect of exogenous L-phentermine and UV-C on the accumulation of rutin compounds and the expression of rutin biosynthesis genes in Fagopyrum tartaricum. Sci Agric Sin 44(23):4772–4780

Suzuki T, Honda Y, Mukasa Y (2005) Effects of UV-B radiation, cold and desiccation stress on rutin concentration and rutin glucosidase activity in tartary buckwheat (Fagopyrum tataricum) leaves. Plant Sci 168(5):1303–1307

Xu Q, Yin XR, Zeng JK, Ge H, Song M, Xu CJ, Li X, Ferquson IB, Chen KS (2014) Activator-and repressor-type MYB transcription factors are involved in chilling injury induced flesh lignification in loquat via their interactions with the phenylpropanoid pathway. J Exp Bot 65:4349–4359

Yao PF, Zhao HX, Luo XP, Gao F, Li CL, Yao HP, Chen H, Park SU, Wu Q (2017) Fagopyrum tataricum FtWD40, functions as a positive regulator of anthocyanin biosynthesis in transgenic tobacco. J Plant Growth Regul 36(3):1–11

Yasui Y, Hirakawa H, Ueno M, Matsui K, Katsube-Tanaka T, Yang SJ, Aii J, Sato S, Mori M (2016) Assembly of the draft genome of buckwheat and its applications in identifying agronomically useful genes. DNA Res 23(3):215–224

Zhang K, Logacheva MD, Meng Y, Meng Y, Hu JP, Wan DP, Li L, Janovska D, Wang ZY, Georglew M, Yu Z, Yang FY, Yan M, Zhou ML (2018) Jasmonate-Responsive MYB factors spatially repress rutin biosynthesis in Fagopyrum Tataricum. J Exp Bot 69(8):1955–1966

Zhao P, Li Q, Li J, Wang L, Ren Z (2014) Genome-wide identification and characterization of R2R3MYB family in Solanum lycopersicum. Mol Genet Genomics 289(6):1183–1207

Zhou ML, Tang Y, Zhang KX, Li FL, Yang PY, Tang YX, Wu YM, Shao JR (2013) Identification of TT2 gene from floral transcriptome in Fagopyrum tataricum. Food Res Int 54(1):1331–1333
Acknowledgements
We would like to thank Professor Donald Grierson, University of Nottingham, UK, for discussions and help with the manuscript. This work was supported by the National Key R&D program of China (2017YFE0117600), Shanxi youth science and technology research fund (201801D221296), NSFC (No. 31301385), Research Project Supported by Shanxi Scholarship Council of China (2017-069), China Agriculture Research System (CARS-07-A1), and Shanxi key innovative platform for germplasm enhancement and molecular breeding in major crops (201605D151002).
Ethics declarations
Conflict of interest
The authors declare no conflict of interest.
Additional information
Publisher's Note
Springer Nature remains neutral with regard to jurisdictional claims in published maps and institutional affiliations.
Electronic supplementary material
Below is the link to the electronic supplementary material.
About this article
Cite this article
Sun, Z., Linghu, B., Hou, S. et al. Tartary Buckwheat FtMYB31 Gene Encoding an R2R3-MYB Transcription Factor Enhances Flavonoid Accumulation in Tobacco. J Plant Growth Regul 39, 564–574 (2020). https://doi.org/10.1007/s00344-019-10000-7
Received:

Accepted:

Published:

Issue Date:
Keywords
Tartary buckwheat

R2R3-MYB

Transcription factor

Flavonol synthesis

Transgenic tobacco