Abstract
This paper reports the ways that the differences in leaf senescence are related to grain filling, grain yield, and the dynamics of cytokinins (CKs) in the top three leaves of four field-grown new plant type (NPT) rice, a tropical japonica developed at the International Rice Research Institute, Philippines, to increase the yield potential of rice. The chlorophyll content in leaves decreased from flowering to maturity in all the NPT lines, whereas the grain filling percentage was higher in the fast-senescing NPT line than in slow-senescing NPT line. Grain yield was positively correlated with senescence in the flag leaf. Rapid changes in the CK levels were recorded in the leaves of the fast-senescing line, whereas the CK levels were relatively stable in leaves of the slow-senescing line, suggesting that the dynamics of CKs in the fast-senescing line are vital for fast senescence. There were no significant changes in bioactive CKs, CK O-glucosides (storage CKs), and cis-zeatin derivatives in different leaves of the slow-senescing NPT line between 0 and 3 weeks after flowering, suggesting that the content of these CKs is relatively stable during grain filling. A progressive increase in levels of bioactive CKs was positively correlated with gradual accumulation of CK N-glucosides (inactive CKs) in the top three leaves of the slow-senescing NPT line, whereas the decrease of bioactive CKs in the flag leaf of the fast-senescing line was accompanied by accumulation of CK O-glucosides. These results suggest that there is a higher rate of biosynthesis and/or import of bioactive CKs as well as their turnover which may favor delay of leaf senescence in the slow-senescing NPT line.
Access options
Buy single article
Instant access to the full article PDF.
US$ 39.95
Tax calculation will be finalised during checkout.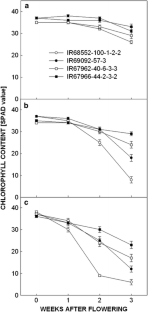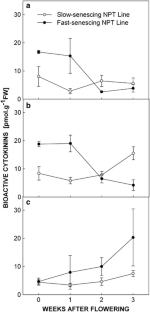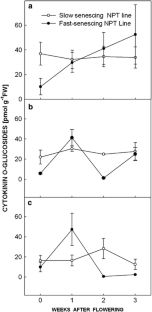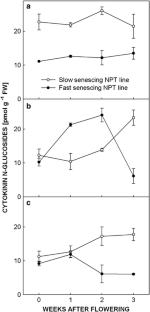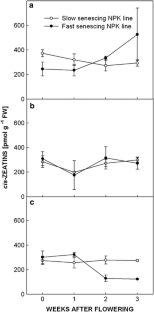 References
Ashikari M, Sakakibara H, Lin S, Yamamoto T, Takashi T, Nishimura A, Angele ER, Qian Q, Kitano H, Mathsuoka M (2005) Cytokinin oxidase regulates rice grain production. Science 309:741–745

Bassil NV, Mok DWS, Mok MC (1993) Partial purification of a cis-trans-isomerase of zeatin from immature seeds of Phaseolus vulgaris L. Plant Physiol 102:867–872

Borrell AK, Hammer GL, Henzell RG (2000) Does maintaining green leaf area in sorghum improve yield under drought? Dry matter production and yield. Crop Sci 40:1037–1048

Buchanan-Wollaston V, Page T, Harrison E, Breeze E, Lim PO, Nam HG, Lin JF, Wu SH, Swidzinski J, Ishizaki K, Leaver CJ (2005) Comparative transcriptome analysis reveals significant differences in gene expression and signaling pathways between developmental and dark/starvation-induced senescence in Arabidopsis. Plant J 42:567–585

Caers M, Vebdrig JC (1986) Benzyladenine effects on the development of the photosynthetic apparatus in Zea mays: studies on photosynthetic activity, enzymes and (etio) chloroplast ultrastructure. Physiol Plant 66:685–691

Cantu D, Pearce S, Distelfeld A, Christiansen M, Uauy C, Akhunov E, Fahima T, Dubcovsky J (2011) Effect of the down-regulation of the high grain protein content (GPC) genes on the wheat transcriptome during monocarpic senescence. BMC Genomics 12:492

Davies P (1995) The plant hormones: their nature, occurrence and functions. In: Davies P (ed) Plant hormones physiology, biochemistry and molecular biology. Kluwer Academic Publishers, Amsterdam, pp 1–12

Dobrev P, Kamínek M (2002) Fast and efficient separation of cytokinins from auxin and abscisic acid and their purification using mixed-mode solid-phase extraction. J Chromatogr A 950:21–29

Emery RJ, Leport L, Barton JE, Turner NC, Atkins CA (1998) cis-Isomers of cytokinins predominate in chickpea seeds throughout their development. Plant Physiol 117:1515–1523

Gajdošová S, Spíchal L, Kamínek M, Hoyerová K, Novák O, Dobrev PI, Galuszka P, Klíma P, Gaudinová A, Zizková E, Hanus J, Dancák M, Trávnícek B, Pesek B, Krupicka M, Vanková R, Strnad M, Motyka V (2011) Distribution, biological activities, metabolism, and the conceivable function of cis-zeatin-type cytokinins in plants. J Exp Bot 62:2827–2840

Gan SS, Amasino RM (1995) Inhibition of leaf senescence by autoregulated production of cytokinin. Science 270:1986–1988

Ghanem ME, Albacete A, Smigocki AC, Frébort I, Pospísilová H, Martínez-Andújar C, Acosta M, Sánchez-Bravo J, Lutts S, Dodd IC, Pérez-Alfocea F (2011) Root-synthesized cytokinins improve shoot growth and fruit yield in salinized tomato (Solanum lycopersicum L.) plants. J Exp Bot 62:125–140

Guiboileau A, Sormani R, Meyer C, Masclaux-Daubresse C (2010) Senescence and death of plant organs: nutrient recycling and developmental regulation. C R Biol 333:382–391

He P, Osaki M, Takebe M, Shinano T, Wasaki J (2005) Endogenous hormones and expression of senescence-related genes in different senescent types of maize. J Exp Bot 56:1117–1128

Jiang GH, He YQ, Xu CG, Li XH, Zhang Q (2004) The genetic basis of stay-green in rice analyzed in a population of doubled haploid lines derived from an indica by japonica cross. Theor Appl Genet 108:688–698

Jones RJ, Schreiber BMN, McNeil KJ, Brenner ML, Faxon G (1992) Cytokinin levels and oxidase activity during maize kernel development. In: Kaminek M, Mok BWS, Zazimalova E (eds) Physiology and biochemistry of cytokinins in plants. SPB Academic Publishing, The Hague, pp 235–239

Kamínek M, Pačes V, Corse J, Challice JSD (1979) The effect of stereospecific hydroxylation of N6-(Δ2-isopentenyl)adenosine on cytokinin activity. Planta 145:239–245

Khush GS (2004) Harnessing science and technology for sustainable rice-based production systems. In: Keynotes presented at the international conference on sustainable rice systems, FAO: Rome, 12–13 Feb 2004, pp 1–13

Kiba T, Sakakibara H (2010) Role of cytokinin in the regulation of plant development. In: Henig L, Köhler C (eds) Plant developmental biology, methods in molecular biology. Springer, Heidelberg, pp 177–187

Kobata T, Nagano T, Ida K (2006) Critical factors for grain filling in low grain-ripening rice cultivars. Agron J 98:536–544

Kojima M, Kamada-Nobusada T, Komatsu H, Takei K, Kuroha T, Mizutani M, Ashikari M, Ueguchi-Tanaka M, Matsuoka M, Suzuki K, Sakakibara H (2009) Highly sensitive and high-throughput analysis of plant hormones using MS-probe modification and liquid chromatography-tandem mass spectrometry: an application for hormone profiling in Oryza sativa. Plant Cell Physiol 50:1201–1214

Kudo T, Makita N, Kojima M, Tokunaga H, Sakakibara H (2012) Cytokinin activity of cis-zeatin and phenotypic alterations induced by overexpression of putative cis-zeatin-o-glucosyl transferase in rice. Plant Physiol 160:319–331

Ladha JK, Kirk GJD, Bennett J, Peng S, Reddy CK, Reddy PM, Singh U (1998) Opportunities for increased nitrogen-use efficiency from improved lowland rice germplasm. Field Crops Res 56:41–71

Letham DS, Palni LMS (1983) The biosynthesis and metabolism of cytokinins. Annu Rev Plant Physiol 34:163–197

Letham DS, Palni LMS, Tao GQ, Gollnow BI, Bates CM (1983) Regulators of cell division in plant tissues. XXIX. The activities of cytokinin glucosides and alanine conjugates in cytokinin bioassays. J Plant Growth Regul 2:103–115

Lim PO, Kim HJ, Nam HG (2007) Leaf senescence. Annu Rev Plant Biol 58:115–136

Liu L, Zhou Y, Szczerba MW, Li X, Lin Y (2010) Identification and application of a rice senescence-associated promoter. Plant Physiol 153:1239–1249

Long SP, Zhu XG, Naidu SL, Ort DR (2006) Can improvement in photosynthesis increase crop yields? Plant Cell Environ 29:315–330

Mae T, Hoshino T, Ohira K (1985) Proteinase activities and loss of nitrogen in the senescing leaves of field-grown rice (Oryza sativa L.). Soil Sci Plant Nutr 31:589–600

Masclaux-Daubresse C, Reisdorf-Cren M, Orsel M (2008) Leaf nitrogen remobilisation for plant development and grain filling. Plant Biol 10:23–36

Mondal WA, Choudhuri MA (1984) Sequential and non-sequential pattern of monocarpic senescence in two rice cultivars. Physiol Plant 61:287–292

Morita S, Yonemaru J, Takanashi J (2005) Grain growth and endosperm cell size under high night temperatures in rice (Oryza sativa L.). Ann Bot 95:695–701

Murchie EH, Yang J, Hubbart S, Horton P, Peng S (2002) Are there associations between grain-filling rate and photosynthesis in the flag leaves of field-grown rice? J Exp Bot 53:2217–2224

Nooden LD (1988) The phenomenon of senescence and aging. In: Nooden LD, Leopold AC (eds) Senescence and aging in plants. Academic Press, San Diego, pp 1–50

Nooden LD, Guiamet JJ, John I (1997) Senescence mechanisms. Physiol Plant 101:746–753

Oritani T (1995) Cytokinins. In: Matsuo T, Kumazawa K, Ishii R, Ishihara K, Hirata H (eds) Science of the rice plant physiology, vol 2. Ministry of Agriculture, Forestry and Fisheries, Tokyo, pp 189–198

Oritani T, Yoshida R (1973) Studies on nitrogen metabolism in crop plants, 12. Cytokinins and abscisic acid-like substances levels in rice and soybean leaves during their growth and senescence. Proc Crop Sci Soc Jpn 42:280–287

Otegui MS, Noh YS, Martinez D, Vila Petroff M, Staehelin LA, Amasino RM, Guiamet JJ (2005) Senescence-associated vacuoles with intense proteolytic activity develop in leaves of Arabidopsis and soybean. Plant J 41:831–844

Park TS (1991) Physiological aspects of leaf senescence during spikelet filling in rice (Oryza sativa L.). Dissertation, University of the Philippines, Los Banos, Laguna

Park TS, Vergara BS, Alejar AA (1993) Senescence patterns of the upper three leaves of rice (Oryza sativa L.) during spikelet filling. Life Sci 2:29–42

Peng Y, Guo W, Yan L (1992) Source-sink relationship in wheat and its regulation. In: Peng Y (ed) Wheat production and physiology. Dongnan University Publishers, Nanjing, pp 20–62

Peng S, Khush GS, Cassman KG (1994) Evolution of the new plant ideotype. In: Cassman KG (ed) Breaking the yield barrier. Proceedings of a workshop on rice yield potential in favourable environments, International Rice Research Institute, Philippines, pp 5–20

Peng S, Cassman KG, Virmani SS, Sheehy J, Khush GS (1999) Yield potentials of tropical rice since the release of IR8 and the challenge of increasing rice yield potential. Crop Sci 39:1552–1559

Rajcan I, Tollenaar M (1999) Source:sink ratio and leaf senescence in maize: I. Dry matter accumulation and partitioning during grain filling. Field Crops Res 60:245–253

Richmond AE, Lang A (1957) Effect of kinetin on protein content and survival of detached Xanthium leaves. Science 125:650–651

Saha S, Nagar PK, Sircar PK (1986) Cytokinin concentration gradient in the developing grains and upper leaves of rice (Oryza sativa) during grain filling. Can J Bot 64:2068–2072

Skoog F, Ghani AKBK (1981) Relative activities of cytokinins and antagonists in releasing lateral buds of Pisum from apical dominance compared to their relative activities in the regulation of growth of tobacco callus. In: Guern J, Péaud-Lenoël C (eds) Metabolism and molecular activities of cytokinins. Springer-Verlag, Berlin, pp 140–150

Soejima H, Sugiyama T, Ishihara K (1995) Changes in the chlorophyll contents of leaves and in levels of cytokinins in root exudates during ripening of rice cultivars Nipponbare and Akenohoshi. Plant Cell Physiol 36:1105–1114

Spíchal L (2012) Cytokinins—recent news and views of evolutionally old molecules. Funct Plant Biol 39:267–284

Stirk WA, Novák O, Václavíková K, Tarkowski P, Strnad M, Van Staden J (2008) Spatial and temporal changes in endogenous cytokinins in developing pea roots. Planta 227:1279–1289

Sýkorová B, Kuresová G, Daskalova S, Trcková M, Hoyerová K, Raimanová I, Motyka V, Trávnícková A, Elliott MC, Kamínek M (2008) Senescence-induced ectopic expression of A. tumefaciens ipt gene in wheat delays leaf senescence, increases cytokinin content, nitrate influx and nitrate reductase activity but does not affect grain yield. J Exp Bot 59:377–387

Taverner E, Letham DS, Wang J, Cornish E, Willcocks DA (1999) Influence of ethylene on cytokinin metabolism in relation to Petunia corolla senescence. Phytochemistry 51:341–347

Van Oosterom E, Chapman S, Borrell A, Broad I, Hammer G (2010) Functional dynamics of the nitrogen balance of sorghum. II. Grain filling period. Field Crop Res 115:29–38

Van Staden J (1976) The identification of zeatin glucoside from coconut milk. Physiol Plant 36:123–126

Van Staden J (1983) Mini review on seeds and cytokinin. Physiol Plant 58:340–346

Van Staden J, Cook EL, Nooden LD (1988) Cytokinins and senescence. In: Nooden LD, Leopold AC (eds) Senescence and aging in plants. Academic Press, London, pp 232–328

Van Staden J, Stirk WA, Novák O, Strnad M (2010) The role of cytokinins in seed germination. S Afr J Bot 76:405

Veach YK, Martin RC, Mok DWS, Malbeck J, Vankova R, Mok MC (2003) O-Glucosylation of cis-zeatin in maize. Characterization of genes, enzymes, and endogenous cytokinins. Plant Physiol 131:1374–1380

Wang F, Cheng F, Zhang G (2006) The relationship between grain filling and hormone content as affected by genotype and source-sink relation. Plant Growth Regul 49:1–8

Werner T, Motyka V, Laucou V, Smets R, Van Onckelen HV, Schmülling T (2003) Cytokinin-deficient transgenic Arabidopsis plants show multiple developmental alterations indicating opposite functions of cytokinins in the regulation of shoot and root meristem activity. Plant Cell 5:2532–2550

Yang J, Peng S, Visperas RM, Sanico AL, Zhu Q, Gu S (2000) Grain filling pattern and cytokinin content in the grains and roots of rice plants. Plant Growth Regul 30:261–270

Yang J, Zhang J, Wang Z, Zhu Q, Wang W (2001) Hormonal changes in the grains of rice subjected to water stress during grain filling. Plant Physiol 127:315–323

Yang J, Zhang J, Zhang Q, Zhu Q, Liu L (2002a) Abscisic acid and cytokinins in the root exudates and leaves and their relationship to senescence and remobilization of carbon reserves in rice subjected to water stress during grain filling. Planta 215:645–652

Yang J, Zhang J, Huang Z, Wang Z, Zhu Q, Liu L (2002b) Correlation of cytokinin levels in endosperms and roots with cell number and cell division activity during endosperm development in rice. Ann Bot 90:369–377

Yang J, Zhang J, Wang Z, Zhu Q, Liu L (2003) Involvement of abscisic acid and cytokinins in the senescence and remobilization of carbon reserves in wheat subjected to water stress during grain filling. Plant Cell Environ 26:1621–1631

Yonekura-Sakakibara K, Kojima M, Yamaya T, Sakakibara H (2004) Molecular characterization of cytokinin-responsive histidine kinases in maize. Differential ligand preferences and response to cis-zeatin. Plant Physiol 134:1654–1661

Yoshida S, Cock JH (1971) Growth performance of an improved rice variety in the tropics. Int Rice Comm Newsl 20:1–15

Zhang J, Sui X, Li B, Su B, Li J, Zhou D (1998) An improved water-use efficiency for winter wheat grown under reduced irrigation. Field Crops Res 59:91–98
Acknowledgments
This work was financed by the Department for International Development and partly financed by the Grant Agency of the Ministry of Education, Youth and Sports of the Czech Republic (Grant No. 1M06030). The authors thank Mrs. Alena Trávničková for help with MS analysis and Ms. Gina Borja for her assistance in the SPAD measurements.
About this article
Cite this article
Rubia, L., Rangan, L., Choudhury, R.R. et al. Changes in the Chlorophyll Content and Cytokinin Levels in the Top Three Leaves of New Plant Type Rice During Grain Filling. J Plant Growth Regul 33, 66–76 (2014). https://doi.org/10.1007/s00344-013-9374-0
Received:

Accepted:

Published:

Issue Date:
Keywords
Chlorophyll

Cytokinins

Grain filling

Leaf senescence

New plant type rice