Abstract
In this work, undoped and lanthanum doped cupric oxide (CuO:La) nanorods structured thin films were deposited at different concentrations (CLO) on p-type silicon substrates using the spray pyrolysis technique at 350 °C. XRD, AFM, SEM, and EDX techniques were used to investigate the structural, morphological, and compositional analysis, respectively. A decrease in crystallite size was observed from 13.4 to 7.75 nm and even the peak diffraction intensity decreased with an increase in La concentration. The hexagonal structure of the La2O3 phase with poor orientation planes was observed at 7 wt% La. Amplitude parameters, grain size, and atoms distribution were discussed from AFM analysis. SEM images show a uniform distribution and homogeneous crystalline construction supported by quadrilateral pillars with nanorods-like in shape. The sensitivity, recovery, and response time for CLO thin films as room temperature NO2 sensor devices were calculated. The effect of lanthanum concentration on the sensing mechanism of CuO thin films also has been reported.
This is a preview of subscription content, log in to check access.
Access options
Buy single article
Instant access to the full article PDF.
US$ 39.95
Price includes VAT for USA
Subscribe to journal
Immediate online access to all issues from 2019. Subscription will auto renew annually.
US$ 99
This is the net price. Taxes to be calculated in checkout.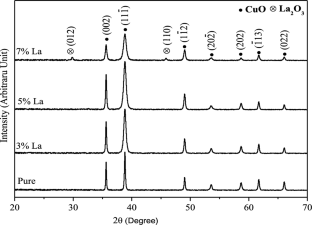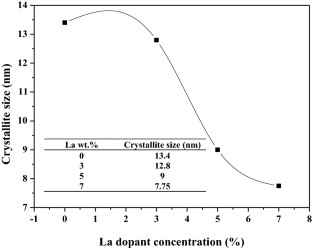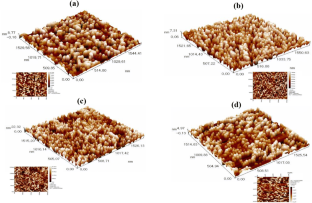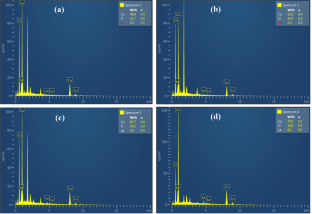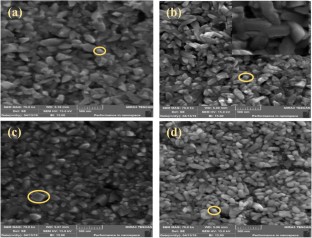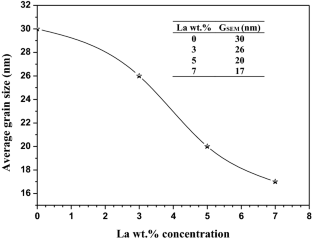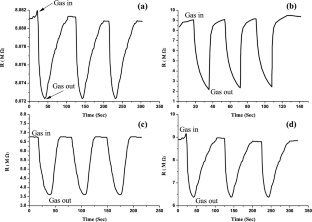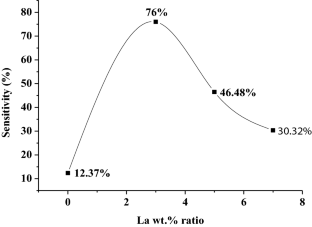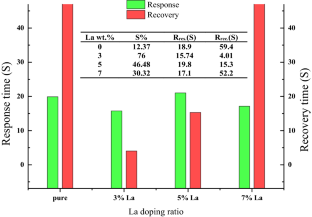 References
1.

V. Patil et al., Nanocrystalline CuO thin films for H2S monitoring: microstructural and optoelectronic characterization. J. Sens. Technol. 01(02), 36–46 (2011)

2.

J.M. Rzaij, I.M. Ibrahim, M.A. Alalousi, N.F. Habubi, Hydrogen sulfide sensor based on cupric oxide thin films. Optik. (Stuttg). 172, 117–126 (2018)

3.

L. Tian, N. Bao, A.F. Geng, H. Yu, Y. Yang, X.T. Dong, Study on room temperature gas-sensing performance of CuO film-decorated ordered porous ZnO composite by In2O3 sensitization. R. Soc. Open Sci. 5, 171788 (2018)

4.

K. Rajaram, E. Savarimuthu, S. Arumugam, Structural, surface morphological and electrial properties of spray pyrolysis made Cu/Cu2O composite films for different molar concentration of Cu (OAc)2. Res. J. Mater. Sci. 1(4), 18–21 (2013)

5.

R.H. Bari, S.B. Patil, A.R. Bari, Spray-pyrolized nanostructured CuO thin films for H2S gas sensor. Int. Nano Lett. 3(1), 2–6 (2013)

6.

N. Sarca, O.A. Leyl, C. Arslan, Z.Z. Öztürk, Characterization and gas sensing performances of noble metals decorated CuO nanorods. Thin Solid Film 685, 321–328 (2019)

7.

F. Wang et al., A highly sensitive gas sensor based on CuO nanoparticles synthetized: via a sol-gel method. RSC Adv. 6(83), 79343–79349 (2016)

8.

Y. Li, J. Liang, Z. Tao, J. Chen, CuO particles and plates: synthesis and gas-sensor application. Mater. Res. Bull. 43(8), 2380–2385 (2008)

9.

P. Samarasekara, P.G.D.C.K. Karunarathna, H.P. Weeramuni, C.A.N. Fernando, Electrical properties of spin coated Zn doped CuO films. Mater. Res. Express 5(6), 66418 (2018)

10.

S. Al-Amri et al., Ni doped CuO nanoparticles: structural and optical characterizations. Curr. Nanosci. 11(2), 191–197 (2014)

11.

S.G. Rejith, C. Krishnan, Synthesis of cadmium-doped copper oxide nanoparticles: optical and structural characterizations. Adv. Appl. Sci. Res. 4(2), 103–109 (2013)

12.

S. Dass, Y.S. Chaudhary, M. Agjrawap, A. Shrivastav, Nanostructured Mn-doped and undoped CuO thin films—PEC studies. Indian J. Phys. Proc. Indian Assoc. Cultiv. Sci. A 78(2), 229–231 (2004)

13.

S.A. El-Molla, G.A. El-Shobaky, N.H. Amin, M.N. Hammed, S.N. Sultan, Catalytic properties of pure and K+-doped CuO/MgO system towards 2-propanol conversion. J. Mex. Chem. Soc. 57(1), 36–42 (2013)

14.

S. Srivastava, A. Agarwal, Influence of Co doping on structural and optical properties of CuO nanoparticles. J. Ovonic Res. 14(5), 395–404 (2018)

15.

K.M. Kim, H.M. Jeong, H.R. Kim, K. Il Choi, H.J. Kim, J.H. Lee, Selective detection of NO2 using Cr-doped CuO nanorods. Sens. (Switz). 12(6), 8013–8025 (2012)

16.

F. Zhang, A. Zhu, Y. Luo, Y. Tian, J. Yang, Y. Qin, CuO nanosheets for sensitive and selective determination of H2S with high recovery ability. J. Phys. Chem. C. 114(45), 19214–19219 (2010)

17.

B. Zhang, W. Fu, X. Meng, A. Ruan, P. Su, H. Yang, Synthesis of actinomorphic flower-like SnO2 nanorods decorated with CuO nanoparticles and their improved isopropanol sensing properties. Appl. Surf. Sci. 456, 586–593 (2018)

18.

R.C. Wang, S.N. Lin, J. Yu Liu, Li/Na-doped CuO nanowires and nanobelts: enhanced electrical properties and gas detection at room temperature. J. Alloys Compd. 696, 79–85 (2017)

19.

N. Can, Electrospun CuO nanofibers for room temperature volatile organic compound sensing applications. Mater. Chem. Phys. 213, 6–13 (2018)

20.

J.H. Lee, J.H. Kim, S.S. Kim, CuO–TiO2 p–n core–shell nanowires: sensing mechanism and p/n sensing-type transition. Appl. Surf. Sci. 448, 489–497 (2018)

21.

A. Rydosz, The use of copper oxide thin films in gas-sensing applications. Coatings 8(12), 425 (2018)

22.

J. Deng, L. Wang, Z. Lou, T. Zhang, Design of CuO-TiO2 heterostructure nanofibers and their sensing performance. J. Mater. Chem. A 2(24), 9030–9034 (2014)

23.

Z. Li, Y. Liu, D. Guo, J. Guo, Y. Su, Room-temperature synthesis of CuO/reduced graphene oxide nanohybrids for high-performance NO2 gas sensor. Sens. Actuators B Chem. 271, 306–310 (2018)

24.

L.T. Hoa, S.H. Hur, Highly sensitive NO2 sensors based on local p-n heterojunctions composed of 0D CuO nanoparticles and 1D ZnO nanorods. Phys. Status Solidi Appl. Mater. Sci. 210(6), 1213–1216 (2013)

25.

D.N. Oosthuizen, D.E. Motaung, H.C. Swart, In depth study on the notable room-temperature NO2 gas sensor based on CuO nanoplatelets prepared by sonochemical method: comparison of various bases. Sens. Actuators B Chem. 266, 761–772 (2018)

26.

M. Mullen, P. Dutta, Building selectivity for NO sensing in a NOx mixture with sonochemically prepared CuO structures. Chemosensors 4(1), 1–6 (2015)

27.

J.M. Rzaij, Characterization of CuO thin films for gas sensing applications. Iraqi J. Phys. 14(31), 1–12 (2016)

28.

P.K. Ooi et al., Characterizations of cupric oxide thin films on glass and silicon substrates by radio frequency magnetron sputtering. Sains Malays 43(4), 617–621 (2014)

29.

S. Suwanboon, T. Ratana, T. Ratana, Effects of Al and Mn dopant on structural and optical properties of ZnO thin film prepared by Sol-Gel route. Walailak J. Sci. Tech. 4(1), 111–121 (2007)

30.

M.T. Tliba et al., La-doped zno thin films prepared by spray pyrolysis withmoving nozzle: study of physical properties and adsorption ability of the copper. Dig. J. Nanomater. Biostructures 13(4), 991–1002 (2018)

31.

F. Zhao et al., Ferromagnetism analysis of Mn-doped CuO thin films. J. Phys. Condens. Matter 20(42), 1–5 (2008)

32.

A.P. Moura et al., Structure and growth mechanism of CuO plates obtained by microwave-hydrothermal without surfactants. Adv. Powder Technol. 21(2), 197–202 (2010)

33.

C.S. Barrett, T.B. Massalski, Structure of Metals: Crystallographic Methods, Principles and Data (Pergamon Pr., Oxford u.a., 1992)

34.

J.D. Rodney et al., Photo-fenton degradation of nano-structured La doped CuO nanoparticles synthesized by combustion technique. Optik. (Stuttg). 161(2), 204–216 (2018)

35.

N.M. Basith, J.J. Vijaya, L.J. Kennedy, M. Bououdina, Structural, morphological, optical, and magnetic properties of Ni-doped CuO nanostructures prepared by a rapid microwave combustion method. Mater. Sci. Semicond. Process. 17, 110–118 (2014)

36.

B. Rajesh Kumar, T. Subba Rao, AFM studies on surface morphology, topography and texture of nanostructured zinc aluminum oxide thin films. Dig. J. Nanomater. Biostructures 7(4), 1881–1889 (2012)

37.

F.Z. Chafi, L. Bahmad, N. Hassanain, B. Fares, Characterization techniques of Fe-doped CuO thin films deposited by the Spray Pyrolysis method. Condens. Matter Mater. Sci. 30, 1–13 (2018)

38.

I.M. Ali, J.M. Rzaij, Q.A. Abbas, I.M. Ibrahim, H.J. Alatta, Structural, optical and sensing behavior of neodymium-doped vanadium pentoxide thin films. Iran. J. Sci. Technol. Trans. A Sci. 42(4), 2375–2386 (2018)

39.

I.M. Ibrahim, J.M. Rzaij, A. Ramizy, Characterization of CuPcTs/Ps for NO2 gas sensor. Dig. J. Nanomater. Biostructures 12(4), 1187–1196 (2017)

40.

A. Rydosz, A. Szkudlarek, Gas-sensing performance of M-doped CuO-based thin films working at different temperatures upon exposure to propane. Sensors 15(8), 20069–20085 (2015)

41.

A. Umar, J.H. Lee, R. Kumar, O. Al-Dossary, A.A. Ibrahim, S. Baskoutas, Development of highly sensitive and selective ethanol sensor based on lance-shaped CuO nanostructures. Mater. Des. 105, 16–24 (2016)

42.

J.M. Rzaij, A.M. Abass, Review on: TiO2 thin film as a metal oxide gas sensor. J. Chem. Rev. 2(2), 114–121 (2020)

43.

P. Shankar, J.B.B. Rayappan, Gas sensing mechanism of metal oxides: the role of ambient atmosphere, type of semiconductor and gases—a review. Sci. Lett. 4, 126 (2015)

44.

A.A. Yousif, M.H. Hasan, Gas sensitivity and morphologically characterized of nanostructure CdO doped In2O3 films deposited by pulsed laser deposition. J. Biosens. Bioelectron. 06(04), 4–10 (2015)
Additional information
Publisher's Note
Springer Nature remains neutral with regard to jurisdictional claims in published maps and institutional affiliations.
About this article
Cite this article
Rzaij, J.M., Habubi, N.F. Room temperature gas sensor based on La2O3 doped CuO thin films. Appl. Phys. A 126, 560 (2020). https://doi.org/10.1007/s00339-020-03751-8
Received:

Accepted:

Published:
Keywords
Room temperature

Gas sensor

Thin films

NO2

CuO