Abstract
The gamma-ray shielding parameters for ternary lithium borotellurite systems have been reported using Geant4 code. We simulated the mass attenuation coefficients using Geanr4 code between 284 keV and 1.33 MeV. We checked the accuracy of the simulated results by using XCOM software. The Geant4 and XCOM results showed a reasonable agreement. The maximum linear attenuation coefficient (LAC) values were reported at 284 keV and varied between 0.77914 and 0.81525 cm. The minimum LAC is found at 1.33 MeV and varied between 0.23742 and 0.25005 cm. The LAC reduced by 59.7% for TeLiB1 between 284 and 826 keV, while it reduced by only 6.7% at higher energies. The half-value layer (HVL) decreased due to the increase of B2O3 from 5 to 15 mol%, but the HVL values for the glasses which contain 80 mol% of TeO2 are lower than the HVL for the first three compositions (contain 75 mol% of TeO2). TeLiB6 glass is the best attenuator in this study due to the least HVL values of this sample. The results also revealed that TeLiB1 glass with thickness of 2.94803 cm is required to reduce the photon level carrying energy of 284 keV by a factor of one-tenth. For TeLiB6, it requires a sample with a thickness of 2.82123 cm for this aim at the same energy. The effective atomic number for the ternary lithium borotellurite glasses with 80 mol% of TeO2 is higher than those with 75 mol% of TeO2.
This is a preview of subscription content, log in to check access.
Access options
Buy single article
Instant access to the full article PDF.
US$ 39.95
Price includes VAT for USA
Subscribe to journal
Immediate online access to all issues from 2019. Subscription will auto renew annually.
US$ 99
This is the net price. Taxes to be calculated in checkout.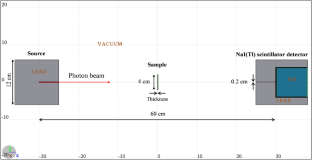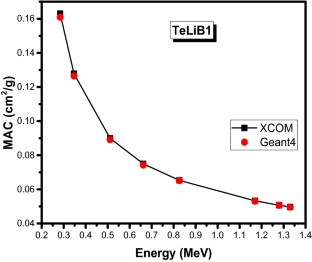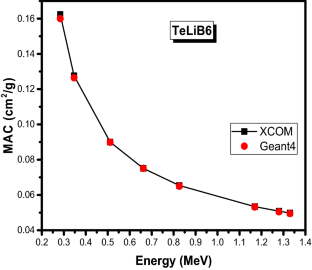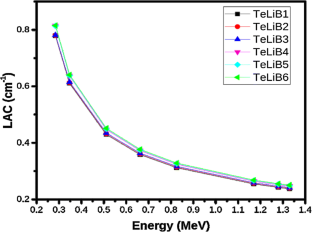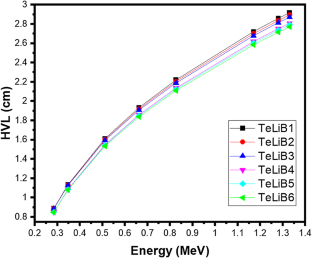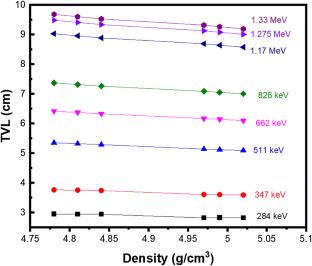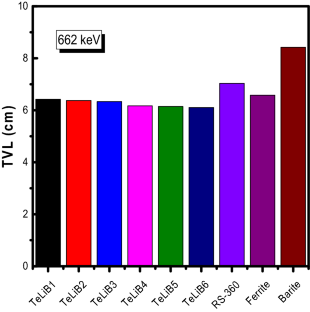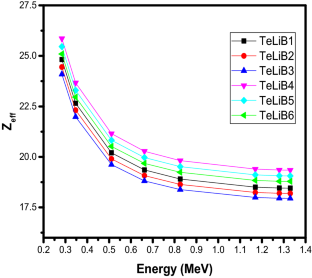 References
1.

B. Al-Buriahi, T. Tonguc, Mass attenuation coefficients, effective atomic numbers and electron densities of some contrast agents for computed tomography. Radiat. Phys. Chem. 166, 108507 (2020)

2.

S.S. Obaid, D.K. Gaikwad, P.P. Pawar, Determination of gamma ray shielding parameters of rocks and concrete. Radiat. Phys. Chem. 144, 356–360 (2018)

3.

Y. Al-Hadeethi, M.I. Sayyed, Y.S. Rammah, Fabrication, optical, structural and gamma radiation shielding characterizations of GeO2–PbO–Al2O3–CaO glasses. Ceram. Int. 46, 2055–2062 (2020)

4.

Y. Al-Hadeethi, M.S. Al-Buriahi, M.I. Sayyed, Bioactive glasses and the impact of Si3N4 doping on the photon attenuation up to radiotherapy energies. Ceram. Int. 46, 5306–5314 (2020)

5.

A.W. El-Sayed, M.A. Bourham, Comparative study of different concrete composition as gamma-ray shielding materials. Annals Nucl. Energy 85, 306–310 (2015)

6.

Y. Al-Hadeethi, M.I. Sayyed, H. Mohammed, L. Rimondin, X-ray photons attenuation characteristics for two tellurite based glass systems at dental diagnostic energies. Ceram. Int. 46, 251–257 (2020)

7.

M.E. Medhat, Y. Wang, Geant4 code for simulation attenuation of gamma rays through scintillation detectors. Ann. Nucl. Energy 62, 316–332 (2013)

8.

S.S. Obaid, M.I. Sayyed, D.K. Gaikwad, P.P. Pawar, Attenuation coefficients and exposure buildup factor of some rocks for gamma ray shielding applications. Radiat. Phys. Chem. 148, 86–94 (2018)

9.

M.H. Hazlan, M. Jamil, R.M. Ramli, N.Z.N. Azman, X-ray attenuation characterisation of electrospun Bi2O3/PVA and WO3/PVA nanofibre mats as potential X-ray shielding materials. Appl. Phys. A 124, 497 (2018)

10.

M. Kurudirek, Heavy metal borate glasses: potential use for radiation shielding. J. Alloy. Compd. 727, 1227–1236 (2017)

11.

M.S. Al-Buriahi, Y.S. Rammah, Investigation of the physical properties and gamma-ray shielding capability of borate glasses containing PbO, Al2O3 and Na2O. Appl. Phys. A 125, 717 (2019)

12.

M.S. Al-Buriahi, Y. Rammah, Electronic polarizability, dielectric, and gamma-ray shielding properties of some tellurite-based glasses. Appl. Phys. A 125, 678 (2019)

13.

Y. Al-Hadeethi, M.I. Sayyed, Hiba Mohammed. Lia Rimondin, X-ray photons attenuation characteristics for two tellurite based glass systems at dental diagnostic energies, Ceramics International 46, 251–257 (2020)

14.

Y. Al-Hadeethi, M.I. Sayyed, A comprehensive study on the effect of TeO2 on the radiation shielding properties of TeO2–B2O3–Bi2O3–LiF–SrCl2 glass system using Phy-X / PSD software. Ceram. Int. 46, 6136–6140 (2020)

15.

M.K. Halimah, S.A. Umar, K.T. Chan, A.A. Latif, M.N. Azlan, A.I. Abubakar, A.M. Hamza, Study of rice husk silicate effects on the elastic, physical and structural properties of borotellurite glasses. Mater. Chem. Phys. 2381, 121891 (2019)

16.

Y. Al-Hadeethia, M.I. Sayyed, The influence of PbO on the radiation attenuation features of tellurite glass. Ceram. Int. 45, 24230–24235 (2019)

17.

S. Agostinelli, K. John Allison, J.A. al Amako, H. Araujo, P. Arce, M. Asai et al., GEANT4—a simulation toolkit Nuclear instruments and methods in physics research section a: accelerators. Spectrom. Detectors Assoc. Equip. 506, 250–303 (2003)

18.

N. Elkhoshkhany, R. El-Mallawany, Optical and kinetics parameters of lithium boro-tellurite glasses. Ceram. Int. 41, 3561–3567 (2015)

19.

Berger M.J., Hubbell J.H., (1987), XCOM: Photon Cross Sections Database, Web Version 1.2, available at http://physics.nist.gov/xcom. National Institute of Standards and Technology,, Gaithersburg, MD 20899, USA

20.

Y.S. Rammah, A.A. Ali, F.I. El-Agawany, γ-ray shielding features and crystallization of TiO2 borotellurite glasses. J. Non-Cryst. Solids 526, 119720 (2019)

21.

R. El-Mallawany, M.I. Sayyed, M.G. Dong, Y.S. Rammah, Simulation of radiation shielding properties of glasses contain PbO. Radiat. Phys. Chem. 151, 239–252 (2018)

22.

I.I. Bashter, Calculation of radiation attenuation coefficients for shielding concretes. Ann. Nucl. Energy 24, 1389–1401 (1997)

23.

A. Kumar, Gamma ray shielding properties of PbO-Li2O-B2O3 glasses. Radiat. Phys. Chem. 136, 50–53 (2017)

24.

S.A. Tijani, S.M. Kamal, Y. Al-Hadeethi, M.A. Mehenna Arib, S. Hussein, L.A. Dim Wageh, Radiation shielding properties of transparent erbium zinc tellurite glass system determined at medical diagnostic energies. J. Alloys Comp. 741, 293–299 (2018)

25.

R. Bagheri, A.K. Moghaddam, H. Yousefnia, Gamma ray shielding study of bariumebismutheborosilicate glasses as transparent shielding materials using MCNP-4C code, XCOM program, and available experimental data. Nucl. Eng. and Technol. 49, 216–223 (2017)

26.

Y. Al-Hadeethi, M.I. Sayyed, J. Kaewkhao, B.M. Raffah, R. Almalki, R. Rajaramakrishna, M.A. Hussein, Physical, optical properties and radiation shielding studies of xLa2O3-(100-x)B2O3 glass system. Ceramics international 46, 5380–5386 (2020)

27.

K. Parminder Kaur, K.J. Singh, S. Thakur, P. Singh, B.S. Bajwa, Investigation of bismuth borate glass system modified with barium for structural and gamma-ray shielding properties. Spectrochim. Acta Part A Mol. Biomol. Spectrosc. 206, 367–377 (2019)

28.

K.J. Singh, N. Singh, R.S. Kaundal, K. Singh, Gamma-ray shielding and structural properties of PbO–SiO2 glasses. Nucl. Instrum. Methods Phys. Res. B 266, 944–948 (2008)

29.

R. Sharma, V. Sharma, P.S. Singh, T. Singh, Effective atomic numbers for some calcium–strontium-borate glasses. Ann. Nucl. Energy 45, 144–149 (2012)

30.

V.P. Singh, N.M. Badiger, J. Kaewkhao, Radiation shielding competence of silicate and borate heavy metal oxide glasses: Comparative study. J. Non-Cryst. Solids 404, 167–173 (2014)

31.

H.C. Manjunatha, L. Seenappa, B.M. Chandrika, K.N. Sridhar, C. Hanumantharayappa, Gamma. X-ray and neutron shielding parameters for the Al-based glassy alloys, applied radiation and isotopes 139, 187–194 (2018)
Acknowledgements
The authors Imen Kebaili and Imed Boukhris gratefully thank the Deanship of Scientific Research at King Khalid University for financial support through research groups program under Grant No. (R.G.P.2/97/41).
Additional information
Publisher's Note
Springer Nature remains neutral with regard to jurisdictional claims in published maps and institutional affiliations.
About this article
Cite this article
Kebaili, I., Sayyed, M.I., Boukhris, I. et al. Gamma-ray shielding parameters of lithium borotellurite glasses using Geant4 code. Appl. Phys. A 126, 536 (2020). https://doi.org/10.1007/s00339-020-03702-3
Received:

Accepted:

Published:
Keywords
Gamma-ray

Shielding

Geant4

Lithium borotellurite glasses