Abstract
Potential Last Glacial Maximum (LGM, 26,500–15,000 bp) members of the Eastern Beringia (now Alaska-Yukon, northwest North America) vascular flora were recognized based on their contemporary co-occurrence in easternmost Siberia (formerly part of Western Beringia). Of 1,633 indigenous terrestrial Alaska-Yukon taxa, 835 also occur in easternmost Siberia, including 526 arctic/alpine and 90 subarctic taxa. Archival macrofossil and DNA evidence corroborated the occurrence of 55 LGM taxa and indicated the presence of an additional 13 non–Western Beringian taxa. The total (848) was double the number of taxa previously considered amphi-Beringian, but likely, still an underestimate. Most Eastern Beringian arctic/alpine and subarctic taxa were perennials (94%) and forbs (64%), with herbaceous plants having average median heights of ≤ 37 cm. Arctic/alpine taxa were associated with xeric to submesic environments (54%), whereas the subarctic taxa favoured moister conditions. Both arctic/alpine and subarctic taxa were potentially present in unglaciated Eastern Beringia. However, some subarctic taxa may have migrated from refugial areas peripheral to Western Beringia during the Late Wisconsinan, prior to opening of the Bering Strait (11,000 bp), rather than being migrants from mid-latitude North America because of timing and distance considerations. Currently, former LGM Eastern Beringian taxa dominate (> 80% content) the flora and plant canopy cover of Alaska-Yukon arctic vegetation, but their frequency decreases curvilinearly (~ 0.102 taxon km−1) from Alaska to Hudson Bay, and from Yukon to southern British Columbia (p < 0.05). More than half of these taxa occur > 1,400 km from Eastern Beringia.
Access options
Buy single article
Instant access to the full article PDF.
US$ 39.95
Tax calculation will be finalised during checkout.
Subscribe to journal
Immediate online access to all issues from 2019. Subscription will auto renew annually.
US$ 79
Tax calculation will be finalised during checkout.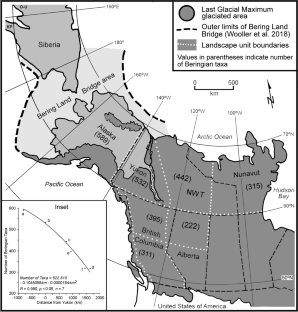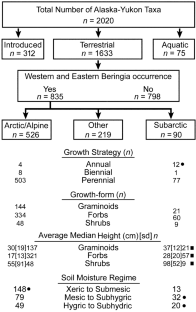 References
Abbott RJ, Brochmann C (2003) History and evolution of the arctic flora: in the footsteps of Eric Hultén. Mol Ecol 12:299–313. https://doi.org/10.1046/j.1365-294X-2003.01731.x

Ager TA (1982) Vegetational history of western Alaska during the Wisconsin glacial interval and the Holocene. In: Hopkins DM, Matthews JV, Schweger CE, Young SB (eds) Paleoecology of Beringia. Academic Press, New York, pp 75–93

Aiken SG, Dallwitz MJ, Consaul LL et al (2007) Flora of the Canadian arctic archipelago. NRC Research Press, Ottawa. http://nature.ca/aaflora. Accessed 8 Aug 2020

Anderson PM, Lozhkin AV, Belaya BV, Glushkova OY, Brubaker LB (1997) A lacustrine pollen record from near altitudinal forest limit, upper Kolyma region, northeast Siberia. Holocene 7:331–335. https://doi.org/10.1177/095968369700700309

Anderson LL, Hu FS, Nelson DM, Petit RJ, Paige KN (2006) Ice-age endurance: DNA evidence of a white spruce REFUGIUM in Alaska. Proc Natl Acad Sci USA 103:12,447-12,450. https://doi.org/10.1073/pnas.0605310103

Anderson PM, Lozhkin AV, Solomatkina TB, Brown TA (2010) Paleoclimatic implications of glacial and postglacial refugia for Pinus pumila in western Beringia. Quat Res 73:269–276. https://doi.org/10.1016/j.yqres.2009.09.008

Beckingham JD, Nielsen DG, Futoransky VA (1996) Field guide to ecosites of the Mid-Boreal ecoregion of Saskatchewan. Special report 6. Canadian Forest Service, Edmonton

Blinnikov MS, Gaglioti BV, Walker DA, Wooller MJ, Zazula GD (2011) Pleistocene graminoid-dominated ecosystems in the Arctic. Quat Sci Rev 30:2,906-2,929. https://doi.org/10.1016/j.quascirev.2011.07.002

Bronken P, Taberlet P, Gielly L, Brochmann C (2001) Chloroplast and nuclear DNA variation on a circumpolar scale: migration history of the clonal Saxifraga cernua. Bauhinia 15:75

Cain ML, Damman H, Muir A (1998) Seed dispersal and the Holocene migration of woodland herbs. Ecol Monogr 68:325–347. https://doi.org/10.1890/0012-9615(1998)068(0325:SDATHM)2.0.CO;2

CAVM Team (2003) Circumpolar arctic vegetation map (1:7,500,000). Conservation of Arctic Flora and Fauna Map 1. United States Fish and Wildlife Service, Anchorage

Clark PU, Dyke AS, Shakun JD et al (2009) The last glacial maximum. Science 325:710–714. https://doi.org/10.1126/science.1172873

Cody WJ (2000) Flora of the Yukon Territory. NRC Research Press, Ottawa

Czerepanov SK (1995) Vascular plants of Russia and adjacent states (the former USSR). Cambridge University Press, Cambridge

Daubenmire R (1968) Plant communities. Harper & Row, New York

Douglas GW, Meidinger DV, Pojar J (2002) Illustrated flora of British Columbia, Vol 8: General summary, maps and keys. British Columbia Ministry of Sustainable Resource Management and Ministry of Forests, Victoria

Duk-Rodkin A (1999) Glacial limits map of Yukon Territory (1:1,000,000-scale). Open file 3694. Geological Survey of Canada, Ottawa

Dyke AS, Moore A, Robertson L (2003) Deglaciation of North America. Open file 1574. Geological Survey of Canada, Ottawa

Ecoregions Working Group (1989) Ecoclimatic regions of Canada, first approximation. Ecological land classification series 23. Canadian Wildlife Service, Ottawa

Eidesen RB, Ehrich D, Bakkestuen V, Alsos IG, Gilg O, Taberlet P, Brochmann C (2013) Genetic roadmap of the arctic: plant dispersal highways, traffic barriers and capitals of diversity. New Phytol 200:898–910. https://doi.org/10.1111/nph.12412

Elias SA, Short SK, Nelson CH, Birks HH (1996) Life and times of the Bering land bridge. Nature 382:60–63. https://doi.org/10.1038/38206a0

Elven R (2011) Annotated checklist of the Panarctic flora (PAF), vascular plants. http://panarcticflora.org. Accessed 8 Aug 2020

Figuerola J, Charalambidou I, Santamaria L, Green AJ (2010) Internal dispersal of seeds by waterfowl: effect of seed size on gut passage time and germination patterns. Naturwissenschaften 97:555–565. https://doi.org/10.1007/s00114-0671-1

Finkenbinder MS, Abbott MB, Edwards ME, Langdon CT, Steinman BA, Finney BP (2014) A 31,000 year record of paleoenvironmental and lake-level change from Harding Lake, Alaska, USA. Quat Sci Rev 87:98–113. https://doi.org/10.1016/j.quascirev.2014.01.005

Goetcheus VG, Birks HH (2001) Full-glacial upland tundra vegetation preserved under tephra in the Beringia National Park, Seward Peninsula, Alaska. Quat Sci Rev 20:135–147. https://doi.org/10.1016/S0277-3791(00)00127-X

Godbout J, Fazekas A, Newton CH, Yeh FC, Bousquet J (2008) Glacial vicariance in the Pacific Northwest: evidence from a lodgepole pine mitochrondrial DNA minisatellite for multiple genetically distinct and widely separated refugia. Mol Ecol 17:2,463-2,475. https://doi.org/10.1111/j.1365-294X.2008.03761.x

Guthrie RD (2001) Origin and causes of the mammoth steppe: a story of cloud cover, woolly mammal tooth pits, buckles, and inside-out Beringia. Quat Sci Rev 20:549–574. https://doi.org/10.1016/50277-3791(00)00099-8

Hopkins DM (1982) Aspects of the paleography of Beringia during the Late Pleistocene. In: Hopkins DM, Matthews JV, Schweger CE, Young SB (eds) Paleoecology of Beringia. Academic Press, New York, pp 3–28

Hultén E (1937) Outline of the history of arctic and boreal biota during the quaternary period. Lehre Cramer, New York

Hultén E (1968) Flora of Alaska and neighboring territories. Stanford University Press, Stanford

Ickert-Bond SM, Bennett B, DeLapp J, Fulkerson JR, Parker CL, Nawrocki TW, Webb CO (2019) Flora of Alaska, provisional checklist. https://floraofalaska.org. Accessed 16 Oct 2019

Ikeda H, Yakobov V, Barkalov V, Setoguchi H (2018) Post-glacial East Asian origin of the alpine shrub Phyllodoce aleutica (Ericaceae) in Beringia. J Biogeogr 45:1,261-1,274. https://doi.org/10.1111/jbi.13230

ITIS Partners (2020) Integrated taxonomic information system. https://www.itis.gov. Accessed 8 Aug 2020

Jakobsson M, Pearce C, Cronin TM et al (2017) Post-glacial flooding of the Bering Land Bridge dated to 11 cal ka BP based on new geophysical and sediment records. Clim Past 13(991):1,005. https://doi.org/10.5194/cp-13-991-2017

Jaramillo-Correa JP, Beaulieu J, Bousquet J (2004) Variation in mitochrondrial DNA reveals multiple distant glacial refugia in black spruce (Picea mariana), a transcontinental North American conifer. Mol Ecol 13:2,734-2,747. https://doi.org/10.1111/j.1365-294X.2004.02258.x

Klinkenberg B (2020a) E-Flora BC: Electronic atlas of the flora of British Columbia. https://linnet.geog.ubc.ca/biodiversity/eflora/index.shtml. Accessed 1 Sep 2019 to 8 Aug 2020

Klinkenberg B (2020b) Ecology (subheading). In: Klinkenberg B (ed) E-Flora BC: Electronic atlas of the flora of British Columbia. https://linnet.geog.ubc.ca/biodiversity/eflora/index.shtml. Accessed 1 September 2019 to 8 August 2020

Lambert JDH (1968) The ecology and successional trends of tundra plant communities in the low arctic subalpine zone of the Richardson and British Mountains of the Canadian western arctic. Dissertation, University of British Columbia, Vancouver

Lovas-Kiss Á, Sánchez MI, Wilkinson DM, Coughlan NE, Alves JA, Green AJ (2019) Shorebirds as important vectors for plant dispersal in Europe. Ecography 42:956–967. https://doi.org/10.1111/ecog.04065

Moss EH (1983) Flora of Alberta. University of Toronto Press, Toronto

Meyer VD, Hefter J, Lohmann G, Max L, Tiedemann R, Mollenhauer G (2017) Summer temperature evolution on the Kamchatka Peninsula, Russian Far East, during the past 20,000 years. Clim Past 13:359–377. https://doi.org/10.5194/cp-13-359-2017

Pakeman RJ (2001) Plant migration rates and seed dispersal mechanisms. J Biogeogr 28:795–800. https://doi.org/10.1046/j.1365-2699.2001.0581.x

Pavlova EY, Pitulko VV (2020) Late Pleistocene and early Holocene climate changes and human habitation in the arctic Western Beringia based on revision of palaeobotanical data. Quat Int 549:5–25. https://doi.org/10.1016/j.quaint.2020.04.015

Porsild AE, Cody WJ (1980) Flora of vascular plants of continental Northwest Territories. National Museum of Canada, Ottawa

Purchase JE, La Roi GH (1983) Pinus banksiana forest of the Fort Vermilion area, northern Alberta. Can J Bot 61:804–824. https://doi.org/10.1139/b83-091

Redburn MJ, Strong WL (2008) Successional development of silviculturally treated and untreated high-latitude Populus tremuloides clearcuts in northern Alberta, Canada. For Ecol Manage 255:2,937-2,949. https://doi.org/10.1016/j.foreco.2008.01.074

Ritchie JC (1982) The modern and late-Quaternary vegetation of the Doll Creek area, north Yukon, Canada. New Phytol 90:563–603. https://doi.org/10.1111/j.1469-8137.1982.tb04489

Scoggan HJ (1978) The Flora of Canada. Botany, no 7(1). National Museums of Canada, Ottawa

Shilo NA, Lozhkin AV, Anderson PM, Brown TA, Pakhomov AY, Solomatkina TB (2007) Glacial refugium of Pinus pumila (Pall.) Regel in northeastern Siberia. Dokl Earth Sci 412:122–124. https://doi.org/10.1134/S1028334X0701028X

Simpson JJ, Stuart MC, Daly C (2007) A discriminant analysis model of Alaskan biomes based on spatial climatic and environmental data. Arctic 60:341–369. https://doi.org/10.14430/arctic193

Sokal RR, Rohlf FJ (1995) Biometry, 3rd edn. WH Freeman, New York

Strong WL (2013) Ecoclimatic zonation of Yukon (Canada) and ecoclinal variation in vegetation. Arctic 66:52–67. https://doi.org/10.14430/arctic4266

Strong WL, Hills LV (2006) Taxonomy and origin of present-day morphometric variation in Picea glauca (×engelmannii) seed-cone scales in North America. Can J Bot 84:1,129-1,141. https://doi.org/10.1139/b06-071

Strong WL, Hills LV (2013) Holocene migration of lodgepole pine (Pinus contorta var. latifolia) in southern Yukon, Canada. Holocene 23:1,340-1,349. https://doi.org/10.1177/0959683613484614

Stueve KM, Isaacs RE, Tyrrell LE, Densmore RV (2011) Spatial variability of biotic and abiotic tree establishment constraints across a treeline ecotone in the Alaska Range. Ecology 92:496–506. https://doi.org/10.1890/09-1725.1

Sveinbjörnsson B, Smith M, Traustason T, Ruess RW, Sullivan PF (2010) Variation in carbohydrate source-sink relations of forest and tree line white spruce in southern, interior and northern Alaska. Oecologia 163:833–843. https://doi.org/10.1007/s0442-010-1597-1

Tremblay NO, Schoen DJ (1999) Molecular phylogeography of Dryas integrifolia: glacial refugia and postglacial recolonization. Mol Ecol 8:1,187-1,198. https://doi.org/10.1046/j.1365-294x.1999.00680.x

Turner DG, Ward BC, Bond JD et al (2013) Middle to Late Pleistocene ice extents, tephrochronology and paleoenvironments of the White River area, southwest Yukon. Quat Sci Rev 75:59–77. https://doi.org/10.1016/j.quascirev.2013.05.011

Viereck LA, Dyrness CT, Batten AR, Wenzlick KJ (1992) The Alaska vegetation classification. PNW-GTR-286. USDA Forest Service, Portland

Walker MD (1990) Vegetation and floristics of pingos, central Alaska coastal plain, Alaska. Dissertationes Botanicae 149. Cramer, Stuttgart. https://daac.ornl.gov/ABOVE/guides/Pingo_Veg_Plots.html. Accessed 8 Aug 2020

Walker DA, Everett KR (1991) Loess ecosystems of northern Alaska: regional gradient and toposequence at Prudhoe Bay. Ecol Monogr 61:437–464. https://doi.org/10.2307/2937050

Walker MD, Walker DA, Auerbach NA (1994) Plant communities of a tussock tundra landscape in the Brooks Range foothills, Alaska. J Veg Sci 5:843–866. https://doi.org/10.2307/3236198

Walker DA, Bockheim JG, Chapin FS III, Eugster W, Nelson FE, Ping CL (2001) Calcium-rich tundra, wildlife, and the "Mammoth Steppe." Quat Sci Rev 20:149–163. https://doi.org/10.1016/S0277-3791(00)00126-8

Willerslev E, Davison J, Moora M et al (2014) Fifty thousand years of arctic vegetation and megafaunal diet. Nature 506:47–51. https://doi.org/10.1038/nature12921

Wooller MJ, Saulnier-Talbot É, Potter BA et al (2018) A new terrestrial palaeoenvironmental record from the Bering Land Bridge and context for human dispersal. R Soc Open Sci 5:180,145. https://doi.org/10.1098/rsos.180145

Yukon Conservation Data Centre (2019) Rare species database. Yukon Department of Environment, Whitehorse. https://yukon.ca/biodiversity. Accessed 6 Mar 2019

Zazula GD, Schweger CE, Beaudoin AB, McCourt GH (2006) Macrofossil and pollen evidence for full-glacial steppe within an ecological mosaic along the Bluefish River, eastern Beringia. Quat Int 142:2–19. https://doi.org/10.1016/j.quaint.2005.03.010
Acknowledgements
Two anonymous reviewers provided constructive comments that improved the manuscript. Bruce Bennett (Yukon Conservation Data Centre) provided the list of Yukon vascular plants. Yukon Energy, Mines and Resources Library kindly acquired documents that were locally unavailable.
Additional information
Publisher's Note
Springer Nature remains neutral with regard to jurisdictional claims in published maps and institutional affiliations.
Communicated by K. Brown.
Supplementary Information
Below is the link to the electronic supplementary material.
About this article
Cite this article
Strong, W.L. Potential palaeoflora of Last Glacial Maximum Eastern Beringia, northwest North America. Veget Hist Archaeobot (2021). https://doi.org/10.1007/s00334-021-00823-4
Received:

Accepted:

Published:
Keywords
Alaska

Eastern Beringia

Flora

Last Glacial Maximum

Vegetation history

Yukon