Abstract
Objectives
To summarise the CT findings of gastric poorly cohesive carcinoma (PCC) in the 40 s late arterial phase and differentiate it from tubular adenocarcinoma (TAC) using an integrative nomogram.
Methods
A total of 241 patients including 59 PCCs, 109 TACs, and 73 other type gastric cancers were enrolled. Thirteen CT morphological characteristics of each lesion in the late arterial phase were evaluated. In addition, CT value–related parameters were extracted from ROIs encompassing the area of greatest enhancement on four-phase CT images. Nomograms based on regression models were built to discriminate PCCs from TACs and from non-PCCs. ROC curve analysis was performed to assess the diagnostic efficiency.
Results
Six morphological characteristics, 10 CT value–related parameters, and the enhanced curve types differed significantly among the above three groups in the primary cohort (all p < 0.05). The paired comparison revealed that 10 CT value–related parameters differed significantly between PCCs and TACs (all p < 0.05). The AUC of the nomogram based on the multivariate model for discriminating PCCs from TACs was 0.954, which was confirmed in the validation cohort (AUC = 0.895). The AUC of another nomogram for discriminating PCCs from non-PCCs was 0.938, which was confirmed in the validation cohort (AUC = 0.880).
Conclusions
In the 40 s late arterial phase, the morphological characteristics and CT value–related parameters were significantly different among PCCs, TACs, and other types. PCCs were prone to manifest mucosal line interruption, diffuse thickening, infiltrative growth, and slow-rising enhanced curve (Type A). Furthermore, multivariate models were useful in discriminating PCCs from TACs and other types.
Key Points
• Multiple morphological characteristics and CT value–related parameters differed significantly between gastric PCCs and TACs in the 40 s late arterial phase.
• The nomogram integrating morphological characteristics and CT value–related parameters in the 40 s late arterial phase had favourable performance in discriminating PCCs from TACs.
• More useful information can be derived from 40 s late arterial phase CT images; thus, a more accurate evaluation can be made in clinical practice.
Access options
Buy single article
Instant access to the full article PDF.
US$ 39.95
Tax calculation will be finalised during checkout.
Subscribe to journal
Immediate online access to all issues from 2019. Subscription will auto renew annually.
US$ 119
Tax calculation will be finalised during checkout.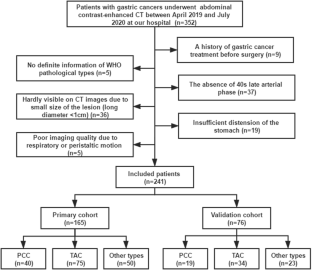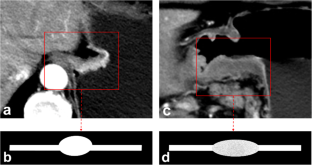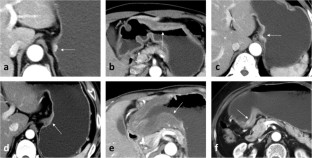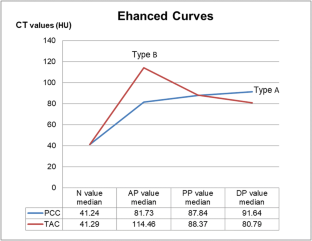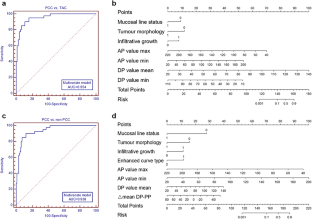 Abbreviations
AP:

Arterial phase

AUC:

Area under the curve

CE :

Contrast-enhanced

CT:

Computed tomography

DP:

Delayed phase

ICC:

Intraclass correlation coefficient

N:

Non-enhanced

PCC:

Poorly cohesive carcinoma

PP:

Portal phase

ROC:

Receiver operating characteristic

ROI:

Region of interest

TAC:

Tubular adenocarcinoma
References
1.

Bray F, Ferlay J, Soerjomataram I, Siegel RL, Torre LA, Jemal A (2018) Global cancer statistics 2018: GLOBOCAN estimates of incidence and mortality worldwide for 36 cancers in 185 countries. CA Cancer J Clin 68(6):394–424

2.

Waldum HL, Fossmark R (2018) Types of gastric carcinomas. Int J Mol Sci 19(12):4109

3.

Xie Y, Zhao Z, Li P et al (2015) Hepatoid adenocarcinoma of the stomach is a special and easily misdiagnosed or missed diagnosed subtype of gastric cancer with poor prognosis but curative for patients of pN0/1: the experience of a single center. Int J Clin Exp Med 8:6762–6772

4.

Fukayama M, Rugge M, Washington MK (2019) Tumors of the stomach. In: WHO classification of tumours editorial board. Digestive system tumours WHO classification of tumours, 5th edn. IARC, Lyon, pp 59–110

5.

Mariette C, Carneiro F, Grabsch HI et al (2019) Consensus on the pathological definition and classification of poorly cohesive gastric carcinoma. Gastric Cancer 22(1):1–9

6.

Bencivenga M, Treppiedi E, Dal Cero M et al (2020) The amount of signet ring cells is significantly associated with tumour stage and survival in gastric poorly cohesive tumours. J Surg Oncol 121(7):1084–1089

7.

Kim YH, Park JH, Park CK et al (2017) Histologic purity of signet ring cell carcinoma is a favorable risk factor for lymph node metastasis in poorly cohesive, submucosa-invasive early gastric carcinoma. Gastric Cancer 20(4):583–590

8.

Lee IS, Park YS, Lee JH et al (2013) Pathologic discordance of differentiation between endoscopic biopsy and postoperative specimen in mucosal gastric adenocarcinomas. Ann Surg Oncol 20(13):4231–4237

9.

Choi KS, Suh M (2014) Screening for gastric cancer: the usefulness of endoscopy. Clin Endosc 47(6):490–496

10.

Moon JS (2018) Screening upper endoscopy for early detection of gastric cancer. J Korean Med Sci 33(23):e190

11.

Digklia A, Wagner AD (2016) Advanced gastric cancer: current treatment landscape and future perspectives. World J Gastroenterol 22(8):2403–2414

12.

Thomassen I, van Gestel YR, van Ramshorst B et al (2014) Peritoneal carcinomatosis of gastric origin: a population-based study on incidence, survival and risk factors. Int J Cancer 134:622–628

13.

Liu S, Shi H, Ji C et al (2018) Preoperative CT texture analysis of gastric cancer: correlations with postoperative TNM staging. Clin Radiol 73(8):756.e1–756.e9

14.

Ma Z, Liang C, Huang Y et al (2017) Can lymphovascular invasion be predicted by preoperative multiphasic dynamic CT in patients with advanced gastric cancer? Eur Radiol 27(8):3383–3391

15.

Liu S, Liu S, Ji C et al (2017) Application of CT texture analysis in predicting histopathological characteristics of gastric cancers. Eur Radiol 27(12):4951–4959

16.

Wang Y, Liu W, Yu Y et al (2020) CT radiomics nomogram for the preoperative prediction of lymph node metastasis in gastric cancer. Eur Radiol 30(2):976–986

17.

Liu S, Shi H, Ji C et al (2018) CT textural analysis of gastric cancer: correlations with immunohistochemical biomarkers. Sci Rep 8(1):11844

18.

Tsurumaru D, Nishimuta Y, Muraki T et al (2018) Gastric cancer with synchronous and metachronous hepatic metastasis predicted by enhancement pattern on multiphasic contrast-enhanced CT. Eur J Radiol 108:165–171

19.

Liu PS, Platt JF (2014) CT angiography in the abdomen: a pictorial review and update. Abdom Imaging 39(1):196–214

20.

Chen CY, Hsu JS, Wu DC et al (2007) Gastric cancer: preoperative local staging with 3D multi-detector row CT--correlation with surgical and histopathologic results. Radiology. 242(2):472–482

21.

Kim JW, Shin SS, Heo SH et al (2012) Diagnostic performance of 64-section CT using CT gastrography in preoperative T staging of gastric cancer according to 7th edition of AJCC cancer staging manual. Eur Radiol 22(3):654–662

22.

Kim SH, Lee JM, Han JK et al (2005) Effect of adjusted positioning on gastric distention and fluid distribution during CT gastrography. AJR Am J Roentgenol 185(5):1180–1184

23.

Amin MB, Edge SB, Greene FL et al (eds) (2017) AJCC Cancer staging manual, 8th edn. Springer, New York
Funding
This study was funded by National Natural Science Foundation of China (No. 81601463), Jiangsu Provincial Medical Youth Talent (No. QNRC2016040), and Medical Science and Technology Development Foundation, Nanjing Commission of Health (No. YKK16113).
Ethics declarations
Guarantor
The scientific guarantor of this publication is Zhengyang Zhou.
Conflict of interest
The authors of this manuscript declare no relationships with any companies whose products or services may be related to the subject matter of the article.
Statistics and biometry
No complex statistical methods were necessary for this paper.
Informed consent
Written informed consent was waived by the Institutional Review Board.
Ethical approval
Institutional Review Board approval was obtained.
Methodology
• retrospective
• diagnostic or prognostic study
• performed at one institution
Additional information
Publisher's note
Springer Nature remains neutral with regard to jurisdictional claims in published maps and institutional affiliations.
About this article
Cite this article
Liu, S., Qiao, X., Ji, C. et al. Gastric poorly cohesive carcinoma: differentiation from tubular adenocarcinoma using nomograms based on CT findings in the 40 s late arterial phase. Eur Radiol (2021). https://doi.org/10.1007/s00330-021-07697-0
Received:

Revised:

Accepted:

Published:
Keywords
Stomach neoplasms

Adenocarcinoma

Tomography, X-ray computed

Logistic models

Nomograms