Abstract
Objectives
To analyze the accuracy of a non-contrast MR vessel wall imaging technique, three-dimensional motion-sensitized driven equilibrium prepared rapid gradient echo (3D-MERGE) for diagnosing chronic carotid artery occlusion (CCAO) characteristics compared with 3D time-of-flight (TOF) MRA, and contrast-enhanced MRA (CE-MRA), using digital subtraction angiography (DSA) as a reference standard.
Methods
Subjects diagnosed with possible CCAO by ultrasound were retrospectively analyzed. Patients underwent 3.0-T MR imaging with 3D-MERGE, 3D-TOF-MRA, and CE-MRA followed by DSA within 1 week. Diagnostic accuracy of occlusion, occlusion site, and proximal stump condition were assessed independently on 3 MRI sequences and DSA. Agreement of the above indicators was evaluated in reference to DSA.
Results
One hundred twenty-four patients with 129 suspected CCAO (5 with bilateral occlusions) met the inclusion criteria for our study. 3D-MERGE demonstrated a sensitivity, specificity, and accuracy of 97.0%, 86.7%, and 94.6%, respectively, with excellent agreement (Cohen's κ = 0.85; 95% CI, 0.71, 0.94) for diagnosing CCAO in reference to DSA. 3D-MERGE was superior in diagnosing CCAO compared with 3D-TOF-MRA (Cohen's κ = 0.61; 95% CI, 0.42, 0.77) and similar to CE-MRA (Cohen's κ = 0.93; 95% CI, 0.86, 1.00). 3D-MERGE also had excellent agreement compared with DSA for assessing occlusion sites (Cohen's κ = 0.85; 95% CI, 0.71, 0.97) and stump condition (Cohen's κ = 0.83; 95% CI, 0.71, 0.94). Moreover, 3D-MERGE provided additional information regarding the occluded segment, such as distal lumen collapse and vessel wall lesion components.
Conclusion
3D-MERGE can reliably assess chronic carotid occlusive characteristics and has the ability to identify other vessel wall features of the occluded segment. This non-contrast MR vessel wall imaging technique is promising for assessment of CCAO.
Key Points
• Excellent agreement was found between 3D-MERGE and DSA for assessing chronic carotid artery occlusion, occlusion site, and proximal stump condition.
• 3D-MERGE was shown to be a more accurate and efficient tool than 3D-TOF-MRA to detect the characteristics of the occluded segment.
• 3D-MERGE provides not only luminal images for characterizing the proximal characteristics of occlusion but also vessel wall images for assessing the distal lumen and morphology of occlusion segment, which might help clinicians to optimize the treatment strategy for patients with chronic carotid artery occlusion.
This is a preview of subscription content, log in to check access.
Access options
Buy single article
Instant access to the full article PDF.
US$ 39.95
Price includes VAT for USA
Subscribe to journal
Immediate online access to all issues from 2019. Subscription will auto renew annually.
US$ 199
This is the net price. Taxes to be calculated in checkout.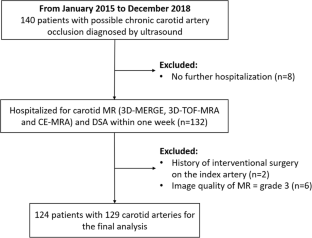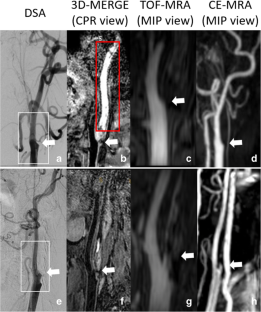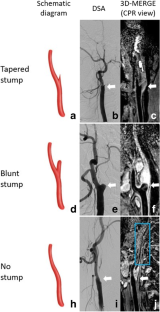 Abbreviations
3D-MERGE:

Three-dimensional motion-sensitized driven equilibrium prepared rapid gradient echo

3D-TOF-MRA:

Three-dimensional time-of-flight magnetic resonance angiography

CCA:

Common carotid artery

CCAO:

Chronic carotid artery occlusion

CE-MRA:

Contrast-enhanced magnetic resonance angiography

CPR:

Curved planar reconstruction

CTA:

Computed tomographic angiography

DSA:

Digital subtraction angiography

ICA:

Internal carotid artery

MIP:

Maximum intensity projection

MRA:

Magnetic resonance angiography

MRI:

Magnetic resonance imaging

SI:

Signal intensity

SNR:

Signal-to-noise ratio
References
1.

Klijn CJM, Kappelle LJ, Tulleken CAF, Van Gijn J (1997) Symptomatic carotid artery occlusion. A reappraisal of hemodynamic factors. Stroke 28:2084–2093

2.

Bryan DS, Carson J, Hall H et al (2013) Natural history of carotid artery occlusion. Ann Vasc Surg 27:186–193

3.

Flaherty ML, Flemming KD, McClelland R, Jorgensen NW, Brown RD Jr (2004) Population-based study of symptomatic internal carotid artery occlusion: incidence and long-term follow-up. Stroke 35:e349–e352

4.

Iwata T, Mori T, Tajiri H, Miyazaki Y, Nakazaki M (2012) Long-term angiographic and clinical outcome following stenting by flow reversal technique for chronic occlusions older than 3 months of the cervical carotid or vertebral artery. Neurosurgery 70:82–90 discussion 90

5.

Chen YH, Leong WS, Lin MS et al (2016) Predictors for successful endovascular intervention in chronic carotid artery total occlusion. JACC Cardiovasc Interv 9:1825–1832

6.

Li J, Wang C, Zou S, Liu Y, Qu L (2019) Hybrid surgery for nontaper or nonstump lesions in symptomatic subacute or chronic internal carotid occlusion: a better solution. World Neurosurg 122:e1416–e1425

7.

Hasan D, Zanaty M, Starke RM et al (2018) Feasibility, safety, and changes in systolic blood pressure associated with endovascular revascularization of symptomatic and chronically occluded cervical internal carotid artery using a newly suggested radiographic classification of chronically occluded cervical internal carotid artery: pilot study. J Neurosurg. https://doi.org/10.3171/2018.1.JNS172858:1-10

8.

Malhotra K, Goyal N, Tsivgoulis G (2017) Internal carotid artery occlusion: pathophysiology, diagnosis, and management. Curr Atheroscler Rep 19:41

9.

Kaufmann TJ, Kallmes DF (2005) Utility of MRA and CTA in the evaluation of carotid occlusive disease. Semin Vasc Surg 18:75–82

10.

Nederkoorn PJ, Der Graaf YV, Eikelboom BC, Der Lugt AV, Bartels LW, Mali WPTM (2002) Time-of-flight MR angiography of carotid artery stenosis: does a flow void represent severe stenosis? AJNR Am J Neuroradiol 23:1779–1784

11.

Weber J, Veith P, Jung B et al (2015) MR angiography at 3 Tesla to assess proximal internal carotid artery stenoses: contrast-enhanced or 3D time-of-flight MR angiography? Clin Neuroradiol 25:41–48

12.

Wang J, Yarnykh VL, Yuan C (2010) Enhanced image quality in black-blood MRI using the improved motion-sensitized driven-equilibrium (iMSDE) sequence. J Magn Reson Imaging 31:1256–1263

13.

Okuchi S, Fushimi Y, Okada T et al (2019) Visualization of carotid vessel wall and atherosclerotic plaque: T1-SPACE vs. compressed sensing T1-SPACE. Eur Radiol 29:4114–4122

14.

Edelman RR, Mattle HP, Wallner B et al (1990) Extracranial carotid arteries: evaluation with "black blood" MR angiography. Radiology 177:45–50

15.

Edelman RR, Chien D, Kim D (1991) Fast selective black blood MR imaging. Radiology 181:655–660

16.

Zhao H, Wang J, Liu X et al (2015) Assessment of carotid artery atherosclerotic disease by using three-dimensional fast black-blood MR imaging: comparison with DSA. Radiology 274:508–516

17.

Murata K, Murata N, Chu B et al (2020) Characterization of carotid atherosclerotic plaques using 3-dimensional MERGE magnetic resonance imaging and correlation with stroke risk factors. Stroke 51:475–480

18.

Bouthillier A, Van Loveren HR, Keller JT (1996) Segments of the internal carotid artery: a new classification. Neurosurgery 38:425–433

19.

Yuan C, Mitsumori LM, Ferguson MS et al (2002) In vivo accuracy of multispectral magnetic resonance imaging for identifying lipid-rich necrotic cores and intraplaque hemorrhage in advanced human carotid plaques. Circulation 104:2051–2056

20.

Fox AJ, Eliasziw M, Rothwell PM, Schmidt MH, Warlow C, Barnett HJM (2005) Identification, prognosis, and management of patients with carotid artery near occlusion. AJNR Am J Neuroradiol 26:2086–2094

21.

Scott LJ (2018) Gadobutrol: a review in contrast-enhanced MRI and MRA. Clin Drug Investig 38:773–784

22.

Balu N, Yarnykh VL, Chu B, Wang J, Hatsukami T, Yuan C (2011) Carotid plaque assessment using fast 3D isotropic resolution black-blood MRI. Magn Reson Med 65:627–637

23.

Zanaty M, Roa JA, Jabbour PM, Samaniego EA, Hasan DM (2020) Recanalization of the chronically occluded internal carotid artery: review of the literature. World Neurosurg X 5:100067

24.

JM UK-I, Fox AJ, Aviv RI et al (2010) Characterization of carotid plaque hemorrhage: a CT angiography and MR intraplaque hemorrhage study. Stroke 41:1623–1629

25.

Yuan C, Parker DL (2016) Three-dimensional carotid plaque MR imaging. Neuroimaging Clin N Am 26:1–12

26.

McNally JS, McLaughlin MS, Hinckley PJ et al (2015) Intraluminal thrombus, intraplaque hemorrhage, plaque thickness, and current smoking optimally predict carotid stroke. Stroke 46:84–90

27.

Naghavi M, Libby P, Falk E et al (2003) From vulnerable plaque to vulnerable patient: a call for new definitions and risk assessment strategies. Part I. Circulation 108:1664–1672

28.

Johansson E, Ohman K, Wester P (2015) Symptomatic carotid near-occlusion with full collapse might cause a very high risk of stroke. J Intern Med 277:615–623

29.

Aboyans V, Ricco JB, Bartelink MEL et al (2018) 2017 ESC guidelines on the diagnosis and treatment of peripheral arterial diseases, in collaboration with the European Society for Vascular Surgery (ESVS): document covering atherosclerotic disease of extracranial carotid and vertebral, mesenteric, renal, upper and lower extremity arteries endorsed by: the European Stroke Organization (ESO) The Task Force for the Diagnosis and Treatment of Peripheral Arterial Diseases of the European Society of Cardiology (ESC) and of the European Society for Vascular Surgery (ESVS). Eur Heart J 39:763–816

30.

Lin MS, Chiu MJ, Wu YW et al (2011) Neurocognitive improvement after carotid artery stenting in patients with chronic internal carotid artery occlusion and cerebral ischemia. Stroke 42:2850–2854

31.

Zanaty M, Howard S, Roa JA et al (2019) Cognitive and cerebral hemodynamic effects of endovascular recanalization of chronically occluded cervical internal carotid artery: single-center study and review of the literature. J Neurosurg. https://doi.org/10.3171/2019.1.JNS183337:1-9

32.

Lin T, Lai Z, Lv Y et al (2018) Effective collateral circulation may indicate improved perfusion territory restoration after carotid endarterectomy. Eur Radiol 28:727–735
Funding
This study has received funding from the grants by the Shanghai Municipal Health Commission Project (201940060), Shanghai Jiao Tong University Project (YG2016MS56), Renji Hospital Project (RJZZ18-002, 2019NYBSZX01), and National Natural Science Foundation of China (81571630; 81801650).
Ethics declarations
Guarantor
The scientific guarantor of this publication is Huilin Zhao, MD, PhD.
Conflict of interest
The authors of this manuscript declare no relationships with any companies, whose products or services may be related to the subject matter of the article.
Statistics and biometry
No complex statistical methods were necessary for this paper.
Informed consent
Written informed consent was obtained from all subjects (patients) in this study.
Ethical approval
Institutional Review Board approval was obtained.
Methodology
• retrospective
• cross-sectional study
• performed at one institution
Additional information
Publisher's note
Springer Nature remains neutral with regard to jurisdictional claims in published maps and institutional affiliations.
About this article
Cite this article
Zhang, J., Ding, S., Zhao, H. et al. Evaluation of chronic carotid artery occlusion by non-contrast 3D-MERGE MR vessel wall imaging: comparison with 3D-TOF-MRA, contrast-enhanced MRA, and DSA. Eur Radiol (2020). https://doi.org/10.1007/s00330-020-06989-1
Received:

Revised:

Accepted:

Published:
Keywords
Carotid artery diseases

Arterial occlusive diseases

Magnetic resonance imaging

Digital subtraction angiography