Abstract
Objectives
Menière's disease (MD) is associated with endolymphatic hydrops (EH), which is an accumulation of excessive endolymphatic fluid in the inner ear. However, using temporal bone CT, lower visualization rates of the vestibular aqueduct (VA) in these patients have also been reported.
Methods
In this retrospective single-center imaging study, we have included 25 healthy subjects and 47 patients having a definite, probable, or possible clinical diagnosis of MD that underwent temporal bone CT and inner ear MRI performed 4 h after contrast media administration. Two radiologists independently ranked the morphology of the VA in healthy subjects and in MD patients, using a three-level score (completely visible, discontinuous, and not visible). Each subject was then graded, based on both the VA's appearance and on EH presence.
Results
In healthy subjects, the VA was normal (grade 0) in 22/25 (88%) ears and discontinuous (grade I) in 3 healthy ears (12%). In the symptomatic ears of MD patients, we found 17/56 ears (30.3%) with VA grade 0, 15/56 ears (26.8%) with grade I, and 24/56 ears (42.8%) with grade II (p < 0.001). In MD patients, EH was observed in 46/94 ears (48.9%). A VA of grade 0 would eliminate the presence of EH with a negative predictive value of 88.6%, while a VA grade II would predict the presence of saccular hydrops with a positive predictive value of 93.1%.
Conclusion
The evaluation by temporal bone CT of the VA can predict the presence of EH on MRI with a high positive predictive value.
Key Points
• The evaluation by temporal bone CT of the vestibular aqueduct can predict the presence of EH on MRI.
• A vestibular aqueduct of grade 0 would eliminate the presence of EH on MRI with a negative predictive value of 88.6%.
• A vestibular aqueduct grade II would predict the presence of endolymphatic hydrops on MRI with a positive predictive value of 93.1%.
This is a preview of subscription content, log in to check access.
Access options
Buy single article
Instant access to the full article PDF.
US$ 39.95
Price includes VAT for USA
Subscribe to journal
Immediate online access to all issues from 2019. Subscription will auto renew annually.
US$ 199
This is the net price. Taxes to be calculated in checkout.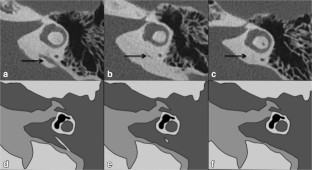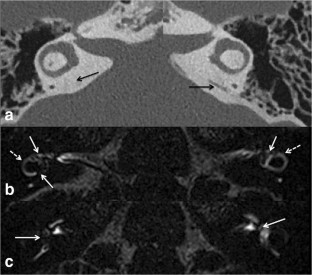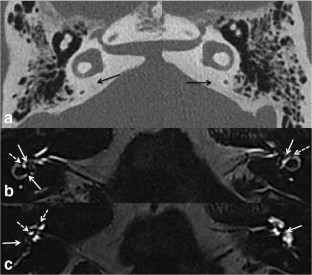 Abbreviations
CT:

Computed tomography

EH:

Endolymphatic hydrops

MD:

Menière's disease

MRI:

Magnetic resonance imaging
References
1.

Menière P (1861) Maladie de l'oreille interne offrant les symptômes de la congestion cérébrale apoplexiforme. Gazette Médicale de Paris 16:88–89

2.

Hallpike CS, Cairns H (1938) Observations on the pathology of Ménière's syndrome: (section of otology). Proc R Soc Med 31:1317–1336

3.

Nakashima T, Naganawa S, Pyykko I et al (2009) Grading of endolymphatic hydrops using magnetic resonance imaging. Acta Otolaryngol Suppl 560:5–8

4.

Attyé A, Eliezer M, Boudiaf N et al (2017) MRI of endolymphatic hydrops in patients with Meniere's disease: a case-controlled study with a simplified classification based on saccular morphology. Eur Radiol 27(8):3138–3146

5.

Conte G, Caschera L, Calloni S et al (2018) MR imaging in Menière disease: is the contact between the vestibular endolymphatic space and the oval window a reliable biomarker? AJNR Am J Neuroradiol https://doi.org/10.3174/ajnr.A5841

6.

Pender DJ (2015) Membrane stress in the human labyrinth and Meniere disease: a model analysis. Int Arch Otorhinolaryngol 19:336–342. https://doi.org/10.1055/s-0035-1549157

7.

Attyé A, Eliezer M, Medici M et al (2018) In vivo imaging of saccular hydrops in humans reflects sensorineural hearing loss rather than Meniere's disease symptoms. Eur Radiol 28(7):2916–2922

8.

Kahn L, Hautefort C, Guichard JP et al (2019) Relationship between video head impulse test, ocular and cervical vestibular evoked myogenic potentials and compartmental magnetic resonance imaging classification in Menière's disease. Laryngoscope. https://doi.org/10.1002/lary.28362

9.

Clemis JD, Valvassori GE (1968) Recent radiographic and clinical observations on the vestibular aqueduct. Otolaryngol Clin North Am 1:339–346

10.

Miyashita T, Toyama Y, Inamoto R, Mori N (2012) Evaluation of the vestibular aqueduct in Ménière's disease using multiplanar reconstruction images of CT. Auris Nasus Larynx 39:567–571. https://doi.org/10.1016/j.anl.2011.11.005

11.

Ikeda M, Sando I (1984) Endolymphatic duct and sac in patients with Meniere's disease. A temporal bone histopathological study. Ann Otol Rhinol Laryngol 93:540–546

12.

Yamane H, Konishi K, Sakamaoto H et al (2015) Practical 3D CT imaging of the vestibular aqueduct for Meniere's disease. Acta Otolaryngol 135:799–806. https://doi.org/10.3109/00016489.2015.1034879

13.

Tanioka H, Kaga H, Zusho H, Araki T, Sasaki Y (1997) MR of the endolymphatic duct and sac: findings in Menière disease. AJNR Am J Neuroradiol 18:45–51

14.

Attyé A, Barma M, Schmerber S, Dumas G, Eliezer M, Krainik (2018) The vestibular aqueduct sign: magnetic resonance imaging can detect abnormalities in both ears of patients with unilateral Menire's disease. J Neuroradiol 47(2):174–179

15.

(1995) Committee on Hearing and Equilibrium Guidelines for the Diagnosis and Evaluation of Therapy in Menière's Disease. American Academy of Otolaryngology-Head and Neck Foundation, Inc. Otolaryngol Head Neck Surg 113(3):181–185

16.

Eliezer M, Poillon G, Gillibert A et al (2018) Comparison of enhancement of the vestibular perilymph between gadoterate meglumine and gadobutrol at 3-Tesla in Meniere's disease. Diagn Interv Imaging 99(5):271–277. https://doi.org/10.1016/j.diii.2018.01.002

17.

Portney LG, Watkins MP (2009) Foundations of clinical research: applications to practice, 3rd edn Prentice Hall

18.

Kimura RS (1982) Animal models of endolymphatic hydrops. Am J Otolaryngol 3(6):447–451

19.

Yoon TH, Paparella MM, Schachern PA (1990) Otosclerosis involving the vestibular aqueduct and Meniere's disease. Otolaryngol Head Neck Surg 103(1):107–112. https://doi.org/10.1177/019459989010300116

20.

Alec NS (2001) Regulation of endolymphatic fluid volume. Ann N Y Acad Sci 942:306–312

21.

Jahrsdoerfer RA, Cail WS, Cantrell RW (1981) Endolymphatic duct obstruction from a jugular bulb diverticulum. Ann Otol Rhinol Laryngol 90:619–623

22.

Jeffrey KH, Butman JA, Bewer C et al (2005) Tumours of the endolymphatic sac in patients with Von Hippel- Lindau disease: implications for their natural history, diagnosis and treatment. J Neurosurg 102:503–512

23.

Laine J, Hautefort C, Attye A et al (2020) MRI evaluation of the endolymphatic space in otosclerosis and correlation with clinical findings. Diagn Interv Imaging S2211-5684(20)30086-3

24.

Egami T, Sando I, Black FO (1978) Hypoplasia of the vestibular aqueduct and endolymphatic sac in endolymphatic hydrops. Otolaryngology 86(2):327–339

25.

Bächinger D, Goosmann MM, Schuknecht B et al (2019) Clinical imaging findings of vestibular aqueduct trauma in a patient with posttraumatic Meniere's syndrome. Front Neurol. https://doi.org/10.3389/fneur.2019.00431

26.

Salt AN, Plontke SK (2010) Endolymphatic hydrops: pathophysiology and experimental models. Otolaryngol Clin North Am 43:971–983. https://doi.org/10.1016/j.otc.2010.05.007

27.

Pyykkö I, Nakashima T, Yoshida T, Zou J, Naganawa S (2013) Meniere's disease: a reappraisal supported by a variable latency of symptoms and the MRI visualisation of endolymphatic hydrops. BMJ Open 3

28.

Barath K, Schuknecht B, Naldi AM, Schrepfer T, Bockisch CJ, Hegemann SCA (2014) Detection and grading of endolymphatic hydrops in Menière disease using MR imaging. AJNR Am J Neuroradiol 35:1387–1392

29.

Sajjadi H, Paparella MM (2008) Meniere's disease. Lancet 372:406–414

30.

Van Beeck Calkoen EA, Merkus P et al (2018) Evaluation of the outcome of CT and MR imaging in pediatric patients with bilateral sensorineural hearing loss. Int J Pediatr Otorhinolaryngol 108:180–185

31.

Lawhn-Heath C, Buckle C, Christoforidis G, Straus C (2013) Utility of head CT in the evaluation of vertigo/dizziness in the emergency department. Emerg Radiol 20:45–49
Acknowledgments
We thank Pamela Haylock (Lariboisiere University Hospital) for critically editing the manuscript.
Funding
The authors state that this work has not received any funding.
Ethics declarations
Guarantor
The scientific guarantor of this publication is Michael Eliezer.
Conflict of interest
The authors of this manuscript declare no relationships with any companies, whose products or services may be related to the subject matter of the article.
Statistics and biometry
One of the authors has significant statistical expertise.
Informed consent
Written informed consent was waived by the Institutional Review Board.
Ethical approval
Institutional Review Board approval was obtained.
Methodology
• retrospective
• case-control study
• performed at one institution
Additional information
Publisher's note
Springer Nature remains neutral with regard to jurisdictional claims in published maps and institutional affiliations.
About this article
Cite this article
Mainnemarre, J., Hautefort, C., Toupet, M. et al. The vestibular aqueduct ossification on temporal bone CT: an old sign revisited to rule out the presence of endolymphatic hydrops in Menière's disease patients. Eur Radiol (2020). https://doi.org/10.1007/s00330-020-06980-w
Received:

Revised:

Accepted:

Published:
Keywords
Inner ear

Menière's disease

Magnetic resonance imaging (MRI)

Endolymphatic hydrops (EH)

Vestibular aqueduct