Abstract
Objectives
To clarify the relationship between the baseline value of medial meniscus extrusion (MME) and the radiographic change of knee osteoarthritis (KOA) through a 5-year follow-up.
Methods
Overall, 472 participants and 944 knees were eligible. MME (mm) was measured at the baseline, and KOA was radiographically evaluated at both baseline and 5-year follow-up by Kellgren-Lawrence grade (KLG). Radiographic KOA (ROA) was defined as the knee showing KLG ≥ 2. Incident ROA (iROA) was defined if the baseline KLG of 0–1 increased to KLG ≥ 2 in 5 years. Progressive ROA (pROA) was defined if the baseline KLG of 2–3 worsened to a higher grade in 5 years. Receiver operating characteristic (ROC) curve and generalized estimating equations were used for analysis.
Results
Of 574 non-ROA knees at the baseline, 43 knees (7.5%) developed iROA; of 370 ROA knees, 47 knees (12.7%) developed pROA. Based on the ROC curves, 4 mm was the optimal cutoff to detect the risk of iROA (area under curve [AUC] 0.639 [right knee]; AUC 0.641 [left knee]) and that of pROA (AUC 0.750 [right knee]; AUC 0.863 [left knee]). Multiple regression analysis showed that the 4-mm cutoff of MME was significantly associated with both the prevalence of iROA (regression coefficient [B] 1.909; p ≤ 0.001; adjusted odds ratio [aOR] 6.746) and that of pROA (B 1.791; p ≤ 0.001; aOR 5.993).
Conclusions
On ultrasonography, the participants with more extruded medial meniscus showed a higher prevalence of both iROA and pROA. Ultrasonography could identify patients who had a risk of developing KOA.
Key Points
• Through a 5-year follow-up, the current cohort study was conducted to clarify the relationship between the baseline value of medial meniscus extrusion (MME) and the radiographic change of knee osteoarthritis (KOA).
• More extruded medial meniscus evaluated by ultrasonography was associated with the development of radiographic KOA.
• Ultrasonography could identify the patients who had a risk of developing KOA, and the 4-mm cutoff of MME was optimal to detect this risk.
This is a preview of subscription content, log in to check access.
Access options
Buy single article
Instant access to the full article PDF.
US$ 39.95
Price includes VAT for USA
Subscribe to journal
Immediate online access to all issues from 2019. Subscription will auto renew annually.
US$ 199
This is the net price. Taxes to be calculated in checkout.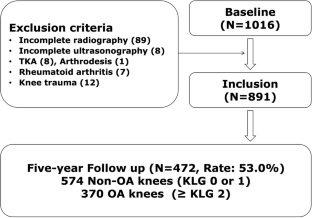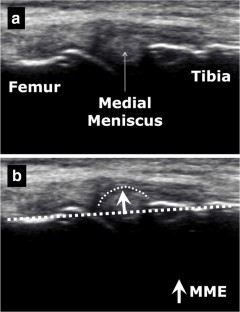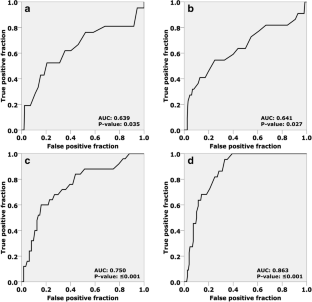 Abbreviations
95% CI:

95% confidence interval

ADL:

Activities of daily living

aOR:

Adjusted odds ratio

AUC:

Area under the curve

BMI:

Body mass index

ICC:

Intraclass correlation coefficient

iROA:

Incident ROA

JSN:

Joint space narrowing

KLG:

Kellgren-Lawrence grade

KOA:

Knee osteoarthritis

KOOS:

Knee Injury and Osteoarthritis Outcome Scale

MME:

Medial meniscus extrusion

MOAKS:

MRI Osteoarthritis Knee Score

MRI:

Magnetic resonance image

pROA:

Progressive ROA

QOL:

Quality of life

ROA:

Radiographic knee osteoarthritis

ROC:

Receiver operating characteristic

WORMS:

Whole-Organ MRI Score

YI:

Youden's Index
References
1.

Felson DT, Lawrence RC, Dieppe PA et al (2000) Osteoarthritis: new insights. Part 1: the disease and its risk factors. Ann Intern Med 133:635–646

2.

Dieppe PA, Lohmander LS (2005) Pathogenesis and management of pain in osteoarthritis. Lancet 365:965–973

3.

Hunter DJ, Bierma-Zeinstra S (2019) Osteoarthritis. Lancet 393:1745–1759

4.

Zhang Y, Xu L, Nevitt MC et al (2001) Comparison of the prevalence of knee osteoarthritis between the elderly Chinese population in Beijing and whites in the United States: the Beijing osteoarthritis study. Arthritis Rheum 44:2065–2071

5.

Yoshimura N, Muraki S, Oka H et al (2009) Prevalence of knee osteoarthritis, lumbar spondylosis, and osteoporosis in Japanese men and women: the research on osteoarthritis/osteoporosis against disability study. J Bone Miner Metab 9:620–628

6.

Losina E, Weinstein AM, Reichmann WM et al (2013) Lifetime risk and age at diagnosis of symptomatic knee osteoarthritis in the US. Arthritis Care Res (Hoboken) 65:703–711

7.

Cross M, Smith E, Hoy D et al (2014) The global burden of hip and knee osteoarthritis: estimates from the global burden of disease 2010 study. Ann Rheum Dis 73:1323–1330

8.

Ackerman IN, Zomer E, Gilmartin-Thomas JF, Liew D (2018) Forecasting the future burden of opioids for osteoarthritis. Osteoarthritis Cartilage 26:350–355

9.

Ackerman IN, Pratt C, Gorelik A, Liew D (2018) Projected burden of osteoarthritis and rheumatoid arthritis in Australia: a population-level analysis. Arthritis Care Res (Hoboken) 70:877–883

10.

Liu Q, Wang S, Lin J, Zhang Y (2018) The burden for knee osteoarthritis among Chinese elderly: estimates from a nationally representative study. Osteoarthritis Cartilage 26:1636–1642

11.

Turkiewicz A, Kiadaliri AA, Englund M (2019) Cause-specific mortality in osteoarthritis of peripheral joints. Osteoarthritis Cartilage 27:848–854

12.

Kon E, Filardo G, Drobnic M et al (2012) Non-surgical management of early knee osteoarthritis. Knee Surg Sports Traumatol Arthrosc 20:436–449

13.

Fransen M, McConnell S, Harmer AR, van der Esch M, Simic M, Bennell KL (2015) Exercise for osteoarthritis of the knee. Cochrane Database Syst Rev 1:CD004376

14.

Maheu E, Rannou F, Reginster JY (2016) Efficacy and safety of hyaluronic acid in the management of osteoarthritis: evidence from real-life setting trials and surveys. Semin Arthritis Rheum 45:S28–S33

15.

Piscitelli P, Iolascon G, Di Tanna G et al (2012) Socioeconomic burden of total joint arthroplasty for symptomatic hip and knee osteoarthritis in the Italian population: a 5-year analysis based on hospitalization records. Arthritis Care Res (Hoboken) 64:1320–1327

16.

Nielen JTH, Boonen A, Dagnelie PC et al (2018) Disease burden of knee osteoarthritis patients with a joint replacement compared to matched controls: a population-based analysis of a Dutch medical claims database. Osteoarthritis Cartilage 26:202–210

17.

Loza E, Lopez-Gomez JM, Abasolo L et al (2009) Economic burden of knee and hip osteoarthritis in Spain. Arthritis Rheum 61:158–165

18.

Sharif B, Garner R, Hennessy D, Sanmartin C, Flanagan WM, Marshall DA (2017) Productivity costs of work loss associated with osteoarthritis in Canada from 2010 to 2031. Osteoarthritis Cartilage 25:249–258

19.

Berthiaume MJ, Raynauld JP, Martel-Pelletier J et al (2005) Meniscal tear and extrusion are strongly associated with progression of symptomatic knee osteoarthritis as assessed by quantitative magnetic resonance imaging. Ann Rheum Dis 64:556–563

20.

Raynauld JP, Martel-Pelletier J, Berthiaume MJ et al (2006) Long term evaluation of disease progression through the quantitative magnetic resonance imaging of symptomatic knee osteoarthritis patients: correlation with clinical symptoms and radiographic changes. Arthritis Res Ther 8:R21

21.

Ding C, Martel-Pelletier J, Pelletier JP et al (2007) Knee meniscal extrusion in a largely non-osteoarthritic cohort: association with greater loss of cartilage volume. Arthritis Res Ther 9:R21

22.

Pelletier JP, Raynauld JP, Berthiaume MJ et al (2007) Risk factors associated with the loss of cartilage volume on weight-bearing areas in knee osteoarthritis patients assessed by quantitative magnetic resonance imaging: a longitudinal study. Arthritis Res Ther 9:R74

23.

Wang Y, Wluka AE, Pelletier JP et al (2010) Meniscal extrusion predicts increases in subchondral bone marrow lesions and bone cysts and expansion of subchondral bone in osteoarthritic knees. Rheumatology (Oxford) 49:997–1004

24.

Crema MD, Nevitt MC, Guermazi A et al (2014) Progression of cartilage damage and meniscal pathology over 30 months is associated with an increase in radiographic tibiofemoral joint space narrowing in persons with knee OA--the MOST study. Osteoarthritis Cartilage 22:1743–1747

25.

Bloecker K, Wirth W, Guermazi A et al (2015) Relationship between medial meniscal extrusion and cartilage loss in specific femorotibial subregions: data from the osteoarthritis initiative. Arthritis Care Res (Hoboken) 67:1545–1552

26.

Guermazi A, Eckstein F, Hayashi D et al (2015) Baseline radiographic osteoarthritis and semi-quantitatively assessed meniscal damage and extrusion and cartilage damage on MRI is related to quantitatively defined cartilage thickness loss in knee osteoarthritis: the multicenter osteoarthritis study. Osteoarthritis Cartilage 23:2191–2198

27.

Emmanuel K, Quinn E, Niu J et al (2016) Quantitative measures of meniscus extrusion predict incident radiographic knee osteoarthritis--data from the osteoarthritis initiative. Osteoarthritis Cartilage 24:262–269

28.

Felson DT, Niu J, Neogi T et al (2016) Synovitis and the risk of knee osteoarthritis: the MOST study. Osteoarthritis Cartilage 24:458–464

29.

Sharma L, Nevitt M, Hochberg M et al (2016) Clinical significance of worsening versus stable preradiographic MRI lesions in a cohort study of persons at higher risk for knee osteoarthritis. Ann Rheum Dis 75:1630–1636

30.

Teichtahl AJ, Cicuttini FM, Abram F et al (2017) Meniscal extrusion and bone marrow lesions are associated with incident and progressive knee osteoarthritis. Osteoarthritis Cartilage 25:1076–1083

31.

van der Voet JA, Runhaar J, van der Plas P, Vroegindeweij D, Oei EH, Bierma-Zeinstra SMA (2017) Baseline meniscal extrusion associated with incident knee osteoarthritis after 30 months in overweight and obese women. Osteoarthritis Cartilage 25:1299–1303

32.

Hein CN, Deperio JG, Ehrensberger MT, Marzo JM (2011) Effects of medial meniscal posterior horn avulsion and repair on meniscal displacement. Knee 18:189–192

33.

Bao HR, Zhu D, Gong H, Gu GS (2013) The effect of complete radial lateral meniscus posterior root tear on the knee contact mechanics: a finite element analysis. J Orthop Sci 18:256–263

34.

Guess TM, Razu S, Jahandar H, Stylianou A (2015) Predicted loading on the menisci during gait: the effect of horn laxity. J Biomech 48:1490–1498

35.

Gokkus K, Atmaca H, Uğur L, Özkan A, Aydin AT (2016) The relationship between medial meniscal subluxation and stress distribution pattern of the knee joint: finite element analysis. J Orthop Sci 21:32–37

36.

Rowland G, Mar D, McIff T, Nelson J (2016) Evaluation of meniscal extrusion with posterior root disruption and repair using ultrasound. Knee 23:627–630

37.

Friedman L, Finlay K, Jurriaans E (2001) Ultrasound of the knee. Skeletal Radiol 30:361–377

38.

Razek AA, Fouda NS, Elmetwaley N, Elbogdady E (2009) Sonography of the knee joint. J Ultrasound 12:53–60

39.

Chiba D, Maeda S, Sasaki E et al (2017) Meniscal extrusion seen on ultrasonography affects the development of radiographic knee osteoarthritis: a 3-year prospective cohort study. Clin Rheumatol 36:2557–2564

40.

Bevers K, Vriezekolk JE, Bijlsma JW, van den Ende CH, den Broeder AA (2015) Ultrasonographic predictors for clinical and radiological progression in knee osteoarthritis after 2 years of follow-up. Rheumatology (Oxford) 54:2000–2003

41.

Kellgren JH, Lawrence JS (1957) Radiological assessment of osteoarthrosis (1957). Ann Rheum Dis 16:494–502

42.

Roos EM, Roos HP, Lohmander LS, Ekdahl C, Beynnon BD (1998) Knee injury and osteoarthritis outcome score (KOOS)--development of a self-administered outcome measure. J Orthop Sports Phys Ther 28:88–96

43.

Nakamura N, Takeuchi R, Sawaguchi T, Ishikawa H, Saito T, Goldhahn S (2011) Cross-cultural adaptation and validation of the Japanese Knee Injury and Osteoarthritis Outcome Score (KOOS). J Orthop Sci 16:516–523

44.

Kawaguchi K, Enokida M, Otsuki R, Teshima R (2012) Ultrasonographic evaluation of medial radial displacement of the medial meniscus in knee osteoarthritis. Arthritis Rheum 64:173–180

45.

Sharma L, Eckstein F, Song J et al (2008) Relationship of meniscal damage, meniscal extrusion, malalignment, and joint laxity to subsequent cartilage loss in osteoarthritic knees. Arthritis Rheum 58:1716–1726

46.

Sharma L, Chmiel JS, Almagor O et al (2014) Significance of preradiographic magnetic resonance imaging lesions in persons at increased risk of knee osteoarthritis. Arthritis Rheumatol 66:1811–1819

47.

Gale DR, Chaisson CE, Totterman SM, Schwartz RK, Gale ME, Felson DT (1999) Meniscal subluxation: association with osteoarthritis and joint space narrowing. Osteoarthritis Cartilage 7:526–532

48.

Roemer FW, Kwoh CK, Hannon MJ et al (2015) What comes first? Multi-tissue involvement leading to radiographic osteoarthritis: magnetic resonance imaging-based trajectory analysis over four years in the osteoarthritis initiative. Arthritis Rheumatol 67:2085–2096

49.

Svensson F, Felson DT, Turkiewicz A et al (2019) Scrutinizing the cut-off for "pathological" meniscal body extrusion on knee MRI. Eur Radiol 29:2616–2623

50.

Chhabra A, Ashikyan O, Hlis R et al (2019) The International Society of Arthroscopy, Knee Surgery and Orthopaedic Sports Medicine classification of knee meniscus tears: three-dimensional MRI and arthroscopy correlation. Eur Radiol 29:6372–6384

51.

Eijgenraam SM, Bovendeert FAT, Verschueren J et al (2019) T2 mapping of the meniscus is a biomarker for early osteoarthritis. Eur Radiol 29:5664–5672
Acknowledgments
We would like to acknowledge Editage (www.editage.com) for English language editing.
Funding
This study has received funding by the Ministry of Education, Culture, Sports, Science and Technology of Japan (No. 18200044), the Japanese Society for the Promotion of Science (No. 21500676), Karoji Memorial Fund for Medical Research (No. 5310139302), and JOA-Subsidized Science Project Research from the Japanese Orthopedic Association.
Ethics declarations
Guarantor
The scientific guarantor of this publication is Daisuke Chiba.
Conflict of interest
The authors of this manuscript declare no relationships with any companies whose products or services may be related to the subject matter of the article.
Statistics and biometry
One of the authors has significant statistical experience.
Informed consent
Written informed consent was obtained from all subjects (patients) in this study.
Ethical approval
Institutional Review Board approval was obtained.
Study subjects or cohorts overlap
Some study subjects or cohorts have been previously reported in Arthritis Care & Research, Arthritis Research & Therapy, Clinical Rheumatology, International Orthopedics, Knee Surg Sports Traumatol Arthrosc., and Osteoarthritis and Cartilage.
Methodology
• Prospective
• Diagnostic or prognostic study
• Performed at one institution
Additional information
Publisher's note
Springer Nature remains neutral with regard to jurisdictional claims in published maps and institutional affiliations.
About this article
Cite this article
Chiba, D., Sasaki, E., Ota, S. et al. US detection of medial meniscus extrusion can predict the risk of developing radiographic knee osteoarthritis: a 5-year cohort study. Eur Radiol 30, 3996–4004 (2020). https://doi.org/10.1007/s00330-020-06749-1
Received:

Revised:

Accepted:

Published:

Issue Date:
Keywords
Knee osteoarthritis

Meniscus

Ultrasound

Cohort study