Abstract
Objective
To explore whether sex-specific abdominal visceral fat composition on CT can predict the Fuhrman nuclear grade of clear cell renal cell carcinoma (ccRCC).
Methods
One hundred seventy-one patients (123 males and 48 females) from four hospitals (multicentre group) and 159 patients (109 males and 50 females) from the cancer imaging archive (TCIA-KIRC group) with pathologically proven ccRCC (multicentre: 124 low grade and 47 high grade; TCIA-KIRC: 79 low grade and 80 high grade) were retrospectively included. Abdominal fat was segmented into subcutaneous fat area (SFA) and visceral fat area (VFA) on CT using ImageJ. The total fat area (TFA) and relative VFA (rVFA) were then calculated. Clinical characteristics (age, sex, waist circumference and maximum tumour diameter) were also assessed. Univariate and multivariate logistic regression analyses were performed to identify the association between general or sex-specific visceral fat composition and Fuhrman grade.
Results
Females with high-grade ccRCC from the multicentre group had a higher rVFA (42.4 vs 31.3, p = 0.001) than those with low-grade ccRCC after adjusting for age. There was no significant difference in males. The rVFA remained a stable and independent predictor for females high-grade ccRCC in both the univariate (multicentre: OR 1.205, 95% CI 1.074–1.352, p = 0.001; TCIA-KIRC: OR 1.171, 95% CI 1.016–1.349, p = 0.029) and multivariate (multicentre: OR 1.095, 95% CI 1.024–1.170, p = 0.003; TCIA-KIRC: OR 1.103, 95% CI 1.024–1.187, p = 0.010) models.
Conclusions
Sex-specific visceral fat composition has different values for predicting high-grade ccRCC and could be used as an independent predictor for females with high-grade ccRCC.
Key Points
• Visceral fat measurement (rVFA) as an independent predictor for high-grade ccRCC had good predictive power in females, but not in males.
• Sex-specific visceral fat composition was significantly associated with high-grade ccRCC in females only.
• The rVFA could be considered one of the risk factors for high-grade ccRCC for females.
This is a preview of subscription content, log in to check access.
Access options
Buy single article
Instant access to the full article PDF.
US$ 39.95
Price includes VAT for USA
Subscribe to journal
Immediate online access to all issues from 2019. Subscription will auto renew annually.
US$ 199
This is the net price. Taxes to be calculated in checkout.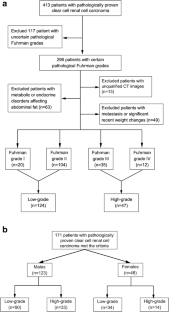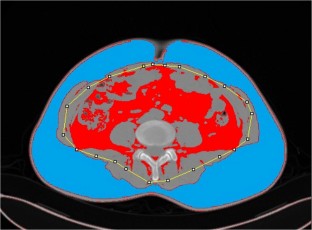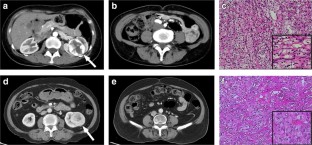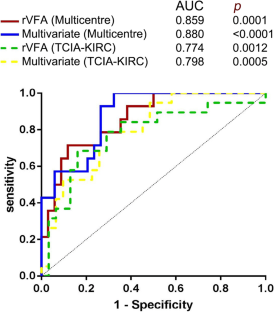 Abbreviations
AUC:

Area under the ROC curve

BMI:

Body mass index

ccRCC:

Clear cell renal cell carcinoma

ERα:

Oestrogen receptor alpha

ERβ:

Oestrogen receptor beta

RCC:

Renal cell carcinoma

rVFA:

Relative visceral fat area

SFA:

Subcutaneous fat area

TCIA-KIRC:

The Cancer Imaging Archive Kidney Renal Clear Cell Carcinoma

TFA:

Total fat area

VAT:

Visceral adipose tissue

VFA:

Visceral fat area
References
1.

Okumura S, Kaido T, Hamaguchi Y et al (2017) Visceral adiposity and sarcopenic visceral obesity are associated with poor prognosis after resection of pancreatic cancer. Ann Surg Oncol 24:3732–3740

2.

Yip C, Goh V, Davies A et al (2014) Assessment of sarcopenia and changes in body composition after neoadjuvant chemotherapy and associations with clinical outcomes in oesophageal cancer. Eur Radiol 24:998–1005

3.

Zhu Y, Wang HK, Zhang HL et al (2013) Visceral obesity and risk of high grade disease in clinical t1a renal cell carcinoma. J Urol 189:447–453

4.

Keehn A, Srivastava A, Maiman R et al (2015) The relationship between visceral obesity and the clinicopathologic features of patients with small renal masses. J Endourol 29:372–376

5.

Lee HW, Jeong BC, Seo SI et al (2015) Prognostic significance of visceral obesity in patients with advanced renal cell carcinoma undergoing nephrectomy. Int J Urol 22:455–461

6.

Park YH, Lee JK, Kim KM et al (2014) Visceral obesity in predicting oncologic outcomes of localized renal cell carcinoma. J Urol 192:1043–1049

7.

Ye S, Wen H, Jiang Z, Wu X (2016) The effect of visceral obesity on clinicopathological features in patients with endometrial cancer: a retrospective analysis of 200 Chinese patients. BMC Cancer 16:209

8.

Park SW, Lee HL, Doo EY et al (2015) Visceral obesity predicts fewer lymph node metastases and better overall survival in colon cancer. J Gastrointest Surg 19:1513–1521

9.

Park SW, Lee HL, Ju YW et al (2015) Inverse association between visceral obesity and lymph node metastasis in gastric cancer. J Gastrointest Surg 19:242–250

10.

Jang M, Park HW, Huh J et al (2019) Predictive value of sarcopenia and visceral obesity for postoperative pancreatic fistula after pancreaticoduodenectomy analyzed on clinically acquired CT and MRI. Eur Radiol 29:2417–2425

11.

Juan HC, Lin HY, Chou YH et al (2012) Abdominal fat distribution on computed tomography predicts ureteric calculus fragmentation by shock wave lithotripsy. Eur Radiol 22:1624–1630

12.

Alberti KG, Zimmet P, Shaw J (2006) Metabolic syndrome--a new world-wide definition. A consensus statement from the International Diabetes Federation. Diabet Med 23:469–480

13.

Palmer BF, Clegg DJ (2015) The sexual dimorphism of obesity. Mol Cell Endocrinol 402:113–119

14.

Kaneko G, Miyajima A, Yuge K et al (2015) Visceral obesity is associated with better recurrence-free survival after curative surgery for Japanese patients with localized clear cell renal cell carcinoma. Jpn J Clin Oncol 45:210–216

15.

Wang HK, Song XS, Cheng Y et al (2014) Visceral fat accumulation is associated with different pathological subtypes of renal cell carcinoma (RCC): a multicentre study in China. BJU Int 114:496–502

16.

Drabkin HA, Gemmill RM (2010) Obesity, cholesterol, and clear-cell renal cell carcinoma (RCC). Adv Cancer Res 107:39–56

17.

Nguyen GK, Mellnick VM, Yim AK, Salter A, Ippolito JE (2018) Synergy of sex differences in visceral fat measured with CT and tumor metabolism helps predict overall survival in patients with renal cell carcinoma. Radiology 287:884–892

18.

Fuhrman SA, Lasky LC, Limas C (1982) Prognostic significance of morphologic parameters in renal cell carcinoma. Am J Surg Pathol 6:655–663

19.

Ficarra V, Righetti R, Martignoni G et al (2001) Prognostic value of renal cell carcinoma nuclear grading: multivariate analysis of 333 cases. Urol Int 67:130–134

20.

Smith ZL, Pietzak EJ, Meise CK et al (2015) Simplification of the Fuhrman grading system for renal cell carcinoma. Can J Urol 22:8069–8073

21.

Becker A, Hickmann D, Hansen J et al (2016) Critical analysis of a simplified Fuhrman grading scheme for prediction of cancer specific mortality in patients with clear cell renal cell carcinoma--impact on prognosis. Eur J Surg Oncol 42:419–425

22.

Zopfs D, Theurich S, Grosse Hokamp N et al (2019) Single-slice CT measurements allow for accurate assessment of sarcopenia and body composition. Eur Radiol. https://doi.org/10.1007/s00330-019-06526-9

23.

Gomez-Perez SL, Haus JM, Sheean P et al (2016) Measuring abdominal circumference and skeletal muscle from a single cross-sectional computed tomography image: a step-by-step guide for clinicians using National Institutes of Health ImageJ. JPEN J Parenter Enteral Nutr 40:308–318

24.

Ladoire S, Bonnetain F, Gauthier M et al (2011) Visceral fat area as a new independent predictive factor of survival in patients with metastatic renal cell carcinoma treated with antiangiogenic agents. Oncologist 16:71–81

25.

Mano R, Hakimi AA, Zabor EC et al (2014) Association between visceral and subcutaneous adiposity and clinicopathological outcomes in non-metastatic clear cell renal cell carcinoma. Can Urol Assoc J 8:E675–E680

26.

Khandekar MJ, Cohen P, Spiegelman BM (2011) Molecular mechanisms of cancer development in obesity. Nat Rev Cancer 11:886–895

27.

Yu CP, Ho JY, Huang YT et al (2013) Estrogen inhibits renal cell carcinoma cell progression through estrogen receptor-beta activation. PLoS One 8:e56667

28.

Treeck O, Lattrich C, Springwald A, Ortmann O (2010) Estrogen receptor beta exerts growth-inhibitory effects on human mammary epithelial cells. Breast Cancer Res Treat 120:557–565

29.

Huang B, Warner M, Gustafsson JA (2015) Estrogen receptors in breast carcinogenesis and endocrine therapy. Mol Cell Endocrinol 418(Pt 3):240–244

30.

Kim HI, Lim H, Moon A (2018) Sex differences in cancer: epidemiology, genetics and therapy. Biomol Ther (Seoul) 26:335–342

31.

Ippolito JE, Yim AK, Luo J, Chinnaiyan P, Rubin JB (2017) Sexual dimorphism in glioma glycolysis underlies sex differences in survival. JCI Insight 2

32.

Colen RR, Wang J, Singh SK, Gutman DA, Zinn PO (2015) Glioblastoma: imaging genomic mapping reveals sex-specific oncogenic associations of cell death. Radiology 275:215–227

33.

Yuan Y, Liu L, Chen H et al (2016) Comprehensive characterization of molecular differences in cancer between male and female patients. Cancer Cell 29:711–722

34.

Lucca I, Klatte T, Fajkovic H, de Martino M, Shariat SF (2015) Gender differences in incidence and outcomes of urothelial and kidney cancer. Nat Rev Urol 12:585–592
Funding
This study has received funding from the National Natural Science Foundation of China (81971574), the Natural Science Foundation of Guangdong Province in China (2018A030313282), the Fundamental Research Funds for the Central Universities, SCUT (2018MS23), the Research Grant of Guangdong Food and Drug Vocational College (2018ZR019) and the Guangdong Province Medical Scientific Research Foundation (A2019465).
Ethics declarations
Guarantor
The scientific guarantor of this publication is Dr. Ruimeng Yang.
Conflict of interest
The authors of this manuscript declare no relationships with any companies whose products or services may be related to the subject matter of the article.
Statistics and biometry
No complex statistical methods were necessary for this paper.
Informed consent
Written informed consent was waived by the Institutional Review Board.
Ethical approval
Institutional Review Board approval was obtained.
Methodology
• Retrospective
• Observational
• Multicentre study
Additional information
Publisher's note
Springer Nature remains neutral with regard to jurisdictional claims in published maps and institutional affiliations.
Electronic supplementary material
About this article
Cite this article
Hu, Z., Wu, J., Lai, S. et al. Clear cell renal cell carcinoma: the value of sex-specific abdominal visceral fat measured on CT for prediction of Fuhrman nuclear grade. Eur Radiol 30, 3977–3986 (2020). https://doi.org/10.1007/s00330-020-06747-3
Received:

Revised:

Accepted:

Published:

Issue Date:
Keywords
Carcinoma, renal cell

Obesity, abdominal

Tomography, X-ray computed

Pathology

Neoplasm grading