Abstract
Objectives
To measure the median nerve (MN) stiffness by quantitative shear wave elastography (SWE) at the carpal tunnel inlet and to determine whether SWE can be used in the diagnosis of carpal tunnel syndrome (CTS).
Methods
The study included 37 consecutive patients (60 wrists) with a definitive diagnosis of CTS and 18 healthy volunteers (36 wrists). The MN cross-sectional area (CSA) by ultrasound and stiffness by SWE were studied. The difference between CTS patients and controls, and the difference among subgroups based on electrodiagnostic tests were studied by the Student's t test. Interobserver variability and ROC analysis were performed.
Results
The MN stiffness was significantly higher in the CTS group (66.7 kPa) when compared to controls (32.0 kPa) (P < 0.001), and higher in the severe or extreme severity group (101.4 kPa) than the mild or moderate severity group (55.1 kPa) (P < 0.001). A 40.4-kPa cut-off value on SWE revealed sensitivity, specificity, PPV, NPV and accuracy of 93.3 %, 88.9 %, 93.3 %, 88.9 % and 91.7 %, respectively. Interobserver agreement was excellent for SWE measurements.
Conclusions
Median nerve stiffness at the carpal tunnel inlet is significantly higher in patients with carpal tunnel syndrome, for whom shear wave elastography appears to be a highly reproducible diagnostic technique.
Key Points
• Clinical examination is important for diagnosis of carpal tunnel syndrome
• Shear wave elastography (SWE) offers new clinical opportunities within diagnostic ultrasound
• SWE is highly reproducible in evaluation of median nerve stiffness
• Median nerve stiffness is significantly increased in carpal tunnel syndrome
• Elastography could become useful in diagnosis of carpal tunnel syndrome
Access options
Buy single article
Instant access to the full article PDF.
US$ 39.95
Tax calculation will be finalised during checkout.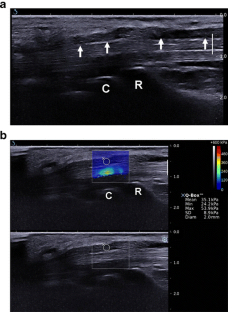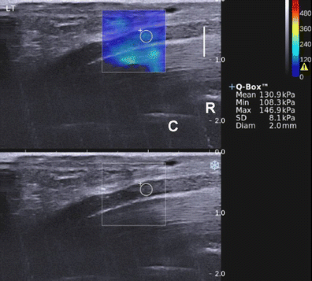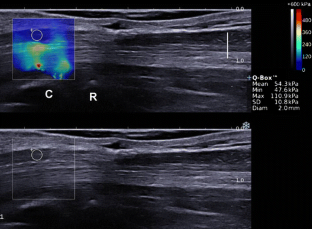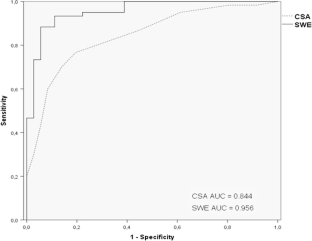 Abbreviations
CSA:

Cross-sectional area

CTS:

Carpal tunnel syndrome

EDT:

Electrodiagnostic testing

MN:

Median nerve

ROC:

Receiver operator characteristic

ROI:

Region of interest

SWE:

Shear wave elastography
References
1.

American Academy of Neurology, American Association of Electrodiagnostic Medicine, American Academy of Physical Medicine and Rehabilitation (1993) Practice parameter for electrodiagnostic studies in carpal tunnel syndrome (summary statement). Neurology 43:2404–2405

2.

Rempel D, Evanoff B, Amadio PC et al (1998) Consensus criteria for the classification of carpal tunnel syndrome in epidemiologic studies. Am J Public Health 88:1447–1451

3.

Graham B (2008) The value added by electrodiagnostic testing in the diagnosis of carpal tunnel syndrome. J Bone Joint Surg Am 90:2587–2593

4.

Koyuncuoglu HR, Kutluhan S, Yesildag A, Oyar O, Guler K, Ozden A (2005) The value of ultrasonographic measurement in carpal tunnel syndrome in patients with negative electrodiagnostic tests. Eur J Radiol 56:365–369

5.

Witt JC, Hentz JG, Stevens JC (2004) Carpal tunnel syndrome with normal nerve conduction studies. Muscle Nerve 29:515–522

6.

Andreisek G, Crook DW, Burg D, Marincek B, Weishaupt D (2006) Peripheral neuropathies of the median, radial, and ulnar nerves: MR imaging features. Radiographics 26:1267–1287

7.

Barcelo C, Faruch M, Lapègue F, Bayol MA, Sans N (2013) 3-T MRI with diffusion tensor imaging and tractography of the median nerve. Eur Radiol. doi:10.1007/s00330-013-2955-2

8.

Hiltunen J, Kirveskari E, Numminen J, Lindfors N, Göransson H, Hari R (2012) Pre- and post-operative diffusion tensor imaging of the median nerve in carpal tunnel syndrome. Eur Radiol 22:1310–1319

9.

Taşdelen N, Gürses B, Kiliçkesmez Ö, Firat Z, Karlikaya G, Tercan M, Uluğ AM, Gürmen AN (2012) Diffusion tensor imaging in carpal tunnel syndrome. Diagn Interv Radiol 18:60–66

10.

Nakamichi KI, Tachibana S (2000) Enlarged median nerve in idiopathic carpal tunnel syndrome. Muscle Nerve 23:1713–1718

11.

El Miedany YM, Aty SA, Ashour S (2004) Ultrasonography versus nerve conduction study in patients with carpal tunnel syndrome: substantive or complementary tests? Rheumatology (Oxford) 43:887–895

12.

Wong SM, Griffith JF, Hui AC, Lo SK, Fu M, Wong KS (2004) Carpal tunnel syndrome: diagnostic usefulness of sonography. Radiology 232:93–99

13.

Pastare D, Therimadasamy AK, Lee E, Wilder-Smith EP (2009) Sonography versus nerve conduction studies in patients referred with a clinical diagnosis of carpal tunnel syndrome. J Clin Ultrasound 37:389–393

14.

Sarría L, Cabada T, Cozcolluela R, Martínez-Berganza T, García S (2000) Carpal tunnel syndrome: usefulness of sonography. Eur Radiol 10:1920–1925

15.

Lee D, van Holsbeeck MT, Janevski PK, Ganos DL, Ditmars DM, Darian VB (1999) Diagnosis of carpal tunnel syndrome: ultrasound versus electromyography. Radiol Clin North Am 37:859–872

16.

Wells PN, Liang HD (2011) Medical ultrasound: imaging of soft tissue strain and elasticity. J R Soc Interface 8:1521–1549

17.

Sconfienza LM, Silvestri E, Cimmino MA (2010) Sonoelastography in the evaluation of painful Achilles tendon in amateur athletes. Clin Exp Rheumatol 28:373–378

18.

Wu CH, Chang KV, Mio S, Chen WS, Wang TG (2011) Sonoelastography of the plantar fascia. Radiology 259:502–507

19.

Botanlioglu H, Kantarci F, Kaynak G et al (2013) Shear wave elastography properties of vastus lateralis and vastus medialis obliquus muscles in normal subjects and female patients with patellofemoral pain syndrome. Skeletal Radiol 42:659–666

20.

Orman G, Ozben S, Huseyinoglu N, Duymus M, Orman KG (2013) Ultrasound elastographic evaluation in the diagnosis of carpal tunnel syndrome: initial findings. Ultrasound Med Biol 39:1184–1189

21.

Park GY, Kim SK, Park JH (2011) Median nerve injury after carpal tunnel injection serially followed by ultrasonographic, sonoelastographic, and electrodiagnostic studies. Am J Phys Med Rehabil 90:336–341

22.

Padua L, Padua R, Lo Monaco M, Romanini E, Tonali P, Italian CTS Study Group (1998) Italian multicentric study of carpal tunnel syndrome: study design. Ital J Neurol Sci 19:285–289

23.

Padua L, Padua R, Lo Monaco M, Aprile I, Tonali P (1999) Multiperspective assessment of carpal tunnel syndrome: a multicenter study. Neurology 53:1654–1659

24.

American Association of Electrodiagnostic Medicine, American Academy of Neurology, American Academy of Physical Medicine and Rehabilitation (1993) Practice parameter for electrodiagnostic studies in carpal tunnel syndrome: summary statement. Muscle Nerve 16:1390–1391

25.

Padua L, Lo Monaco M, Gregori B, Valente EM, Padua R, Tonali P (1997) Neurophysiological classification and sensitivity in 500 carpal tunnel syndrome hands. Acta Neurol Scand 96:211–217

26.

Buchberger W (1997) Radiologic imaging of the carpal tunnel. Eur J Radiol 25:112–117

27.

Martinoli C, Bianchi S, Gandolfo N, Valle M, Simonetti S, Derchi LE (2000) US of nerve entrapments in osteofibrous tunnels of the upper and lower limbs. Radiographics 20:S199–S213

28.

Coppieters MW, Schmid AB, Kubler PA, Hodges PW (2012) Description, reliability and validity of a novel method to measure carpal tunnel pressure in patients with carpal tunnel syndrome. Man Ther 17:589–592

29.

Murata K, Yajima H, Maegawa N, Hattori K, Takakura Y (2007) Investigation of segmental carpal tunnel pressure in patients with idiopathic carpal tunnel syndrome–is it necessary to release the distal aponeurotic portion of the flexor retinaculum in endoscopic carpal tunnel release surgery? Hand Surg 12:205–209

30.

Wang Y, Qiang B, Zhang X et al (2012) A non-invasive technique for estimating carpal tunnel pressure by measuring shear wave speed in tendon: a feasibility study. J Biomech 45:2927–2930

31.

Rempel D, Dahlin L, Lundborg G (1999) Pathophysiology of nerve compression syndromes: response of peripheral nerves to loading. J Bone Joint Surg Am 81:1600–1610

32.

Hamanaka I, Okutsu I, Shimizu K, Takatori Y, Ninomiya S (1995) Evaluation of carpal canal pressure in carpal tunnel syndrome. J Hand Surg [Am] 20:848–854

33.

Luchetti R, Schoenhuber R, Alfarano M, Deluca S, De Cicco G, Landi A (1990) Carpal tunnel syndrome: correlations between pressure measurement and intraoperative electrophysiological nerve study. Muscle Nerve 13:1164–1168

34.

Chan L, Turner JA, Comstock BA et al (2007) The relationship between electrodiagnostic findings and patient symptoms and function in carpal tunnel syndrome. Arch Phys Med Rehabil 88:19–24

35.

Kang S, Kwon HK, Kim KH, Yun HS (2012) Ultrasonography of median nerve and electrophysiologic severity in carpal tunnel syndrome. Ann Rehabil Med 36:72–79

36.

Zyluk A, Walaszek I, Szlosser Z (2013) No correlation between sonographic and electrophysiological parameters in carpal tunnel syndrome. J Hand Surg Eur. doi:10.1177/1753193413489046

37.

Gennisson JL, Deffieux T, Macé E, Montaldo G, Fink M, Tanter M (2010) Viscoelastic and anisotropic mechanical properties of in vivo muscle tissue assessed by supersonic shear imaging. Ultrasound Med Biol 36:789–801
About this article
Cite this article
Kantarci, F., Ustabasioglu, F.E., Delil, S. et al. Median nerve stiffness measurement by shear wave elastography: a potential sonographic method in the diagnosis of carpal tunnel syndrome. Eur Radiol 24, 434–440 (2014). https://doi.org/10.1007/s00330-013-3023-7
Received:

Revised:

Accepted:

Published:

Issue Date:
Keywords
Carpal tunnel syndrome

Median nerve

Ultrasonography

Elastography

Median neuropathy