Abstract
In recent decades, climate change has been faster in various parts of the world. Within species, to counter rapid climate changes shift of geographical area, individuals' plastic responses or populations' genetic adaptation might occur. The sub-Antarctic islands are subject to one of the most rapid climate changes on earth, with already visible impacts on native vegetation. Such might be the case of Lyallia kerguelensis a cushion plant strictly endemic to the Kerguelen Islands. In L. kerguelensis, necrotic parts were observed in cushions these last decades and possibly related to water stress. We analysed morphological variability of L. kerguelensis, including necrosis extent, across 19 populations spanning a wide range of environments across the Kerguelen Islands. Inter-population variations in the cushion surface area, shape and compactness were well explained by topography, degree of wind exposure, slope aspect, proportions of coarse sand and bare soil, and geographical distance between populations. All these variables are related to wind intensity and water availability. Moreover, in cushions with less than 10% necrosis in surface area, necrosis extent was positively correlated to soil sodium. Sodium availability might reduce the plant's capacity for osmotic adjustment in face of other abiotic stresses, such as water stress. We conclude that cushion morphology may have the capacity to adjust to environmental variation, including aspects of climate change, but that cushion necrosis may be accelerated in the driest and most saline environments.
Access options
Buy single article
Instant access to the full article PDF.
US$ 39.95
Tax calculation will be finalised during checkout.
Subscribe to journal
Immediate online access to all issues from 2019. Subscription will auto renew annually.
US$ 119
Tax calculation will be finalised during checkout.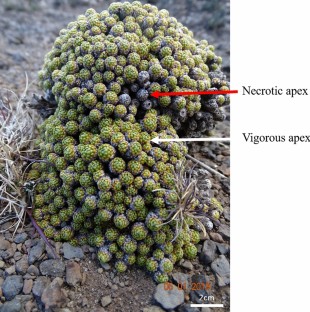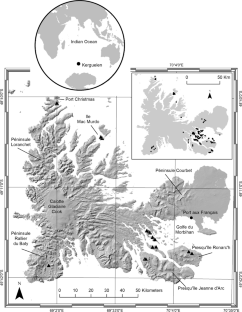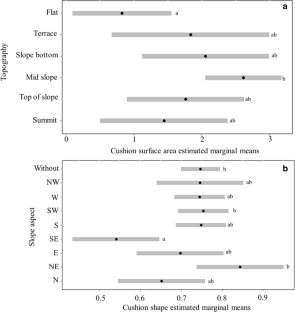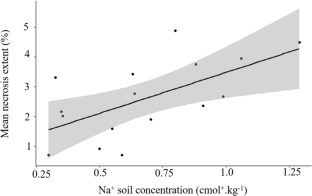 References
Armesto JJ, Arroyo MK, Villagran C (1980) Altitudinal distribution, cover and size structure of umbelliferous cushion plants in the high Andes of Central Chile. ActaO 1:327–332

Arredondo-Núñez A, Badano EI, Bustamante RO (2009) How beneficial are nurse plants? A meta-analysis of the effects of cushion plants on high-Andean plant communities. Community Ecol 10:1–6. https://doi.org/10.1556/ComEc.10.2009.1.1

Aubert de la Rüe E (1964) Observations sur les caractères et la répartition de la végétation des îles Kerguelen. CNFRA-Biol 1:1–60

Aubert S, Boucher F, Lavergne S et al (2014) 1914–2014: A revised worldwide catalogue of cushion plants 100 years after Hauri and Schröter. Alp Bot 124:59–70. https://doi.org/10.1007/s00035-014-0127-x

Bergstrom DM, Bricher PK, Raymond B et al (2015) Rapid collapse of a sub-Antarctic alpine ecosystem: the role of climate and pathogens. J Appl Ecol 52:774–783. https://doi.org/10.1111/1365-2664.12436

Block W, Smith RIL, Kennedy AD (2009) Strategies of survival and resource exploitation in the Antarctic fellfield ecosystem. Biol Rev 84:449–484. https://doi.org/10.1111/j.1469-185X.2009.00084.x

Boelhouwers J, Holness S, Sumner P (2003) The maritime Subantarctic: a distinct periglacial environment. Geomorphol 52:39–55. https://doi.org/10.1016/S0169-555X(02)00247-7

Boucher FC, Lavergne S, Basile M et al (2016) Evolution and biogeography of the cushion life form in angiosperms. Perspect Plant Ecol Evol Syst 20:22–31. https://doi.org/10.1016/j.ppees.2016.03.002

Chastain A (1958) La flore et la végétation des îles Kerguelen. Polymorphisme des espèces australes, Mémoires du Muséum National d'Histoire Naturelle. Paris

Chen I-C, Hill JK, Ohlemuller R et al (2011) Rapid Range Shifts of Species Associated with High Levels of Climate Warming. Science 333:1024–1026. https://doi.org/10.1126/science.1206432

Combrinck ML (2008) A computational fluid dynamic analysis of the airflow over the keystone plant species, Azorella selago, on subantarctic Marion Island. MScEng thesis, Stellenbosch University

Combrinck ML, Harms TM, McGeoch MA et al (2020) Wind and seed: a conceptual model of shape-formation in the cushion plant Azorella selago. Plant Soil. https://doi.org/10.1007/s11104-020-04665-3

Conradie EC, Smith VR (2012) Spatial variation in soil chemistry on a sub-Antarctic island. Open J Soil Sci 02:111–115. https://doi.org/10.4236/ojss.2012.22016

Convey P (2007) Influences on and origins of terrestrial biodiversity of the sub-Antarctic islands. Pap Proc R Soc Tasman. https://doi.org/10.26749/rstpp.141.1.83

Convey P (1996) Overwintering strategies of terrestrial invertebrates from Antarctica—the significance of flexibility in extremely seasonal environments. Eur J Entomol 93:489–505

Cranston BH, Monks A, Whigham PA, Dickinson KJM (2015) Variation and response to experimental warming in a New Zealand cushion plant species: Cushion Plant Responses to Warming. Austral Ecol 40:642–650. https://doi.org/10.1111/aec.12231

Dickson CR, Baker DJ, Bergstrom DM et al (2019) Spatial variation in the ongoing and widespread decline of a keystone plant species. Austral Ecol 44:891–905. https://doi.org/10.1111/aec.12758

Dorey T (2017) Variabilité morphologique et écologique chez une plante endémique des iles subantarctiques de Kerguelen, Lyallia kerguelensis [unpublished]. Master 2 thesis, Université de Rennes 1

Dorne A-J, Bligny R (1993) Physiological adaptation to sub-antarctic climate by the kerguelen cabbage Pringlea antiscorbutica. R Br Polar Biol 13:55–60

Favier V, Verfaillie D, Berthier E et al (2016) Atmospheric drying as the main driver of dramatic glacier wastage in the southern Indian Ocean. Sci Rep 6:32396. https://doi.org/10.1038/srep32396

Fox J, Weisberg S (2019) an R companion to Applied Regression, 3rd edn. SAGE publications, California, p 802

Frenot Y, Gloaguen JC, Massé L, Lebouvier M (2001) Human activities, ecosystem disturbance and plant invasions in subantarctic Crozet, Kerguelen and Amsterdam Islands. Biol Conserv 101:33–50. https://doi.org/10.1016/S0006-3207(01)00052-0

Gardiner B, Berry P, Moulia B (2016) Review: Wind impacts on plant growth, mechanics and damage. Plant Sci 245:94–118. https://doi.org/10.1016/j.plantsci.2016.01.006

Harter DEV, Irl SDH, Seo B et al (2015) Impacts of global climate change on the floras of oceanic islands – Projections, implications and current knowledge. Perspect Plant Ecol Evol Syst 17:160–183. https://doi.org/10.1016/j.ppees.2015.01.003

Haussmann NS, Boelhouwers J, McGeoch MA (2009) Fine scale variability in soil frost dynamics surrounging cushions of the dominat vascular plant species (Azorella selago) on sub-antarctic Marion island. Georg Ann 91:257–268. https://doi.org/10.1111/j.1468-0459.2009.00368.x

He Y, Kueffer C, Shi P et al (2014) Variation of biomass and morphology of the cushion plant Androsace tapete along an elevational gradient in the Tibetan Plateau: Cushion Plant Morphology Along Elevation. Plant Species Biol 29:E64–E71. https://doi.org/10.1111/1442-1984.12031

Hennion F (1992) Etude des caracteristiques biologiques et génétiques de la flore endémique des ïles Kerguelen. PhD Thesis, Muséum Natl. Hist. Nat. Paris

Hennion F, Bouchereau A (1998) Accumulation of organic and inorganic solutes in the subantarctic cruciferous species Pringlea antiscorbutica in response to saline and cold stresses. Polar Biol 20:281–291. https://doi.org/10.1007/s003000050304

Hennion F, Frenot Y, Martin-Tanguy J (2006) High flexibility in growth and polyamine composition of the crucifer Pringlea antiscorbutica in relation to environmental conditions. Physiol Plant 127:212–224. https://doi.org/10.1111/j.1399-3054.2006.00668.x

Hennion F, Huiskes AHL, Robinson S, Convey P (2006) Physiological traits of organisms in a changing environment. In: Bergstrom DM, Convey P, Huiskes AHL (eds) Trends in Antarctic Terrestrial and Limnetic Ecosystems. Springer, Netherlands, Dordrecht, pp 129–159

Hennion F, Walton DWH (1997) Ecology and seed morphology of endemic species from Kerguelen Phytogeographic Zone. Polar Biol 18:229–235. https://doi.org/10.1007/s003000050182

Hermant M, Prinzing A, Vernon P et al (2013) Endemic species have highly integrated phenotypes, environmental distributions and phenotype-environment relationships. J Biogeogr 40:1583–1594. https://doi.org/10.1111/jbi.12095

Hoffmann AA, Sgrò CM (2011) Climate change and evolutionary adaptation. Nature 470:479–485. https://doi.org/10.1038/nature09670

Hooker J (1847) The Botany of the Antarctic Voyage of H.M. discovery ships Erebus and Terror in the years 1839–1843 under the command of Captain Sir James Clarke Ross. Reeve Brothers, London, p548-549

Hummel I, Quemmerais F, Gouesbet G et al (2004) Characterization of environmental stress responses during early development of Pringlea antiscorbutica in the field at Kerguelen. New Phytol 162:705–715. https://doi.org/10.1111/j.1469-8137.2004.01062.x

IPCC (2013) Climate Change 2013: The Physical Science Basis: Working Groups I Contribution to the Fifth Assessment Report of the Intergovernmental Panelon Climate Change. Intergovernmental Panel on Climate Change, Cambridge, UK

IPCC (2014) Climate change 2014: synthesis report: Contribution of Working Groups I, II and III to the Fifth Assessment Report of the Intergovernmental Panel on Climate Change. Intergovernmental Panel on Climate Change, Geneva, Switzerland

Jenkin JF (1997) Vegetation of the McDonald Islands, sub-Antarctic. Polar Biol 18:260–272. https://doi.org/10.1007/s003000050187

Kleier C, Rundel PW (2004) Microsite requirements, population structure and growth of the cushion plant. Austral Ecol 29:461–470. https://doi.org/10.1111/j.1442-9993.2004.01386.x

Kleier C, Trenary T, Graham EA et al (2015) Size class structure, growth rates, and orientation of the central Andean cushion Azorella compacta. PeerJ 3:e843. https://doi.org/10.7717/peerj.843

Körner C (2003) Alpine plant life: functional plant ecology of high mountain ecosystems, 2nd edn. Springer, Berlin

Körner C (2016) Plant adaptation to cold climates. F1000Research 5:2769. https://doi.org/10.12688/f1000research.9107.1

Le Roux PC, McGeoch M (2008) Rapid range expansion and community reorganization in response to warming. Glob Change Biol 14:2950–2962. https://doi.org/10.1111/j.1365-2486.2008.01687.x

Le Roux PC, McGeoch MA, Nyakatya MJ, Chown SL (2005) Effects of a short-term climate change experiment on a sub-Antarctic keystone plant species. Glob Change Biol 11:1628–1639. https://doi.org/10.1111/j.1365-2486.2005.001022.x

Lebouvier M, Frenot Y (2007) Conservation and management in the French sub-Antarctic islands and surrounding seas. Pap Proc R Soc Tasman. https://doi.org/10.26749/rstpp.141.1.23

Lebouvier M, Laparie M, Hullé M et al (2011) The significance of the sub-Antarctic Kerguelen Islands for the assessment of the vulnerability of native communities to climate change, alien insect invasions and plant viruses. Biol Invasions 13:1195–1208. https://doi.org/10.1007/s10530-011-9946-5

Moritz C, Agudo R (2013) The future of species under climate change: resilience or decline? Science 341:504–508. https://doi.org/10.1126/science.1237190

Muggeo VMR (2003) Estimating regression models with unknown break-points. Stat Med 22:3055–3071. https://doi.org/10.1002/sim.1545

Navarro A, Bañon S, Olmos E, Sánchez-Blanco MJ (2007) Effects of sodium chloride on water potential components, hydraulic conductivity, gas exchange and leaf ultrastructure of Arbutus unedo plants. Plant Sci 172:473–480. https://doi.org/10.1016/j.plantsci.2006.10.006

Niklas KJ (1994) Plant allometry: the scaling of form and process. The University of Chicago press, Chicago

Noble DWA, Radersma R, Uller T (2019) Plastic responses to novel environments are biased towards phenotype dimensions with high additive genetic variation. Proc Natl Acad Sci 116:13452–13461. https://doi.org/10.1073/pnas.1821066116

Nyffeler R, Eggli U (2010) Disintegrating Portulacaceae: a new familial classification of the suborder Portulacineae (Caryophyllales) based on molecular and morphological data. Taxon 59:220–240. https://doi.org/10.1002/tax.591021

Orsini F, Accorsi M, Gianquinto G et al (2011) Beyond the ionic and osmotic response to salinity in Chenopodium quinoa: functional elements of successful halophytism. Funct Plant Biol 38:818–831. https://doi.org/10.1071/FP11088

Pardo JM, Quintero FJ (2002) Plants and sodium ions: keeping company with the enemy. Genome Biol 3(1017):1. https://doi.org/10.1186/gb-2002-3-6-reviews1017

Royston P (1982) Algorithm AS181: The W test for Normality. Appl Stat 31:176–180

Shabala S (2013) Learning from halophytes: physiological basis and strategies to improve abiotic stress tolerance in crops. Ann Bot 112:1209–1221. https://doi.org/10.1093/aob/mct205

Shaw JD, Spear D, Greve M, Chown SL (2010) Taxonomic homogenization and differentiation across Southern Ocean Islands differ among insects and vascular plants. J Biogeogr 37:217–228. https://doi.org/10.1111/j.1365-2699.2009.02204.x

Smith RIL (1984) Terrestrial plant biology of the sub-Antarctic and Antarctic. In: Laws RM (ed) Antarctic Ecology. Terrestrial Plant Biology, London, pp 79–162

Smith VR (2002) Climate Change in the Sub-Antarctic: An Illustration from Marion Island. Clim Change 52:345–357

Smith VR (1987) Chemical composition of precipitation at Marion Island (sub-antarctic). Atmos Environ 21:1159–1165. https://doi.org/10.1016/0004-6981(87)90243-5

Smith VR (1978) Plant responses to osmotic stress in the coastal zone of Marion Island. Antarkt Nav 8:106–113

Van der Putten N, Verbruggen C, Ochyra R et al (2010) Subantarctic flowering plants: pre-glacial survivors or post-glacial immigrants? J Biogeogr 37:582–592. https://doi.org/10.1111/j.1365-2699.2009.02217.x

Venables WN, Ripley BD (2002) Modern Applied Statistics with S. Four, Springer-Verlag, New-York

Verfaillie D, Favier V, Dumont M et al (2015) Recent glacier decline in the Kerguelen Islands (49°S, 69°E) derived from modeling, field observations, and satellite data. J Geophys Res Earth Surf 120:637–654. https://doi.org/10.1002/2014JF003329

Veron S, Mouchet M, Govaerts R et al (2019) Vulnerability to climate change of islands worldwide and its impact on the tree of life. Sci Rep 9:14471. https://doi.org/10.1038/s41598-019-51107-x

Wagstaff SJ, Hennion F (2007) Evolution and biogeography of Lyallia and Hectorella (Portulacaceae), geographically isolated sisters from the Southern Hemisphere. Antarct Sci 19:4. https://doi.org/10.1017/S0954102007000648

Werth E (1911) Die Vegetation der Subantarktischen Inseln Kerguelen. Possession—und Heard-Eiland, in Drygalski, E.v. Deutsche Südpolar-Expedition 1901-03. 8: Botanik, Berlin, pp 125–371

Whinam J, Abdul-Rahman JA, Visoiu M et al (2014) Spatial and temporal variation in damage and dieback in a threatened subantarctic cushion species. Aust J Bot 62:10. https://doi.org/10.1071/BT13207

Wilkinson L (2005) The Grammar of Graphics, 2nd edn. Springer-Verlag, New-York

Zhao R, Zhang H, An L (2018) Thylacospermum caespitosum population structure and cushion species community diversity along an altitudinal gradient. Environ Sci Pollut Res 25:28998–29005. https://doi.org/10.1007/s11356-018-2893-2

Jamshidi Goharrizi K, Baghizadeh A, Kalantar M, Fatehi F (2020) Combined effects of salinity and drought on physiological and biochemical characteristics of pistachio rootstocks. Sci Hortic 261:108970. https://doi.org/10.1016/j.scienta.2019.108970
Acknowledgements
The research project No 1116 PlantEvol (resp. F. Hennion) was performed at Kerguelen station and was supported by the French Polar Institute (IPEV). This research was also supported by CNRS IRP grant "AntarctPlantAdapt" (F. Hennion). We thank B. Labarrere (UMR ECOBIO, Université de Rennes 1, Rennes, France), G. Bouger (UMS OSUR, Université de Rennes 1, Rennes, France), F. Lamy, T. Robert, V. Normand (UMR ESE, Université Paris-Saclay, Orsay, France), A. D'Hont (UMR AGAP, CIRAD, Montpellier, France), IPEV logistics and Réserve Naturelle of Terres Australes et Antarctiques Françaises for help in material and data collection during the four summer campaigns (2015-2019). We are grateful to L. Madec (UMR ECOBIO, Université de Rennes 1, Rennes, France) for help in statistical analyses, and P. Convey (BAS, Cambridge, UK) for his comments and corrections which improved a first version of the manuscript. We thank Chief Editor Dieter Piepenburg, P.C. le Roux (University of Pretoria) and two anonymous referees for their thorough comments that helped us improve the manuscript.
Funding
This research was supported by the French Polar Institute (IPEV, program 1116 PlantEvol) and CNRS (IRP grant "AntarctPlantAdapt", F. Hennion). L.J.M. was supported by a PhD grant from the Ministry of Research and Education (France).
Ethics declarations
Conflict of interest
No conflict of interest.
Additional information
Publisher's Note
Springer Nature remains neutral with regard to jurisdictional claims in published maps and institutional affiliations.
Electronic supplementary material
Below is the link to the electronic supplementary material.
About this article
Cite this article
Marchand, L.J., Tarayre, M., Dorey, T. et al. Morphological variability of cushion plant Lyallia kerguelensis (Caryophyllales) in relation to environmental conditions and geography in the Kerguelen Islands: implications for cushion necrosis and climate change. Polar Biol 44, 17–30 (2021). https://doi.org/10.1007/s00300-020-02768-2
Received:

Revised:

Accepted:

Published:

Issue Date:
Keywords
Cushion plant

Kerguelen islands

Morphological variability

Necrosis

Photointerpretation

Sub-Antarctic