Abstract
Vocal-based monitoring is increasingly being used as a non-invasive method for identifying individuals within avian populations and is promising for the Siberian Crane, Leucogeranus leucogeranus. This is a poorly studied, long-lived, secretive and critically endangered bird species that breeds in the Arctic tundra of western and eastern regions of Siberia. We assessed between- and within-year stability of individual-specific vocal features in duets of Siberian Crane and tested the effect of pair-mate change on their stability. Previous findings showed that duets are specific to different pairs of birds; however, it is still unknown how long pair-specific traits of duets remain and if they change in the course of a year or when birds re-mate. We recorded duets of 15 reproductively active pairs in the Oka Crane Breeding Centre in 2003–2006 and 2013–2017. We found that pair-specific vocal signatures remained stable both within the year and across ~ 10 years. After a change of mate, most of the variables we measured in the call did not change in any of the birds. Our data suggest that the stability of the individually specific vocal features may enable Siberian Cranes to be reliably identified by their duets over the birds' lifetime. We believe that our work can increase confidence in the use of acoustic recognition techniques for endangered crane monitoring programs. Our results also suggest that Siberian Cranes may use their duets to form long-term social bonds between neighbours.
This is a preview of subscription content, log in to check access.
Access options
Buy single article
Instant access to the full article PDF.
US$ 39.95
Price includes VAT for USA
Subscribe to journal
Immediate online access to all issues from 2019. Subscription will auto renew annually.
US$ 199
This is the net price. Taxes to be calculated in checkout.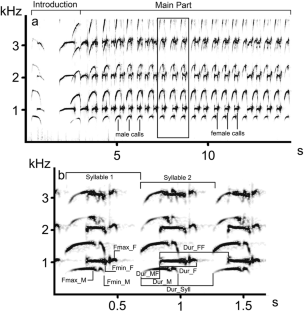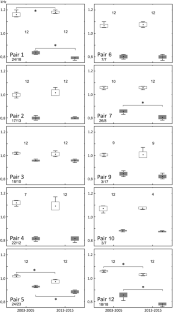 References
Archibald GW (1976) The unison call of cranes as a useful taxonomic tool. Dissertation, Cornell University

Archibald GW, Lewis JC (1996) Crane Biology. In: Ellis DH, Gee GF, Mirande CM (eds) Cranes: their biology, husbandry, and conservation. International Crane Foundation (ICF), Baraboo, pp 1–31

Ballentine B (2009) The ability to perform physically challenging songs predicts age and size in male swamp sparrows, Melospiza georgiana. Anim Behav 77:973–978

Benjamini Y, Hochberg Y (1995) Controlling the false discovery rate: a practical and powerful approach to multiple testing. J R Stat Soc B Met 57:289–300

Björklund M (1989) Microgeographic variation in the song of the scarlet Rosefinch Carpodacus erythrinus. Ornis Scand 20:255–264

Blumstein DT, Mennill DJ, Clemins P, Girod L, Yao K, Patricelli G, Deppe JL, Krakauer AH, Clark C, Cortopassi KA, Hanser SF, McCowan B, Ali AM, Kirschel ANG (2011) Acoustic monitoring in terrestrial environments using microphone arrays: applications, technological considerations and prospectus. J Appl Ecol 48:758–767

Bragina EV (2008) Vocal communication of endangered Siberian crane Grus leucogeranus and the White-naped crane Grus vipio: repertoire diversity, sex and individual features'. Dissertation, Lomonosov Moscow State University

Bragina EV, Beme IR (2010) Siberian crane duet as an individual signature of a pair: comparison of visual and statistical classification techniques. Acta Ethol 13:39–48

Briefer E, Rybak F, Aubin T (2008) When to be a dear enemy: flexible acoustic relationships of neighbouring skylarks, Alauda arvensis. Anim Behav 76:1319–1325

Brumm H (2009) Song amplitude and body size in birds. Behav Ecol Sociobiol 63:1157–1165

Budde C (2001) Individual features in the calls of the grey crowned crane Balearica regulorum gibbericeps. Ostrich 72(384):134–139

Charlton BD, Zhihe Z, Snyder RJ (2009) The information content of giant panda, Ailuropoda melanoleuca, bleats: acoustic cues to sex, age and size. Anim Behav 78:893–898

Charrier I, Jouventin P, Mathevon N, Aubin T (2001) Individual identity coding depends on call type in the South Polar skua Catharacta maccormicki. Polar Biol 24:378–382

Chulkina MM, Volodin IA, Volodina EV (2006) Individual, intersexual and interbreed variability in dog Canis familiaris (Carnivora, Canidae) barks. Zool Zhurnal 85:544–555

Cornec C, Hingrat Y, Robert A, Rybak F (2015) The meaning of boom calls in a lekking bird: identity or quality information? Anim Behav 109:249–264

Cucco M, Malacarne G (1999) Is the song of black redstart males an honest signal of status? Condor 101:689–694

Cure C, Aubin T, Mathevon N (2009) Acoustic convergence and divergence in two sympatric burrowing nocturnal seabirds. Biol J Linn Soc 96:115–134

de Kort SR, Eldermire ERB, Valderrama S, Botero CA, Vehrencamp SL (2009) Trill consistency is an age-related assessment signal in banded wrens. Proc R Soc Lond B 276:2315–2321

Degtyarev AG, Labutin YV (1999) About breeding of white crane Grus leucogeranus (Gruiformes, Gruidae) in Yakutia. Zool Zhurnal 78:1210–1217

Delport W, Kemp AC, Ferguson WH (2002) Vocal identification of individual African wood owls Strix woodfordii: a technique to monitor long-term adult turnover and residency. Ibis 144:30–39

Dent JM, Molles LE (2016) Call-based identification as a potential tool for monitoring great spotted Kiwi. Emu 116(4):315–322

Eakle WL, Mannan RW, Grubb TG (1989) Identification of individual breeding bald eagles by voice analysis. J Wildl Manage 53:450–455

Falls JB (1982) Individual recognition by sound in birds. In: Kroodsma DE, Miller EH (eds) Acoustic communication in birds II. Academic, New York, pp 237–274

Fischer J, Kitchen DM, Seyfarth RM, Cheney DL (2004) Baboon loud calls advertise male quality: acoustic features and their relation to rank, age, and exhaustion. Behav Ecol Sociobiol 56:140–148

Fisher J (1954) Evolution and bird sociality. In: Huxley J, Hardy AC, Ford EB (eds) Evolution as a process. Allen & Unwin, London, pp 71–83

Flint VE (1987) Siberian crane. In: Birds of USSR. Leningrad, Nauka, pp 313–326

Fremgen MR, Gibson D, Ehrlich RL, Krakauer AH, Forbey JS, Blomberg EJ, Sedinger JS, Patricelli GL (2017) Necklace-style radio-transmitters are associated with changes in display vocalizations of male greater sage-grouse. Wildl Biol 2017:00236

Frommolt KH, Tauchert KH (2014) Applying bioacoustic methods for long-term monitoring of a nocturnal wetland bird. Ecol Inform 21:4–12

Galeotti P, Sacchi R (2001) Turnover of territorial scops owls Otus scops as estimated by spectrographic analyses of male hoots. J Avian Biol 32:256–262

Garamszegi LZ, Heylen D, Møller AP, Eens M, Garamszegi FL (2005) Age-dependent health status and song characteristics in the barn swallow. Behav Ecol 16:580–591

Germogenov NI, Pshennikov AE, Kanai Yu (2009) On territorial conservatism of Siberian crane (Grus leucogeranus). Zool Zhurnal 88:860–870

Gilbert G, McGregor PK, Tyler G (1994) Vocal individuality as a census tool: practical considerations illustrated by a study of two rare species. J Field Orn 65:335–348

Gilbert G, Tyler GA, Smith KW (2002) Local annual survival of booming male great bittern Botaurus stellaris in Britain, in the period 1990–1999. Ibis 144:51–61

González-García F, Sosa-López JR, Ornelas JF, Jordano P, Rico-Gray V, Moliner VU (2017) Individual variation in the booming calls of captive Horned Guans (Oreophasis derbianus): an endangered Neotropical mountain bird. Bioacoustics 26:185–198

Grava T, Mathevon N, Place E, Balluet P (2008) Individual acoustic monitoring of the European Eagle Owl Bubo bubo. Ibis 150:279–287

Guyomarc'h J-C, Aupiais A, Guyomarc'h C (1998) Individual differences in the long-distance vocalizations used during pair bonding in European quail (Coturnix coturnix). Ethol Ecol Evol 10:333–346

Hayes MA (2005) Divorce and extra-pair paternity as alternative mating strategies in monogamous sandhill cranes. MSc thesis, The University of South Dakota

Henne E, Blahy-Henne B (2013) The lifelong partnership of cranes—truth or myth? In: Nowald G, Weber A, Franke J, Weinhardt E, Donner N (eds) Proceedings of the 7th European crane Conference. Kranichschutz Deutschland, Groß Mohrdorf, pp 114–116

Hile AG, Plummer TK, Striedter GF (2000) Male vocal imitation produces call convergence during pair bonding in budgerigars, Melopsittacus undulatus. Anim Behav 6:1209–1218

Howard RD, Young JR (1998) Individual variation in male vocal traits and female mating preferences in Bufo americanus. Anim Behav 55:1165–1179

Humphries DJ, Finch FM, Bell MBV, Ridley AR (2016) Vocal cues to identity: pied babblers produce individually distinct but not stable loud calls. Ethology 122:609–619

Irvine RJ, Leckie F, Redpath SM (2007) Cost of carrying radio transmitters: a test with racing pigeons Columba livia. Wildlife Biol 13:238–243

Jones BS, Harris DHR, Catchpole CK (1993) The stability of the vocal signature in phee calls of the common marmoset Callithrix jacchus. Am J Primatol 31:67–75

Jorgensen DD, French JA (1998) Individuality but not stability in marmoset long calls. Ethology 104:729–742

Kipper S, Kiefer S (2010) Age-related changes in birds' singing styles: on fresh tunes and fading voices? Adv Stud Behav 41:77–118

Kirschel ANG, Cody ML, Harlow ZT, Promponas VJ, Vallejo EE, Taylor CE (2011) Territorial dynamics of Mexican ant-thrushes Formicarius moniliger revealed by individual recognition of their songs. Ibis 153:255–268

Klenova AV, Volodin IA, Volodina EV (2008) The duet structure provides information about pair identity in the red-crowned crane (Grus japonensis). J Ethol 26:317–325

Klenova AV, Volodin IA, Volodina EV (2009) Examination of pair duet stability to promote long-term monitoring of the endangered red-crowned crane (Grus japonensis). J Ethol 27:401–406

Klenova AV, Zubakin VA, Zubakina EV (2012) Inter- and intra-season stability of vocal individual signatures in a social seabird, the crested auklet. Acta Ethol 15:141–152

Kunc HP, Amrhein V, Naguib M (2007) Vocal interactions in common nightingales (Luscinia megarhynchos): males take it easy after pairing. Behav Ecol Sociobiol 61:557–563

Laiolo P, Vögeli M, Serrano D, Tella JL (2007) Testing acoustic versus physical marking: two complementary methods for individual-based monitoring of elusive species. J Avian Biol 38:672–681

Lengagne T (2001) Temporal stability in the individual features in the calls of eagle owls (Bubo bubo). Behaviour 138:1407–1419

Li F, Wu JD, Harris J, Burnham J (2012) Number and distribution of cranes wintering at Poyang Lake, China during 2011–2012. Chin Birds 3(3):180–190

Littlefield CD (1981) Mate-swapping of sandhill cranes. J Field Orn 52:244–245

Luís AR, Couchinho MN, dos Santos ME (2016) Signature whistles in wild bottlenose dolphins: long-term stability and emission rates. Acta Ethol 19:113–122

Manning JT (1985) Choosy females and correlates of male age. J Theor Biol 116:349–354

Martin K (1995) Patterns and mechanisms for age-dependent reproduction and survival in birds. Am Zool 35:340–348

Mathevon N, Charrier I, Jouventin P (2003) Potential for individual recognition in acoustic signals: a comparative study of two gulls with different nesting patterns. C R Biol 326:329–337

Mathevon N, Koralek A, Weldele M, Glickman SE, Theunissen FE (2010) What the hyena's laugh tells: sex, age, dominance and individual signature in the giggling call of Crocuta crocuta. BMC Ecol 10:9

Matrosova VA, Volodin IA, Volodina EV (2009) Short-term and longterm individuality in speckled ground squirrel alarm calls. J Mamm 90:158–166

Matrosova VA, Volodin IA, Volodina EV, Vasilieva NA, Kochetkova AA (2010) Between-year stability of individual alarm calls in the yellow ground squirrel Spermophilus fulvus. J Mamm 91:620–627

Meine C, Archibald GW (1996) The cranes: status survey and conservation action plan. IUCN, Gland

Mennill DJ, Burt JM, Fristrup KM, Vehrencamp SL (2006) Accuracy of an acoustic location system for monitoring the position of duetting tropical songbirds. J Acoust Soc Am 119:2832–2839

Menu S, Hestbeck JB, Gauthier G, Reed A (2000) Effects of neck bands on survival of greater snow geese. J Wildl Manage 64:544–552

Nesbitt SA (1989) The significance of mate loss in Florida Sandhill Cranes. Wilson Bull 101:648–651

Nottebohm F, Nottebohm ME, Crane L (1986) Developmental and seasonal changes in canary song and their relation to changes in the anatomy of song-control nuclei. Behav Neural Biol 46:445–471

Nottebohm F, Nottebohm ME, Crane LA, Wingfield JC (1987) Seasonal changes in gonadal hormone levels of adult male canaries and their relation to song. Behav Neural Biol 47:197–211

Nowicki S (1989) Vocal plasticity in captive black-capped chickadees: the acoustic basis and rate of call convergence. Anim Behav 37:64–73

Odom KJ, Slaght JC, Gutierrez RJ (2013) Distinctiveness in the territorial calls of Great Horned Owls within and among years. J Raptor Res 47:21–30

Penteriani V (2003) Breeding density affects the honesty of bird vocal displays as possible indicators of male/territory quality. Ibis 145:E127–E135

Petruskova T, Pisvejcova I, Kinstova A, Brinke T, Petrusek A (2016) Repertoire-based individual acoustic monitoring of a migratory passerine bird with complex song as an efficient tool for tracking territorial dynamics and annual return rates. Methods Ecol Evol 7:274–284

Policht R, Tichackova M (2010) Acoustic monitoring of breeding common Cranes (Grus grus) in the Czech Republic. Aquila 116–117:181–186

Puglisi L, Adamo C (2004) Discrimination of individual voices in male great bitterns (Botaurus stellaris) in Italy. Auk 121:541–547

Reby D, McComb K (2003) Anatomical constraints generate honesty: acoustic cues to age and weight in the roars of red deer stags. Anim Behav 65:519–530

Riters LV, Eens M, Pinxten R, Duffy DL, Balthazart J, Ball GF (2000) Seasonal changes in courtship song and the medial preoptic area in male European starlings (Sturnus vulgaris). Horm Behav 38:250–261

Rivera-Gutierrez HF, Pinxten R, Eens M (2012) Tuning and fading voices in songbirds: age-dependent changes in two acoustic traits across the life span. Anim Behav 83:1279–1283

Rukstalis M, Fite JE, French JA (2003) Social change affects vocal structure in a callitrichid primate (Callithrix kuhlii). Ethology 109:327–340

Sauey RT (1985) The range, status, and winter ecology of the Siberian crane Grus leucogeranus. Dissertation, Cornell University, Ithaca

Schmutz JA, Morse JA (2000) Effects of neck collars and radiotransmitters on survival and reproduction of emperor geese. J Wildl Manage 64:231–237

Smith GT, Brenowitz EA, Beecher MD, Wingfield JC (1997) Seasonal changes in testosterone, neural attributes of song control nuclei, and song structure in wild songbirds. J Neurosci 17:6001–6010

Snowdon CT, Elowson AM (1999) Pygmy marmosets modify call structure when paired. Ethology 105:893–908

Solow AR (1990) A randomization test for misclassification probability in discriminant analysis. Ecology 71:2379–2382

Team RDC (2009) R: a language and environment for statistical computing. R Foundation for Statistical Computing, Vienna

Terry AMR, Peake TM, McGregor PK (2005) The role of vocal individuality in conservation. Front Zool 2:1–16

Tripp TM, Otter KA (2006) Vocal individuality as a potential long-term monitoring tool for western screech-owls Megascops kennicottii. Can J Zool 84:744–753

Voigt C, Leitner S (2008) Seasonality in song behaviour revisited: seasonal and annual variants and invariants in the song of the domesticated canary (Serinus canaria). Horm Behav 54:373–378

Volodin IA, Klenova AV, Volodina EV (2008) Modeling bioacoustical monitoring through years with captive population of the red-breasted goose. Casarca (Bull Goose Swan Duck Study Group North, Eurasia) 11:22–46

Walcott C, Mager JN, Piper W (2006) Changing territories, changing tunes: male loons, Gavia immer, change their vocalizations when they change territories. Anim Behav 71:673–683

Wessling B (2000) Individual recognition of cranes by sonography. In: Salvi A (ed) Proceedings of 4th European Crane Workshop. Fenetrange, France, pp 134–149

Zipple MN, Nowicki S, Searcy WA, Peters S (2019) Full life course analysis of birdsong reveals maturation and senescence of highly repeatable song characteristics. Behav Ecol 30:1761–1768
Acknowledgements
We thank the staff of the Crane Breeding Centre of Oka Biosphere State Nature Reserve: Galina Nosachenko, Kirill Postelnykh, Tatiana Postelnykh, Elina Antonyuk and others for making the research possible and for the all-round help during data gathering. We thank Oxana Lukyanchuk for help with cataloguing duet recordings and Eugenia Bragina for manuscript reading and discussion. During our work, we adhered to the 'Guidelines for the treatment of animals in behavioural research and teaching' (Rollin and Kessel 1998) and to the laws of the Russian Federation. This study was supported by the Russian Foundation for Basic Research (Grant 06-04-48400).
Ethics declarations
Conflict of interest
Authors have no conflict of interest to declare.
Ethical approval
Data collection protocol #2003–2014 was approved by the Committee of Bioethics of Lomonosov Moscow State University.
Additional information
Publisher's Note
Springer Nature remains neutral with regard to jurisdictional claims in published maps and institutional affiliations.
Electronic supplementary material
Below is the link to the electronic supplementary material.
Supplementary file1 Online Resource 1a (Figure). Discriminant analysis on the 11 acoustic variables of the Siberian Crane (Leucogeranus leucogeranus) duets. The duets of ten pairs are represented according to the three main functions of the analysis in the first study period. Each pair is represented by one color and each point corresponds to one analysed duet (WMV 2149 kb)
Supplementary file2 Online Resource 1b (Figure). Discriminant analysis on the 11 acoustic variables of the Siberian Crane (Leucogeranus leucogeranus) duets. The duets of ten pairs are represented according to the three main functions of the analysis in the second study period. Each pair is represented by one color and each point corresponds to one analysed duet (WMV 2602 kb)
About this article
Cite this article
Klenova, A.V., Goncharova, M.V. & Kashentseva, T.A. Long-term stability in the vocal duets of the endangered Siberian Crane Leucogeranus leucogeranus. Polar Biol 43, 813–823 (2020). https://doi.org/10.1007/s00300-020-02689-0
Received:

Revised:

Accepted:

Published:

Issue Date:
Keywords
Vocal plasticity

Call-based monitoring

Voiceprinting

Individuality

Ageing

Season variability