Abstract
Key message
Combined transcriptome and metabolome analysis of fresh leaf infestation by tea green leafhoppers (Empoasca (Matsumurasca) onukii Matsuda) suggests roles for alternative pre-mRNA splicing and mRNAs in the regulation of aroma formation in tea plants.
Abstract
Oriental Beauty is a high-grade, oolong tea with a pronounced honey-like aroma and rich ripe fruit flavor that develops primarily as a result of the infestation of the fresh leaves by tea green leafhoppers (Empoasca (Matsumurasca) onukii Matsuda). Here, we used PacBio Iso-Seq and RNA-seq analyses to determine the full-length transcripts and gene expression profiles of fresh tea leaves in response to E. (M.) onukii herbivory. We investigated the relationship between RNA-seq, tea metabolites, and aroma response mechanisms in leaves infested by leafhoppers. We found 3644 differentially expressed genes, of which 2552 were up- and 1092 were down-regulated. A total of 49,913 alternative splicing events were predicted, including 324 differential AS events. Moreover, 3105 differentially expressed transcripts were also identified, of which 2295 were up- and 810 were down-regulated. The characterization of expression patterns of the key gene transcript isoforms involved in the aroma formation pathways identified 130 differentially expressed metabolites, 97 of which were up- and 33 were down-regulated. Two key aroma compounds (phenylacetaldehyde and 4-hydroxybenzaldehyde) were highly correlated with genes of the aroma formation pathways. Our results revealed that pre-mRNA AS plays a crucial role in the metabolic regulation surrounding aroma formation under leafhopper herbivory in tea plants.
Access options
Buy single article
Instant access to the full article PDF.
US$ 39.95
Tax calculation will be finalised during checkout.
Subscribe to journal
Immediate online access to all issues from 2019. Subscription will auto renew annually.
US$ 119
Tax calculation will be finalised during checkout.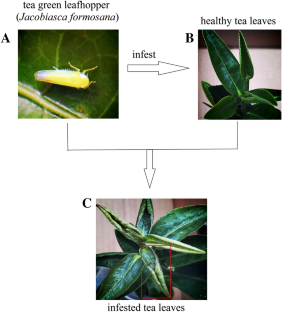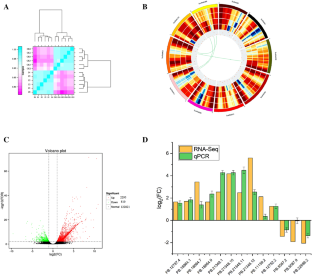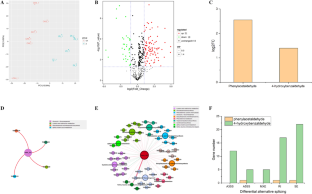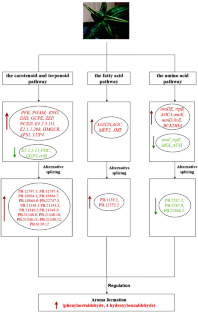 Data availability
The transcriptome sequence data have been deposited into the NCBI Sequence Read Archive (SRA) under the accession number of PRJNA683753.
References
Achard P, Cheng H, Grauwe LD, Decat J, Schoutteten H, Moritz T, Straeten DVD, Peng J, Harberd NP (2006) Integration of plant responses to environmentally activated phytohormonal signals. Science 311:91–94

Ali GS, Reddy ASN (2006) ATP, phosphorylation and transcription regulate the mobility of plant splicing factors. J Cell Sci 119:3527–3538

Arimura G-I, Köpke S, Kunert M, Volpe V, David A, Brand P, Dabrowska P, Maffei M, Boland W (2008) Effects of feeding spodoptera littoralis on lima bean leaves: IV. diurnal and nocturnal damage differentially initiate plant volatile emission. Plant Physiol 146:965–973

Aubourg S, Lecharny A, Bohlmann J (2002) Genomic analysis of the terpenoid synthase (AtTPS) gene family of Arabidopsis thaliana. Mol Genet Genomics 267:730–745

Bor T, Aljaloud SO, Gyawali R, Ibrahim SA (2016) Chapter 26 – antimicrobials from herbs, spices, and plants. Fruits Vegetables & Herbs 551–578

Cho JY, Mizutani M, Shimizu BI, Kinoshita T, Ogura M, Tokoro K, Lin ML, Sakata K (2007) Chemical profiling and gene expression profiling during the manufacturing process of Taiwan Oolong tea "Oriental Beauty." Biosci Biotech Biochem 71:1476–1486

Davison PA, Hunter CN, Horton P (2002) Overexpression of β-carotene hydroxylase enhances stress tolerance in Arabidopsis. Nature 418:203–206

Dicke M, Ian TB (2010) The evolutionary context for herbivore-induced plant volatiles: beyond the 'cry for help.' Trends Plant Sci 15:167–175

Dong F, Fu XM, Watanabe N, Su XG, Yang ZY (2016) Recent advances in the emission and functions of plant vegetative volatiles. Molecules 21:124–134

Dong F, Yang Z, Baldermann S, Sato Y, Asai T, Watanabe N (2011) Herbivore-induced volatiles from tea (Camellia sinensis) plants and their involvement in intraplant communication and changes in endogenous nonvolatile metabolites. J Agric Food Chem 59:13131–13135

Dudareva N, Klempien A, Muhlemann JK, Kaplan I (2013) Biosynthesis, function and metabolic engineering of plant volatile organic compounds. New Phytol 198:16–32

Dunn WB, Broadhurst D, Begley P, Zelena E, Francis-McIntyre S, Anderson N, Brown M, Knowles JD, Halsall A, Haselden JN (2011) Procedures for large-scale metabolic profiling of serum and plasma using gas chromatography and liquid chromatography coupled to mass spectrometry. Nat Protoc 6:1060–1083

Foissac S, Sammeth M (2007) ASTALAVISTA: dynamic and flexible analysis of alternative splicing events in custom gene datasets. Nucleic Acids Res 35:297–299

Gonda I, Bar E, Portnoy V, Lev S, Burger J, Schaffer AA, Ya T, Gepstein S, Giovannoni JJ, Katzir N, Lewinsohn E (2010) Branched-chain and aromatic amino acid catabolism into aroma volatiles in Cucumis melo L. fruit. J Exp Bot 61:1111–1123

Hackl T, Hedrich R, Jo S, F¨orster F (2014) Proovread: large-scale high-accuracy PacBio correction through iterative short read consensus. Bioinformatics 21:3004–3022

Ho CT, Zheng X, Li SM (2015) Tea aroma formation. Food Sci Hum Well 4:9–27

Jozefczuk S, Klie S, Catchpole G, Szymanski J, Cuadros-Inostroza A, Steinhauser D, Selbig J, Willmitzer L (2010) Metabolomic and transcriptomic stress response of Escherichia coli. Mol syst biol 6:364–380

Kachroo A, Robin GP (2013) Systemic signaling during plant defense. Curr Opin Plant Biol 16:527–533

Kaminaga Y, Schnepp J, Peel G, Kish CM, Ben-Nissan G, Weiss D, Orlova I, Lavie O, Rhodes D, Wood K (2006) Plant phenylacetaldehyde synthase is a bifunctional homotetrameric enzyme that catalyzes phenylalanine decarboxylation and oxidation. J Biol Chem 281:23357–23366

Kim D, Langmead B, Salzberg SL (2015) HISAT: a fast spliced aligner with low memory requirements. Nat Methods 12:357–360

Kind T, Wohlgemuth G, Lee DY, Lu Y, Palazoglu M, Shahbaz S, Fiehn O (2009) FiehnLib: mass spectral and retention index libraries for metabolomics based on quadrupole and time-of-flight Gas Chromatography/Mass Spectrometry. Anal Chem 81:10038–10048

Laloum T, Martín G, Duque P (2017) Alternative splicing control of abiotic stress responses. Trends Plant Sci 23:140–150

Lei B, Zhao XH, Zhang K, Zhang J, Ren W, Zhu R (2013) Comparative transcriptome analysis of tobacco (Nicotiana tabacum) leaves to identify aroma compound-related genes expressed in different cultivated regions. Mol Biol Rep 40:345–357

Li CF, Xu YX, Ma JQ, Jin JQ, Chen L (2016) Biochemical and transcriptomic analyses reveal different metabolite biosynthesis profiles among three color and developmental stages in 'Anji Baicha' (Camellia sinensis). BMC Plant Biol 16:195–212

Li M, Li L, Dunwell JM, Qiao X, Liu X, Zhang S (2014) Characterization of the lipoxygenase (LOX) gene family in the Chinese white pear (Pyrus bretschneideri) and comparison with other members of the Rosaceae. BMC Genom 15:1–12

Li Y, Mi X, Zhao S, Zhu J, Wei C (2020) Comprehensive profiling of alternative splicing landscape during cold acclimation in tea plant. BMC Genom 21:1–6

Ma CY, Li JX, Chen W, Wang WW, Qi DD, Pang S, Miao AQ (2018) Study of the aroma formation and transformation during the manufacturing process of oolong tea by solid-phase micro-extraction and gas chromatography–mass spectrometry combined with chemometrics. Food Res Int 108:413–422

Maffei M, Mithöfer A, Boland W (2007) Before gene expression: Early events in plant-insect interaction. Trends Plant Sci 12:310–316

Mao XZ, Cai T, Olyarchuk JG, Wei LP (2005) Automated genome annotation and pathway identification using the KEGG Orthology (KO) as a controlled vocabulary. Bioinformatics 21:3787–3793

Marquez Y, Brown JWS, Simpson C, Barta A, Kalyna M (2012) Transcriptome survey reveals increased complexity of the alternative splicing landscape in Arabidopsis. Genome Res 22:1184–1195

Mei X, Liu X, Zhou Y, Wang XQ, Zeng LT, Fu XM, Li JL, Tang JC, Dong F, Yang ZY (2017) Formation and emission of linalool in tea (Camellia sinensis) leaves infested by tea green leafhopper (Empoasca (Matsumurasca) onukii Matsuda). Food Chem 237:356–363

Ogura M, Kinoshita T, Shimizu BI, Shirai F, Sakata K (2008) Identification of aroma components during processing of the famous formosa Oolong tea "Oriental Beauty." ACS Sym Ser 988:87–97

Pérez AG, Olías R, Luaces P, Sanz C (2002) Biosynthesis of strawberry aroma compounds through amino acid metabolism. J Agric Food Chem 50:4037–4042

Podstolski A, Havkin-Frenkel D, Malinowski J, Blount JW, Dixon RA (2002) Unusual 4–hydroxybenzaldehyde synthase activity from tissue cultures of vanilla orchid Vanilla planifolia. Phytochemistry 61:611–620

Qiao D, Yang C, Chen J, Guo Y, Li Y, Niu S, Cao K, Chen Z (2019) Comprehensive identification of the full-length transcripts and alternative splicing related to the secondary metabolism pathways in the tea plant ( Camellia sinensis ). Sci Rep 9:2709–2812

Schwender J, Gemünden C, Lichtenthaler HK (2001) Chlorophyta exclusively use the 1-deoxyxylulose 5-phosphate/2-C-methylerythritol 4-phosphate pathway for the biosynthesis of isoprenoids. Planta 212:416–423

Scott ER, Li X, Wei JP, Kfoury N, Friedman DR (2020) Changes in tea plant secondary metabolite profiles as a function of leafhopper density and damage. Front Plant Sci 11:636–651

Shen S, Park JW, Lu Z, Lin L, Henry MD, Wu YN, Zhou Q, Xing Y (2014) rMATS: Robust and flexible detection of differential alternative splicing from replicate RNA-Seq data. Proc Natl Acad 111:5593–5601

Simão FA, Waterhouse RM, Panagiotis I, Kriventseva EV, Zdobnov EM (2015) BUSCO: assessing genome assembly and annotation completeness with single-copy orthologs. Bioinformatics 31:3210–3212

Takeo T, Tsushida T (1980) Changes in lipoxygenase activity in relation to lipid degradation in plucked tea shoots. Phytochemistry 19:2521–2522

Thatcher SR, Zhou W, Leonard A, Wang BB, Beatty M, Zastrow-Hayes G, Zhao X, Baumgarten A, Li B (2014) Genome-wide analysis of alternative splicing in zea mays: landscape and genetic regulation. Plant Cell 26:3472–3487

Vasconsuelo A, Boland R (2007) Molecular aspects of the early stages of elicitation of secondary metabolites in plants. Plant Ence 172:861–875

Vranová E (2013) Systems understanding of isoprenoid pathway regulation in arabidopsis. Isoprenoid Synth Plants Microorg 33:475–491

Walling LL (2000) The myriad plant responses to herbivores. J Plant Growth Regul 19:195–216

Wang C, Lv S, Wu Y, Gao X, Li J, Zhang W, Meng Q (2016a) Oolong tea made from tea plants from different locations in Yunnan and Fujian, China showed similar aroma but different taste characteristics. Springerplus 5:576

Wang C, Lv SD, Wu YS, Lian M, Gao XM, Meng QX (2016b) Study of aroma formation and transformation during manufacturing process of Biluochun green tea in Yunnan Province by HS-SPME and GC-MS. J Sci Food Agric 96:4492–4498

Wang T, Wang H, Cai D, Gao Y, Gu L (2017) Comprehensive profiling of rhizome-associated alternative splicing and alternative polyadenylation in moso bamboo (Phyllostachys edulis). Plant J 91:684–699

Wang XQ, Zeng LT, Liao YY, Zhou Y, Xu XL (2018) An alternative pathway for the formation of aromatic aroma compounds derived from l-phenylalanine via phenylpyruvic acid in tea (Camellia sinensis (L.) O. Kuntze) leaves. Food Chem 270:17–24

Watanabe S, Hayashi K, Yagi K, Asai T, Mactavish H, Picone J, Turnbull C, Watanabe N (2002) Biogenesis of 2-phenylethanol in rose flowers: incorporation of [2H8]L-phenylalanine into 2-phenylethanol and its beta-D-glucopyranoside during the flower opening of Rosa "Hoh-Jun" and Rosa damascena Mill. Biosci Biotechnol Biochem 66:943–947

Wu TD, Watanabe CK (2005) GMAP: a genomic mapping and alignment program for mRNA and EST sequences. Bioinformatics 21:1859–1875

Xia E-H, Li FD, Tong W, Li PH, Wu Q, Zhao HJ (2019) Tea plant information archive: a comprehensive genomics and bioinformatics platform for tea plant. Plant Biotechnol J 17:1938–1953

Xin Z, Ge L, Chen S, Sun X (2019) Enhanced transcriptome responses in herbivore-infested tea plants by the green leaf volatile (Z)-3-hexenol. J Plant Res 132:285–293

Xu QS, He YX, Yan XM, Zhao SQ, Zhu JY (2018) Unraveling a crosstalk regulatory network of temporal aroma accumulation in tea plant (Camellia sinensis) leaves by integration of metabolomics and transcriptomics. Environ Exp Bot 149:81–94

Yang H, Xie S, Wang L, Jing S, Zhu X, Li X, Zeng W, Yuan H (2011) Identification of up-regulated genes in tea leaves under mild infestation of green leafhopper. Acta Hortic 130:476–481

Zhao X, Chen S, Wang S, Shan W, Wang X, Lin Y, Su F, Yang Z, Yu X (2020) Defensive responses of tea plants (Camellia sinensis) against tea green leafhopper attack: a multi-omics study. Front Plant Sci 10:1705–1722

Zhu CH, Li XF, Zheng JY (2018) Transcriptome profiling using Illumina- and SMRT-based RNA-seq of hot pepper for in-depth understanding of genes involved in CMV infection. Gene 666:123–133

Zou J, Chen J, Tang N, Gao YQ, Hong MS, Wei W, Cao HH, Jian W, Li N, Deng W (2018) Transcriptome analysis of aroma volatile metabolism change in tomato ( Solanum lycopersicum ) fruit under different storage temperatures and 1-MCP treatment. Postharvest Biol Tech 135:57–67
Acknowledgements
This work was financially supported by the Targeted Poverty Alleviation and Rural Revitalization Project of the Agricultural Science and Technology Commissioner of Guangdong Province (KA1901003), and the Provincial Modern Agricultural Industrial Park Expert Service Team Docking Service of Xinfeng Country (D11920715).
Ethics declarations
Conflict of interest
No conflicts of interest, informed consent, or human or animal rights are applicable to this study.
Additional information
Publisher's Note
Springer Nature remains neutral with regard to jurisdictional claims in published maps and institutional affiliations.
Communicated by Leandro Peña.
About this article
Cite this article
Liu, H., Li, S., Xiao, G. et al. Formation of volatiles in response to tea green leafhopper (Empoasca onukii Matsuda) herbivory in tea plants: a multi-omics study. Plant Cell Rep (2021). https://doi.org/10.1007/s00299-021-02674-9
Received:

Accepted:

Published:
Keywords
Tea plant

Empoasca (matsumurasca) onukii matsuda

Transcriptome

Metabolome

Aroma