Abstract
Key message
Plant expression platform is the new source of immunoglobulin G (IgG) toward small low-molecular-weight targets. The plant-made monoclonal antibody-based immunoassay exhibits comparable analytical performance with hybridoma antibody.
Abstract
Immunoassays for small molecules are efficiently applied for monitoring of serum therapeutic drug concentration, food toxins, environmental contamination, etc. Immunoglobulin G (IgG) is usually produced using hybridoma cells, which requires complicated procedures and expensive equipment. Plants can act as alternative and economic hosts for IgG production. However, the production of free hapten (low-molecular-weight target)-recognizing IgG from plants has not been successfully developed yet. The current study aimed at creating a plant platform as an affordable source of IgG for use in immunoassays and diagnostic tools. The functional IgG was expressed in Nicotiana benthamiana leaves infiltrated with Agrobacterium tumefaciens strain GV3101 with recombinant geminiviral vectors (pBY3R) occupying chimeric anti-miroestrol IgG genes. The appropriate assembly between heavy and light chains was achieved, and the yield of expression was 0.57 µg/g fresh N. benthamiana leaves. The binding characteristics of the IgG to miroestrol and binding specificity to related compounds, such as isomiroestrol and deoxymiroestrol, were similar to those of hybridoma-produced IgG (monoclonal antibody, mAb). The plant-based mAbs exhibited high sensitivity for miroestrol (IC50, 23.2 ± 2.1 ng/mL), precision (relative standard deviation ≤ 5.01%), and accuracy (97.8–103% recovery), as determined using quantitative enzyme-linked immunosorbent assay. The validated enzyme-linked immunosorbent assay was applicable to determine miroestrol in plant samples. Overall, the plant-produced functional IgG conserved the binding activity and specificity of the parent IgG derived from mammalian cells. Therefore, the plant expression system may be an efficient and affordable platform for the production of antibodies against low-molecular-weight targets in immunoassays.
Access options
Buy single article
Instant access to the full article PDF.
US$ 39.95
Tax calculation will be finalised during checkout.
Subscribe to journal
Immediate online access to all issues from 2019. Subscription will auto renew annually.
US$ 119
Tax calculation will be finalised during checkout.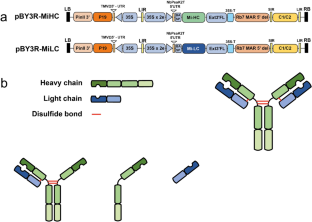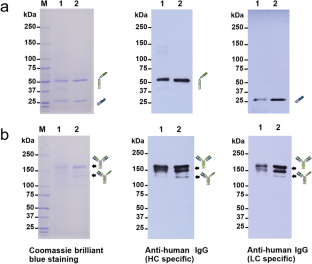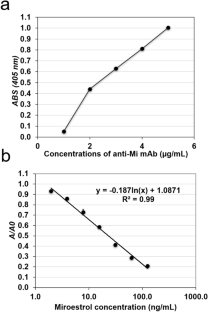 References
Al Qaraghuli MM, Palliyil S, Broadbent G, Cullen DC, Charlton KA, Porter AJ (2015) Defining the complementarities between antibodies and haptens to refine our understanding and aid the prediction of a successful binding interaction. BMC Biotechnol. https://doi.org/10.1186/s12896-015-0217-x

AOAC International Guideline Working G (2012) Appendix K: guidelines for dietary supplements and botanicals. In: J AOAC Int. pp 268–272

Beck A, Liu H (2019) Macro- and micro-heterogeneity of natural and recombinant IgG antibodies. Antibodies (Basel). https://doi.org/10.3390/antib8010018

Chen Q, He J, Phoolcharoen W, Mason HS (2011) Geminiviral vectors based on bean yellow dwarf virus for production of vaccine antigens and monoclonal antibodies in plants. Hum Vaccin 7:331–338. https://doi.org/10.4161/hv.7.3.14262

Debler EW, Kaufmann GF, Kirchdoerfer RN, Mee JM, Janda KD, Wilson IA (2007) Crystal structures of a quorum-quenching antibody. J Mol Biol 368:1392–1402. https://doi.org/10.1016/j.jmb.2007.02.081

Diamos AG, Mason HS (2018) Modifying the replication of geminiviral vectors reduces cell death and enhances expression of biopharmaceutical proteins in Nicotiana benthamiana leaves. Front Plant Sci. https://doi.org/10.3389/fpls.2018.01974

Diamos AG, Hunter JGL, Pardhe MD, Rosenthal SH, Sun H, Foster BC, DiPalma MP, Chen Q, Mason HS (2019) High level production of monoclonal antibodies using an optimized plant expression system. Front Bioeng Biotechnol. https://doi.org/10.3389/fbioe.2019.00472

Donini M, Marusic C (2019) Current state-of-the-art in plant-based antibody production systems. Biotechnol Lett 41:335–346. https://doi.org/10.1007/s10529-019-02651-z

Edgue G, Twyman RM, Beiss V, Fischer R, Sack M (2017) Antibodies from plants for bionanomaterials. Wiley Interdiscip Rev Nanomed Nanobiotechnol 9:e1462. https://doi.org/10.1002/wnan.1462

Giritch A, Marillonnet S, Engler C, van Eldik G, Botterman J, Klimyuk V, Gleba Y (2006) Rapid high-yield expression of full-size IgG antibodies in plants coinfected with noncompeting viral vectors. Proc Natl Acad Sci USA 103:14701–14706. https://doi.org/10.1073/pnas.0606631103

Gomord V, Faye L (2004) Posttranslational modification of therapeutic proteins in plants. Curr Opin Plant Biol 7:171–181. https://doi.org/10.1016/j.pbi.2004.01.015

Hiatt A, Cafferkey R, Bowdish K (1989) Production of antibodies in transgenic plants. Nature 342:76–78. https://doi.org/10.1038/342076a0

Huang Z, Phoolcharoen W, Lai H, Piensook K, Cardineau G, Zeitlin L, Whaley KJ, Arntzen CJ, Mason HS, Chen Q (2010) High-level rapid production of full-size monoclonal antibodies in plants by a single-vector DNA replicon system. Biotechnol Bioeng 106:9–17. https://doi.org/10.1002/bit.22652

Kirley TL, Norman AB (2018) Unfolding of IgG domains detected by non-reducing SDS-PAGE. Biochem Biophys Res Commun 503:944–949. https://doi.org/10.1016/j.bbrc.2018.06.100

Kitisripanya T, Krittanai S, Udomsin O, Jutathis K, Komaikul J, Juengwatanatrakul T, Sakamoto S, Tanaka H, Morimoto S, Putalun W (2017) Development of an enzyme-linked immunosorbent assay for determination of miroestrol using an anti-miroestrol monoclonal antibody. Planta Med 83:855–861. https://doi.org/10.1055/s-0043-102689

Lee JH, Kim JY, Cho SH, Jeong JH, Cho S, Park HJ, Baek SY (2017) Determination of miroestrol and isomiroestrol from Pueraria mirifica (White Kwao Krua) in dietary supplements by LC-MS-MS and LC-Q-Orbitrap/MS. J Chromatogr Sci 55:214–221. https://doi.org/10.1093/chromsci/bmw171

Lemeulle C, Chardès T, Montavon C, Chaabihi H, Mani J-C, Pugnière M, Cerutti M, Devauchelle G, Pau B, Biard-Piechaczyk M (1998) Anti-digoxin scFv fragments expressed in bacteria and in insect cells have different antigen binding properties. FEBS Lett 423:159–166. https://doi.org/10.1016/s0014-5793(98)00029-5

Liang M, Dubel S, Li D, Queitsch I, Li W, Bautz EK (2001) Baculovirus expression cassette vectors for rapid production of complete human IgG from phage display selected antibody fragments. J Immunol Methods 247:119–130. https://doi.org/10.1016/s0022-1759(00)00322-7

Lobstein J, Emrich CA, Jeans C, Faulkner M, Riggs P, Berkmen M (2012) SHuffle, a novel Escherichia coli protein expression strain capable of correctly folding disulfide bonded proteins in its cytoplasm. Microb Cell Fact 11:56. https://doi.org/10.1186/1475-2859-11-56

Nandi S, Kwong AT, Holtz BR, Erwin RL, Marcel S, McDonald KA (2016) Techno-economic analysis of a transient plant-based platform for monoclonal antibody production. MAbs 8:1456–1466. https://doi.org/10.1080/19420862.2016.1227901

National Consumer Affairs Center of Japan (2017) Health foods containing "Pueraria mirifica" for beauty purposes. Report of July 13, in Japanese. http://www.kokusen.go.jp/pdf/n-20170713_1.pdf.

Pongkitwitoon B, Boonsnongcheep P, Kitisripanya T, Yusakul G, Sakamoto S, Tanaka H, Morimoto S, Putalun W (2019) Preparation of a highly specific single chain variable fragment antibody targeting miroestrol and its application in quality control of Pueraria candollei by enzyme-linked immunosorbent assay. Phytochem Anal 30:600–608. https://doi.org/10.1002/pca.2832

Potgieter TI, Kersey SD, Mallem MR, Nylen AC, d'Anjou M (2010) Antibody expression kinetics in glycoengineered Pichia pastoris. Biotechnol Bioeng 106:918–927. https://doi.org/10.1002/bit.22756

Rattanapisit K, Shanmugaraj B, Manopwisedjaroen S, Purwono PB, Siriwattananon K, Khorattanakulchai N, Hanittinan O, Boonyayothin W, Thitithanyanont A, Smith DR, Phoolcharoen W (2020) Rapid production of SARS-CoV-2 receptor binding domain (RBD) and spike specific monoclonal antibody CR3022 in Nicotiana benthamiana. Sci Rep. https://doi.org/10.1038/s41598-020-74904-1

Robinson MP, Ke N, Lobstein J, Peterson C, Szkodny A, Mansell TJ, Tuckey C, Riggs PD, Colussi PA, Noren CJ, Taron CH, DeLisa MP, Berkmen M (2015) Efficient expression of full-length antibodies in the cytoplasm of engineered bacteria. Nat Commun. https://doi.org/10.1038/ncomms9072

Seo Y, Lee Y, Kim M, Park H, Kwon MH (2020) Assembly and folding properties of cytosolic IgG intrabodies. Sci Rep. https://doi.org/10.1038/s41598-020-58798-7

Shanmugaraj B, Bulaon CJ, Phoolcharoen W (2020a) Plant molecular farming: a viable platform for recombinant biopharmaceutical production. Plants-Basel 9:842. https://doi.org/10.3390/plants9070842

Shanmugaraj B, Bulaon CJ, Phoolcharoen W (2020b) Plant molecular farming: a viable platform for recombinant biopharmaceutical production. Plants (Basel). https://doi.org/10.3390/plants9070842

Stoyle CL, Stephens PE, Humphreys DP, Heywood S, Cain K, Bulleid NJ (2017) IgG light chain-independent secretion of heavy chain dimers: consequence for therapeutic antibody production and design. Biochem J 474:3179–3188. https://doi.org/10.1042/BCJ20170342

Thio M, Groot Kormelink T, Fischer MJ, Blokhuis BR, Nijkamp FP, Redegeld FA (2012) Antigen binding characteristics of immunoglobulin free light chains: crosslinking by antigen is essential to induce allergic inflammation. PLoS ONE 7:e40986. https://doi.org/10.1371/journal.pone.0040986

Tremouillaux-Guiller J, Moustafa K, Hefferon K, Gaobotse G, Makhzoum A (2020) Plant-made HIV vaccines and potential candidates. Curr Opin Biotechnol 61:209–216. https://doi.org/10.1016/j.copbio.2020.01.004

Vendel MC, Favis M, Snyder WB, Huang F, Capili AD, Dong J, Glaser SM, Miller BR, Demarest SJ (2012) Secretion from bacterial versus mammalian cells yields a recombinant scFv with variable folding properties. Arch Biochem Biophys 526:188–193. https://doi.org/10.1016/j.abb.2011.12.018

Wada R, Matsui M, Kawasaki N (2019) Influence of N-glycosylation on effector functions and thermal stability of glycoengineered IgG1 monoclonal antibody with homogeneous glycoforms. MAbs 11:350–372. https://doi.org/10.1080/19420862.2018.1551044

Webster GR, Teh AY, Ma JK (2017) Synthetic gene design-the rationale for codon optimization and implications for molecular pharming in plants. Biotechnol Bioeng 114:492–502. https://doi.org/10.1002/bit.26183

Yusakul G, Putalun W, Udomsin O, Juengwatanatrakul T, Chaichantipyuth C (2011) Comparative analysis of the chemical constituents of two varieties of Pueraria candollei. Fitoterapia 82:203–207. https://doi.org/10.1016/j.fitote.2010.09.009

Yusakul G, Sakamoto S, Tanaka H, Morimoto S (2016) Efficient expression of single chain variable fragment antibody against paclitaxel using the Bombyx mori nucleopolyhedrovirus bacmid DNA system and its characterizations. J Nat Med 70:592–601. https://doi.org/10.1007/s11418-016-0981-5

Yusakul G, Nuntawong P, Sakamoto S, Ratnatilaka Na Bhuket P, Kohno T, Kikkawa N, Rojsitthisak P, Shimizu K, Tanaka H, Morimoto S (2017) Bacterial expression of a single-chain variable fragment (scFv) antibody against ganoderic acid A: a cost-effective approach for quantitative analysis using the scFv-based enzyme-linked immunosorbent assay. Biol Pharm Bull 40:1767–1774. https://doi.org/10.1248/bpb.b17-00531

Yusakul G, Sakamoto S, Nuntawong P, Tanaka H, Morimoto S (2018) Different expression systems resulted in varied binding properties of anti-paclitaxel single-chain variable fragment antibody clone 1C2. J Nat Med 72:310–316. https://doi.org/10.1007/s11418-017-1136-z

Yusakul G, Juengsanguanpornsuk W, Sritularak B, Phaisan S, Juengwatanatrakul T, Putalun W (2020) (+)-7-O-Methylisomiroestrol, a new chromene phytoestrogen from the Pueraria candollei var. mirifica root. Nat Prod Res. https://doi.org/10.1080/14786419.2020.1727473
Acknowledgements
We also thank Professor Hugh Mason (Arizona State University) for providing the geminiviral vector.
Funding
The authors express their gratitude to the Faculty of Pharmaceutical Sciences, Chulalongkorn University, for providing a research fund (Grant number Phar2563-RG011) to WP and the Graduate School, Ratchadapisek Somphot Fund, for providing the financial support to KR. This research was financially supported by the new strategic research project (P2P), Walailak University, Thailand.
Ethics declarations
Conflict of interest
The authors declare that they have no conflict of interest.
Additional information
Publisher's Note
Springer Nature remains neutral with regard to jurisdictional claims in published maps and institutional affiliations.
Communicated by Kan Wang.
Supplementary Information
Below is the link to the electronic supplementary material.
About this article
Cite this article
Rattanapisit, K., Kitisripanya, T., Konyanee, A. et al. Plant-made antibody against miroestrol: a new platform for expression of full-length immunoglobulin G against small-molecule targets in immunoassays. Plant Cell Rep (2021). https://doi.org/10.1007/s00299-021-02670-z
Received:

Accepted:

Published:
Keywords
Plant-made antibody

Monoclonal antibody

Immunoassay

Miroestrol

ELISA