Abstract
Key message
Endogenous hydrogen peroxide (H2O2) is involved in regulating the gibberellic acid-induced programmed cell death (PCD) of the aleurone layers by cooperating with OsVPE3 during rice seed germination.
Abstract
Preliminary experiments revealed that H2O2 produced by the NOX pathway is the key factor affecting rice germination. Histochemical analysis indicated that H2O2 is located in the aleurone layer. Both the H2O2 scavenger DMTU and the NOX inhibitor DPI decreased H2O2 content and significantly slowed down vacuolation in a dose-dependent manner. Interestingly, DMTU down-regulated the OsNOX8 transcript or DMTU and DPI decreased the intracellular H2O2 level, resulting in a delay of PCD. In contrast, GA and H2O2 up-regulated the OsNOX8 transcript and intracellular H2O2 level, leading to premature PCD, and the effects of GA and H2O2 were reversed by DMTU and DPI, respectively. These results showed that the imbalance of intracellular H2O2 levels leads to the delayed or premature PCD. Further experiments indicated that GA up-regulated the OsVPE3 transcript and VPE activity, and the effect was reversed by DPI. Furthermore, Ac-YVAD-CMK significantly blocked H2O2 accumulation, and DPI + Ac-YVAD-CMK had a more significant inhibitory effect compared with DPI alone, resulting in the delayed PCD, suggesting that OsVPE3 regulates PCD by promoting H2O2 generation. Meanwhile, DPI significantly inhibited the OsVPE3 transcript and VPE activity, and in turn delayed PCD occurrence, suggesting that the H2O2 produced by the NOX pathway may regulate PCD by up-regulating the OsVPE3 transcript. Thus, the endogenous H2O2 produced by the NOX pathway mediates the GA-induced PCD of rice aleurone layers by interacting with OsVPE3.
Access options
Buy single article
Instant access to the full article PDF.
US$ 39.95
Tax calculation will be finalised during checkout.
Subscribe to journal
Immediate online access to all issues from 2019. Subscription will auto renew annually.
US$ 119
Tax calculation will be finalised during checkout.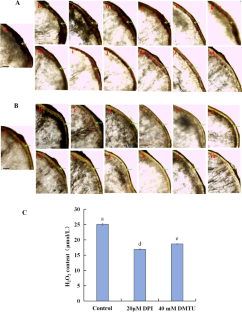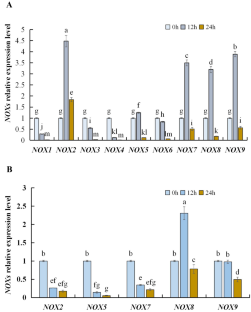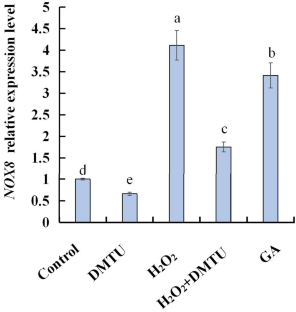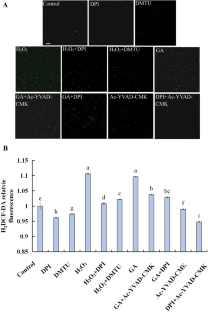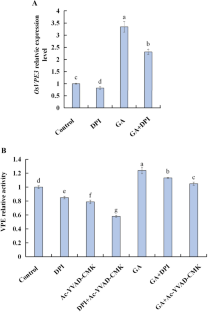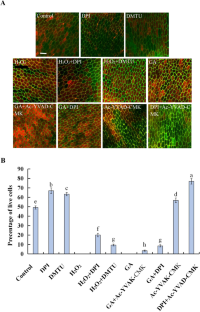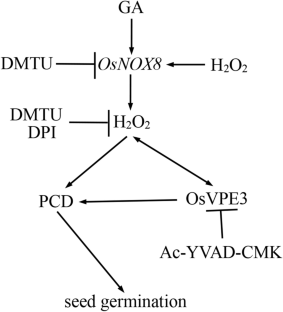 Abbreviations
DAB:

Diaminobenzidine

DMTU:

Dimethylthiourea

DPI:

Diphenylene iodonium

GA:

Gibberellic acid

LSCM:

Laser scanning confocal microscopy

NBT:

Nitrotetrazorium blue chloride

NOX:

NADPH oxidase

PCD:

Programmed cell death

qRT-PCR:

Quantitative real-time reverse transcription PCR

ROS:

Reactive oxygen species

SOD:

Superoxide dismutase

VPEs:

Vacuolar processing enzymes
References
Arnaud D, Lee S, Takebayashi Y, Chio D, Choi J, Sakakibara H, Hwang I (2017) Cytokinin-mediated regulation of reactive oxygen species homeostasis modulates stomatal immunity in Arabidopsis. Plant Cell 29:543–559

Ashraf MA, Rasheed R, Hussain I, Iqbal M, Haider MZ, Parveen S, Sajid MA (2014) Hydrogen peroxide modulates antioxidant system and nutrient relation in maize (Zea mays L.) under water-deficit conditions. Arch Agron Soil Sci 61:507–523

Bailly C (2004) Active oxygen species and antioxidants in seed biology. Seed Sci Res 14:93–107

Bailly C, El-Maarouf-Bouteau H, Corbineau F (2008) From intracellular signaling networks to cell death: the dual role of reactive oxygen species in seed physiology. CR Biol 331:806–814

Barba-Espin G, Diaz-Vivancos P, Clemente-Moreno MJ, Albacete A, Faize L, Faize M, Pérez-Alfocea F, Hernández JA (2010) Interaction between hydrogen peroxide and plant hormones during germination and the early growth of pea seedlings. Plant Cell Environ 33:981–994

Bethke PC, Lonsdale JE, Fath A, Jones RL (1999) Hormonally regulated programmed cell death in barley aleurone cells. Plant Cell 11:1033–1046

Bethke PC, Libourel IG, Aoyama N, Chung YY, Still DW, Jones RL (2007) The Arabidopsis aleurone layer responds to nitric oxide, gibberellin, and abscisic acid and is sufficient and necessary for seed dormancy. Plant Physiol 143:1173–1188

Bouallègue A, Souissi F, Nouairi I, Souissi F, Nouairi I, Souibgui M, Abbes Z, Mhadhbi H (2017) Salicylic acid and hydrogen peroxide pretreatments alleviate salt stress in faba bean (Vicia faba) seeds during germination. Seed Sci Technol 45:675–690

Boudreau N, Sympson CJ, Werb Z, Bissell MJ (1995) Suppression of ICE and apoptosis in mammary epithelial cells by extracellular matrix. Science (New York, NY) 267:891–893

Bradford M (1976) A rapid and sensitive method for the quantitation of microgram quantities of protein utilizing the principle of protein-dye binding. Anal Biochem 72:248–254

Brennan MA, Cookson BT (2000) Salmonella induces macrophage death by caspase-1-dependent necrosis. Mol Microbiol 38:31–40

Carol RJ, Dolan L (2006) The role of reactive oxygen species in cell growth: lessons from root hairs. J Exp Bot 57:1829–1834

Cejudo FJ, María TC, Baulcombe DC (1995) Amyl expression during wheat seed germination. Plant Sci 106:207–213

Chao YY, Chen CY, Huang WD, Kao CH (2010) Salicylic acid-mediated hydrogen peroxide accumulation and protection against Cd toxicity in rice leaves. Plant Soil 329:327–337

Cross AR, Segal AW (2004) The NADPH oxidase of professional phagocytes-prototype of the NOX electron transport chain systems. Biochim Biophys Acta 1657:1–22

Cui WT, Zhu D, Shen WB, Mei YD, Hu DK, Shi YJ, Ren Y, Shen W, Gu Q, Xu DK, Huang LQ (2017) Hydrogen peroxide is involved in β-cyclodextrin-hemin complex-induced lateral root formation in tomato seedlings. Front Plant Sci 8:1445

Deng MJ, Bian HW, Xie YK, Kim YH, Wang WZ, Lin EP, Zeng ZH, Guo F, Pan JW, Han N, Wang JH, Qian Q, Zhu MY (2011) Bcl-2 suppresses hydrogen peroxide-induced programmed cell death via OsVPE2 and OsVPE3, but not via OsVPE1 and OsVPE4, in rice. FEBS J 278:4797–4810

Exline MC, Justiniano S, Hollyfield JL, Berhe F, Besecker BY, Das S, Wewers MD, Sarkar A (2014) Microvesicular caspase-1 mediates lymphocyte apoptosis in sepsis. PLoS ONE 9:e90968

Farouk D, Abdul Qados AMS (2018) Enhancing seed quality and productivity as well as physio-anatomical responses of pea plants by folic acid and/or hydrogen peroxide application. Sci Hortic (Amsterdam) 240:29–37

Fath A, Bethke PC, Jones R (2001) Enzymes that scavenge reactive oxygen species are down-regulated prior to gibberellic acid-induced programmed cell death in barley aleurone. Plant Physiol 126:156–166

Fath A, Bethke P, Beligni V, Jones R (2002) Active oxygen and cell death in cereal aleurone cells. J Exp Bot 53:1273–1282

Gao H, Zhang YH, Wang WL, Zhao KK, Liu CM, Bai L, Li R, Guo Y (2017) Two membrane-anchored aspartic proteases contribute to pollen and ovule development. Plant Physiol 173:219–239

Guo WJ, David Ho TH (2008) An abscisic acid-induced protein, HVA22, inhibits gibberellin-mediated programmed cell death in cereal aleurone cells. Plant Physiol 147:1710–1722

Hasanuzzaman M, Nahar K, Gill SS, Alharby HF, Razafindrabe BHN, Fujita M (2017) Hydrogen peroxide pretreatment mitigates Cadmium-induced oxidative stress in Brassica napus L.: an intrinsic study on antioxidant defense and glyoxalase systems. Front Plant Sci 8:115

Hatsugai N, Kuroyanagi M, Yamada K, Meshi T, Tsuda S, Kondo M, Nishimura M, Hara-Nishimura I (2004) A plant vacuolar protease, VPE, mediates virus-induced hypersensitive cell death. Science 305:855–858

Hatsugai N, Kuroyanagi M, Nishimura M, Hara-Nishimura I (2006) A cellular suicide strategy of plants: vacuole-mediated cell death. Apoptosis 11:905–911

Hatsugai N, Yamada K, Goto-Yamada S, Hara-Nishimura I (2015) Vacuolar processing enzyme in plant programmed cell death. Front Plant Sci 6:234

Hotchkiss RS, Chang KC, Swanson PE, Tinsley KW, Hui JJ, Klender P, Xanthoudakis S, Roy S, Black C, Grimm E, Aspiotis R, Han Y, Nicholson DW, Karl IE (2000) Caspase inhibitors improve survival in sepsis: a critical role of the lymphocyte. Nat Immunol 1:496–550

Huang LQ (2017) Hydrogen peroxide is involved in β-cyclodextrin-hemin complex-induced lateral root formation in tomato seedlings. Front Plant Sci 8:1445

Ishibashi Y, Tawaratsumida T, Kondo K, Kasa S, Sakamoto M, Aoki N, Zheng SH, Yuasa T, Iwaya-Inoue M (2012) Reactive oxygen species are involved in gibberellin/abscisic acid signaling in barley aleurone cells. Plant Physiol 158:1705–1714

Ishibashi Y, Kasa S, Sakamoto M, Aoki N, Kai K, Yuasa T, Hanada A, Yamaguchi S, Iwaya-Inoue M (2015) A role for reactive oxygen species produced by NADPH oxidases in the embryo and aleurone cells in barley seed germination. PLoS ONE 10:e0143173

Ivanchenko MG, Os DD, Monshausen GB, Dubrovsky JG, Bednářová A, Krishnan N (2013) Auxin increases the hydrogen peroxide (H2O2) concentration in tomato (Solanum lycopersicum) root tips while inhibiting root growth. Ann Bot 112:1107–1116

Kariya K, Demiral T, Sasaki T, Tsuchiya Y, Turkan I, Sano T, Hasezawa S, Yamamoto Y (2013) A novel mechanism of aluminum-induced cell death involving vacuolar processing enzyme and vacuolar collapse in tobacco cell line BY-2. J Inorg Biochem 128:196–201

Kariya K, Tsuchiya Y, Sasaki T, Yamamoto Y (2018) Aluminium-induced cell death requires upregulation of NtVPE1 gene coding vacuolar processing enzyme in tobacco (Nicotiana tabacum L.). J Inorg Biochem 181:152–161

Kim Y, Wang M, Bai Y, Zeng Z, Guo F, Han N, Bian H, Wang J, Pan J, Zhu M (2014) Bcl-2 suppresses activation of VPEs by inhibiting cytosolic Ca2+ level with elevated K+ efflux in NaCl-induced PCD in rice. Plant Physiol Biochem 80:168–175

Kong X, Luo Z, Dong H, Eneji AE, Li W (2016) H2O2 and ABA signaling are responsible for the increased Na+ efflux and water uptake in Gossypium hirsutum L. roots in the non-saline side under non-uniform root zone salinity. J Exp Bot 67:2247–2261

Kuroyanagi M, Yamada K, Hatsugai N, Kondo M, Nishimura M, Hara-Nishimura I (2005) Vacuolar processin enzyme is essential for mycotoxin-induced cell death in Arabidopsis thaliana. J Biol Chem 280:32914–32920

Kutsuna N, Hasezawa S (2002) Dynamic organization of vacuolar and microtubule structures during cell cycle progression in synchronized tobacco BY-2 cells. Plant Cell Physiol 43:965–973

Li Z, Yue HY, Xing D (2012) MAP Kinase 6-mediated activation of vacuolar processing enzyme modulates heat shock-induced programmed cell death in Arabidopsis. N Phytol 195:85–96

Li WY, Chen BX, Chen ZJ, Gao YT, Chen Z, Liu J (2017) Reactive oxygen species generated by NADPH oxidases promote radicle protrusion and root elongation during rice seed germination. Int J Mol Sci 18:110

Li BJ, Cai Q, Ma SY, Li S, Zhang XC, Yu Y (2018) Regulation of NPA and ACC on H2O2-induced pea primary horizontal bending root. J Plant Growth Regul 37:246–254

Liu DW, Zheng SN, Wang X (2016) Lanthanum regulates the reactive oxygen species in the roots seedlings. Sci Rep 6:31860

Lu WY, Deng MJ, Guo F, Wang MQ, Zeng ZH, Han N, Yang YN, Zhu MY, Bian HW (2016) Suppression of OsVPE3 enhances salt tolerance by Attenuating vacuole rupture during programmed cell death and affects stomata development in rice. Rice 9:65

Mangano S, Denita-Juarez SP, Choi HS, Marzol E, Hwang Y, Ranocha P, Velasquez SM, Borassi C, Barberini ML, Aptekmann AA, Muschietti JP, Nardra AD, Dunand C, Cho HT, Estevez JM (2017) Molecular link between auxin and ROS-mediated polar growth. PNAS 114:5289–5294

Matsumura H, Nirasawa S, Kiba A, Urasaki N, Saitoh H, Ito M, Kawai-Yamada M, Uchimiya H, Terauchi R (2003) Overexpression of bax inhibitor suppresses the fungal elicitor-induced cell death in rice (Oryza sativa L.) cells. Plant J 33:425–434

Nguyen GN, Hailstones DL, Wilkes M, Sutton BG (2009) Drought-induced oxidative conditions in rice anthers leading to a programmed cell death and pollen abortion. J Agron Crop Sci 195:157–164

Potocký M, Pejchar P, Gutkowska M, Jiménez-Quesada MJ, Potockà A, de Dios AJ, Kost B, Žárský (2012) NADPH oxidase activity in pollen tubes is affected by calcium ions, signaling phospholipids and Rac/Rop GTPases. J Plant Physiol 169:1654–1663

Ratajczak E, Malecka A, Bagniewska-Zadworna A, Kalemba EM (2015) The production, localization and spreading of reactive oxygen species contributes to the low vitality of long-term stored common beech (Fagus sylvativa L.) seeds. J Plant Physiol 174:147–156

Rea G, de Pinto MC, Tavazza R, Biondi S, Gobbi V, Ferrante P, De Gara L, Federico R, Angelini R, Tavladoraki P (2004) Ectopic expression of maize polyamine oxidase and pea copper amine oxidase in the cell wall of tobacco plants. Plant Physiol 134:1414–1426

Sanmatin M, Jaroszewski L, Raikhel NV, Rojo E (2005) Caspases. Regulating death since the origin of life. Plant Physiol 137:841–847

Sarkar A, Hall MW, Exline M, Hart J, Knatz N, Gatson NT, Wewers MD (2006) Caspase-1 regulates escherichia coli sepsis and splenic B cell apoptosis independently of interleukin-1β and interleukin-18. Am J Respir Crit Care Med 174:1003–1010

Sathiyaraj G, Srinivasan S, Kim YJ, Lee OR, Ralusamy SRD, Khorolaragchaa A, Yang DC (2014) Acclimation of hydrogen peroxide enhances salt tolerance by activating defense-related proteins in Panax ginseng C.A. Meyer. Mol Biol Rep 41:3761–3771

Speranza A, Crinelli R, Scoccianti V, Geitmann A (2012) Reactive oxygen species are involved in pollen tube initiation in kiwifruit. Plant Biol (Stuttg) 14:64–76

Suzuki N, Miller G, Morales J, Shulaev V, Torres MA, Mittler R (2011) Respiratory burst oxidases: the engines of ROS signaling. Curr Opin Plant Biol 14:691–699

Tewari RK, Watanabe D, Watanabe M (2012) Chloroplastic NADPH oxidase-like activity-mediated perpetual hydrogen peroxide generation in the chloroplast induces apoptotic-like death of Brassica napus leaf protoplasts. Planta 235:99–110

Torres MA, Dangl JL, Jones JD (2002) Arabidopsis gp91phox homologues AtrbohD and AtrbohF are required for accumulation of reactive oxygen intermediates in the plant defense response. Proc Natl Acad Sci USA 99:517–522

Torres MA, Jones JD, Dangl JL (2005) Pathogen-induced, NADPH oxidase-derived reactive oxygen intermediates suppress of cell death in Arabidopsis thaliana. Nat Genet 37:1130–1134

Wang YH, Zhu SS, Liu SJ, Jiang L, Chen LM, Ren YL, Han XH, Liu F, Ji SL, Liu X, Wan JM (2009) The vacuolar processing enzyme OsVPE1 is required for efficient glutelin processing in rice. Plant J 58:606–617

Wang GH, Xiao Y, Deng XJ, Zhang HT, Li TG, Chen HP (2018) Exogenous hydrogen peroxide contributes to heme oxygenase-1 delaying programmed cell death in isolated aleurone layers of rice subjected to drought stress in a cGMP-dependent manner. Front Plant Sci 9:84

Wu MZ, Huang JJ, Xu S, Ling TF, Xie YJ, Shen WB (2011) Hame oxygenase delays programmed cell death in wheat aleurone layers by modulation of hydrogen peroxide metabolism. J Exp Bot 62:235–248

Wu MZ, Li JL, Wang FQ, Li F, Yang J, Shen WB (2014) Cobalt alleviates GA-induced programmed cell death in wheat aleurone layers via the regulation of H2O2 production and heme oxygenase-1 expression. Int J Mol Sci 15:21155–21178

Wu HM, Zheng Y, Liu J, Zhang HT, Chen HP (2016) Heme oxygenase-1 delays gibberellin-induced programmed cell death of rice aleurone layers subjected to drought stress by interacting with nitric oxide. Front Plant Sci 6:1267

Yamauchi T, Yoshioka M, Fukazawa A, Mori H, Nishizawa NK, Tsutsumi N, Yoshioka H, Nakazono M (2017) An NADPH oxidase RBOH functions in rice roots during lysigenous aerenchyma formation under oxygen-deficient conditions. Plant Cell 29:775–790

Zhang HT, Xiao Y, Deng XJ, Feng HY, Li Z, Zhang LL, Chen HP (2020) OsVPE3 mediates GA-induced programmed cell death in rice aleurone layers via interacting with actin microfilaments. Rice (NY) 13:22

Zheng Y, Zhang HT, Deng XJ, Liu J, Chen HP (2017) The relationship between vacuolation and initiation of PCD in rice (Oryza sativa) aleurone cells. Sci Rep 7:41245
Acknowledgements
This work was supported by the National Natural Science Foundation of China (Grant Nos. 31960453 and 31560426).
Ethics declarations
Conflict of interest
The authors declare that they have no conflict of interest.
Additional information
Publisher's Note
Springer Nature remains neutral with regard to jurisdictional claims in published maps and institutional affiliations.
Communicated by Maike Petersen.
Supplementary Information
Below is the link to the electronic supplementary material.
About this article
Cite this article
Xiao, Y., Zhang, L., Zhang, H. et al. Interaction between endogenous H2O2 and OsVPE3 in the GA-induced PCD of rice aleurone layers. Plant Cell Rep (2021). https://doi.org/10.1007/s00299-021-02665-w
Received:

Accepted:

Published:
Keywords
Aleurone layers

Hydrogen peroxide (h2O2)

NADPH oxidase (NOX)

OsVPE3

Programmed cell death (PCD)

Rice (oryza sativa)