Abstract
miRNAs in plant plays crucial role in controlling proper growth, development and fitness by modulating the expression of their target genes. Therefore to modulate the expression of any stress/development related gene specifically, it is better to modulate expression of the miRNA that can target that gene. To modulate the expression level of miRNA, it is prerequisite to uncover the underlying molecular mechanism of its biogenesis. The biogenesis pathway consists of two major steps, transcription of MIR gene to pri-MIRNA and processing of pri-MIRNA into mature miRNA via sequential cleavage steps. Both of these pathways are tightly controlled by several different factors involving structural and functional molecules. This review is mainly focused on different aspects of pri-MIRNA processing mechanism to emphasize on the fact that to modulate the level of a miRNA in the cell only over-expression or knock-down of that MIR gene is not always sufficient rather it is also crucial to take processing regulation into consideration. The data collected from the recent and relevant literatures depicts that processing regulation is controlled by several aspects like structure and size of the pri-MIRNA, presence of introns in MIR gene and their location, interaction of processing factors with the core components of processing machinery etc. These detailed information can be utilized to figure out the particular point which can be utilized to modulate the expression of the miRNA which would ultimately be beneficial for the scientist and researcher working in this field to generate protocol for engineering plant with improved yield and stress tolerance.
Access options
Buy single article
Instant access to the full article PDF.
US$ 39.95
Tax calculation will be finalised during checkout.
Subscribe to journal
Immediate online access to all issues from 2019. Subscription will auto renew annually.
US$ 119
Tax calculation will be finalised during checkout.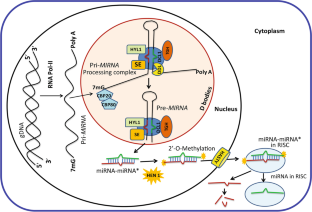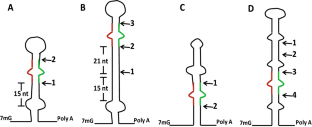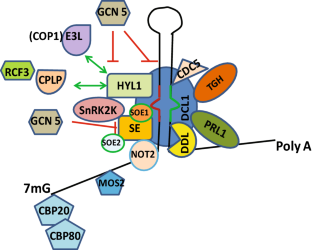 Abbreviations
miRNA:

MicroRNA

pri-MIRNA :

Primary microRNA

DCL1:

Dicer like 1

RISC:

RNA-induced silencing complex

CBC:

cap-binding complex

SE:

Serrate

HYL1:

Hyponastic leaves 1

DDL:

Dawdle

TGH:

TOUGH

HEN1:

HUA ENHANCER1

HST:

HASTY

AGO1:

ARGONAUTE

hnRNPs:

Heterogeneous nuclear ribonucleoproteins

XCT:

XAP5 CIRCADIAN TIMEKEEPER

RACK1:

RECEPTOR FOR ACTIVATED C KINASE 1

RCF3:

REGULATOR OF CBF GENE EXPRESSION 3

PP4:

Protein Phosphatase 4

MAC:

MOS4-Associated Complex

SIC:

SICKLE

STA1:

STABILIZED1

HOS5:

HIGH OSMOTIC STRESS GENE EXPRESSION 5

DOG1:

DELAY OF GERMINATION1

EMU:

ERECTA mRNA UNDER-EXPRESSED

MTA:

MRNA adenosine methylase

HESO1:

HEN1 SUPPRESSOR 1

SDN1:

SMALL-RNA-DEGRADING NUCLEASES

EMA1:

ENHANCED miRNA ACTIVITY1

TRN1:

TRANSPORTIN1
Additional information
Publisher's Note
Springer Nature remains neutral with regard to jurisdictional claims in published maps and institutional affiliations.
Communicated by Wusheng Liu.
About this article
Cite this article
Jodder, J. Regulation of pri-MIRNA processing: mechanistic insights into the miRNA homeostasis in plant. Plant Cell Rep (2021). https://doi.org/10.1007/s00299-020-02660-7
Received:

Accepted:

Published:
Keywords
microRNA (miRNA)

Pri-MIRNA

Processing

Regulation

Mechanism

Interaction