Abstract
Key Message
A deletion created by CRISPR/Cas9 system in the 5' UTR of the carotenoid isomerase gene in tomato leads to downregulation of the gene resulting in the low conversion of prolycopene to lycopene.
Abstract
CRISPR/Cas9 based genome editing is an effective and useful tool adopted from the bacterial immune response system for altering specific, pre-determined DNA sequences in eukaryotes. Such targeted changes are finding wide application in human health as well as in precision breeding of crop plants for improved traits. Mutations in the coding and regulatory regions can have varying impacts on the function of the gene. In the current study, we demonstrate this on tomato carotenoid isomerase, a key gene in the carotenoid biosynthesis pathway. Mutations were generated in the 5′ UTR and exon 1 of the carotenoid isomerase gene using CRISPR/Cas9 expression via Agrobacterium-mediated transformation of tomato variety Periyakulam 1 (PKM1). Molecular and biochemical studies demonstrate that CRISPR-mediated point mutations in the exon sequence lead to complete knockout of protein function whereas deletion in 5′ UTR region lowers the expression of the gene leading to changes in plant phenotype.
Access options
Buy single article
Instant access to the full article PDF.
US$ 39.95
Tax calculation will be finalised during checkout.
Subscribe to journal
Immediate online access to all issues from 2019. Subscription will auto renew annually.
US$ 119
Tax calculation will be finalised during checkout.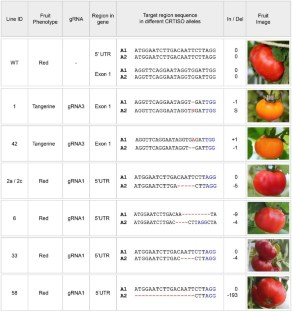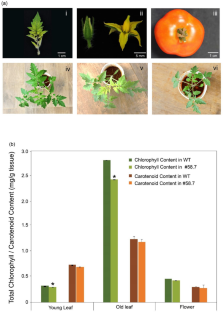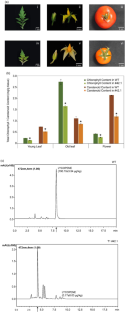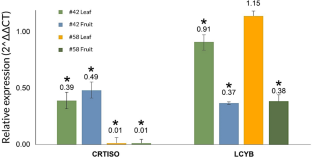 Data availability
The RNA-Seq data have been submitted to NCBI and is available under the bioproject PRJNA639003.
Abbreviations
CRISPR/Cas:

Clustered Regularly Interspaced Short Palindromic Repeats/ CRISPR associated protein

TILLING:

Targeting Induced Local Lesions in Genomes

UTR:

Untranslated region

CRTISO:

Carotenoid isomerase

LCYB:

Lycopene-β-Cyclase

qPCR:

Quantitative PCR

WT:

Wild type
References
Anzalone AV, Randolph PB, Davis JR et al (2019) Search-and-replace genome editing without double-strand breaks or donor DNA. Nature. https://doi.org/10.1038/s41586-019-1711-4

Bao A, Burritt DJ, Chen H et al (2019) The CRISPR/Cas9 system and its applications in crop genome editing. Crit Rev Biotechnol 39:321–336. https://doi.org/10.1080/07388551.2018.1554621

Barnes J, Balaguer L, Manrique E et al (1992) A reappraisal of the use of DMSO for the extraction and determination of chlorophylls a and b in lichens and higher plants. Environ Exp Bot 32:85–100

Belhaj K, Chaparro-Garcia A, Kamoun S, Nekrasov V (2013) Plant genome editing made easy: targeted mutagenesis in model and crop plants using the CRISPR/Cas system. Plant Methods 9:39. https://doi.org/10.1186/1746-4811-9-39

Blanvillain-Baufumé S, Reschke M, Solé M et al (2017) Targeted promoter editing for rice resistance to Xanthomonas oryzae pv. oryzae reveals differential activities for SWEET14-inducing TAL effectors. Plant Biotechnol J 15:306–317. https://doi.org/10.1111/pbi.12613

Burton-Freeman B, Reimers K (2011) Tomato consumption and health: emerging benefits. Am J Lifestyle Med 5:182–191. https://doi.org/10.1177/1559827610387488

Carbone F, Pizzichini D, Giuliano G et al (2005) Comparative profiling of tomato fruits and leaves evidences a complex modulation of global transcript profiles. Plant Sci 169:165–175. https://doi.org/10.1016/j.plantsci.2005.03.011

Chaudhary P, Sharma A, Singh B, Nagpal AK (2018) Bioactivities of phytochemicals present in tomato. J Food Sci Technol 55:2833–2849. https://doi.org/10.1007/s13197-018-3221-z

Chen Y, Li F, Wurtzel ET (2010) Isolation and characterization of the Z-ISO gene encoding a missing component of carotenoid biosynthesis in plants. Plant Physiol 153:66–79. https://doi.org/10.1104/pp.110.153916

Clough JM, Pattenden G (1979) Naturally occurring poly-cis carotenoids. Stereochemistry of poly-cis lycopene and its congeners in 'tangerine' tomato fruits. J Chem Soc Chem Commun. https://doi.org/10.1039/C39790000616

Cucu T, Huvaere K, Van Den Bergh M-A et al (2012) A Simple and fast HPLC method to determine lycopene in foods. Food Anal Methods 5:1221–1228. https://doi.org/10.1007/s12161-011-9354-6

Dahan-Meir T, Filler-Hayut S, Melamed-Bessudo C et al (2018) Efficient in planta gene targeting in tomato using geminiviral replicons and the CRISPR/Cas9 system. Plant J 95:5–16. https://doi.org/10.1111/tpj.13932

DellaPenna D, Pogson BJ (2006) Vitamin synthesis in plants: tocopherols and carotenoids. Annu Rev Plant Biol 57:711–738. https://doi.org/10.1146/annurev.arplant.56.032604.144301

Demmig-Adams B, Adams WW (1996) The role of xanthophyll cycle carotenoids in the protection of photosynthesis. Trends Plant Sci 1:21–26. https://doi.org/10.1016/S1360-1385(96)80019-7

Doudna JA, Charpentier E (2014) The new frontier of genome engineering with CRISPR-Cas9. Science. https://doi.org/10.1126/science.1258096

Fraser PD, Bramley PM (2004) The biosynthesis and nutritional uses of carotenoids. Prog Lipid Res 43:228–265. https://doi.org/10.1016/j.plipres.2003.10.002

Gidoni D, Fuss E, Burbidge A et al (2003) Multi-functional T-DNA/Ds tomato lines designed for gene cloning and molecular and physical dissection of the tomato genome. Plant Mol Biol 51:83–98. https://doi.org/10.1023/A:1020718520618

Higo K, Ugawa Y, Iwamoto M, Korenaga T (1999) Plant cis-acting regulatory DNA elements (PLACE) database: 1999. Nucleic Acids Res 27:297–300. https://doi.org/10.1093/nar/27.1.297

Hirschberg J (2001) Carotenoid biosynthesis in flowering plants. Curr Opin Plant Biol 4:210–218. https://doi.org/10.1016/S1369-5266(00)00163-1

Hsiau T, Conant D, Rossi N et al (2019) Inference of CRISPR edits from Sanger trace data. bioRxiv. https://doi.org/10.1101/251082

Isaacson T, Ronen G, Zamir D, Hirschberg J (2002) Cloning of tangerine from tomato reveals a carotenoid isomerase essential for the production of β-carotene and xanthophylls in plants. Plant Cell 14:333–342. https://doi.org/10.1105/tpc.010303

Ito Y, Nishizawa-Yokoi A, Endo M et al (2015) CRISPR/Cas9-mediated mutagenesis of the RIN locus that regulates tomato fruit ripening. Biochem Biophys Res Commun 467:76–82. https://doi.org/10.1016/j.bbrc.2015.09.117

Li X, Xie Y, Zhu Q, Liu Y-G (2017) Targeted genome editing in genes and cis-regulatory regions improves qualitative and quantitative traits in crops. Mol Plant 10:1368–1370. https://doi.org/10.1016/j.molp.2017.10.009

Lichtenthaler HK, Wellburn AR (1983) Determinations of total carotenoids and chlorophylls a and b of leaf extracts in different solvents. Biochem Soc Trans 11(5):591–592

Liu H, Ding Y, Zhou Y et al (2017) CRISPR-P 2.0: an improved CRISPR-Cas9 tool for genome editing in plants. Mol plant 10:530–532

Livak KJ, Schmittgen TD (2001) Analysis of relative gene expression data using real-time quantitative PCR and the 2−ΔΔCT method. Methods 25:402–408. https://doi.org/10.1006/meth.2001.1262

Madhulatha P, Pandey R, Hazarika P, Rajam M (2007) High transformation frequency in Agrobacterium-mediated genetic transformation of tomato by using polyamines and maltose in shoot regeneration medium. Physiol Mol Biol Plants 13:191–198

Minoia S, Petrozza A, D'Onofrio O et al (2010) A new mutant genetic resource for tomato crop improvement by TILLING technology. BMC Res Notes 3:69. https://doi.org/10.1186/1756-0500-3-69

Müller L, Caris-Veyrat C, Lowe G, Böhm V (2016) Lycopene and its antioxidant role in the prevention of cardiovascular diseases—a critical review. Crit Rev Food Sci Nutr 56:1868–1879. https://doi.org/10.1080/10408398.2013.801827

Nekrasov V, Staskawicz B, Weigel D et al (2013) Targeted mutagenesis in the model plant Nicotiana benthamiana using Cas9 RNA-guided endonuclease. Nat Biotechnol 31:691–693. https://doi.org/10.1038/nbt.2655

Novak F, Brunner H (1992) Plant breeding: induced mutation technology for crop improvement. IAEA Bull 4:25–33

Oliva R, Ji C, Atienza-Grande G et al (2019) Broad-spectrum resistance to bacterial blight in rice using genome editing. Nat Biotechnol 37:1344–1350. https://doi.org/10.1038/s41587-019-0267-z

Pan C, Ye L, Qin L et al (2016) CRISPR/Cas9-mediated efficient and heritable targeted mutagenesis in tomato plants in the first and later generations. Sci Rep 6:1–9. https://doi.org/10.1038/srep24765

Park H, Kreunen SS, Cuttriss AJ et al (2002) Identification of the carotenoid isomerase provides insight into carotenoid biosynthesis, prolamellar body formation, and photomorphogenesis. Plant Cell 14:321–332. https://doi.org/10.1105/tpc.010302

Peng A, Chen S, Lei T et al (2017) Engineering canker-resistant plants through CRISPR/Cas9-targeted editing of the susceptibility gene CsLOB1 promoter in citrus. Plant Biotechnol J 15:1509–1519. https://doi.org/10.1111/pbi.12733

Rodríguez-Leal D, Lemmon ZH, Man J et al (2017) Engineering quantitative trait variation for crop improvement by genome editing. Cell 171:470-480.e8. https://doi.org/10.1016/j.cell.2017.08.030

Römer S, Fraser PD (2005) Recent advances in carotenoid biosynthesis, regulation and manipulation. Planta 221:305–308. https://doi.org/10.1007/s00425-005-1533-5

Sato S, Tabata S, Hirakawa H et al (2012) The tomato genome sequence provides insights into fleshy fruit evolution. Nature 485:635–641. https://doi.org/10.1038/nature11119

Schmidt C, Pacher M, Puchta H (2019) DNA break repair in plants and its application for genome engineering. In: Kumar S, Barone P, Smith M (eds) Transgenic plants: methods and protocols. Springer, New York, pp 237–266

Sha Y, Li S, Pei Z et al (2004) Generation and flanking sequence analysis of a rice T-DNA tagged population. Theor Appl Genet 108:306–314. https://doi.org/10.1007/s00122-003-1423-9

Shan Q, Wang Y, Li J et al (2013) Targeted genome modification of crop plants using a CRISPR-Cas system. Nat Biotechnol 31:686–688. https://doi.org/10.1038/nbt.2650

Sun Y, Zhang X, Wu C et al (2016) Engineering herbicide-resistant rice plants through CRISPR/Cas9-mediated homologous recombination of acetolactate synthase. Mol Plant 9:628–631. https://doi.org/10.1016/j.molp.2016.01.001

Till BJ, Cooper J, Tai TH et al (2007) Discovery of chemically induced mutations in rice by TILLING. BMC Plant Biol 7:19. https://doi.org/10.1186/1471-2229-7-19

Tomes M (1952) Flower color modification associated with the gene t. Rep Tomato Genet Coop 2:12

Ueta R, Abe C, Watanabe T et al (2017) Rapid breeding of parthenocarpic tomato plants using CRISPR/Cas9. Sci Rep 7:1–8. https://doi.org/10.1038/s41598-017-00501-4

Wellburn AR (1994) The spectral determination of chlorophylls a and b, as well as total carotenoids, using various solvents with spectrophotometers of different resolution. J Plant Physiol 144:307–313

Xing H-L, Dong L, Wang Z-P et al (2014) A CRISPR/Cas9 toolkit for multiplex genome editing in plants. BMC Plant Biol 14:327. https://doi.org/10.1186/s12870-014-0327-y

Yamamoto HY, Bassi R (1996) Carotenoids: localization and function. In: Ort DR, Yocum CF, Heichel IF (eds) Oxygenic photosynthesis: the light reactions. Springer, Netherlands, Dordrecht, pp 539–563

Young JC, Krysan PJ, Sussman MR (2001) Efficient screening of Arabidopsis T-DNA insertion lines using degenerate primers. Plant Physiol 125:513–518. https://doi.org/10.1104/pp.125.2.513

Yu Q, Wang B, Li N et al (2017) CRISPR/Cas9-induced targeted mutagenesis and gene replacement to generate long-shelf life tomato lines. Sci Rep 7:1–9. https://doi.org/10.1038/s41598-017-12262-1

Zafar K, Khan MZ, Amin I et al (2020) Precise CRISPR-Cas9 mediated genome editing in super basmati rice for resistance against bacterial blight by targeting the major susceptibility gene. Front Plant Sci. https://doi.org/10.3389/fpls.2020.00575

Zechmeister L, LeRosen A, Went F, Pauling L (1941) Prolycopene, a naturally occuring stereoisomer of lycopene. Proc Natl Acad Sci USA 27:468

Zeng D, Liu T, Ma X et al (2020) Quantitative regulation of Waxy expression by CRISPR/Cas9-based promoter and 5'UTR-intron editing improves grain quality in rice. Plant Biotechnol J. https://doi.org/10.1111/pbi.13427

Zou X, Song E, Peng A et al (2014) Activation of three pathogen-inducible promoters in transgenic citrus (Citrus sinensis Osbeck) after Xanthomonas axonopodis pv. citri infection and wounding. Plant Cell Tiss Organ Cult 117:85–98. https://doi.org/10.1007/s11240-013-0423-y

Zsögön A, Cermak T, Voytas D, Peres LEP (2017) Genome editing as a tool to achieve the crop ideotype and de novo domestication of wild relatives: case study in tomato. Plant Sci 256:120–130. https://doi.org/10.1016/j.plantsci.2016.12.012

Zsögön A, Čermák T, Naves ER et al (2018) De novo domestication of wild tomato using genome editing. Nat Biotechnol 36:1211–1216. https://doi.org/10.1038/nbt.4272
Acknowledgments
The authors acknowledge the financial and research material support from SciGenom Research Foundation. They also thank Dr. N. S. Kalesh and team, Interfield Laboratories, Kochi, India for their help and technical advice in the HPLC analysis of the fruit pigments, OmicsGen Life Sciences, Kochi for support in carrying out quantitative RT-PCR and the technical advice on tomato transformation from Prof. M. V. Rajam, Department of Genetics, University of Delhi, South Campus, New Delhi, India. The authors acknowledge the advice from the Institutional Biosafety Committee of AgriGenome Labs Private Limited, Kochi, India. We also thank Mr. Suhail. A, AgriGenome Labs Pvt. Ltd., for the help in the preparation of the graphics and Dr. Sameer Phalke, SciGenom Labs for reading the manuscript and providing valuable suggestions.
Ethics declarations
Conflict of interest
The authors declare there are no conflicts of interests or competing interests.
Additional information
Publisher's Note
Springer Nature remains neutral with regard to jurisdictional claims in published maps and institutional affiliations.
Communicated by Yiping Qi.
Supplementary Information
Below is the link to the electronic supplementary material.
About this article
Cite this article
Lakshmi Jayaraj, K., Thulasidharan, N., Antony, A. et al. Targeted editing of tomato carotenoid isomerase reveals the role of 5′ UTR region in gene expression regulation. Plant Cell Rep (2021). https://doi.org/10.1007/s00299-020-02659-0
Received:

Accepted:

Published:
Keywords
CRISPR

Cas9

Tomato

Genome editing

CRTISO

Carotenoid

Lycopene

Tangerine