Abstract
Krebs von den Lungen-6 (KL-6) has been described as a promising biomarker in the diagnosis and determining the severity of interstitial lung disease in adults with connective tissue disease. This study was performed to determine whether the serum KL-6 level is useful as a biomarker for detecting the interstitial lung disease (ILD) in pediatric cases of connective tissue disease (CTD). In total, 88 patients [36 patients with systemic juvenile idiopathic arthritis (sJIA), 27 patients with juvenile systemic lupus erythematosus (JSLE), 14 patients with juvenile dermatomyositis (JDM), and 11 patients with juvenile systemic sclerosis (JSSc)] and 68 healthy controls were included in this study. Age, sex, and duration of CTD and ILD (if any) were recorded. Blood samples from all the patients and controls were examined by ELISA. Eleven of the 88 patients with CTD (12.5%) had ILD and all of them were symptomatic. Subgroup analysis indicated that eight patients had JSSc, two had JSLE, and one had systemic JIA. The median serum KL-6 level was 1450.5 U/mL (interquartile range (IQR) 742.9–2603.2) in the CTD with ILD group, 415.9 U/mL (IQR 233.4–748.4) in the CTD without ILD group, and 465.9 U/mL (IQR 273.6–1036) in the control group. KL-6 levels were significantly higher in the CTD with ILD group than the CTD without ILD group and the control group (p = 0.003). At a cut-off of 712.5 U/ml identified by ROC curve, serum KL-6 yielded a sensitivity of 81% and specificity of 72% for CTD with ILD group. There was no significant difference in serum KL-6 level among the disease subgroups (sJIA, JSLE, JSSc, JDM), in either the CTD with ILD group or the CTD without ILD group (p > 0.05). In conclusion, KL-6 is a useful biomarker of CTD with ILD in pediatric patients.
Access options
Buy single article
Instant access to the full article PDF.
US$ 39.95
Tax calculation will be finalised during checkout.
Subscribe to journal
Immediate online access to all issues from 2019. Subscription will auto renew annually.
US$ 119
Tax calculation will be finalised during checkout.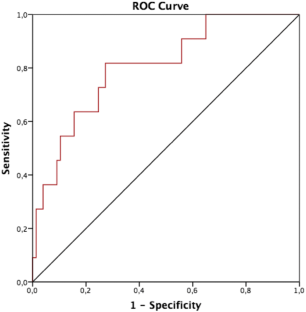 References
1.

Dell S, Matejka CK, Hagood JS (2012) Diffuse and interstitial lung disease and childhood rheumatologic disorders. Curr Opin Rheumatol 24:530–540

2.

Oguz EO, Kucuksahin O, Turgay M, Yildizgoren MT, Ates A, Demir N, Kumbasar OO, Kinikli G, Duzgun N (2016) Association of serum KL6 levels with interstitial lung disease patients with connective tissue disease: cross sectional study. Clin Rheumatol 35(3):663–666

3.

Satoh H, Kurishima K, Ishikawa H, Ohtsuka M (2006) Increased levels of KL-6 and subsequent mortality in patients with interstitial lung diseases. J Intern Med 260:429–434

4.

Jee AS, Adelstein S, Bleasel J, Keir GJ, Nguyen M, Sahhar J, Youssef P, Corte TJ (2017) Role of autoantibodies in the diagnosis of connective tissue disease ILD (CTD-ILD) and interstitial pneumonia with autoimmune features (IPAF). J Clin Med 6:51

5.

Saper VE, Chen G, Deutsch GH, Guillerman RP, Birgmeler J et al (2019) Emergent high fatality lung disease in systemic juvenile arthritis. Ann Rheum Dis. https://doi.org/10.1136/annrheumdis-2019-216040

6.

Schulert GS, Yasin S, Carey B, Chalk C, Do T, Schapiro AH, Husami A, Watts A, Brunner H, Huggins J, Mellins ED, Morgan EM, Ting T, Trapnell BC, Wikenheiser- Brokamp K, Towe C, Grom AA (2019) Systemic juvenile idiopathic arthritis–associated lung disease: characterization and risk factors. Arthritis Rheumatol 10.1002/art.41073. (Epub ahead of print)

7.

Fathi M, Helmers SB, Lundberg IE (2012) KL6: a serological biomarker for interstitial lung disease in patients with polymyositis and dermatomyositis. J Intern Med 271:589–597

8.

Fukaya S, Oshima H, Kato K, Komatsu Y, Matsumura H, Ishii K, Miyama H, Nagai T, Tanaka I, Mizutani A, Katayama M, Yoshida S, Torikai K (2000) KL-6 as a novel marker for activities of interstitial pneumonia in connective tissue diseases. Rheumatol Int 19:223–225

9.

Kurland G, Deterding RR, Hagood JS, Young RL, Brody AS, Castile RG, Dell S, Fan LL, Hamvas A, Hilman BC, Langston C, Nogee LM, Redding GJ (2013) An official American Thoracic Society clinical practice guideline: classification, evaluation, and management of childhood interstitial lung disease in infancy. Am J Resp Crit Care Med 188:376–394

10.

Petty RE, Southwood TR, Manners P et al (2004) International League of Associations for Rheumatology Classification of Juvenile Idiopathic Arthritis: second revision, Edmonton 2004. J Rheumatol 31(2):390–392

11.

Hochberg MC (1997) Updating the American College of Rheumatology revised criteria for the classification of systemic lupus erythematosus. Arthritis Rheumatol 40(9):1725–1734

12.

Zullan F, Woo P, Athreya BH et al (2007) The Pediatric Rheumatology European Society/American College of Rheumatology/European League against Rheumatism provisional classification criteria for juvenile systemic sclerosis. Arthritis Rheumatol 57:203–212

13.

Bohan A, Peter JB (1975) Polymyositis and dermatomyositis (first of two parts). N Engl J Med 292:344–347

14.

Hu C, Wu C, Yang E, Huang H, Xu D, Hou Y, Zhao J, Li M, Xu Z, Zeng X, Wang Q (2019) Serum KL6 is associated with the severity of interstitial lung disease in Chinese patients with polymyositis and dermatomyositis. Clin Rheumatol 38(8):1–7

15.

Kumanovics G, Gorbe E, Minier T, Simon D, Berki T, Czirjak L (2014) Follow up serum KL6 lung fibrosis biomarker levels in 173 patients with systemic sclerosis. Clin Exp Rheumatol 32:138–144

16.

Salazar GA, Kuwana M, Wu M, Estrada-Y-Martin RM, Ying J et al (2018) KL-6 but not CCL-18 is a predictor of early progression in systemic sclerosis-related interstitial lung disease. J Rheumatol 45(8):1153–1158

17.

Benyamine A, Heim X, Resseguier N, Bertin D, Gomez C, Ebbo M, Harle JR, Kaplanski G, Rossi P, Bardin N, Granel B (2018) Elevated serum Krebs von den Lungen-6 in systemic sclerosis: a marker of lung fibrosis and severity of the disease. Rheumatol Int 38(5):813–819

18.

Hanaoka M, Katsumata Y, Kawasumi H, Kawaguchi Y, Yamanaka H (2019) KL-6 is a long-term disease-activity biomarker for interstitial lung disease associated with polymyositis/dermatomyositis, but is not a short-term disease-activity biomarker. Mod Rheumatol 29(4):625–632

19.

Hu Y, Wang LS, Jin YP, Du SS, Du YK, He X, Weng D, Zhou Y, Li QH, Shen L, Zhang F, Su YL, Sun XL, Ding JJ, Zhang WH, Cai HR, Dai HP, Dai JH, Li HP (2017) Serum Krebs von den Lungen- 6 level as a diagnostic biomarker for interstitial lung disease in Chinese patients. Clin Respir J 11:337–345

20.

Ishikawa N, Hattori N, Yokoyama A et al (2012) Utility of KL-6/ MUC1 in the clinical management of interstitial lung diseases. Respir Investig 50:3–13

21.

Kinoshita F, Hamano H, Harada H, Kinoshita T, Igıshı T, Hagino H, Ogawa T (2004) Role of KL6 in evaluating the disease severity of rheumatoid lung disease: comparision with HRCT. Respir Med 98:1131–1137

22.

Bonella F, Volpe A, Caramaschi P, Nava C, Ferrari P, Schenk K, Ohshimo S, Costabel U, Ferrari M (2011) Surfactant protein D and KL-6 serum levels in systemic sclerosis: correlation with lung and systemic involvement. Sarcoidosis Vasc Diffuse Lung Dis 28:27–33

23.

Yamakawa H, Hagiwara E, Kitamura H, Yamanaka Y, Ikeda S, Sekine A, Baba T, Okudela K, Iwasawa T, Takemura T, Kuwano K, Ogura T (2017) Serum KL6 and surfactant protein- D as monitoring and predictive markers of interstitial lung disease in patient with systemic sclerosis and mixed connective tissue disease. J Thorac Dis 9:362–371

24.

Cao XY, Hu SS, Xu D, Li M, Wang Q, Hou Y, Zeng X (2019) Serum levels of Krebs von den Lungen-6 as a promising marker for predicting occurrence and deterioration of systemic sclerosis-associated interstitial lung disease from a Chinese cohort. Int J Rheum Dis. 22(1):108–115

25.

Lee JS, Lee YE, Ha YJ, Kang EH, Lee YJ, Song YW (2019) Serum KL-6 levels reflect the severity of interstitial lung disease associated with connective tissue disease. Arthritis Res Ther 21:58

26.

Barut K, Adrovic A, Şahin S, Kasapcopur O (2017) Juvenile Idiopathic Arthritis. Balkan Med J 34(2):90–101

27.

Kimura Y, Weiss JE, Haroldson KL, Lee T, Punaro M, Oliveira S et al (2013) Pulmonary hypertension and other potentially fatal pulmonary complications in systemic juvenile idiopathic arthritis. Arthritis Care Res 65:745–752
Ethics declarations
Conflict of interest
None of the authors of this paper has a conflict of interest, including specific financial interests, relationships, and/or affiliations relevant to the subject matter or materials included.
Additional information
Publisher's Note
Springer Nature remains neutral with regard to jurisdictional claims in published maps and institutional affiliations.
About this article
Cite this article
Kilinc, A.A., Arslan, A., Yildiz, M. et al. Serum KL-6 level as a biomarker of interstitial lung disease in childhood connective tissue diseases: a pilot study. Rheumatol Int 40, 1701–1706 (2020). https://doi.org/10.1007/s00296-019-04485-4
Received:

Accepted:

Published:

Issue Date:
Keywords
Interstitial lung diseases

Connective tissue diseases

Systemic sclerosis

Juvenile idiopathic arthritis

Systemic lupus erythematosus

KL-6