Zusammenfassung
Bei der Diagnostik von Mykobakteriosen stellt die mikrobiologische Untersuchung mit Kultur und Antibiogramm, ggf. in Kombination mit molekularbiologischer Testung des Frischmaterials, auch heute noch den Goldstandard dar. Allerdings stehen entsprechende Methoden bei formalinfixiertem, paraffineingebettetem Material (FFPE-Material) oder anderen fixierten Proben nicht zur Verfügung. Daher muss in der Pathologie bei entsprechender Fragestellung zunächst der Versuch eines mikroskopischen Erregernachweises (ZN/Fite/Rhodamin-Auramin) unternommen werden. Nachfolgend sollte heute aber auch die molekularpathologische Untersuchung des Materials zum Nachweis mykobakterieller Gensequenzen als obligatorisch angesehen werden. Diese hat zwar materialbedingt klare Grenzen, eignet sich aber bei korrekter Durchführung dennoch gut, um eine entsprechende Infektion nachzuweisen oder unwahrscheinlich zu machen. Ein negativer Befund kann eine alternative Diagnose favorisieren, eine Mykobakteriose ist hierdurch aber nicht vollständig ausschließen.
Für die Therapie einer Tuberkulose bzw. einer Nichttuberkulöse-Mycobacterium(NTM)-Erkrankung ist der sichere Nachweis der Spezies und die Resistenzbestimmung von höchster Wichtigkeit. Bei der mehrmonatigen Therapiedauer (teilweise bis zu 18 Monate) und dem komplexen Nebenwirkungsspektrum der Medikamentenkombinationen kann die/der KlinikerIn sich keine falsche Diagnose erlauben. Im Zweifelsfall sollte eine Rebiopsie für die mykobakteriologische Nativmaterialuntersuchung besprochen werden.
Abstract
In the diagnosis of mycobacterioses, microbiological examination with culture and antibiogram, possibly in combination with molecular biological testing of the fresh material, still represents the gold standard. However, these methods are not available for formalin-fixed paraffin-embedded (FFPE) material or other fixed samples. For this reason, the first step in pathology is to attempt microscopic pathogen detection (ZN/Fite/rhodamine-auramine). Subsequently, molecular pathological examination for the detection of mycobacterial gene sequences should also be considered mandatory today. Although this has clear limits due to the material, it is nevertheless well suited, if carried out correctly, to detect a mycobacterial infection or make it unlikely. A negative result may favor an alternative diagnosis but does not completely rule out mycobacteriosis.
For the therapy of tuberculosis or nontuberculous mycobacterial (NTM) disease, the reliable detection of the species and the determination of resistance is of utmost importance. With regard to therapy, the clinician cannot afford to make a false diagnosis. In case of doubt, a rebiopsy for sampling native material, particularly for microbiological testing, should be discussed.
Access options
Buy single article
Instant access to the full article PDF.
US$ 39.95
Tax calculation will be finalised during checkout.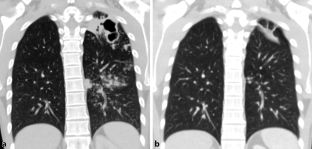 Literatur
1.

Robert-Koch-Institut (2020) Bericht zur Epidemiologie der Tuberkulose in Deutschland für 2019. Robert-Koch-Institut, Berlin

2.

Schaberg T, Bauer T, Brinkmann F et al (2017) Tuberculosis guideline for adults – guideline for diagnosis and treatment of tuberculosis including LTBI testing and treatment of the German Central Committee (DZK) and the German Respiratory Society (DGP). Pneumologie 71:325–397

3.

Daley CL, Iaccarino JM, Lange C, Cambau E, Wallace RJ, Andrejak C, Böttger EC, Brozek J, Griffith DE, Guglielmetti L, Huitt GA, Knight SL, Leitman P, Marras TK, Olivier KN, Santin M, Stout JE, Tortoli E, van Ingen J, Wagner D and Winthrop KL (2020) Treatment of nontuberculous mycobacterial pulmonary disease: an official ATS/ERS/ESCMID/IDSA clinical practice guideline: executive summary clinical infectious diseases. Eur Respir J 56(1):2000535

4.

World Health Organization (2020) Global tuberculosis report 2020. WHO, Geneva. ISBN 978-92-4-001313‑1 (electronic version)

5.

Stellmacher F, Swiatlak A, Jongk DD (2020) Histologie der Differenzialdiagnosen granulomatöser bzw. granulomartiger Erkrankungen der Lunge. AL 43(10):404–418

6.

Richter E, Schlüter C, Duchrow M, Hahn M, Rüsch-Gerdes S, Galle J, Flad HD, Gerdes J (1995) An improved method for the species-specific assessment of mycobacteria in routinely formalin-fixed and paraffin-embedded tissues. J Pathol 175:85–92

7.

Schewe C, Goldmann T, Grosser M, Zink A, Schlüns K, Pahl S, Ulrichs T, Kaufmann SH, Nerlich A, Baretton GB, Dietel M, Vollmer E, Petersen I (2005) Inter-laboratory validation of PCR-based detection of mycobacterium tuberculosis in formalin-fixed, paraffin-embedded tissues. Virchows Arch 447(3):573–585. https://doi.org/10.1007/s00428-005-1233-3

8.

Sankar S, Kuppanan S, Balakrishnan B, Nandagopal B (2011) Analysis of sequence diversity among IS6110 sequence of mycobacterium tuberculosis. Bioinformation 6(7):283–285

9.

Bao JR, Clark RB, Master RN, Shier KL, Eklund LL (2018) Acid-fast bacterium detection and identification from paraffin-embedded tissues using a PCR-pyrosequencing method. J Clin Pathol 71(2):148–153

10.

M (2020) Using droplet digital PCR in the detection of mycobacterium tuberculosis DNA in FFPE sample. Int J Infect Dis 99:77–83

11.

Walker TM, Merker M, Kohl TA, Crook DW, Niemann S, Peto TEA (2017) Whole genome sequencing for M/XDR tuberculosis surveillance and for resistance testing. Clin Microbiol Infect 23(3):161–166

12.

WHO (2018) The use of next-generation sequencing technologies for the detection of mutations associated with drug resistance in mycobacterium tuberculosis complex: technical guide. Report no.: WHO/CDS/TB/2018.19. apps.who.int/iris/handle/10665/274443. Zugegriffen: 31. März 2020

13.

Sen Gupta R, Hillemann D, Kubica T, Zissel G, Müller-Quernheim J, Galle J, Vollmer E, Goldmann T (2003) HOPE-fixation enables improved PCR-based detection and differentiation of Mycobacterium tuberculosis complex in paraffin-embedded tissues. Pathol Res Pract 199(9):619–623

14.

Loeschke S, Goldmann T, Vollmer E (2005) Improved detection of mycobacterial DNA by PCR in formalin-fixed, paraffin-embedded tissues using thin sections. Pathol Res Pract 201(1):37–40
Ethics declarations
Interessenkonflikt
F. Stellmacher, J. Kirfel, B. Kalsdorf, F. P. Maurer, S. Perner und T. Goldmann geben an, dass kein Interessenkonflikt besteht.
Für diesen Beitrag wurden von den Autoren keine Studien an Menschen oder Tieren durchgeführt. Für die aufgeführten Studien gelten die jeweils dort angegebenen ethischen Richtlinien. Für Bildmaterial oder anderweitige Angaben innerhalb des Manuskripts, über die Patienten zu identifizieren sind, liegt von ihnen und/oder ihren gesetzlichen Vertretern eine schriftliche Einwilligung vor.
Additional information
Schwerpunktherausgeber
S. Perner, Lübeck
F. Stellmacher, Borstel
About this article
Cite this article
Stellmacher, F., Kirfel, J., Kalsdorf, B. et al. Molekularpathologie der Tuberkulose. Pathologe 42, 78–82 (2021). https://doi.org/10.1007/s00292-021-00911-2
Accepted:

Published:

Issue Date:
Schlüsselwörter
Auramin

Säurefeste Stäbchen

Mycobacterium

Polymerase-Kettenreaktion

Sequenzanalyse
Keywords
Auramine

Acid fast bacilli

Mycobacterium

Polymerase chain reaction

Sequence analysis