Zusammenfassung
Obwohl die histologischen Charakteristika der Lungentuberkulose seit langem bekannt sind, ist die Diagnose einer nicht mikrobiologisch gesicherten Tuberkulose mit den der Pathologie zur Verfügung stehenden Mitteln eine Herausforderung. Eine nekrotisierende epitheliodzellige Granulomatose ist zwar für eine Tuberkulose typisch, kommt jedoch auch bei einer Reihe anderer infektiös, aber auch nichtinfektiös bedingter Erkrankungen vor. Mikroskopische und molekularpathologische Verfahren können eine Tuberkulose bestätigen und ggf. eine andere Diagnose bahnen. Die Molekularpathologie findet jedoch am formalinfixierten und in Paraffin eingebetteten Material ihre methodischen Grenzen. Dies sollte den einsendenden KlinikerInnen gegenüber offen kommuniziert werden. Nach interdisziplinärer Reevaluation der Befunde muss daher bei negativem Ergebnis der Zusatzuntersuchungen entsprechend eine alternative Lösung zur Diagnosesicherung gefunden werden.
Abstract
Although typical histological findings of tuberculosis are well known, the diagnosis of nonmicrobiologically proven tuberculosis with the instruments available to pathology is challenging. Indeed, necrotizing epithelioid cell granulomatosis is typical for tuberculosis, but it is also seen in a number of different infectious or noninfectious lung diseases. The tools of microscopy and molecular pathology are suitable for confirming the diagnosis or paving the way to a differential diagnosis, but molecular pathology applied to formalin-fixated and paraffin-embedded material is limited. This should be openly communicated to the referring clinician. After interdisciplinary re-evaluation of the findings, an alternative solution to confirm the diagnosis must therefore be found if the additional examinations are negative.
Access options
Buy single article
Instant access to the full article PDF.
US$ 39.95
Tax calculation will be finalised during checkout.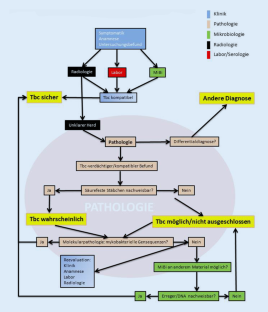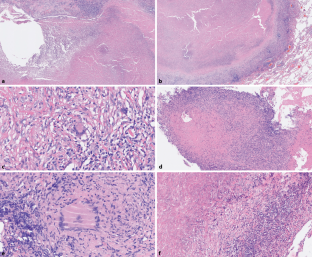 Literatur
1.

Koch R (1882) Die Aetiologie der Tuberculose. Berl Klin Wochenschr 19(15):221–230

2.

https://www.who.int/health-topics/tuberculosis. Zugegriffen: 30.10.2020

3.

https://www.rki.de/DE/Content/InfAZ/T/Tuberkulose/Archiv_Berichte_TB_in_Dtl_tab.html. Zugegriffen: 30.10.2020

4.

https://www.rki.de/DE/Content/Infekt/EpidBull/Merkblaetter/Ratgeber_Tuberkulose.html. Zugegriffen: 30.10.2020

5.

Vollmer E, Goldmann T (2011) Pathologie und Diagnose der Lungentuberkulose sowie nichttuberkulöser Mykobakterien. Pneumologie 8:301–305

6.

Mert A, Ozaras R, Bilir M, Tabak F, Aki H, Ozturk R (2003) Ziehl-Neelsen staining and polymerase chain reaction study of tissue from tuberculous granulomas. Respirology 8(4):548

7.

Fukunaga H, Murakami T, Gondo T, Sugi K, Ishihara T (2002) Sensitivity of acid-fast staining for Mycobacterium tuberculosis in formalin-fixed tissue. Am J Respir Crit Care Med 166(7):994–997 (Oct)

8.

Kim YN, Kim KM, Choi HN, Lee JH, Park HS, Jang KY, Moon WS, Kang MJ, Lee DG, Chung MJ (2015) Clinical usefulness of PCR for differential diagnosis of tuberculosis and nontuberculous mycobacterial infection in paraffin-embedded lung tissues. J Mol Diagn 17(5):597–604

9.

Sen Gupta R, Hillemann D, Kubica T, Zissel G, Müller-Quernheim J, Galle J, Vollmer E, Goldmann T (2003) HOPE-fixation enables improved PCR-based detection and differentiation of Mycobacterium tuberculosis complex in paraffin-embedded tissues. Pathol Res Pract 199(9):619–623

10.

Seo AN, Park HJ, Lee HS, Park JO, Chang HE, Nam KH, Choe G, Park KU (2014) Performance characteristics of nested polymerase chain reaction vs real-time polymerase chain reaction methods for detecting mycobacterium tuberculosis complex in paraffin-embedded human tissues. Am J Clin Pathol 142(3):384–390

11.

Lee HS, Park KU, Park JO, Chang HE, Song J, Choe G (2011) Rapid, sensitive, and specific detection of mycobacterium tuberculosis complex by real-time PCR on paraffin-embedded human tissues. J Mol Diagn 13(4):390–394

12.

Jain D, Ghosh S, Teixeira L, Mukhopadhyay S (2017) Pathology of pulmonary tuberculosis and non-tuberculous mycobacterial lung disease: facts, misconceptions, and practical tips for pathologists. Semin Diagn Pathol 34(6):518–529

13.

Di Perri G, Cazzadori A, Vento S, Bonora S, Malena M, Bontempini L, Lanzafame M, Allegranzi B, Concia E (1996) Comparative histopathological study of pulmonary tuberculosis in human immunodeficiency virus-infected and non-infected patients. Tuber Lung Dis 77(3):244–249

14.

Schewe C, Goldmann T, Grosser M, Zink A, Schlüns K, Pahl S, Ulrichs T, Kaufmann SH, Nerlich A, Baretton GB, Dietel M, Vollmer E, Petersen I (2005) Inter-laboratory validation of PCR-based detection of Mycobacterium tuberculosis in formalin-fixed, paraffin-embedded tissues. Virchows Arch 447(3):573–585. https://doi.org/10.1007/s00428-005-1233-3

15.

Pai M, Riley LW, Colford JM Jr. (2004) Interferon-gamma assays in the immunodiagnosis of tuberculosis: a systematic review. Lancet Infect Dis 4(12):761–776. https://doi.org/10.1016/S1473-3099(04)01206-X

16.

Jafari C, Olaru ID, Daduna F, Ernst M, Heyckendorf J, Lange C, Kalsdorf B (2018) Rapid diagnosis of pulmonary tuberculosis by combined molecular and immunological methods. Eur Respir J 51(5):1702189. https://doi.org/10.1183/13993003.02189-2017

17.

Kuhns M, Kohl TA, Maurer FP, Niemann S (2020) Mikrobiologische Diagnostik der Tuberkulose – Altbewährte und neue Verfahren. Trilium Diagn 18(2):S92–S95

18.

Machado D, Couto I, Viveiros M (2019) Advances in the molecular diagnosis of tuberculosis: from probes to genomes. Infect Genet Evol 72:93–112. https://doi.org/10.1016/j.meegid.2018.11.021

19.

Meehan CJ, Goig GA, Kohl TA, Verboven L, Dippenaar A, Ezewudo M, Farhat MR, Guthrie JL, Laukens K, Miotto P, Ofori-Anyinam B, Dreyer V, Supply P, Suresh A, Utpatel C, van Soolingen D, Zhou Y, Ashton PM, Brites D, Cabibbe AM, de Jong BC, de Vos M, Menardo F, Gagneux S, Gao Q, Heupink TH, Liu Q, Loiseau C, Rigouts L, Rodwell TC, Tagliani E, Walker TM, Warren RM, Zhao Y, Zignol M, Schito M, Gardy J, Cirillo DM, Niemann S, Comas I, Van Rie A (2019) Whole genome sequencing of Mycobacterium tuberculosis: current standards and open issues. Nat Rev Microbiol 17(9):533–545. https://doi.org/10.1038/s41579-019-0214-5

20.

Ewig S, Schaberg T, Rüsch-Gerdes S, Bollow M (2011) Tuberkulose und nicht tuberkulöse Mykobakteriosen heute, 3. Aufl. Dustri Verlag, Dr. Karl Feistle, München-Deisenhofen, S 16–67. ISBN 978-3-87185-405-7

21.

Stellmacher, Perner (2021) Übersicht: Granulomatöse Erkrankungen der Lunge

22.

Stellmacher et al (2021) Molekuarpathologie der Tuberkulose
Ethics declarations
Interessenkonflikt
F. Stellmacher und S. Perner geben an, dass kein Interessenkonflikt besteht.
Für diesen Beitrag wurden von den Autoren keine Studien an Menschen oder Tieren durchgeführt. Für die aufgeführten Studien gelten die jeweils dort angegebenen ethischen Richtlinien.
Additional information
Schwerpunktherausgeber
S. Perner, Lübeck
F. Stellmacher, Borstel
About this article
Cite this article
Stellmacher, F., Perner, S. Histopathologie der Lungentuberkulose. Pathologe 42, 71–77 (2021). https://doi.org/10.1007/s00292-021-00910-3
Accepted:

Published:

Issue Date:
Schlüsselwörter
Differenzialdiagnose

Lungenerkrankung

Mycobacterium

Granulomatose

Säurefeste Stäbchen
Keywords
Differential diagnosis

Lung diseases

Mycobacterium

Granulomatosis

Acid fast bacilli