Zusammenfassung
Der Einsatz von Liquid Biopsies zur Untersuchung von molekularen Veränderungen an zirkulierender Tumor DNA (ctDNA) für die Companion-Diagnostik hat in den letzten Jahren an Bedeutung gewonnen. PIK3CA zählt zu den am häufigsten mutierten Genen in Brustkrebspatientinnen. Die auch in Europa erwartete Zulassung des PIK3CA-Inhibitors Alpelisib mittels Liquid Biopsies infolge der Ergebnisse der SOLAR1-Studie ist daher eine vielversprechende Möglichkeit, dass mehr Brustkrebspatientinnen von einer zielgerichteten Therapie profitieren können. Es ist demnach anzunehmen, dass es eine Erstattung für die PIK3CA-Mutationstestung auf Basis von Liquid Biopsies geben wird.
Die Auswahl eines geeigneten Testverfahrens für den Nachweis der aktivierenden PIK3CA-Mutationen sollte Faktoren wie Sensitivität, Spezifität und Detektionslimit miteinbeziehen, wobei mindestens die Kriterien des Tests aus der Zulassungsstudie erfüllt werden sollten.
Der PIK3CA-Mutationsnachweis mittels Liquid Biopsy kann dann, bei wohlüberlegtem Einsatz, eine sinnvolle Ergänzung in der molekularpathologischen Diagnostik an Gewebe sein.
Abstract
The impact of liquid biopsies on the analysis of molecular alterations of circulating tumor DNA (ctDNA) has recently increased. PIK3CA is one of the most frequently mutated genes in breast cancer and the expected approval of targeted PIK3CA therapy based on the results of the SOLAR1 trial is likely to lead to the use of liquid biopsies as another promising testing strategy in breast cancer patients who can benefit from a targeted therapy.
Choosing an appropriate method for the detection of activating PIK3CA mutations should include factors like sensitivity, specificity, and limit of detection. The test should at least meet the parameters of the assay used in the drug approval study.
If carefully used, PIK3CA mutation detection with liquid biopsies can then be a useful addition to standard tissue diagnostics.
Access options
Buy single article
Instant access to the full article PDF.
US$ 39.95
Tax calculation will be finalised during checkout.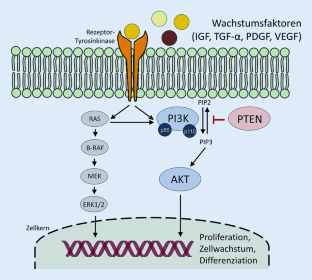 Literatur
1.

Mandel P, Metais P (1948) C R Seances Soc Biol Fil 142(3–4):241–243

2.

Lo YM et al (1997) Presence of fetal DNA in maternal plasma and serum. Lancet 350(9076):485–487

3.

Bettegowda C et al (2014) Detection of circulating tumor DNA in early- and late-stage human malignancies. Sci Transl Med 6(224):224ra24

4.

Vollbrecht C (2020) Liquid Biopsy – Erweiterung des molekularpathologischen Spektrums. Best Pract Onkol 15(6):230–238. https://doi.org/10.1007/s11654-020-00222-7

5.

Dawson SJ et al (2013) Analysis of circulating tumor DNA to monitor metastatic breast cancer. N Engl J Med 368(13):1199–1209

6.

Diehl F et al (2005) Detection and quantification of mutations in the plasma of patients with colorectal tumors. Proc Natl Acad Sci U S A 102(45):16368–16373

7.

Garcia-Murillas I et al (2015) Mutation tracking in circulating tumor DNA predicts relapse in early breast cancer. Sci Transl Med 7(302):302ra133

8.

Ma F et al (2016) ctDNA dynamics: a novel indicator to track resistance in metastatic breast cancer treated with anti-HER2 therapy. Oncotarget 7(40):66020–66031

9.

Griesinger F et al (2020) Onkopedia. Lungenkarzinom, nicht-kleinzellig (NSCLC). https://www.onkopedia.com/. Zugegriffen: 19. Nov. 2020

10.

Di Leo A et al (2018) Buparlisib plus fulvestrant in postmenopausal women with hormone-receptor-positive, HER2-negative, advanced breast cancer progressing on or after mTOR inhibition (BELLE-3): a randomised, double-blind, placebo-controlled, phase 3 trial. Lancet Oncol 19(1):87–100

11.

Chandarlapaty S et al (2016) Prevalence of ESR1 mutations in cell-free DNA and outcomes in metastatic breast cancer: a secondary analysis of the BOLERO‑2 clinical trial. JAMA Oncol 2(10):1310–1315

12.

Smith RA et al (2018) Cancer screening in the United States, 2018: a review of current American Cancer Society guidelines and current issues in cancer screening. CA Cancer J Clin 68(4):297–316

13.

Rosenbaum JN, Weisman P (2017) The evolving role of companion diagnostics for breast cancer in an era of next-generation Omics. Am J Pathol 187(10):2185–2198

14.

Howlader N et al (2014) US incidence of breast cancer subtypes defined by joint hormone receptor and HER2 status. J Natl Cancer Inst. https://doi.org/10.1093/jnci/dju055

15.

Setiawan VW et al (2009) Breast cancer risk factors defined by estrogen and progesterone receptor status: the multiethnic cohort study. Am J Epidemiol 169(10):1251–1259

16.

Cancer Genome Atlas, N (2012) Comprehensive molecular portraits of human breast tumours. Nature 490(7418):61–70

17.

Goncalves MD, Hopkins BD, Cantley LC (2018) Phosphatidylinositol 3‑Kinase, growth disorders, and cancer. N Engl J Med 379(21):2052–2062

18.

Janku F (2017) Phosphoinositide 3‑kinase (PI3K) pathway inhibitors in solid tumors: from laboratory to patients. Cancer Treat Rev 59:93–101

19.

Gymnopoulos M, Elsliger MA, Vogt PK (2007) Rare cancer-specific mutations in PIK3CA show gain of function. Proc Natl Acad Sci U S A 104(13):5569–5574

20.

Bader AG et al (2005) Oncogenic PI3K deregulates transcription and translation. Nat Rev Cancer 5(12):921–929

21.

Gao J et al (2013) Integrative analysis of complex cancer genomics and clinical profiles using the cBioPortal. Sci Signal 6(269):pl1

22.

Cerami E et al (2012) The cBio cancer genomics portal: an open platform for exploring multidimensional cancer genomics data. Cancer Discov 2(5):401–404

23.

Andre F et al (2019) Alpelisib for PIK3CA-mutated, hormone receptor-positive advanced breast cancer. N Engl J Med 380(20):1929–1940

24.

QIAGEN (2019) therascreen® PIK3CA RGQ PCR Kit Instructions for Use (Handbook). Version 1 Document HB-2614-001 QIAGEN GmbH, QIAGEN Strasse 1, 40724 Hilden, Germany

25.

Jennings LJ et al (2017) Guidelines for validation of next-generation sequencing-based oncology panels: a joint consensus recommendation of the association for molecular pathology and college of American pathologists. J Mol Diagn 19(3):341–365

26.

Underhill HR et al (2016) Fragment length of circulating tumor DNA. PLoS Genet 12(7):e1006162

27.

Vora SR et al (2014) CDK 4/6 inhibitors sensitize PIK3CA mutant breast cancer to PI3K inhibitors. Cancer Cell 26(1):136–149

28.

Juric D et al (2015) Convergent loss of PTEN leads to clinical resistance to a PI(3)Kalpha inhibitor. Nature 518(7538):240–244

29.

Baretton G et al (2020) Positionspapier – Testung in der Onkologie. Pathologe. https://www.pathologie-dgp.de/media/Dgp/Presse/Molekulare_Diagnostik_Positionspapier_2019.1_final.pdf. https://www.pathologie-dgp.de/die-dgp/aktuelles/meldung/positionspapier-testung-in-der-onkologie/

30.

Fasching PA et al (2015) Biomarkers in patients with metastatic breast cancer and the PRAEGNANT study network. Geburtshilfe Frauenheilkd 75(1):41–50

31.

Pantel K (2020) European Liquid Biopy Society (ELBS). https://www.uke.de/english/departments-institutes/institutes/tumor-biology/european-liquid-biopsy-society-elbs/index.html. Zugegriffen: 15. Okt 2020
Ethics declarations
Interessenkonflikt
C. Vollbrecht gibt an, dass kein Interessenkonflikt besteht.
Für diesen Beitrag wurden vom Autor keine Studien an Menschen oder Tieren durchgeführt. Für die aufgeführten Studien gelten die jeweils dort angegebenen ethischen Richtlinien.
The supplement containing this article is not sponsored by industry.
About this article
Cite this article
Vollbrecht, C. What's New Liquid Biopsy – PIK3CA-Testung beim Mammakarzinom. Pathologe 41, 138–142 (2020). https://doi.org/10.1007/s00292-020-00868-8
Schlüsselwörter
Mutationsanalyse

Aktivierende Mutationen

Personalisierte Medizin

Parallelsequenzierung

Tumordiagnostik
Keywords
Mutation testing

Activating mutations

Personalized medicine

Parallele sequencing

Tumor diagnostics