Zusammenfassung
Das klinische Bild sinusoidaler Erkrankungen der Leber ist eher uncharakteristisch. Es äußert sich in einem breiten klinischen Manifestationsspektrum wie Hepatomegalie, portaler Hypertonus oder als chronisches Leberversagen unbekannter Ursache. Im Gegensatz zu anderen Lebererkrankungen fehlt es an spezifischen serologischen, immunserologischen und röntgenologischen Befunden. Häufig weisen erst bioptische Befunde auf eine sinusoidale Erkrankung hin. Diese Übersicht möchte einen praktisch orientierten Überblick über Leberumbauprozesse, hämodynamische Störungen und vaskuläre Tumoren geben.
Abstract
This review covers a spectrum of pathologic changes and diseases involving hepatic sinusoids. In the majority of patients, clinical findings are rather uncharacteristic such as hepatomegaly, portal hypertension, or lingering liver failure of unknown origin. In contrast to more common hepatic disorders, characteristic clinical, serological, immunoserological, and radiographical findings are lacking. In these cases, biopsy findings may be crucial to guide treatment decisions. This review covers a variety of hepatic disorders that practicing pathologists may encounter in their clinical routine.
This is a preview of subscription content, log in to check access.
Access options
Buy single article
Instant access to the full article PDF.
US$ 39.95
Price includes VAT for USA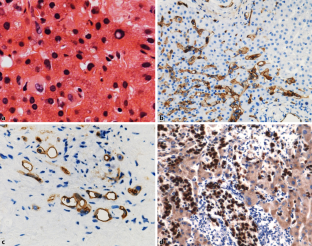 Literatur
1.

Agatisa PK, Ness RB, Roberts JM et al (2004) Impairment of endothelial function in women with a history of preeclampsia: an indicator of cardiovascular risk. Am J Physiol Heart Circ Physiol 286:H1389–1393

2.

Alves VAF, Rimola J (2019) Malignant vascular tumors of the liver in adults. Semin Liver Dis 39:1–12

3.

Antonescu CR, Le Loarer F, Mosquera JM et al (2013) Novel YAP1-TFE3 fusion defines a distinct subset of epithelioid hemangioendothelioma. Genes Chromosomes Cancer 52:775–784

4.

Bioulac-Sage P, Laumonier H, Couchy G et al (2009) Hepatocellular adenoma management and phenotypic classification: the Bordeaux experience. Hepatology 50:481–489

5.

Coppell JA, Richardson PG, Soiffer R et al (2010) Hepatic veno-occlusive disease following stem cell transplantation: incidence, clinical course, and outcome. Biol Blood Marrow Transplant 16:157–168

6.

Czapar CA, Weldon-Linne CM, Moore DM et al (1986) Peliosis hepatis in the acquired immunodeficiency syndrome. Arch Pathol Lab Med 110:611–613

7.

Doyle LA, Fletcher CD, Hornick JL (2016) Nuclear expression of CAMTA1 distinguishes epithelioid hemangioendothelioma from histologic mimics. Am J Surg Pathol 40:94–102

8.

Elvevold K, Smedsrod B, Martinez I (2008) The liver sinusoidal endothelial cell: a cell type of controversial and confusing identity. Am J Physiol Gastrointest Liver Physiol 294:G391–400

9.

Errani C, Zhang L, Sung YS et al (2011) A novel WWTR1-CAMTA1 gene fusion is a consistent abnormality in epithelioid hemangioendothelioma of different anatomic sites. Genes Chromosomes Cancer 50:644–653

10.

Fischer HP, Zhou H (2006) Leberparenchymknoten bei pathologischer hepatischer Vaskularisation/Perfusion. Pathologe 27:273–283

11.

Flucke U, Vogels RJ, De Saint Aubain Somerhausen N et al (2014) Epithelioid hemangioendothelioma: clinicopathologic, immunhistochemical, and molecular genetic analysis of 39 cases. Diagn Pathol 9:131

12.

Gill RM, Buelow B, Mather C et al (2016) Hepatic small vessel neoplasm, a rare infiltrative vascular neoplasm of uncertain malignant potential. Hum Pathol 54:143–151

13.

Haboubi NY, Ali HH, Whitwell HL et al (1988) Role of endothelial cell injury in the spectrum of azathioprine-induced liver disease after renal transplant: light microscopy and ultrastructural observations. Am J Gastroenterol 83:256–261

14.

Hayward SR, Lucas CE, Ledgerwood AM (1991) Recurrent spontaneous intrahepatic hemorrhage from peliosis hepatis. Arch Surg 126:782–783

15.

Henrion J, Schapira M, Luwaert R et al (2003) Hypoxic hepatitis: clinical and hemodynamic study in 142 consecutive cases. Medicine (Baltimore) 82:392–406

16.

Lalor PF, Lai WK, Curbishley SM et al (2006) Human hepatic sinusoidal endothelial cells can be distinguished by expression of phenotypic markers related to their specialised functions in vivo. World J Gastroenterol 12:5429–5439

17.

Lautt WW (2009) Hepatic circulation: physiology and pathophysiology. Morgan & Claypool Life Sciences, San Rafael, CA

18.

Lewis JH, Kleiner DE (2007) Hepatic injury to drugs, chemicals and toxins. In: Burt AD, Portmann BC, Ferrell LD (Hrsg) MacSween's pathology of the liver. Churchill Livingstone, Edinburgh, S 649–760

19.

Mak KM, Kwong AJ, Chu E et al (2012) Hepatic steatosis, fibrosis, and cancer in elderly cadavers. Anat Rec (Hoboken) 295:40–50

20.

Mclean AJ, Cogger VC, Chong GC et al (2003) Age-related pseudocapillarization of the human liver. J Pathol 200:112–117

21.

Mechtersheimer G, Penzel R, Hofmann WJ et al (2006) Primäre Sarkome und Sarkommetastasen in der Leber: Morphologische und molekulare Befunde. Pathologe 27:251–262

22.

Mol BWJ, Roberts CT, Thangaratinam S et al (2016) Pre-eclampsia. Lancet 387:999–1011

23.

Perkocha LA, Geaghan SM, Yen TS et al (1990) Clinical and pathological features of bacillary peliosis hepatis in association with human immunodeficiency virus infection. N Engl J Med 323:1581–1586

24.

Petrovic LM, Burroughs A, Scheuer PJ (1989) Hepatic sinusoidal endothelium: ulex lectin binding. Histopathology 14:233–243

25.

Reshamwala PA, Kleiner DE, Heller T (2006) Nodular regenerative hyperplasia: not all nodules are created equal. Hepatology 44:7–14

26.

Robinson SM, Wilson CH, Burt AD et al (2012) Chemotherapy-associated liver injury in patients with colorectal liver metastases: a systematic review and meta-analysis. Ann Surg Oncol 19:4287–4299

27.

Rothweiler S, Terracciano L, Tornillo L et al (2014) Downregulation of the endothelial genes Notch1 and ephrinB2 in patients with nodular regenerative hyperplasia. Liver Int 34:594–603

28.

Scoazec JY, Feldmann G (1991) In situ immunophenotyping study of endothelial cells of the human hepatic sinusoid: results and functional implications. Hepatology 14:789–797

29.

Shovlin CL, Guttmacher AE, Buscarini E et al (2000) Diagnostic criteria for hereditary hemorrhagic telangiectasia (Rendu-Osler-Weber syndrome). Am J Med Genet 91:66–67

30.

Srivastava A, Poonkuzhali B, Shaji RV et al (2004) Glutathione S‑transferase M1 polymorphism: a risk factor for hepatic venoocclusive disease in bone marrow transplantation. Blood 104:1574–1577

31.

Steiner PE (1959) Nodular regenerative hyperplasia of the liver. Am J Pathol 35:943–953

32.

Wanless IR (1990) Micronodular transformation (nodular regenerative hyperplasia) of the liver: a report of 64 cases among 2,500 autopsies and a new classification of benign hepatocellular nodules. Hepatology 11:787–797

33.

Westbrook RH, Dusheiko G, Williamson C (2016) Pregnancy and liver disease. J Hepatol 64:933–945
Ethics declarations
Interessenkonflikt
D. Goltz und H.-P. Fischer geben an, dass kein Interessenkonflikt besteht.
Für diesen Beitrag wurden von den Autoren keine Studien an Menschen oder Tieren durchgeführt. Für die aufgeführten Studien gelten die jeweils dort angegebenen ethischen Richtlinien.
Additional information
Schwerpunktherausgeber
H. Baba, Essen
T. Longerich, Heidelberg
About this article
Cite this article
Goltz, D., Fischer, H. Lebersinusoide: Pathologie endothelialer Befunde. Pathologe (2020). https://doi.org/10.1007/s00292-020-00802-y
Schlüsselwörter
Hepatisches Sinus-Obstruktionssyndrom

Peliosis hepatis

Hepatische endotheliale Neoplasien

Hepatomegalie

Leberumbauprozesse
Keywords
Hepatic sinusoidal obstruction syndrome

Peliosis hepatis

Hepatic endothelial neoplasias

Hepatomegaly

Hepatic vascular remodeling