Zusammenfassung
Die Abgrenzung reaktiver Mesothelläsionen gegenüber neoplastischen Prozessen des Mesothels innerhalb einer Hydrocele testis kann diagnostische Schwierigkeiten bereiten. Die immunhistochemische Analyse allein ist hier häufig nicht richtungsweisend, jedoch ist für die Kombination der immunhistochemischen Bestimmung von BAP1 und der FISH-Analyse von CDKN2A> eine hohe Spezifität und Sensitivität bezüglich dieser Differenzialdiagnose dokumentiert. Eine weitere wichtige Hilfestellung ist die Anamnese von Risikofaktoren wie Asbestbelastung und zurückliegende Traumata. Entscheidend für die korrekte Diagnosestellung einer reaktiven Mesothelläsion ist der Ausschluss von Invasivität anhand ausgedehnter Gewebeaufarbeitung.
Abstract
Proliferative changes seen in reactive mesothelial hyperplasia of a hydrocele sac may mimic malignant mesothelioma. There is no immunohistochemical staining that reliably separates benign from malignant mesothelial proliferations. However, the combined analysis of BAP1 by immunohistochemistry and CDKN2A by FISH has been reported to yield both a high specificity and sensitivity in this differential diagnosis. In addition, the evaluation of risk factors such as asbestos exposure or prior traumata may be helpful for the correct diagnosis. Exclusion of stromal invasion, which is diagnostic for malign mesothelioma, is of utmost importance. Therefore, extended histological workup is essential.
This is a preview of subscription content, log in to check access.
Access options
Buy single article
Instant access to the full article PDF.
US$ 39.95
Price includes VAT for USA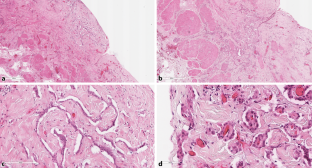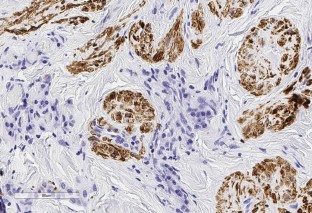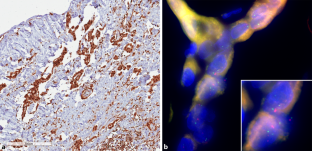 Literatur
1.

Butnor KJ, Pavlisko EN, Sporn TA et al (2019) Mesothelioma of the tunica vaginalis testis. Hum Pathol 92:48–58

2.

Chekol SS, Sun CC (2012) Malignant mesothelioma of the tunica vaginalis testis: diagnostic studies and differential diagnosis. Arch Pathol Lab Med 136:113–117

3.

Churg A, Galateau-Salle F (2012) The separation of benign and malignant mesothelial proliferations. Arch Pathol Lab Med 136:1217–1226

4.

Hida T, Hamasaki M, Matsumoto S et al (2016) BAP1 immunohistochemistry and p16 FISH results in combination provide higher confidence in malignant pleural mesothelioma diagnosis: ROC analysis of the two tests. Pathol Int 66:563–570

5.

Krismann M, Thattamparambil P, Simon F et al (2006) Differential diagnosis of preneoplastic lesions of the pleura and of early mesothelioma: immunohistochemical and morphological findings. Pathologe 27:99–105

6.

Lee S, Illei PB, Han JS et al (2014) Florid mesothelial hyperplasia of the tunica vaginalis mimicking malignant mesothelioma: a clinicopathologic study of 12 cases. Am J Surg Pathol 38:54–59

7.

Trenti E, Palermo SM, D'elia C et al (2018) Malignant mesothelioma of tunica vaginalis testis: Report of a very rare case with review of the literature. Arch Ital Urol Androl 90:212–214
Ethics declarations
Interessenkonflikt
K. Greimelmaier, J. Wohlschläger, A. Probst, T. Hager, E. Wardelmann, C. Werlein, D. Jonigk und K. M. Müller geben an, dass kein Interessenkonflikt besteht.
Für diesen Beitrag wurden von den Autoren keine Studien an Menschen oder Tieren durchgeführt. Für die aufgeführten Studien gelten die jeweils dort angegebenen ethischen Richtlinien. Für Bildmaterial oder anderweitige Angaben innerhalb des Manuskripts, über die Patienten zu identifizieren sind, liegt von ihnen und/oder ihren gesetzlichen Vertretern eine schriftliche Einwilligung vor.
Additional information
Redaktion
C. Kuhnen, Münster
About this article
Cite this article
Greimelmaier, K., Wohlschläger, J., Probst, A. et al. Mesotheliale Proliferate der Tunica vaginalis testis. Pathologe 41, 406–410 (2020). https://doi.org/10.1007/s00292-020-00797-6
Schlüsselwörter
Mesothelhyperplasie

Hydrozele testis

Malignes Mesotheliom

Benigne Mesothelproliferation

Tunica vaginalis testis
Keywords
Mesothelial hyperplasia

Hydrocele sac

Malignant mesothelioma

Benign mesothelial proliferation

Tunica vaginalis of the testis