Abstract
The current exploration emphasizes improving the solubility and thermal characteristics of the homopolymers–polyaniline and poly-2-aminophenol via copolymerization technique with simultaneous optimization of conductivity and dielectric behavior. Poly (aniline-co-2-aminophenol) copolymers with varying monomers compositions have been synthesized using chemical oxidative copolymerization technique. The copolymers showed considerable improvement of solubility in organic solvent compared to the unsubstituted polyaniline. Morphology of these copolymers was characterized by powdered-XRD and FESEM measurements. The studies revealed improved crystallinity in the copolymers compared to poly-2-aminophenol homopolymer. All the copolymers possess porous network with different degrees of aggregated nanoparticles blended with nanoflake structures. The copolymers also exhibited appreciable thermal stability over the homopolymers inferred from DSC measurements. The variation of frequency-dependent conductivity and dielectric permittivity of these different copolymers were further investigated and correlated with grain size distribution and varying proportions of oligoaniline segments in the polymer backbone of poly-2-aminophenol.
This is a preview of subscription content, log in to check access.
Access options
Buy single article
Instant access to the full article PDF.
US$ 39.95
Price includes VAT for USA
Subscribe to journal
Immediate online access to all issues from 2019. Subscription will auto renew annually.
US$ 199
This is the net price. Taxes to be calculated in checkout.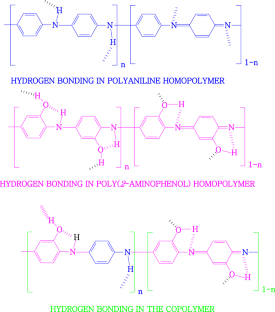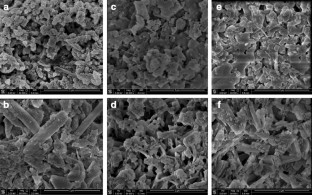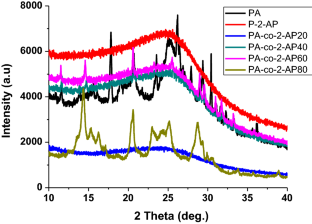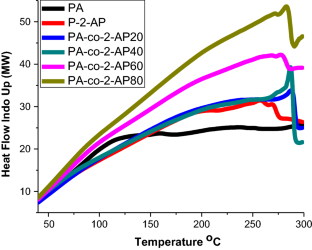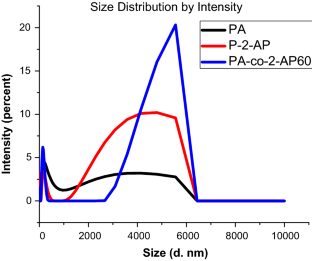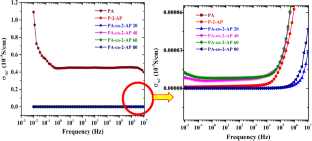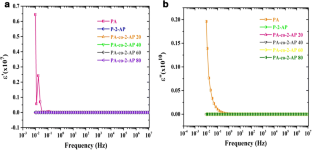 References
1.

Sherman BC, Euler WB, Force RR (1994) The modern student laboratory: polyaniline-A conducting polymer: electrochemical synthesis and electrochromic properties. J Chem Educ 71:A94

2.

Huang WS, Humphrey BD, MacDiarmid AG (1986) Polyaniline, a novel conducting polymer: morphology and chemistry of its oxidation and reduction in aqueous electrolytes. J Chem Soc Faraday Trans 1 82:2385–2400

3.

Macdiarmid AG, Chiang JC, Richter AF, Epstein AJ (1987) Polyaniline: a new concept in conducting polymers. Synth Met 18:285–290

4.

Tang H, Kumar P, Zhang S, Yi Z, Crescenzo GD, Santato C, Soavi F, Cicoira F (2015) Conducting polymer transistors making use of activated carbon gate electrodes. ACS Appl Mater Interfaces 7:969–973

5.

Zou Y, Sun LX, Xu F (2007) Biosensor based on polyaniline–Prussian blue/multi-walled carbon nanotubes hybrid composites. Biosens Bioelectron 22:2669–2674

6.

Kuo CT, Chiou W (1997) Field-effect transistor with polyaniline thin film as semiconductor. Synth Met 88:23–30

7.

Ye S, Guihua Y (2016) Designing hierarchically nanostructured conductive polymer gels for electrochemical energy storage and conversion. Chem Mater 28:2466–2477

8.

Green RA, Lovell NH, Wallace GG, Poole-Warren LA (2008) Conducting polymers for neural interfaces: challenges in developing an effective long-term implant. Biomaterials 29:3393–3399

9.

Saini P, Arora M (2012) Microwave absorption and EMI shielding behavior of nanocomposites based on intrinsically conducting polymers. Graphene Carbon Nanotub. https://doi.org/10.5772/48779

10.

Tan Shuxin, Zhai Jin, Xue Bofei, Wan Meixiang, Meng Qingbo, Li Yuliang, Jiang Lei, Zhu Daoben (2004) Property influence of polyanilines on photovoltaic behaviors of dye-sensitized solar cells. Langmuir 20(7):2934–2937

11.

Boeva Z, Sergeyev V (2014) Polyaniline: synthesis, properties, and application. Polym Sci Ser C. https://doi.org/10.1134/S1811238214010032

12.

Huang W-S, Humphrey BD, MacDiarmid AG (1986) Polyaniline, a novel conducting polymer: morphology and chemistry of its oxidation and reduction in aqueous electrolytes. J Chem Soc, Faraday Trans 1(82):2385–2400

13.

Molapo KM, Ndangili PM, Ajayi RF, Mbambisa G, Mailu SM, Njomo N, Masikini M, Baker P, Iwuoha EI (2012) Electronics of conjugated polymers (I): polyaniline. Int J Electrochem Sci 7:11859–11875

14.

Jousseaume V, Morsli M, Bonnet A (2000) Aging of electrical conductivity in conducting polymer films based on polyaniline. J Appl Phys 88:960

15.

Murat A, Okan K (2014) Comparison of anticorrosion behavior of polyaniline and poly(3,4-methylenedioxyaniline) and their titanium dioxide nanocomposites. High Perform Polym 27(6):685–693

16.

Jacob T, Joung EY, Joseph DT, Jeffrey S, Yueh-Lin L (2009) Polymer acid doped polyaniline is electrochemically stable beyond pH 9. Chem Mater 21(2):280–286

17.

Mikhael MG, Padias AB, Hall HK (1997) N-alkylation and N-acylation of polyaniline and its effect on solubility and electrical conductivity. J Polym Sci A 35:1673

18.

Moon GH, Sung WB, Seung S (2002) Thermal stability study of conductive polyaniline/polyimide blend films on their conductivity and ESR measurement. Polym Adv Technol 13:320–328

19.

Waware US, Hamouda AMS, Hameed AS, Summers GJ (2017) Tuning the electrical properties of polyaniline by copolymerization with o-bromoaniline. Funct Mater Lett 10(4):1750039

20.

Zhang Y, Qin L, Li S, Jianping Z (2009) The electrocatalytic reduction and removal of arsenate by poly(aniline-co-o-aminophenol). J Electroanal Chem 636:47–52

21.

Xiu-Y H, Qing-Xin L, Maa Di, Zhong L, Yong K, Huai-Guo X (2015) One-step synthesis of MnO2 doped poly(aniline-co-o-aminophenol)and the capacitive behaviors of the conducting copolymer. Chin Chem Lett 26:1367–1370

22.

Waware US, Hamouda AMS, Hameed AS, Mohd R, Summers GJ (2017) The spectral and morphological studies of the conductive polyaniline thin film derivatives by the in situ copolymerization. J Mater Sci: Mater Electron 28:15178–15183

23.

Ozkan SZ, Eremeev GP, Karpacheva TN Prudskova, Veselova EV, Bondarenko GN, Shandryuk GA (2013) Polymers of diphenylamine-2-carboxylic acid: synthesis, structure, and properties. Polym Sci Ser B 55:107

24.

Shaolin Mu (2004) Electrochemical copolymerization of aniline and o-aminophenol. Synth Met 143:259–268

25.

Anwar-ul-Haq Ali Shah, Holze Rudolf (2006) Spectroelectrochemistry of aniline-o-aminophenol copolymers. Electrochim Acta 52:1374–1382

26.

Yiting Xu, Dai Lizong, Chen Jiangfeng, Gal Jean-Yves, Huihuang Wu (2007) Synthesis and characterization of aniline and aniline-o-sulfonic acid copolymers. Eur Polym J 43:2072–2079

27.

Liu Meiling, Ye Min, Yang Qin, Zhang Youyu, Xie Qingji, Yao Shouzhuo (2006) New method for characterizing the growth and properties of polyaniline and poly(aniline-co-o-aminophenol) films with the combination of EQCM and in situ FTIR spectroelectrochemistry. Electrochim Acta 52:342–352

28.

Tzou K, Gregory RV (1993) A method to prepare soluble polyaniline salt solutions—in situ doping of PANI base with organic dopants in polar solvents. Synth Met 53(3):365–377

29.

Ameen S, Ali V, Zulfequar M, Haq MM, Husain M (2007) Electrical conductivity and dielectric properties of sulfamic acid doped polyaniline. Curr Appl Phys 7(2):215–219

30.

Inzelt G (2018) Conducting polymers: past, present, future. J Electrochem Sci Eng 8(1):3–37

31.

Das TK, Prusty S (2012) Review on conducting polymers and their applications. Polym-Plast Technol Eng 51(14):1487–1500

32.

Saafan SA, El-Nimr MK, El-Ghazzawy EH (2006) Study of dielectric properties of polypyrrole prepared using two different oxidizing agents. J Appl Polym Sci 99(6):3370–3379

33.

Chao D, Jia X, Liu H, He L, Cui L, Wang C, Berda EB (2011) Novel electroactive poly(arylene ether sulfone) copolymers containing pendant oligoaniline groups: synthesis and properties. J Polym Sci, Part A: Polym Chem 49:1605–1614

34.

Singh R, Arora V, Tandon RP, Mansingh A, Chandra S (1999) Dielectric spectroscopy of doped polyaniline. Synth Met 104(2):137–144

35.

MacDiarmid AG, Epstein AJ (1994) The concept of secondary doping as applied to polyaniline. Synth Met 65:103–116

36.

Islam S, Lakshmi GBVS, Siddiqui AM, Husain M, Zulfequar M (2013) Synthesis, electrical conductivity, and dielectric behavior of polyaniline/V2O5 composites. Int J Polym Sci. https://doi.org/10.1155/2013/307525

37.

Mezdour D (2017) Dielectric properties of polyaniline composites. Spectrosc Lett 50(4):214–219

38.

John H, Thomas RM, Mathew KT, Joseph R (2004) Studies on the dielectric properties of poly(o-toluidine) and poly(o-toluidine-aniline) copolymer. J Appl Polym Sci 92:592–598

39.

Kumar D (2000) Synthesis and characterization of poly(aniline-co-o-toluidine) copolymer. Synth Met 114(3):369–372

40.

Yang Y, Mu S (2008) Synthesis and high electrochemical activity of poly(aniline-co-2-amino-4-hydroxybenzenesulfonic acid). Electrochim Acta 54(2):506–512

41.

Zhang J, Shan D, Mu S (2007) Chemical synthesis and electric properties of the conducting copolymer of aniline and o-aminophenol. J Polym Sci, Part A: Polym Chem 45:5573–5582

42.

Hichem Z, Saad L, Yasmine M, Tarik HA (2015) Preparation and characterization of a new polyaniline salt with good conductivity and great solubility in dimethyl sulphoxide. J Serb Chem Soc 80(11):1435–1448

43.

Zhang J, Shan D, Mu S (2007) A promising copolymer of aniline and m-aminophenol: chemical preparation, novel electric properties and characterization. Polymer 48:1269–1275

44.

Gupta N, Kumar D, Tomar SK (2012) Thermal behaviour of chemically synthesized polyanilines/polystyrene sulphonic acid composites. Int J Mater Chem 2(2):79–85

45.

Kumar D, Chandra R (2001) Thermal properties of synthetic metals: polyanilines. Ind J Eng Mater Sci 8:209–214

46.

Pantery S, Stevens R, Bower CR (2005) The frequency dependent permittivity and AC conductivity of random electrical networks. Ferroelectrics 319:199–208

47.

Vellakkat M, Archana K, Raghu S, Sharanappa C, Hundekal D (2014) Dielectric constant and transport mechanism of percolated polyaniline nanoclay composites. Ind Eng Chem Res 53:16873–16882

48.

Saafan SA, El-Nimr MK, El-Ghazzawy EH (2006) Study of dielectric properties of polypyrrole prepared using two different oxidizing agents. J Appl Polym Sci 99:3370

49.

Chutia P, Kumar A (2014) Electrical, optical and dielectric properties of HCl doped polyaniline nanorods. Phys B 436:200–207

50.

Bekri-Abbes I, Srasra E (2015) Electrical and dielectric properties of polyaniline and polyaniline/montmorillonite nanocomposite prepared by solid reaction using spectroscopy impedance. J Nanomater 16(1):428

51.

Brebels J, Manca J, Lutsen L, Vanderzande D, Maes W (2017) High dielectric constant conjugated materials for organic photovoltaics. J Mater Chem A 5:24037–24050

52.

Rouis A, Davenas J, Bonnamour I, Ouada HB (2015) Studies of morphological optical and electrical properties of the MEH-PPV/azo-calix[4]arene composite layers. Phys B 474:70–76

53.

Ahmed K, Kanwal F, Ramay SM, Mahmood A, Atiq S, Al-Zaghayer YS (2016) High dielectric constant study of TiO2-polypyrrole composites with low contents of filler prepared by in situ polymerization. Adv Condens Matter Phys 5:2. https://doi.org/10.1155/2016/4793434

54.

Rizvi TZ, Shakoor A (2009) Electrical conductivity and dielectric properties of polypyrrole/Na+–montmorillonite (PPy/Na+–MMT) clay nanocomposites. J Phys D Appl Phys 42:095415

55.

Madakbaş S, Çakmakçı E, Kahraman M, Esmer K (2013) Preparation, characterisation, and dielectric properties of polypyrrole-clay composites. Chem Pap 67(8):1048–1053
Acknowledgement
The authors are thankful to the Qatar University. Also, DM acknowledges Chandernagore College, Hooghly, WB, India, and Barasat Govt. College, Barasat, Kolkata, WB, India, for research supports.
Additional information
Publisher's Note
Springer Nature remains neutral with regard to jurisdictional claims in published maps and institutional affiliations.
Dipanwita Majumdar: Formerly at Department of Chemistry, Barasat Govt. College, Barasat, West Bengal, 700124 India.
About this article
Cite this article
Waware, U.S., Hamouda, A.M.S. & Majumdar, D. Optimization of physicochemical and dielectric features in the conductive copolymers of aniline and 2-aminophenol. Polym. Bull. 76, 5603–5617 (2019). https://doi.org/10.1007/s00289-018-2668-4
Received:

Revised:

Accepted:

Published:

Issue Date:
Keywords
Copolymer

Aniline

o-Aminophenol

Dielectric study

AC conductivity

Physicochemical properties