Abstract
Purpose
Fedratinib, an oral selective kinase inhibitor with activity against both wild type and mutationally activated Janus kinase 2, has been approved for the treatment of adult patients with intermediate-2 or high-risk myelofibrosis by the US Food and Drug Administration. In vitro studies indicated that fedratinib was an inhibitor of several cytochrome P450 (CYP) enzymes. The primary objective of this study was to evaluate the effects of repeated doses of fedratinib on the activity of CYP2D6, CYP2C19, and CYP3A4 in patients with solid tumors using a CYP probe cocktail.
Methods
An open-label, one-sequence, two-period, two-treatment crossover study was conducted. Patients were administered a single oral dose cocktail of metoprolol (100 mg), omeprazole (20 mg), and midazolam (2 mg) used as probe substrates for CYP2D6, CYP2C19, and CYP3A4 enzyme activities, respectively, without fedratinib on Day -1 or with fedratinib on Day 15.
Results
Coadministration of 500 mg once-daily doses of fedratinib for 15 days increased the mean area under the plasma concentration–time curve from time zero to infinity following a single-dose cocktail containing metoprolol (CYP2D6 substrate), omeprazole (CYP2C19 substrate), and midazolam (CYP3A4 substrate) by 1.77-fold (90% confidence interval [CI] 1.27–2.47) for metoprolol, 2.82-fold (90% CI 2.26–3.53) for omeprazole, and 3.84-fold (90% CI 2.62–5.63) for midazolam, respectively. The mean plasma Day 14/Day 1 ratio of 4β-hydroxycholesterol, an endogenous biomarker of CYP3A4 activity, was 0.59 (90% CI 0.54-0.66), suggesting a net inhibition of CYP3A4 by fedratinib.
Conclusion
Fedratinib is a weak inhibitor of CYP2D6, and a moderate inhibitor of CYP2C19 and CYP3A4. These results serve as the basis for dose modifications of these CYP substrate drugs when co-administered with fedratinib.
This is a preview of subscription content, log in to check access.
Access options
Buy single article
Instant access to the full article PDF.
US$ 39.95
Price includes VAT for USA
Subscribe to journal
Immediate online access to all issues from 2019. Subscription will auto renew annually.
US$ 199
This is the net price. Taxes to be calculated in checkout.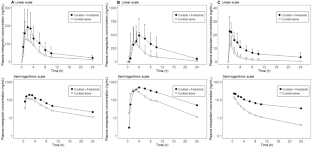 Acknowledgements
The authors thank all study participants, their families and clinical study team members.
Funding
The clinical trial reported in this manuscript was sponsored by Sanofi, NJ, USA.
Ethics declarations
Conflict of interest
KO., M.P, and G.K. are employees and hold equity ownership in Bristol Myers Squibb. P.M.L. is advisory board member from AbbVie, GenMab, Genentech, CytomX, Takeda, Cybrexa, Agenus, IQVIA, TRIGR, Pfizer, I-MAB, ImmunoMet, Black Diamond, Glaxo-Smith Kline, QED Therapeutics, AstraZeneca, EMD Serono, Shattuck, Astellas, Salarius, Silverback, MacroGenics; data safety monitoring board member from Agios, Five Prime, Halozyme, Tyme; member from imCORE Alliance (Roche-Genentech); and consultatnt of SOTIO. A.J.O. is advisory board member, with honoraria from: Array, BMS, Merck, Novartis and Pfizer. Trial funding (to institution) from: Adaptimmune; Alkermes; Astellas; BMS; Boston Biomedical; Checkmate Pharma; EMD Serono; Glenmark; Glyconex; GSK; Immunocore; Intensity Therapeutics; Kadmon; Kartos; Kura; Oncoceutics; OncoSec; Seattle Genetics; Sound Biologics; Spring Bank; Takeda; Targovax. O.R. does not have COI to disclose. C.X. and J.Y. are employees and hold equity ownership in Sanofi.
Ethical approval
The protocol and its amendments were submitted to local Ethics Committees, Institutional Review Boards for review and written approval. The protocol complied with recommendations of the 18th World Medical Assembly (Helsinki, 1964) and all applicable amendments with the laws and regulations, as well as any applicable guidelines of the United States, where the study was conducted. Informed consent was obtained at screening, prior to the conduct of any study-related procedures.
Additional information
Publisher's Note
Springer Nature remains neutral with regard to jurisdictional claims in published maps and institutional affiliations.
Electronic supplementary material
Below is the link to the electronic supplementary material.
About this article
Cite this article
Ogasawara, K., LoRusso, P.M., Olszanski, A.J. et al. Assessment of effects of repeated oral doses of fedratinib on inhibition of cytochrome P450 activities in patients with solid tumors using a cocktail approach. Cancer Chemother Pharmacol 86, 87–95 (2020). https://doi.org/10.1007/s00280-020-04102-3
Received:

Accepted:

Published:

Issue Date:
Keywords
Fedratinib

Drug–drug interaction

CYP

Cocktail