Abstract
Purpose
Brusatol, a natural quassinoid that is isolated from a traditional Chinese herbal medicine known as Bruceae Fructus, possesses biological activity in various types of human cancers, but its effects in nasopharyngeal carcinoma (NPC) have not been reported. This study aimed to explore the effect and molecular mechanism of brusatol in NPC in vivo and in vitro.
Methods
The antiproliferative effect of brusatol was assessed by MTT and colony formation assays. Apoptosis was determined by flow cytometry. The expression of mitochondrial apoptosis, cell cycle arrest, and Akt/mTOR pathway proteins were determined by western blot analysis. Further in vivo confirmation was performed in a nude mouse model.
Results
Brusatol showed antiproliferative activity against four human NPC cell lines (CNE-1, CNE-2, 5-8F, and 6-10B) in a dose-dependent manner. This antiproliferative effect was accompanied by mitochondrial apoptosis and cell cycle arrest through the modulation of several key molecular targets, such as Bcl-xl, Bcl-2, Bad, Bax, PARP, Caspase-9, Caspase-7, Caspase-3, Cdc25c, Cyclin B1, Cdc2 p34, and Cyclin D1. In addition, we found that brusatol inhibited the activation of Akt, mTOR, 4EBP1, and S6K, suggesting that the Akt/mTOR pathway is a key underlying mechanism by which brusatol inhibits growth and promotes apoptosis. Further in vivo nude mouse models proved that brusatol significantly inhibited the growth of CNE-1 xenografts with no significant toxicity.
Conclusions
These observations indicate that brusatol is a promising antitumor drug candidate or a supplement to current chemotherapeutic therapies to treat NPC.
This is a preview of subscription content, log in to check access.
Access options
Buy single article
Instant access to the full article PDF.
US$ 39.95
Price includes VAT for USA
Subscribe to journal
Immediate online access to all issues from 2019. Subscription will auto renew annually.
US$ 199
This is the net price. Taxes to be calculated in checkout.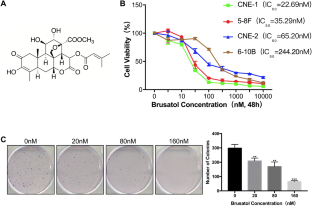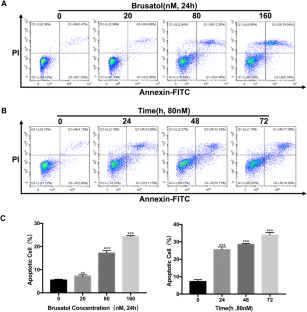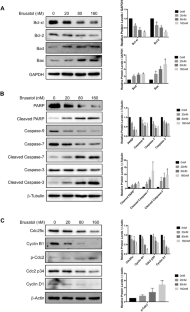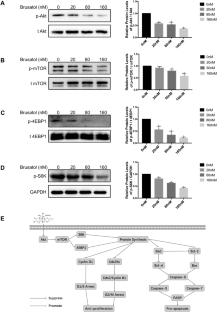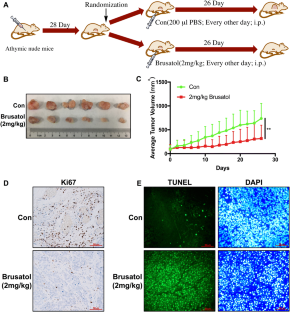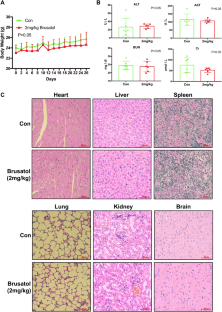 Funding
This research was supported by the National College Students' Innovation Entrepreneurship Training Plan Program of China (No. 201910570006 to S. G.), the Special Funds for the Cultivation of Guangdong College Students' Scientific and Technological Innovation ("Climbing Program" Special Funds) (No. pdjh2019b0403 to S. G.), the Guangzhou Medical University College Students Science Technology Innovation Project (No. 2018A019 to S. G.), the National Natural Science Foundation of China (No. 81672276 to Z. Z.), the Guangzhou Science and Technology Program (No. 201803010038 to Z. Z.), the National Natural Science Foundation of China (No. 21907017 to B. L.), the Guangdong Natural Science Foundation of China (No. 2018A030310186 to B. L.), the Science and Technology Planning Project of Guangdong Province of China (No. A2018377 to B. L.), and the Guangzhou Health and Family Planning Commission of Guangdong Province of China (No. 20181A011068 to B. L.).
Ethics declarations
Conflict of interest
The authors declare that they have no conflicts of interest.
Ethical approval
All procedures performed in involving animals were in accordance with the ethical standards of the institution or practice at which the studies were conducted.
Additional information
Publisher's Note
Springer Nature remains neutral with regard to jurisdictional claims in published maps and institutional affiliations.
Electronic supplementary material
Below is the link to the electronic supplementary material.
About this article
Cite this article
Guo, S., Zhang, J., Wei, C. et al. Anticancer effects of brusatol in nasopharyngeal carcinoma through suppression of the Akt/mTOR signaling pathway. Cancer Chemother Pharmacol 85, 1097–1108 (2020). https://doi.org/10.1007/s00280-020-04083-3
Received:

Accepted:

Published:

Issue Date:
Keywords
Brusatol

Proliferation

Apoptosis

Nasopharyngeal carcinoma

Akt/mTOR pathway