Zusammenfassung
Hintergrund
Ziel der Studie ist die Überprüfung der Wirksamkeit des spezifischen multimodalen Konzeptes zur Behandlung von Essstörungen im Vergleich zur Regelversorung (nur Psychotherapie). Bisherige Studien zur Wirksamkeit dieses Behandlungskonzeptes wurden nicht veröffentlicht.
Fragestellung
Unterscheiden sich Wirksamkeit und Erfolg der Essstörungstherapieansätze in der Gruppe mit psychotherapeutischer Regelbehandlung (Kontrollgruppe, KG) und der Gruppe mit Anwendung des spezifischen Behandlungskonzeptes der integrierten Versorgung (IGV; Experimentalgruppe, EG)?
Material und Methode
Nichtrandomisierte Langzeitstudie mit Parallelgruppendesign. Auswertung der statistisch erfassten Patientenergebnisse von EG und KG durch Prä- und Postmessungen mithilfe spezifischer Fragenbogenpakete und der Erfassung der allgemeinen psychopathologischen Störungen.
Ergebnisse
Es zeigte sich ein signifikanter Interaktionseffekt für den Body-Mass-Index (BMI), zwischen der Gruppenzugehörigkeit EG vs. KG sowie den Diagnosen Anorexia nervosa (AN), Bulimia nervosa (BN) und Binge-eating-Störung (BES). Die Ergebnisse bestätigen, dass Patientinnen mit einer AN und zugehörig zur EG eine signifikant höhere Gewichtszunahme erzielten als die Patientinnen mit AN der KG. Patientinnen mit einer BES reduzierten ihr Gewicht signifikant mehr, wenn sie an der IGV (EG) teilnahmen, als die Patientinnen, die ausschließlich eine Psychotherapie im Einzelsetting (KG) in Anspruch nahmen. Außerdem fanden sich bei den Patientinnen mit BN, die der EG zugehören, signifikant stärkere Verbesserungen auf den Skalen "Schlankheitsstreben" und "Bulimie" (Eating Disorder Inventory-2, EDI-2) über die Messzeitpunkte hinweg als Patientinnen mit einer BN der KG.
Schlussfolgerungen
Das Behandlungspaket der IGV gemäß den S3-Leitlinien bewährt sich im Vergleich zur Regelbehandlung (nur Psychotherapie) durch größere Nachhaltigkeit und signifikante Ergebnisse bei allen 3 untersuchten Essstörungen. Die positiven Veränderungen in der Genesung bei den 3 Krankheitsbildern und der Rückgang der Komorbiditäten konnte für die EG im Vergleich zur KG deutlicher nachgewiesen werden. Das multimodale Behandlungskonzept ermöglicht auf der einen Seite den Patienten eine bessere Gesundung und auf der anderen Seite den Krankenkassen die Einsparung höherer Kosten durch Klinikaufenthalte.
Abstract
Background
The number of people suffering from eating disorders is steadily on the rise. The currently accepted standard for outpatient treatment of various eating disorders is psychotherapy but positive outcomes are lacking. Ambulatory interdisciplinary multimodal treatment may be superior to psychotherapy alone.
Objective
The study aimed to compare treatment outcomes for routine psychotherapy only and interdisciplinary multimodal treatment for patients with a variety of eating disorders in an outpatient setting.
Material and methods
This was a prospective, long-term, nonrandomized study of outpatient treatment for female patients with various eating disorders using a parallel group design. Outcomes were statistically evaluated at three time periods during treatment using various accepted eating disorder, body image and symptom inventories as well as changes in body mass index (BMI). Patients were also assessed for general psychopathology.
Results
The study showed a significant interaction effect between BMI, diagnosis and group assignment. Patients with anorexia nervosa (AN) in the experimental multimodal treatment group showed a significantly higher weight gain as compared to patients with AN in the control group (psychotherapy only). Patients with binge eating disorder (BED) showed significantly greater weight loss in the experimental multimodal group as compared to the control group. Patients with bulimia nervosa (BN) in the experimental group also showed a significantly greater improvement in the scales drive for slenderness and bulimia (eating disorder inventory-2, EDI-2) as compared to patients with BN in the control group.
Conclusion
The study provides evidence for a higher efficacy of an accepted multimodal treatment program according to the S3 guidelines in an outpatient setting in comparison to routine treatment (psychotherapy only) due to greater sustainability and significant results for all three eating disorders. The positive changes in the recovery for all three eating disorders and the reduction of comorbidites could be clearly demonstrated for the experimental group compared to the control group. This multimodal treatment concept will enable a better recovery of patients and help health insurances to reduce the high costs of hospital admissions as compared to currently available inpatient programs.
This is a preview of subscription content, log in to check access.
Access options
Buy single article
Instant access to the full article PDF.
US$ 39.95
Tax calculation will be finalised during checkout.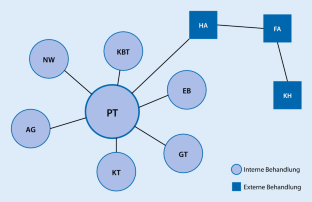 Literatur
Arbeitsgemeinschaft der Wissenschaftlichen Medizinischen Fachgesellschaften (AWMF) (2018) S3-Leitlinie "Diagnostik und Therapie der Essstörungen". http://www.awmf.org/leitlinien/detail/ll/051-026.htm

Clement U, Löwe B (1996) Fragebogen zum Körperbild (FKB-20). Testmappe mit Handanweisung, Fragebogen und Auswertungsblättern. Hogrefe, Göttingen.

Derogatis LR (1986) Symptome-Check-Liste (SCL-90). In: Internationale Skalen für die Psychiatrie. Beltz, Weinheim

Fairburn CG, Cooper Z, Shafran R (2003) Cognitive-behaviour therapy for eating disorders: A "transdiagnostic" theory and treatment. Behav Res Ther 41:509–528

Feistner R (2018) Essstörungen – Heilung ist möglich. Klett-Cotta, Stuttgart

Franke GH (2000) Brief Symptom Inventory von L. R. Derogatis (Kurzform der SCL-90-R, deutsche Version). Beltz, Göttingen

Garner DM (1991) Eating disorder inventory-2. Professional manual. Psychological Assessment Ressources, Odessa

Herpertz S, Herpetz-Dahlman B (2017) S3-Leitlinie – Diagnostik und Therapie der Essstörungen. Psychotherapeut 62:230–234

Herpertz S, Herpertz-Dahlmann B, Tuschen-Caffier B, Fichter M, Zeeck A (2011) S3-Leitlinien, Diagnostik und Behandlung der Essstörungen. Springer, Heidelberg

Hilbert A, Tuschen-Caffier B (2010) Essanfälle und Adipositas: ein Manual zur kognitiv-behavioralen Therapie der Binge-Eating-Störung. Hogrefe, Göttingen

Hilbert A, Vocks S (2017) Aktuelle Behandlungsansätze für Essstörungen. Psychotherapeut 62:161–163

Kappel V, Thiel A, Holzhausen M, Jaite C, Schneider N, Pfeiffer E, Salbach-Andrae H (2012) Eating disorder inventory-2 (EDI-2). Diagnostica 58:127–144

Legenbauer T, Vocks S (2014) Manual der kognitiven Verhaltenstherapie bei Anorexie und Bulimie. Springer, Berlin

Legenbauer T, Vocks S, Korst A, Rudolph M, Stadtfeld P et al (2004) Competitive behaviours among patients with eating disorders in a group therapy (Abstractband, S. 202). Eighth International Congress of Behavioral Medicine (ICBM), Mainz

Munsch S (2003) Binge Eating – Kognitive Verhaltenstherapie bei Essanfällen. Beltz, Weinheim

Paul T, Thiel A (2005) EDI-2 eating disorder inventory-2, deutsche Version, Manual. Hogrefe, Göttingen

Pudel V, Westenhöfer J (2005) Fragebogen zum Essverhalten. Hogrefe, Göttingen

Schaffner AD, Buchanan LP (2010) Evidence-based practices in outpatient treatment for eating disorders. Int J Behav Consult Ther 15:35–44

Stunkard AJ, Messick S (1985) The three-factor eating questionnaire to measure dietary restraint, disinhibition and hunger. J Psychosom Res 29:71–83

Touyz S, Polivy J, Hay P (2008) Eating Disorders. Hogrefe & Huber, Cambridge

Tuschen-Caffier B, Florin I (2012) Teufelskreis Bulimie: ein Manual zur Psychologischen Therapie. Hogrefe, Göttingen

Vocks S, Legenbauer T (2010) Körperbildtherapie bei Anorexia und Bulimia nervosa. Ein kognitiv-verhaltenstherapeutisches Behandlungsprogramm. Hogrefe, Göttingen

Wachter M, Brickwedde U, Hendrischke A (2008) Integrierte Versorgung von Essstörungen – ein Versorgungsprojekt des Neztwerks Essstörungen NEO und der AOK Baden Württemberg. Ärztl Psychother 3:33–40

Weipert D (2018) Nachhaltigkeit des Therapieerfolgs und Analyse der Rückfälle. Vorstellung der Katamnese-Studie auf dem 6. DGESS-Kongress, München

Wunderer E, Schnebel A (2008) Interdisziplinäre Essstörungstherapie. Beltz, Weinheim
Danksagung
Wir bedanken uns bei allen teilnehmenden Patientinnen; ohne ihre Bereitschaft wäre diese Studie nicht zustande gekommen. Insbesondere bedanken wir uns für die gute Vorarbeit des Teams der Psychologischen Fakultät der Gutenberg-Universität in Mainz unter der Leitung von Prof. Dr. Tanja Legenbauer, die die erste Studie für den Bericht an die Krankenkassen 2012 erstellt hat. Auf dieser Basis ist diese Publikation entstanden. Besonderer Dank geht an Prof. Dr. Anja Hilbert für ihre Unterstützung und Ermutigung bei der Überarbeitung des Manuskripts.
Ethics declarations
Interessenkonflikt
D. Weipert, S. Blasczyk-Schiep und L. Große geben an, dass kein Interessenkonflikt besteht.
Alle Patienten haben ihre schriftliche Einwilligung gegeben. Bei der Auswertung der Daten wurden die Namen der Patienten anonymisiert.
Additional information
Weitere Informationen über das Behandlungskonzept sind auf der folgenden Homepage nachzulesen: www.forum-ess-stoerungen.de. Dort sind auch weitere wissenschaftliche Auswertungen zu finden.
About this article
Cite this article
Weipert, D., Blasczyk-Schiep, S. & Große, L. Multimodales Konzept zur ambulanten Behandlung von Essstörungen. Psychotherapeut 65, 41–52 (2020). https://doi.org/10.1007/s00278-019-0367-8
Schlüsselwörter
Adipositas

Anorexia nervosa

Bulimia nervosa

Binge-eating-Störung

Versorgungsforschung
Keywords
Obesity

Anorexia nervosa

Bulimia nervosa

Binge eating disorder

Health services research