Abstract
In allogeneic hematopoietic stem cell transplantation recipients, cytomegalovirus (CMV) infection can cause overt CMV-associated disease, which is a main cause of transplantation-associated mortality. CMV infection correlates closely with donor's type. We therefore examined whether risk factors of CMV reactivation and clinical endpoints in patients with hematologic malignancies after allogeneic peripheral blood stem cell transplantation (PBSCT) differed between using matched-sibling donors (MSD-SCT) and haploidentical donors (HID-SCT). In this retrospective cohort study, we enrolled in 200 consecutive patients received an unmanipulated G-CSF-mobilized allogeneic PBSCT. Ninety (45%) patients received MSD-SCT and 110 (55%) received HID-SCT. Quantitative PCR was used for monitoring of CMV reactivation after transplantation. One-year cumulative incidence of CMV DNAemia was 55.0%, ranging from 23.5% in MSD-SCT group to 81.0% in HID-SCT group (p < 0.001). Although univariate analyses showed that non-myeloid malignancies, disease in complete remission status at transplantation, pretreatment with antithymocyte globulin, HLA-haploidentical donors, male donors, previous Epstein-Barr virus DNAemia, and absolute lymphocyte count on day 30 < 0.6 × 109/L were respectively associated with CMV reactivation after transplantation in total cohort of recipients (all p < 0.05), haploidentical donors were found to be the only independent predictor in multivariate analyses (Hazard ratio = 6.4, p < 0.001). Furthermore, univariate analyses revealed that non-myeloid malignancies and previous Epstein-Barr virus DNAemia were respectively associated with CMV reactivation in MSD-SCT recipients, and female was associated with CMV reactivation in HID-SCT recipients (all p < 0.05). In HID-SCT recipients, but not MSD-SCT recipients, previous CMV DNAemia was associated with a lower cumulative incidence of acute graft-versus-host disease (49.2% vs. 72.6%, p < 0.001). CMV DNAemia did not play a role in the relapse rate, but it was strongly associated with an increased risk of non-relapse mortality either in total cohort of recipients (30.5% vs. 13.7%; p = 0.003) or in the HID-SCT subgroup (36.0% vs. 16.7%; p = 0.030). Relapse-free survival and overall survival in total cohort of recipients with CMV DNAemia were both inferior to those without CMV DNAemia (45.3% vs. 57.6% and 54.8% vs. 65.8%, respectively; both p < 0.05). However, in subgroup analysis according to donor's type, neither relapse-free survival nor overall survival was impacted by CMV status (both p > 0.05). This study addressed differences in incidence, risk factors, and associations with clinical outcomes of CMV reactivation after haploidentical versus matched-sibling PBSCT.
This is a preview of subscription content, log in to check access.
Access options
Buy single article
Instant access to the full article PDF.
US$ 39.95
Price includes VAT for USA
Subscribe to journal
Immediate online access to all issues from 2019. Subscription will auto renew annually.
US$ 199
This is the net price. Taxes to be calculated in checkout.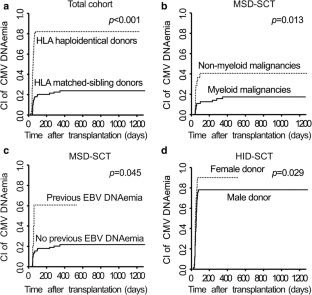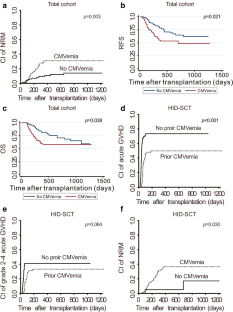 References
1.

Teira P, Battiwalla M, Ramanathan M, Barrett AJ, Ahn KW, Chen M, Green JS, Saad A, Antin JH, Savani BN, Lazarus HM, Seftel M, Saber W, Marks D, Aljurf M, Norkin M, Wingard JR, Lindemans CA, Boeckh M, Riches ML, Auletta JJ (2016) Early cytomegalovirus reactivation remains associated with increased transplant-related mortality in the current era: a CIBMTR analysis. Blood 127(20):2427–2438

2.

Green ML, Leisenring W, Xie H, Mast TC, Cui Y, Sandmaier M, Sorror ML, Goyal S, Ozkok S, Yi J, Sahoo F, Kimball LE, Jerome KR, Marks MA, Boeckh M (2016) Cytomegalovirus viral load and mortality after haemopoietic stem cell transplantation in the era of pre-emptive therapy: a retrospective cohort study. Lancet Haematol 3(3):e119–e127

3.

Takenaka K, Nishida T, Asano-Mori Y, Oshima K, Ohashi K, Mori T, Kanamori H, Miyamura K, Kato C, Kobayashi N, Uchida N, Nakamae H, Ichinohe T, Morishima Y, Suzuki R, Yamaguchi T, Fukuda T (2015) Cytomegalovirus reactivation after allogeneic hematopoietic stem cell transplantation is associated with a reduced risk of relapse in patients with acute myeloid leukemia who survived to day 100 after transplantation: the Japan society for hematopoietic cell transplantation transplantation-related complication working group. Biol Blood Marrow Transplant 21(11):2008–2016

4.

Ljungman P, Boeckh M, Hirsch HH, Josephson F, Lundgren J, Nichols G, Pikis A, Razonable RR, Miller V, Griffiths PD, Disease Definitions Working Group of the Cytomegalovirus Drug Development Forum (2017) Definitions of cytomegalovirus infection and disease in transplant patients for use in clinical trials. Clin Infect Dis 64(1):87–91

5.

Boeckh M, Geballe AP (2011) Cytomegalovirus: pathogen, paradigm, and puzzle. J Clin Invest 121(5):1673–1680

6.

Ciurea SO, Mulanovich V, Saliba RM, Bayraktar UD, Jiang Y, Bassett RL, Wang S, Konopleva M, Fernandezvina M, Montes N, Bosque D, Chen J, Rondon G, Alatrash G, Alousi AM, Bashir Q, Korbling M, Qazilbash MH, Parmar S, Shpall EJ, Nieto Y, Hosing C, Kebriaei P, Khouri IF, Popat UR, Lima MD, Champlin RE (2012) Improved early outcomes using a T cell replete graft compared with T cell depleted haploidentical hematopoietic stem cell transplantation. Biol Blood Marrow Transplant 18(12):1835–1844

7.

Qayed M, Khurana M, Hilinski J, Gillespie S, McCracken C, Applegate K, Chiang K, Horan J (2014) Risk for CMV reactivation in children undergoing allogeneic hematopoietic stem cell transplantation. Pediatr Blood Cancer 62(2):364–366

8.

Dufort G, Castillo L, Pisano S, Castiglioni M, Carolina P, Andrea I, Simon E, Zuccolo S, Schelotto M, Morosini F, Pereira I, Amarillo P, Silveira A, Guerrero L, Ferreira V, Tiscornia A, Mezzano R, Lemos F, Boggia B, Quarnetti A, Decaro J, Dabezies A. (2016) Haploidentical hematopoietic stem cell transplantation in children with high-risk hematologic malignancies: outcomes with two different strategies for GvHD prevention. Ex vivo T-cell depletion and post-transplant cyclophosphamide: 10 years of experience at a single center. Bone Marrow Transplant 51(10):1354–1360

9.

Tischer J, Engel N, Fritsch S, Prevalsek D, Hubmann M, Schulz C, Zoellner AK, Bücklein V, Reibke R, Mumm F, Rieger CT, Hill W, Ledderose G, Stemmler HJ, Köhnke T, Jäger G, Kolb HJ, Schmid C, Moosmann A, Hausmann A (2015) Virus infection in HLA-haploidentical hematopoietic stem cell transplantation: incidence in the context of immune recovery in two different transplantation settings. Ann Hematol 94(10):1677–1688

10.

Shmueli E, Or R, Shapira MY, Resnick IB, Caplan O, Bdolah-Abram T, Wolf DG (2014) High rate of cytomegalovirus drug resistance among patients receiving preemptive antiviral treatment after haploidentical stem cell transplantation. J Infect Dis 209(4):557–561

11.

Raiola AM, Dominietto A, di Grazia C, Lamparelli T, Gualandi F, Ibatici A, Bregante S, Van Lint MT, Varaldo R, Ghiso A, Gobbi M, Carella AM, Signori A, Galaverna F, Bacigalupo A (2014) Unmanipulated haploidentical transplants compared with other alternative donors and matched sibling grafts. Biol Blood Marrow Transplant 20(10):1573–1579

12.

Gao XN, Lin J, Wang LJ, Li F, Li HH, Wang SH, Huang WR, Gao CJ, Yu L, Liu DH (2019) Risk factors and clinical outcomes of Epstein-Barr virus DNAemia and post-transplant lymphoproliferative disorders after haploidentical and matched-sibling PBSCT in patients with hematologic malignancies. Ann Hematol 98(9):2163–2177

13.

Martin PJ, Rizzo JD, Wingard JR, Ballen K, Curtin PT, Cutler C, Litzow MR, Nieto Y, Savani BN, Schriber JR, Shaughnessy PJ, Wall DA, Carpenter PA (2012) First- and second-line systemic treatment of acute graft-versus-host disease: recommendations of the American Society of Blood and Marrow Transplantation. Biol Blood Marrow Transplant 18(8):1150–1163

14.

Przepiorka D, Weisdorf D, Martin P, Klingemann HG, Beatty P, Hows J, Thomas ED (1995) 1994 Consensus conference on acute GVHD grading. Bone Marrow Transplant 15(6):825–828

15.

Jagasia MH, Greinix HT, Arora M, Williams KM, Wolff D, Cowen EW, Palmer J, Weisdorf D, Treister NS, Cheng GS, Kerr H, Stratton P, Duarte RF, McDonald GB, Inamoto Y, Vigorito A, Arai S, Datiles MB, Jacobsohn D, Heller T, Kitko CL, Mitchell SA, Martin PJ, Shulman H, Wu RS, Cutler CS, Vogelsang GB, Lee SJ, Pavletic SZ, Flowers ME (2015) National institutes of health consensus development project on criteria for clinical trials in chronic graft-versus-host disease: I. The 2014 Diagnosis and staging working group report. Biol Blood Marrow Transplant 21(3):389–401

16.

Scrucca L, Santucci A, Aversa F (2007) Competing risk analysis using R: an easy guide for clinicians. Bone Marrow Transplant 40(4):381–387

17.

Scrucca L, Santucci A, Aversa F (2010) Regression modeling of competing risk using R: an in depth guide for clinicians. Bone Marrow Transplant 45(9):1388–1395

18.

Lin R, Wang Y, Huang F, Fan Z, Zhang S, Yang T, Xu Y, Xu N, Xuan L, Ye J, Sun J, Huang X, Liu Q (2019) Two dose levels of rabbit antithymocyte globulin as graft-versus-host disease prophylaxis in haploidentical stem cell transplantation: a multicenter randomized study. BMC Med 17(1):156

19.

Ciáurriz M, Beloki L, Zabalza A, Bandrés E, Mansilla C, Pérez-Valderrama E, Lachén M, Rodríguez-Calvillo M, Ramírez N, Olavarría E (2017) Functional specific-T-cell expansion after first cytomegalovirus reactivation predicts viremia control in allogeneic hematopoietic stem cell transplant recipients. Transpl Infect Dis 19(6):e12778

20.

Widmann T, Sester U, Gärtner BC, Schubert J, Pfreundschuh M, Köhler H, Sester M (2008) Levels of CMV specific CD4 T cells are dynamic and correlate with CMV viremia after allogeneic stem cell transplantation. PLoS One 3(11):e3634

21.

Zallio F, Primon V, Tamiazzo S, Pini M, Baraldi A, Corsetti MT, Gotta F, Bertassello C, Salvi F, Rocchetti A, Levis A (2013) Epstein-Barr virus reactivation in allogeneic stem cell transplantation is highly related to cytomegalovirus reactivation. Clin Transpl 27(4):E491–E497

22.

Liu J, Yan C, Zhang C, Xu L, Liu Y, Huang X (2015) Late-onset Epstein-Barr virus-related disease in acute leukemia patients after haploidentical hematopoietic stem cell transplantation is associated with impaired early recovery of T and B lymphocytes. Clin Transpl 29(10):904–910

23.

Han XY (2007) Epidemiologic analysis of reactivated cytomegalovirus antigenemia in patients with cancer. J Clin Microbiol 45(4):1126–1132

24.

Stern L, Withers B, Avdic S, Gottlieb D, Abendroth A, Blyth E, Slobedman B (2019) Human cytomegalovirus latency and reactivation in allogeneic hematopoietic stem cell transplant recipients. Front Microbiol 10:1186

25.

Wang LR, Dong LJ, Zhang MJ, Lu DP (2008) Correlations of human herpesvirus 6B and CMV infection with acute GVHD in recipients of allogeneic haematopoietic stem cell transplantation. Bone Marrow Transplant 42(10):673–677

26.

Chen Y, Xu LP, Liu KY, Chen H, Chen YH, Zhang XH, Wang Y, Wang FR, Han W, Wang JZ, Yan CH, Huang XJ (2016) Risk factors for cytomegalovirus DNAemia following haploidentical stem cell transplantation and its association with host hepatitis B virus serostatus. J Clin Virol 75:10–15

27.

Coghill JM, Sarantopoulos S, Moran TP, Murphy WJ, Blazar BR, Serody JS (2011) Effector CD4+ T cells, the cytokines they generate, and GVHD: something old and something new. Blood 117(12):3268–3276

28.

Elmaagacli AH, Steckel NK, Koldehoff M, Hegerfeldt Y, Trenschel R, Ditschkowski M, Christoph S, Gromke T, Kordelas L, Ottinger HD, Ross RS, Horn PA, Schnittger S, Beelen DW (2011) Early human cytomegalovirus replication after transplantation is associated with a decreased relapse risk: evidence for a putative virus-versus leukemia effect in acute myeloid leukemia patients. Blood 118(5):1402–1412

29.

Jang JE, Kim SJ, Cheong JW, Hyun SY, Kim YD, Kim YR, Kim JS, Min YH (2015) Early CMV replication and subsequent chronic GVHD have a significant anti-leukemic effect after allogeneic HSCT in acute myeloid leukemia. Ann Hematol 94(2):275–282

30.

Ito S, Pophali P, Co W, Koklanaris EK, Superata J, Fahle GA, Childs R, Battiwalla M, Barrett AJ (2013) CMV reactivation is associated with a lower incidence of relapse after allo-SCT for CML. Bone Marrow Transplant 48(10):1313–1316

31.

Green ML, Leisenring WM, Xie H, Walter RB, Mielcarek M, Sandmaier BM, Riddell SR, Boeckh M (2013) CMV reactivation after allogeneic HCT and relapse risk: evidence for early protection in acute myeloid leukemia. Blood 122(7):1316–1324

32.

Mariotti J, Maura F, Spina F, Roncari L, Dodero A, Farina L, Montefusco V, Carniti C, Sarina B, Patriarca F, Rambaldi A, Onida F, Olivieri A, Zallio F, Corradini P (2014) Impact of cytomegalovirus replication and cytomegalovirus serostatus on the outcome of patients with B cell lymphoma after allogeneic stem cell transplantation. Biol Blood Marrow Transplant 20(6):885–890

33.

Jeljeli M, Gu´ erin-El Khourouj V, Porcher R, Fahd M, Leveille S, Yakouben K, Ouacheechardin M, Legoff J, Cordeiro DJ, Pedron B, Baruchel A, Dalle J, Sterkers G (2014) Relationship between cytomegalovirus (CMV) reactivation, CMV-driven immunity, overall immune recovery and graft-versus-leukaemia effect in children. Br J Haematol 166(2):229–239

34.

Schmidt-Hieber M, Labopin M, Beelen D, Volin L, Ehninger G, Finke J, Socié G, Schwerdtfeger R, Kröger N, Ganser A, Niederwieser D, Polge E, Blau IW, Mohty M (2013) CMV serostatus still has an important prognostic impact in de novo acute leukemia patients after allogeneic stem cell transplantation: a report from the acute leukemia working party of EBMT. Blood 122(19):3359–3364

35.

Kaito S, Nakajima Y, Hara K, Toya T, Nishida T, Uchida N, Mukae J, Fukuda T, Ozawa Y, Tanaka M, Ikegame K, Katayama Y, Kuriyama T, Kanda J, Atsuta Y, Ogata M, Taguchi A, Ohashi K (2020) Heterogeneous impact of cytomegalovirus reactivation on nonrelapse mortality in hematopoietic stem cell transplantation. Blood Adv 4(6):1051–1061
Funding
This work was partially supported by grants from the National Natural Science Foundation of China (81770203 to D-H L, 81670135 and 81870109 to X-N G), Natural Science Foundation of Beijing Municipality (7162174 to J L, 7202191 to X-N G).
Ethics declarations
Conflict of interest
The authors declare no that they have no conflict of interest.
Additional information
Publisher's note
Springer Nature remains neutral with regard to jurisdictional claims in published maps and institutional affiliations.
Electronic supplementary material
About this article
Cite this article
Gao, X., Lin, J., Wang, L. et al. Risk factors and associations with clinical outcomes of cytomegalovirus reactivation after haploidentical versus matched-sibling unmanipulated PBSCT in patients with hematologic malignancies. Ann Hematol 99, 1883–1893 (2020). https://doi.org/10.1007/s00277-020-04156-6
Received:

Accepted:

Published:

Issue Date:
Keywords
Cytomegalovirus

Allogeneic peripheral blood stem cell transplantation

Haploidentical

Matched sibling