Abstract
The risk of lumbar puncture (LP) hemorrhagic complications is believed to be exacerbated by thrombocytopenia, yet evaluations in clinical practice are lacking. We conducted a retrospective cohort study to examine the risk of traumatic tap (TT) and significant hemorrhagic complications in thrombocytopenic patients undergoing bedside LP. Two hundred sixty-two adult patients undergoing initial bedside LP were analyzed. Overall, we observed 37 TTs (14.1%, 95% CI 10.0 to 18.3%). TTs occurred in 11 of 78 LPs performed on patients with thrombocytopenia, compared with 26 of 184 LPs among patients with a normal platelet count (14.1% vs 14.1%; p > 0.99) and 6 of 19 LPs among patients with severe thrombocytopenia compared with 31 of 243 among those without (31.6% vs 12.8%; p = 0.04). For patients with severe thrombocytopenia, the relative risk of TT was 2.5 (95% CI 1.2 to 5.2; p = 0.02). Stratifying this group by operator experience, a higher incidence of TTs was observed in LPs performed by trainees (57.1% vs 15.8%; p = 0.02), an effect which did not reach significance in LPs performed by dedicated procedural operators (16.7% vs 10.8%; p = 0.63). The presence of other bleeding risk factors was not found to be statistically associated with the incidence of TT. There were no significant hemorrhagic complications. TTs occurred significantly more frequently among patients with severe thrombocytopenia, an effect modulated by operator experience. For patients in this higher risk group, LPs should be performed by the most skilled operators available.
This is a preview of subscription content, log in to check access.
Access options
Buy single article
Instant access to the full article PDF.
US$ 39.95
Price includes VAT for USA
Subscribe to journal
Immediate online access to all issues from 2019. Subscription will auto renew annually.
US$ 199
This is the net price. Taxes to be calculated in checkout.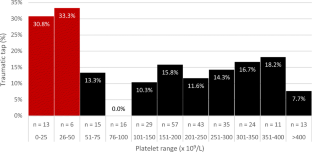 References
1.

Peltola J, Sumelahti ML, Kumpulainen T, Dastidar P, Helen P (1996) Spinal epidural haematoma complicating diagnostic lumbar puncture. Lancet. 347(8994):131

2.

Hart IK, Bone I, Hadley DM (1988) Development of neurological problems after lumbar puncture. Br Med J (Clin Res Ed) 296(6614):51–52

3.

Evans RW (1998) Complications of lumbar puncture. Neurol Clin 16(1):83–105

4.

Estcourt LJ, Malouf R, Hopewell S et al (2018) Use of platelet transfusions prior to lumbar punctures or epidural anaesthesia for the prevention of complications in people with thrombocytopenia. Cochrane Database Syst Rev 4:CD011980

5.

Kreppel D, Antoniadis G, Seeling W (2003) Spinal hematoma: a literature survey with meta-analysis of 613 patients. Neurosurg Rev 26(1):1–49

6.

Moen V, Dahlgren N, Irestedt L (2004) Severe neurological complications after central neuraxial blockades in Sweden 1990-1999. Anesthesiology. 101(4):950–959

7.

Leguit RJ, van den Tweel JG (2010) The pathology of bone marrow failure. Histopathology. 57(5):655–670

8.

Levi M, Toh CH, Thachil J, Watson HG (2009) Guidelines for the diagnosis and management of disseminated intravascular coagulation. British Committee for Standards in Haematology. Br J Haematol 145(1):24–33

9.

Neunert CE (2013) Current management of immune thrombocytopenia. Hematology Am Soc Hematol Educ Program 2013:276–282

10.

Howard SC, Gajjar A, Ribeiro RC, Rivera GK, Rubnitz JE, Sandlund JT, Harrison PL, de Armendi A, Dahl GV, Pui CH (2000) Safety of lumbar puncture for children with acute lymphoblastic leukemia and thrombocytopenia. JAMA. 284(17):2222–2224

11.

Foerster MV, Pedrosa Fde P, da Fonseca TC et al (2015) Lumbar punctures in thrombocytopenic children with cancer. Paediatr Anaesth 25(2):206–210

12.

Ning S, Kerbel B, Callum J, Lin Y (2016) Safety of lumbar punctures in patients with thrombocytopenia. Vox Sang 110(4):393–400

13.

Vavricka SR, Walter RB, Irani S, Halter J, Schanz U (2003) Safety of lumbar puncture for adults with acute leukemia and restrictive prophylactic platelet transfusion. Ann Hematol 82(9):570–573

14.

Howard SC, Gajjar AJ, Cheng C, Kritchevsky SB, Somes GW, Harrison PL, Ribeiro RC, Rivera GK, Rubnitz JE, Sandlund JT, de Armendi AJ, Razzouk BI, Pui CH (2002) Risk factors for traumatic and bloody lumbar puncture in children with acute lymphoblastic leukemia. JAMA. 288(16):2001–2007

15.

Veen JJ, Vora AJ, Welch JC (2004) Lumbar puncture in thrombocytopenic children. Br J Haematol 127(2):233–234 author reply 234-235

16.

Ruff RL, Dougherty JH Jr (1981) Complications of lumbar puncture followed by anticoagulation. Stroke. 12(6):879–881

17.

Edelson RN, Chernik NL, Posner JB (1974) Spinal subdural hematomas complicating lumbar puncture. Arch Neurol 31(2):134–137

18.

Shah KH, Richard KM, Nicholas S et al (2003) Incidence of traumatic lumbar puncture. Acad Emerg Med 10(2):151–154

19.

Kaufman RM, Djulbegovic B, Gernsheimer T, Kleinman S, Tinmouth AT, Capocelli KE, Cipolle MD, Cohn CS, Fung MK, Grossman BJ, Mintz PD, O'Malley BA, Sesok-Pizzini DA, Shander A, Stack GE, Webert KE, Weinstein R, Welch BG, Whitman GJ, Wong EC, Tobian AAR (2015) Platelet transfusion: a clinical practice guideline from the AABB. Ann Intern Med 162(3):205–213

20.

British Committee for Standards in Haematology BTTF (2003) Guidelines for the use of platelet transfusions. Br J Haematol 122(1):10–23

21.

(2009) 2 Platelet Concentrates. Transfus Med Hemother 36(6):372–382

22.

Gibson BE, Todd A, Roberts I, Pamphilon D, Rodeck C, Bolton-Maggs P, Burbin G, Duguid J, Boulton F, Cohen H, Smith N, McClelland D, Rowley M, Turner G, British Commitee for Standards in Haematology Transfusion Task Force: Writing group (2004) Transfusion guidelines for neonates and older children. Br J Haematol 124(4):433–453

23.

Narayan S (2019) The 2018 Annual SHOT Report. United Kingdom

24.

Gorgone M, McNichols B, Lang VJ, Novak W, O'Connor AB (2018) The procedure coordinator: a resident-driven initiative to increase opportunity for inpatient procedures. J Grad Med Educ 10(5):583–586

25.

Ruell J, Karuvattil R, Wynn R, Will A (2007) Platelet count has no influence on traumatic and bloody lumbar puncture in children undergoing intrathecal chemotherapy. Br J Haematol 136(2):347–348
Ethics declarations
Conflict of interest
The authors declare that they have no conflict of interest.
Ethical approval
All procedures followed were in accordance with the ethical standards of the responsible committee on human experimentation (institutional and national) and with the Helsinki Declaration of 1975, as revised in 2008.
Additional information
Publisher's note
Springer Nature remains neutral with regard to jurisdictional claims in published maps and institutional affiliations.
About this article
Cite this article
Portuguese, A.J., Rothberg, A., Gorgone, M. et al. Safety of bedside lumbar puncture in adult patients with thrombocytopenia. Ann Hematol 99, 1755–1762 (2020). https://doi.org/10.1007/s00277-020-04148-6
Received:

Accepted:

Published:

Issue Date:
Keywords
Lumbar puncture

Thrombocytopenia

Traumatic tap

Platelet transfusion

Hemostasis