This is a preview of subscription content, log in to check access.
Access options
Buy single article
Instant access to the full article PDF.
US$ 39.95
Price includes VAT for USA
Subscribe to journal
Immediate online access to all issues from 2019. Subscription will auto renew annually.
US$ 199
This is the net price. Taxes to be calculated in checkout.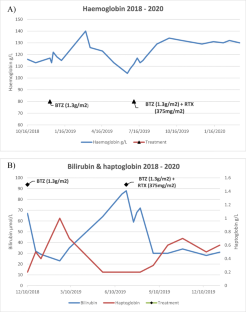 References
1.

Chen M, Zhuang J, Yang C, Zhang L, Wang W, Cai H, Yu Y, Li J, Zhou D, Han B (2020) Rapid response to a single-dose rituximab combined with bortezomib in refractory and relapsed warm autoimmune hemolytic anemia. Ann Hematol 99:1141–1143

2.

Fadlallah J, Michel M, Crickx E, Limal N, Costedoat N, Malphettes M, Fieschi C, Galicier L, Oksenhendler E, Godeau B, Audia S, Mahévas M (2019) Bortezomib and dexamethasone, an original approach for treating multi-refractory warm autoimmune haemolytic anaemia. Br J Haematol 187:124–128

3.

Knight T, Ravindranath Y, Callaghan MU (2020) Successful treatment of an adolescent male with severe refractory evans syndrome using bortezomib-based. Therapy J Pediatr Hematol Oncol 42:110–113
Ethics declarations
Conflict of interest
The authors declare that they have no conflict of interest.
Informed consent
The patient gave written consent for her case to be published on a medical journal.
Additional information
Publisher's note
Springer Nature remains neutral with regard to jurisdictional claims in published maps and institutional affiliations.
About this article
Cite this article
Ames, P.R.J., Jeffrey, S. Bortezomib and rituximab in multiply relapsed primary warm autoimmune hemolytic anemia. Ann Hematol (2020). https://doi.org/10.1007/s00277-020-04135-x
Received:

Accepted:

Published: