Abstract
The overall outcome of patients with advanced-stage follicular lymphoma (FL) has improved significantly. However, some patients still develop multiple relapsed/refractory FL (RRFL). To address the still-limited data on this population, we performed this multi-center retrospective study. We analyzed 41 patients who received third-line treatment for RRFL at 8 institutes. The median age at diagnosis was 59 years (range, 38–70). The median progression-free survival (PFS) and probability of PFS at 2 years were 1.61 years and 39.4%, respectively, after third-line chemotherapy, and 0.45 years and 19.0%, respectively, after fourth-line chemotherapy. Objective response (OR) after third-line chemotherapy was achieved in 24 patients (53.7%). Bendamustine (Ben)-based regimens were associated with a significantly higher OR rate than other regimens (77.8% vs. 40.0%, respectively, P = 0.025). The median overall survival (OS) and probability of OS at 2 years were 4.71 years and 65.9%, respectively, after third-line chemotherapy, and 1.01 year and 45.1%, respectively, after fourth-line chemotherapy. In conclusion, this study had a small sample size and retrospective design, but it was able to demonstrate poor response rate and duration in patients with multiple RRFL, particularly after fourth-line chemotherapy. The optimal treatment strategy in this population should be clarified, including possibly hematopoietic stem cell transplantation.
This is a preview of subscription content, log in to check access.
Access options
Buy single article
Instant access to the full article PDF.
US$ 39.95
Price includes VAT for USA
Subscribe to journal
Immediate online access to all issues from 2019. Subscription will auto renew annually.
US$ 199
This is the net price. Taxes to be calculated in checkout.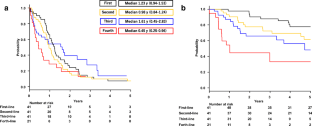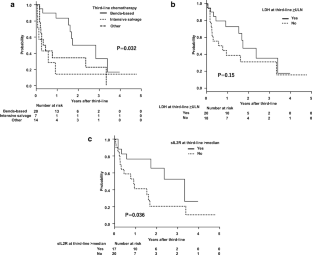 Funding
This study was supported by Health, Labour, and Welfare Science Grants for Research on Measures for Rare and Intractable Diseases from the Japanese Government.
Ethics declarations
Conflict of interest
The authors declare that there is no conflict of interest.
Ethical approval
The study was approved by the institutional review board of the Osaka International Cancer Institute in Osaka, Japan.
Informed consent
Informed consent was obtained from all individual participants included in the study.
Additional information
Publisher's note
Springer Nature remains neutral with regard to jurisdictional claims in published maps and institutional affiliations.
About this article
Cite this article
Fuji, S., Tada, Y., Nozaki, K. et al. A multi-center retrospective analysis of patients with relapsed/refractory follicular lymphoma after third-line chemotherapy. Ann Hematol (2020). https://doi.org/10.1007/s00277-020-04126-y
Received:

Accepted:

Published:
Keywords
Follicular lymphoma

Relapse

Hematopoietic stem cell transplantation

Bendamustine