Access options
Buy single article
Instant access to the full article PDF.
US$ 39.95
Tax calculation will be finalised during checkout.
Subscribe to journal
Immediate online access to all issues from 2019. Subscription will auto renew annually.
US$ 119
Tax calculation will be finalised during checkout.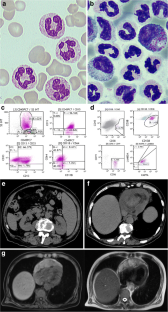 References
1.

Maxson JE, Gotlib J, Pollyea DA, Fleischman AG, Agarwal A, Eide CA, Bottomly D, Wilmot B, McWeeney SK, Tognon CE, Pond JB, Collins RH, Goueli B, Oh ST, Deininger MW, Chang BH, Loriaux MM, Druker BJ, Tyner JW (2013) Oncogenic CSF3R mutations in chronic neutrophilic leukemia and atypical CML. N Engl J Med 368:1781–1790

2.

Bain BJ, Ahmad S (2015) Chronic neutrophilic leukaemia and plasma cell-related neutrophilic leukaemoid reactions. Br J Haematol 171(3):400–410

3.

Maxson JE, Tyner JW (2017) Genomics of chronic neutrophilic leukemia. Blood 129(6):715–722

4.

Caponetti GC, Bagg A (2019) Genetic studies in the evaluation of myeloproliferative neoplasms. Semin Hematol 56(1):7–14

5.

Xie W, Xu J (2019) Neutrophilic leukemoid reaction associated with plasma cell neoplasm mimicking chronic neutrophilic leukemia. Blood 133(2):182

6.

Stevens B, Maxson J, Tyner J, Smith CA, Gutman JA, Robinson W, Jordan CT, Lee CK, Swisshelm K, Tobin J, Wei Q, Schowinsky J, Rinella S, Lee HG, Pollyea DA (2016) Clonality of neutrophilia associated with plasma cell neoplasms: report of a SETBP1 mutation and analysis of a single institution series. Leuk Lymphoma 57(4):927–934

7.

Arber DA, Orazi A, Hasserjian R, Thiele J, Borowitz MJ, Le Beau MM, Bloomfield CD, Cazzola M, Vardiman JW (2016) The 2016 revision to the World Health Organization classification of myeloid neoplasms and acute leukemia. Blood 127(20):2391–2405

8.

Venugopal S, Mascarenhas J (2019) Chronic neutrophilic leukemia: current and future perspectives. Clin Lymphoma Myeloma Leuk 19(3):129–134
Ethics declarations
Ethical approval
All procedures performed in studies involving human participants were in accordance with the ethical standards of the institutional and/or national research committee and with the 1964 Helsinki declaration and its later amendments or comparable ethical standards.
Informed consent
Informed consent was obtained from the patient included in the study.
Conflict of interest
The authors declare that they have no conflict of interest.
Additional information
Publisher's note
Springer Nature remains neutral with regard to jurisdictional claims in published maps and institutional affiliations.
About this article
Cite this article
Han, Q., Tao, L., Jiang, X. et al. An atypical chronic neutrophilic leukemia patient harboring ASXL1 and NRAS mutations associated with monoclonal plasma cell dyscrasia presenting as hemopericardium. Ann Hematol 100, 273–275 (2021). https://doi.org/10.1007/s00277-020-03961-3
Received:

Accepted:

Published:

Issue Date: