Abstract
Infections by multidrug-resistant (MDR) bacteria are a worrisome phenomenon in hematological patients. Data on the incidence of MDR colonization and related bloodstream infections (BSIs) in haematological patients are scarce. A multicentric prospective observational study was planned in 18 haematological institutions during a 6-month period. All patients showing MDR rectal colonization as well as occurrence of BSI at admission were recorded. One-hundred forty-four patients with MDR colonization were observed (6.5% of 2226 admissions). Extended spectrum beta-lactamase (ESBL)-producing (ESBL-P) enterobacteria were observed in 64/144 patients, carbapenem-resistant (CR) Gram-negative bacteria in 85/144 and vancomycin-resistant enterococci (VREs) in 9/144. Overall, 37 MDR-colonized patients (25.7%) developed at least one BSI; 23 of them (62.2%, 16% of the whole series) developed BSI by the same pathogen (MDRrel BSI), with a rate of 15.6% (10/64) for ESBL-P enterobacteria, 14.1% (12/85) for CR Gram-negative bacteria and 11.1% (1/9) for VRE. In 20/23 cases, MDRrel BSI occurred during neutropenia. After a median follow-up of 80 days, 18 patients died (12.5%). The 3-month overall survival was significantly lower for patients colonized with CR Gram-negative bacteria (83.6%) and VRE (77.8%) in comparison with those colonized with ESBL-P enterobacteria (96.8%). CR-rel BSI and the presence of a urinary catheter were independent predictors of mortality. MDR rectal colonization occurs in 6.5% of haematological inpatients and predicts a 16% probability of MDRrel BSI, particularly during neutropenia, as well as a higher probability of unfavourable outcomes in CR-rel BSIs. Tailored empiric antibiotic treatment should be decided on the basis of colonization.
Access options
Buy single article
Instant access to the full article PDF.
US$ 39.95
Tax calculation will be finalised during checkout.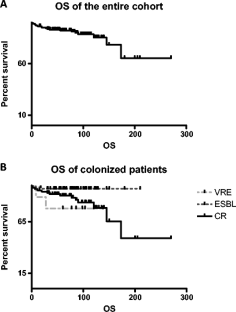 References
1.

Rice LB (2008) Federal funding for the study of antimicrobial resistance in nosocomial pathogens: no ESKAPE. J Infect Dis 197(8):1079–1081. https://doi.org/10.1086/533452

2.

Zarkotou O, Pournaras S, Tselioti P, Dragoumanos V, Pitiriga V, Ranellou K, Prekates A, Themeli-Digalaki K, Tsakris A (2011) Predictors of mortality in patients with bloodstream infections caused by KPC-producing Klebsiella pneumoniae and impact of appropriate antimicrobial treatment. Clin Microbiol Infect 17(12):1798–1803. https://doi.org/10.1111/j.1469-0691.2011.03514

3.

Tumbarello M, Viale P, Viscoli C, Trecarichi EM, Tumietto F, Marchese A, Spanu T, Ambretti S, Ginocchio F, Cristini F, Losito AR, Tedeschi S, Cauda R, Bassetti M (2012) Predictors of mortality in bloodstream infections caused by Klebsiella pneumoniae carbapenemase-producing K. pneumoniae: importance of combination therapy. Clin Infect Dis 55(7):943–950. https://doi.org/10.1093/cid/cis588

4.

Girmenia C, Viscoli C, Piciocchi A, Cudillo L, Botti S, Errico A, Sarmati L, Ciceri F, Locatelli F, Giannella M, Bassetti M, Tascini C, Lombardini L, Majolino I, Farina C, Luzzaro F, Rossolini GM, Rambaldi A (2015) Management of carbapenem resistant Klebsiella pneumoniae infections in stem cell transplant recipients: an Italian multidisciplinary consensus statement. Haematologica 100(9):e373–e376. https://doi.org/10.3324/haematol.2015

5.

Gudiol C, Tubau F, Calatayud L, Garcia-Vidal C, Cisnal M, Sánchez-Ortega I, Duarte R, Calvo M, Carratalà J (2011) Bacteraemia due to multidrug-resistant Gram-negative bacilli in cancer patients: risk factors, antibiotic therapy and outcomes. J Antimicrob Chemother 66(3):657–663. https://doi.org/10.1093/jac/dkq494

6.

Rodríguez-Baño J, Picón E, Hernández JR, Cisneros JM, Peña C, Almela M, Almirante B, Grill F, Colomina J, Molinos S, Oliver A, Fernández-Mazarrasa C, Navarro G, Coloma A, López-Cerero L, Pascual A (2010) Risk factors and prognosis of nosocomial bloodstream infections caused by extended-spectrum-beta-lactamase-producing Escherichia coli. J Clin Microbiol 48(5):1726–1731. https://doi.org/10.1128/JCM.02353-09

7.

Girmenia C, Rossolini GM, Piciocchi A, Bertaina A, Pisapia G, Pastore D, Sica S, Severino A, Cudillo L, Ciceri F, Scimè R, Lombardini L, Viscoli C, Rambaldi A (2015) Infections by carbapenem-resistant Klebsiella pneumoniae in SCT recipients: a nationwide retrospective survey from Italy. Bone Marrow Transplant 50(2):282–288. https://doi.org/10.1038/bmt.2014.231

8.

Pagano L, Caira M, Trecarichi EM, Spanu T, Di Blasi R, Sica S, Sanguinetti M, Tumbarello M (2014) Carbapenemase-producing Klebsiella pneumoniae and hematologic malignancies. Emerg Infect Dis 20(7):1235–1236. https://doi.org/10.3201/eid2007.130094

9.

Trecarichi EM, Pagano L, Candoni A, Pastore D, Cattaneo C, Fanci R, Nosari A, Caira M, Spadea A, Busca A, Vianelli N, Tumbarello M (2015) Current epidemiology and antimicrobial resistance data for bacterial bloodstream infections in patients with hematologic malignancies: an Italian multicentre prospective survey. Clin Microbiol Infect 21(4):337–343. https://doi.org/10.1016/j.cmi.2014.11.022

10.

Weinstock DM, Conlon M, Iovino C, Aubrey T, Gudiol C, Riedel E, Young JW, Kiehn TE, Zuccotti G (2007) Colonization, bloodstream infection, and mortality caused by vancomycin-resistant enterococcus early after allogeneic hematopoietic stem cell transplant. Biol Blood Marrow Transplant 13(5):615–621

11.

Gedik H, Yıldırmak T, Simşek F, Kantürk A, Arıca D, Aydın D, Yokuş O, Demirel N, Arabacı C (2014) Vancomycin-resistant enterococci colonization and bacteremia in patients with hematological malignancies. J Infect Dev Ctries 8(9):1113–1118. https://doi.org/10.4314/ahs.v14i4.18

12.

Vehreschild MJ, Hamprecht A, Peterson L, Schubert S, Häntschel M, Peter S, Schafhausen P, Rohde H, Lilienfeld-Toal MV, Bekeredjian-Ding I, Libam J, Hellmich M, Vehreschild JJ, Cornely OA, Seifert H (2014) A multicenter cohort study on colonization and infection with ESBL-producing Enterobacteriaceae in high-risk patients with haematological malignancies. J Antimicrob Chemother 69(12):3387–3392. https://doi.org/10.1093/jac/dku305

13.

14.

Magiorakos AP, Srinivasan A, Carey RB, Carmeli Y, Falagas ME, Giske CG, Harbarth S, Hindler JF, Kahlmeter G, Olsson-Liljequist B, Paterson DL, Rice LB, Stelling J, Struelens MJ, Vatopoulos A, Weber JT, Monnet DL (2012) Multidrug-resistant, extensively drug-resistant and pandrug-resistant bacteria: an international expert proposal for interim standard definitions for acquired resistance. Clin Microbiol Infect 18:268–281. https://doi.org/10.1111/j.1469-0691.2011.03570.x

15.

Liss BJ, Vehreschild JJ, Cornely OA, Hallek M, Fätkenheuer G, Wisplinghoff H, Seifert H, Vehreschild MJ (2012) Intestinal colonisation and blood stream infections due to vancomycin-resistant enterococci (VRE) and extended-spectrum beta-lactamase-producing Enterobacteriaceae (ESBLE) in patients with haematological and oncological malignancies. Infection 40(6):613–619. https://doi.org/10.1007/s15010-012-0269-y

16.

Reddy P, Malczynski M, Obias A, Reiner S, Jin N, Huang J, Noskin GA, Zembower T (2007) Screening for extended-spectrum beta-lactamase-producing Enterobacteriaceae among high-risk patients and rates of subsequent bacteremia. Clin Infect Dis 45(7):846–852

17.

Alevizakos M, Karanika S, Detsis M, Mylonakis E (2016) Colonisation with extended-spectrum β-lactamase-producing Enterobacteriaceae and risk for infection among patients with solid or haematological malignancy: a systematic review and meta-analysis. Int J Antimicrob Agents 48(6):647–654. https://doi.org/10.1016/j.ijantimicag.2016.08.021

18.

Zaas AK, Song X, Tucker P, Perl TM (2002) Risk factors for development of vancomycin-resistant enterococcal bloodstream infection in patients with cancer who are colonized with vancomycin-resistant enterococci. Clin Infect Dis 35(10):1139–1146

19.

Cornejo-Juárez P, Suárez-Cuenca JA, Volkow-Fernández P, Silva-Sánchez J, Barrios-Camacho H, Nájera-León E, Velázquez-Acosta C, Vilar-Compte D (2016) Fecal ESBL Escherichia coli carriage as a risk factor for bacteremia in patients with hematological malignancies. Support Care Cancer 24(1):253–259

20.

Cattaneo C, Zappasodi P, Mancini V, Annaloro C, Pavesi F, Skert C, Ferrario A, Todisco E, Saccà V, Verga L, Passi A, Da Vià M, Ferrari S, Mometto G, Petullà M, Nosari A, Rossi G (2016) Emerging resistant bacteria strains in bloodstream infections of acute leukaemia patients: results of a prospective study by the Rete Ematologica Lombarda (Rel). Ann Hematol 95(12):1955–1963

21.

Trecarichi EM, Pagano L, Martino B, Candoni A, Di Blasi R, Nadali G, Fianchi L, Delia M, Sica S, Perriello V, Busca A, Aversa F, Fanci R, Melillo L, Lessi F, Del Principe MI, Cattaneo C, Tumbarello M (2016) Bloodstream infections caused by Klebsiella pneumoniae in onco-hematological patients: clinical impact of carbapenem resistance in a multicentre prospective survey. Am J Hematol 91(11):1076–1081. https://doi.org/10.1002/ajh.24489
Acknowledgments
On behalf of SEIFEM Group, Angela Passi, Doriana Gramegna (Haematology, Spedali Civili, Brescia, Italy); Domenico Russo (Chair of Haematology, Unit of Blood Diseases and Stem Cell Transplantation, University of Brescia, Brescia, Italy); Davide Lazzarotto (Division of Haematology and Stem Cell Transplantation, University Hospital of Udine, Udine, Italy); Domenico Rotilio (Haematology Unit, Bianchi-Melacrino-Morelli Hospital, Reggio Calabria, Italy); Maria Rosaria De Paolis, UOC di Ematologia e Trapianto di Cellule Staminali", PO "Vito Fazzi" Lecce); Edoardo Simonetti, Maria Alessandra Innocente (Institute of Haematology and Stem Cell transplantation, Ospedale Santa Maria della Misericordia, University of Perugia, Italy); Antonio Spadea (Haematology and Stem Cell Transplantation Unit, Regina Elena National Cancer Institute, Rome, Italy); Francesco Mazziotta (Haematology Unit, Azienda Ospedaliero-Universitaria Pisana, Ospedale Santa Chiara, Pisa, Italy); Anna Pegoraro (Pediatric Haematology Oncology), Giuliana Lo Cascio (Microbiology and Virology) (Azienda Ospedaliera Universitaria integrata, Verona, Italy); Angelica Spolzino (Haematology and BMT Unit, Azienda Ospedaliero-Universitaria di Parma, Parma, Italy); Gloria Turri (Section of Haematology, Department of Clinical and Experimental Medicine, University of Verona, Italy); Barbara Veggia (UOC Ematologia Azienda Ospedaliera S. Giovanni Addolorata, Rome, Italy).
Ethics declarations
The study was approved by the ethics committee of each of the participating institutions, and informed consent was obtained from all patients for being included in the study. The procedures followed were in accordance with the ethical standards of the responsible committee on human experimentation (institutional and national) and with the Helsinki Declaration of 1975, as revised in 2000.
Conflict of interest
The authors declare that they have no conflict of interest.
About this article
Cite this article
Cattaneo, C., Di Blasi, R., Skert, C. et al. Bloodstream infections in haematological cancer patients colonized by multidrug-resistant bacteria. Ann Hematol 97, 1717–1726 (2018). https://doi.org/10.1007/s00277-018-3341-6
Received:

Accepted:

Published:

Issue Date:
Keywords
Haematologic patients

Multidrug-resistant bacteria

Colonization

Bloodstream infections