Access options
Buy single article
Instant access to the full article PDF.
USD 39.95
Price includes VAT (USA)
Tax calculation will be finalised during checkout.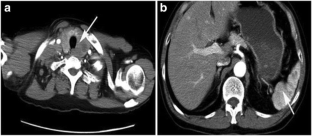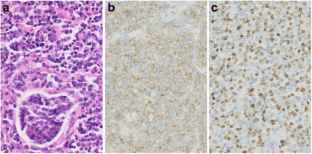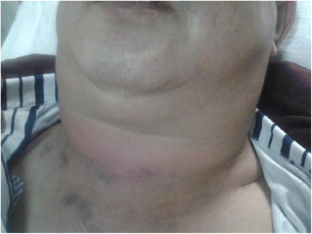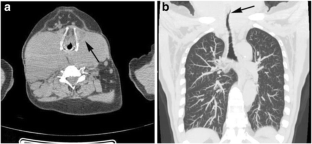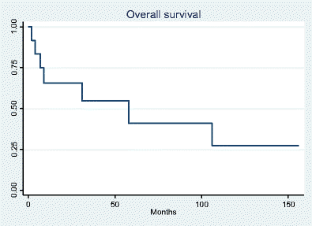 References
1.

Van Dongen J, Langerak A, Brüggemann M, Evans P, Hummel M, Lavender F et al (2003) Design and standardization of PCR primers and protocols for detection of clonal immunoglobulin and T-cell receptor gene recombinations in suspect lymphoproliferations: report of the BIOMED-2 Concerted Action BMH4-CT98-3936. Leukemia 17(12):2257–2317. https://doi.org/10.1038/sj.leu.2403202

2.

Cheng V, Brainard J, Nasr C (2012) Co-occurrence of papillary thyroid carcinoma and primary lymphoma of the thyroid in a patient with long-standing Hashimoto's thyroiditis. Thyroid 22(6):647–650. https://doi.org/10.1089/thy.2011.0228

3.

Reid-Nicholson M, Moreira A, Ramalingam P (2008) Cytologic features of mixed papillary carcinoma and chronic lymphocytic leukemia/small lymphocytic lymphoma of the thyroid gland. Diagn Cytopathol 36(11):813–817. https://doi.org/10.1002/dc.20894

4.

Graff-Baker A, Roman SA, Thomas DC, Udelsman R, Sosa JA (2009) Prognosis of primary thyroid lymphoma: demographic, clinical, and pathologic predictors of survival in 1,408 cases. Surgery 146(6):1105–1115. https://doi.org/10.1016/j.surg.2009.09.020

5.

Yoshino T, Omonishi K, Kobayashi K, Mannami T, Okada H, Mizuno M, Yamadori I, Kondo E, Akagi T (2000) Clinicopathological features of gastric mucosa associated lymphoid tissue (MALT) lymphomas: high grade transformation and comparison with diffuse large B cell lymphomas without MALT lymphoma features. J Clin Pathol 53(3):187–190. https://doi.org/10.1136/jcp.53.3.187

6.

Hiyama T, Haruma K, Kitadai Y, Masuda H, Miyamoto M, Ito M, Kamada T, Tanaka S, Uemura N, Yoshihara M, Sumii K, Shimamoto F, Chayama K (2001) Clinicopathological features of gastric mucosa-associated lymphoid tissue lymphoma: a comparison with diffuse large B-cell lymphoma without a mucosa-associated lymphoid tissue lymphoma component. J Gastroenterol Hepatol 16(7):734–739. https://doi.org/10.1046/j.1440-1746.2001.02519.x

7.

Ferreri AJ, Freschi M, Dell'Oro S, Viale E, Villa E, Ponzoni M (2001) Prognostic significance of the histopathologic recognition of low-and high-grade components in stage I-II B-cell gastric lymphomas. Am J Surg Pathol 25(1):95–102. https://doi.org/10.1097/00000478-200101000-00011

8.

Koch P, Probst A, Berdel WE, Willich NA, Reinartz G, Brockmann J, Liersch R, del Valle F, Clasen H, Hirt C, Breitsprecher R, Schmits R, Freund M, Fietkau R, Ketterer P, Freitag EM, Hinkelbein M, Heinecke A, Parwaresch R, Tiemann M (2005) Treatment results in localized primary gastric lymphoma: data of patients registered within the German multicenter study (GIT NHL 02/96). J Clin Oncol 23(28):7050–7059. https://doi.org/10.1200/JCO.2005.04.031

9.

Bacon CM, Du M-Q, Dogan A (2007) Mucosa-associated lymphoid tissue (MALT) lymphoma: a practical guide for pathologists. J Clin Pathol 60(4):361–372. https://doi.org/10.1136/jcp.2005.031146

10.

Sugimoto K-J, Imai H, Shimada A, Wakabayashi M, Sekiguchi Y, Nakamura N, Sawada T, Izumi H, Ota Y, Komatsu N, Noguchi M (2013) Diffuse large B-cell lymphoma of the uterus suspected of having transformed from a marginal zone B-cell lymphoma harboring trisomy 18: a case report and review of the literature. Int J Clin Exp Pathol 6(12):2979–2988

11.

Martín PE, Fernández AM, Ortega LM, Acevedo A (1993) Composite gastric lymphoma: MALT gastric lymphoma associated with Hodgkin's disease. Revista espanola de enfermedades digestivas: organo oficial de la Sociedad Espanola de Patologia Digestiva 84:46–49

12.

Aguilera NS, Howard LN, Brissette MD, Abbondanzo SL (1996) Hodgkin's disease and an extranodal marginal zone B-cell lymphoma in the small intestine: an unusual composite lymphoma. Mod Pathol 9:1020–1026

13.

Shimizu K, Hara K, Yatabe Y (1999) Hodgkin's disease following extranodal marginal zone B-cell lymphoma in remission. Int J Hematol 69(2):96–100

14.

Zettl A, Rüdiger T, Marx A, Müller-Hermelink H, Ott G (2005) Composite marginal zone B-cell lymphoma and classical Hodgkin's lymphoma: a clinicopathological study of 12 cases. Histopathology 46(2):217–228. https://doi.org/10.1111/j.1365-2559.2005.02046.x

15.

Oka K, Nagayama R, Yonekawa N, Nihei T, Sando N, Yatabe Y, Mori N (2012) Concurrent gastric MALT and Hodgkin lymphoma: a case report. Int J Surg Pathol 20(2):199–202. https://doi.org/10.1177/1066896911417242

16.

Zeidan A, Faltas B, Forde P, Subhawong A, Bello C, Bolaños-Meade J (2013) Sequential occurrence of a splenic marginal zone lymphoma, extranodal MALT lymphoma, and Hodgkin lymphoma. Clin Lymphoma Myeloma Leuk 13(4):496–498. https://doi.org/10.1016/j.clml.2013.04.004

17.

Isaacson PG (1999) Mucosa-associated lymphoid tissue lymphoma. Semin Hematol, 139–47

18.

Zucca E, Bertoni F, Roggero E, Cavalli F (2000) The gastric marginal zone B-cell lymphoma of MALT type. Blood 96(2):410–419

19.

Starostik P, Patzner J, Greiner A, Schwarz S, Kalla J, Ott G, Müller-Hermelink HK (2002) Gastric marginal zone B-cell lymphomas of MALT type develop along 2 distinct pathogenetic pathways. Blood 99(1):3–9. https://doi.org/10.1182/blood.V99.1.3

20.

Wotherspoon A, Ortiz-Hidalgo C, Falzon M, Isaacson P (1991) Helicobacter pylori-associated gastritis and primary B-cell gastric lymphoma. Lancet 338(8776):1175–1176. https://doi.org/10.1016/0140-6736(91)92035-Z

21.

de Leval L, Vivario M, De Prijck B, Zhou Y, Boniver J, Harris NL et al (2004) Distinct clonal origin in two cases of Hodgkin's lymphoma variant of Richter's syndrome associated with EBV infection. Am J Surg Pathol 28(5):679–686. https://doi.org/10.1097/00000478-200405000-00018

22.

Marafioti T, Hummel M, Anagnostopoulos I, Foss H-D, Huhn D, Stein H (1999) Classical Hodgkin's disease and follicular lymphoma originating from the same germinal center B cell. J Clin Oncol 17(12):3804–3809. https://doi.org/10.1200/JCO.1999.17.12.3804

23.

Bennett M, MacLennan K, Hudson GV, Hudson BV (1991) Non-Hodgkin's lymphoma arising in patients treated for Hodgkin's disease in the BNLI: a 20-year experience. Ann Oncol, 83–92

24.

Kim H, Hendrickson MR, Dorfman RF (1977) Composite lymphoma. Cancer 40(3):959–976. https://doi.org/10.1002/1097-0142(197709)40:3<959::AID-CNCR2820400302>3.0.CO;2-3

25.

Szczepanowski M, Masqué-Soler N, Oschlies I, Schmidt W, Lück A, Klapper W (2013) Composite lymphoma of nodular lymphocyte–predominant and classical Hodgkin lymphoma—Epstein-Barr virus association suggests divergent pathogenesis despite clonal relatedness. Hum Pathol 44(7):1434–1439. https://doi.org/10.1016/j.humpath.2012.11.018

26.

Steinhoff M, Assaf C, Anagnostopoulos I, Geilen C, Stein H, Hummel M (2006) Three coexisting lymphomas in one patient: genetically related or only a coincidence? J Clin Pathol 59(12):1312–1315. https://doi.org/10.1136/jcp.2005.030825

27.

Bellan C, Lazzi S, Zazzi M, Lalinga AV, Palummo N, Galieni P, Marafioti T, Tonini T, Cinti C, Leoncini L, Pileri SA, Tosi P (2002) Immunoglobulin gene rearrangement analysis in composite hodgkin disease and large B-cell lymphoma: evidence for receptor revision of immunoglobulin heavy chain variable region genes in Hodgkin-Reed-Sternberg cells? Diagn Mol Pathol 11(1):2–8. https://doi.org/10.1097/00019606-200203000-00002

28.

Rosenquist R, Menestrina F, Lestani M, Küppers R, Hansmann M-L, Bräuninger A (2004) Indications for peripheral light-chain revision and somatic hypermutation without a functional B-cell receptor in precursors of a composite diffuse large B-cell and Hodgkin's lymphoma. Lab Investig 84(2):253–262. https://doi.org/10.1038/labinvest.3700025
Acknowledgements
Help from Pro. Dan Li (Department of Pathology, Faculty of Basic Medicine, Chongqing Medical University) for immunohistochemical staining is gratefully acknowledged.
Ethics declarations
Conflict of interest
The authors declare that they have no conflict of interest.
About this article
Cite this article
Wang, Q., Zhu, Y., Li, D. et al. Concurrent mucosa-associated lymphoid tissue lymphoma with diffuse large B-cell lymphoma transformation and Hodgkin lymphoma of the neck. Ann Hematol 97, 1089–1094 (2018). https://doi.org/10.1007/s00277-018-3271-3
Received:

Accepted:

Published:

Issue Date: