Abstract
The persisting primitive olfactory artery (PPOA) is a rare anatomic variation of the anterior cerebral artery (ACA), being encountered in less than 1% of cases. Different morphological types were reported previously. In type 3, only once reported previously, the PPOA gives off two branches, a nasal one which courses in the olfactory sulcus to supply the territory of the anterior ethmoidal artery, and the callosomarginal artery. It is reported here a combination of rare anatomic variants found in a 71-year-old male patient investigated by computed tomography angiography. A left PPOA left the A1 segment of the ACA and was classified as subtype 3b, as its branches were the nasal one and a frontal trunk, not the callosomarginal artery. That PPOA had a characteristic hairpin turn applied on the anterior fossa floor. The ACA continued as azygos pericallosal artery, which is also a rare finding. As the nasal branch of the PPOA and its hairpin turn is closely related to the anterior fossa floor, such variant should be carefully documented when combined approaches of the skull base are planned by rhinologists and neurosurgeons.
We're sorry, something doesn't seem to be working properly.
Please try refreshing the page. If that doesn't work, please contact support so we can address the problem.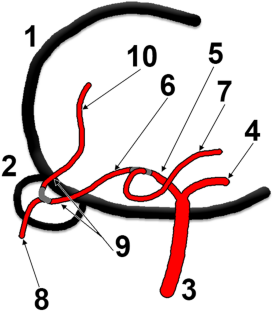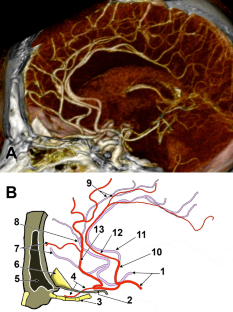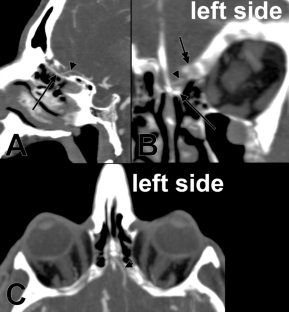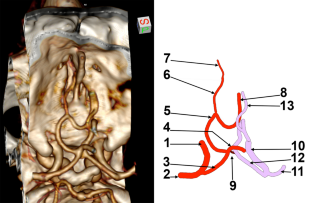 References
1.

Cinnamon J, Zito J, Chalif DJ, Gorey MT, Black KS, Scuderi DM, Hyman RA (1992) Aneurysm of the azygos pericallosal artery: diagnosis by MR imaging and MR angiography. AJNR Am J Neuroradiol 13:280–282

2.

Horie N, Morikawa M, Fukuda S, Hayashi K, Suyama K, Nagata I (2012) New variant of persistent primitive olfactory artery associated with a ruptured aneurysm. J Neurosurg 117:26–28. https://doi.org/10.3171/2012.3.JNS111932

3.

Hosur B, Singh P, Kumar A, Ahuja CK (2018) Persistent primitive olfactory artery: a hairpin easy to miss! BMJ Case Rep 11(1):e22782

4.

Kim MS, Lee GJ (2014) Persistent primitive olfactory artery: CT angiographic diagnosis and literature review for classification and clinical significance. Surg Radiol Anat 36:663–667. https://doi.org/10.1007/s00276-013-1239-5

5.

Komiyama M (2012) Persistent primitive olfactory artery. Surg Radiol Anat 34:97–98. https://doi.org/10.1007/s00276-011-0861-3

6.

Moffat DB (1967) A case of peristence of the primitive olfactory artery. Anat Anz 121:477–479

7.

Rusu MC, Maru N, Radoi PM, Dinca D (2019) Trifurcated external carotid artery and complete gamma-loop of its maxillary branch. Surg Radiol Anat 41:231–234. https://doi.org/10.1007/s00276-018-2142-x

8.

Uchino A, Ohno H, Ogiichi T (2020) Persistent primitive olfactory artery without a hairpin turn. Surg Radiol Anat. https://doi.org/10.1007/s00276-020-02595-4

9.

Uchino A, Saito N, Kozawa E, Mizukoshi W, Inoue K (2011) Persistent primitive olfactory artery: MR angiographic diagnosis. Surg Radiol Anat 33:197–201. https://doi.org/10.1007/s00276-010-0743-0

10.

Vasovic LP (2006) Fetal azygos pericallosal artery. Clin Anat 19:327–331. https://doi.org/10.1002/ca.20189
Ethics declarations
Conflict of interest
The authors declare that they have no conflict of interest.
Additional information
Publisher's Note
Springer Nature remains neutral with regard to jurisdictional claims in published maps and institutional affiliations.
About this article
Cite this article
Rădoi, P.M., Rusu, M.C., Dincă, D. et al. Combined rare anatomic variants: persistent primitive olfactory artery and azygos pericallosal artery. Surg Radiol Anat (2021). https://doi.org/10.1007/s00276-021-02687-9
Received:

Accepted:

Published:
Keywords
Internal carotid artery

Anterior cerebral artery

Cribriform plate of the ethmoid bone

Olfactory tract

Sphenoidal sinus