Abstract
Purpose
The knowledge of variations in the branching patterns of pulmonary artery may have important clinical implications in the field of thoracic surgery.
Methods
At the Department of Thoracic Surgery of Monaldi Hospital in Naples, between January 2017 and December 2019, 569 anatomic pulmonary resections via video-assisted thoracic surgery, including lobectomy and segmentectomy, were performed.
Results
Among the 569 thoracoscopic pulmonary resections, 24 variations in the branching patterns of pulmonary artery were identified and documented. Anatomic variations on the left were more frequent than on the right.
Conclusion
This paper, providing a summary of vascular anomalies identified during major lung resections, could help surgeons avoid intraoperative complications, especially during minimally invasive procedures where the visual field is more restricted than open surgery.
Access options
Buy single article
Instant access to the full article PDF.
US$ 39.95
Tax calculation will be finalised during checkout.
Subscribe to journal
Immediate online access to all issues from 2019. Subscription will auto renew annually.
US$ 79
Tax calculation will be finalised during checkout.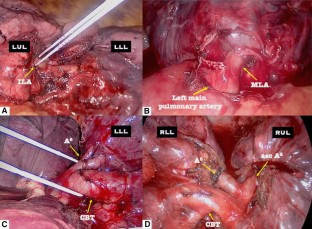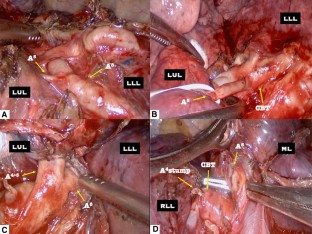 References
1.

Cory RA, Valentine EJ (1959) Varying patterns of the lobar branches of the pulmonary artery. A study of 524 lungs and lobes seen at operation of 426 patients. Thorax 14:267–280

2.

Fourdrain A, De Dominicis F, Blanchard C et al (2018) Three-dimensional CT angiography of anatomic variations in the pulmonary arterial tree. Surg Radiol Anat 40:45–53

3.

Hagiwara M, Shimada Y, Kato Y et al (2014) High-quality 3-dimensional image simulation for pulmonary lobectomy and segmentectomy: results of preoperative assessment of pulmonary vessels and short-term surgical outcomes in consecutive patients undergoing video-assisted thoracic surgery. Eur J Cardiothorac Surg 46:e120–e126

4.

Hong JH, Kim HJ, Han DH, Sung SH, Ahn MI, Jung JI (2015) Arteria praebronchialis found on MDCT: potentially dangerous aberrant artery supplying the left lower lobe. Surg Radiol Anat 37:1021–1026

5.

Mizukami Y, Ueda N, Adachi H (2018) Intraoperative diagnosis with abnormal branching of the left A8 pulmonary artery from the left main pulmonary artery. Surg Case Rep 4:68

6.

Murlimanju BV, Massand A, Madhyastha S, Pai MM, Prabhu LV, Saralaya VV (2017) Anatomical variations of the arrangement of structures at the pulmonary hilum: a cadaveric study. Surg Radiol Anat 39:51–56

7.

Sivrikoz MC, Tulay CM (2011) Variations of lobar branches of pulmonary arteries in thoracic surgery patients. Surg Radiol Anat 33:509–514

8.

Sonoda D, Mikubo M, Shiomi K, Satoh Y (2016) Abnormal branching of the left lingular pulmonary artery diagnosed by three-dimensional computed tomographic angiography in a patient with lung cancer: a case report. J Cardiothorac Surg 11:17

9.

Subotich D, Mandarich D, Milisavljevich M, Branislav F, Nikolich V (2009) Variations of pulmonary vessels: some practical implications for lung resections. Clin Anat 22:698–705
Ethics declarations
Conflict of interest
The authors declare that they have no conflict of interest.
Ethical approval
Ethical approval was waived by the local Ethics Committee of Monaldi Hospital in view of the retrospective nature of the study.
Consent to publication
Written informed consent was obtained from the patients for publication of this study and accompanying images.
Additional information
Publisher's Note
Springer Nature remains neutral with regard to jurisdictional claims in published maps and institutional affiliations.
About this article
Cite this article
Amore, D., Casazza, D., Caterino, U. et al. Variations in the branching patterns of pulmonary artery during thoracoscopic pulmonary resection. Surg Radiol Anat (2021). https://doi.org/10.1007/s00276-021-02677-x
Received:

Accepted:

Published:
Keywords
Pulmonary artery

Variations

Thoracic surgery

Lung resection