Abstract
The aim of this work was to determine reliable anatomical landmarks for locating and preserving the abducens nerves (6th cranial nerves) during trans-facial or trans-nasal endoscopic approaches of skull base tumors involving the clivus and the petrous apex. In order to describe this specific anatomy, we carefully dissected 10 cadaveric heads under optic magnification. Several measurements were taken between the two petro-sphénoidal foramina, from the bottom of the sella and the dorsum sellae. The close relationship between the nerves and the internal carotid artery were taken into account. We defined a trapezoid area that allowed drilling the clivus safely, preserving the 6th cranial nerve while being attentive to the internal carotid artery. The caudal part of this trapezium is, on average, 20 mm long at mi-distance between the two petro-sphenoidal foramina. The cranial part is at the sella level, a line between both paraclival internal carotid arteries. Oblique lateral edges between the cranial and caudal parts completed the trapezium.
This is a preview of subscription content, log in to check access.
Access options
Buy single article
Instant access to the full article PDF.
US$ 39.95
Price includes VAT for USA
Subscribe to journal
Immediate online access to all issues from 2019. Subscription will auto renew annually.
US$ 99
This is the net price. Taxes to be calculated in checkout.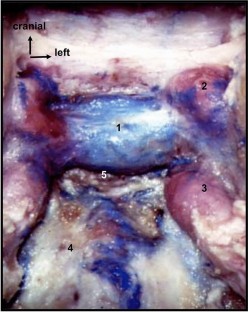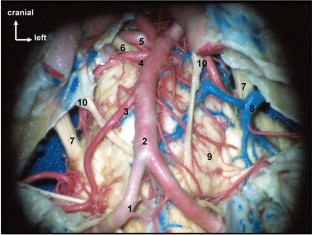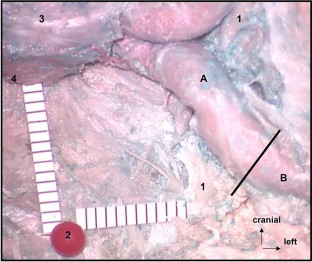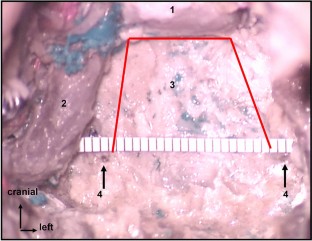 References
1.

Al-Mefty O, Kadri PAS, Hasan DM et al (2008) Anterior clivectomy: surgical technique and clinical applications. J Neurosurg 109:783–793. https://doi.org/10.3171/JNS/2008/109/11/0783

2.

AlQahtani A, Castelnuovo P, Nicolai P et al (2016) Injury of the internal carotid artery during endoscopic skull base surgery: prevention and management protocol. Otolaryngol Clin North Am 49:237–252. https://doi.org/10.1016/j.otc.2015.09.009

3.

Barges-Coll J, Fernandez-Miranda JC, Prevedello DM et al (2010) Avoiding injury to the abducens nerve during expanded endonasal endoscopic surgery: anatomic and clinical case studies. Neurosurgery 67:144–154. https://doi.org/10.1227/01.NEU.0000370892.11284.EA(discussion 154)

4.

Bouthillier A, van Loveren HR, Keller JT (1996) Segments of the internal carotid artery: a new classification. Neurosurgery 38:425–432

5.

Campero A, Campero AA, Martins C et al (2010) Surgical anatomy of the dural walls of the cavernous sinus. J Clin Neurosci 17:746–750. https://doi.org/10.1016/j.jocn.2009.10.015

6.

Catapano D, Sloffer CA, Frank G et al (2006) Comparison between the microscope and endoscope in the direct endonasal extended transsphenoidal approach: anatomical study. J Neurosurg 104:419–425. https://doi.org/10.3171/jns.2006.104.3.419

7.

Chin OY, Ghosh R, Fang CH et al (2016) Internal carotid artery injury in endoscopic endonasal surgery: a systematic review. Laryngoscope 126:582–590. https://doi.org/10.1002/lary.25748

8.

Destrieux C, Velut S, Kakou MK et al (1997) A new concept in Dorello's canal microanatomy: the petroclival venous confluence. J Neurosurg 87:67–72. https://doi.org/10.3171/jns.1997.87.1.0067

9.

Dolci RLL, Ditzel Filho LFS, Goulart CR et al (2018) Anatomical nuances of the internal carotid artery in relation to the quadrangular space. J Neurosurg 128:174–181. https://doi.org/10.3171/2016.10.JNS16381

10.

Ferreira T, Verbist B, van Buchem M et al (2010) Imaging the ocular motor nerves. Eur J Radiol 74:314–322. https://doi.org/10.1016/j.ejrad.2009.05.066

11.

Gardner PA, Tormenti MJ, Pant H et al (2013) Carotid artery injury during endoscopic endonasal skull base surgery: incidence and outcomes. Neurosurgery. https://doi.org/10.1227/01.neu.0000430821.71267.f2

12.

Joo W, Yoshioka F, Funaki T, Rhoton AL Jr (2012) Microsurgical anatomy of the abducens nerve. Clin Anat 25:1030–1042. https://doi.org/10.1002/ca.22047

13.

Kaspera W, Adamczyk P, Ślaska-Kaspera A, Ładziński P (2015) Usefulness of intraoperative monitoring of oculomotor and abducens nerves during surgical treatment of the cavernous sinus meningiomas. Adv Med Sci 60:25–30. https://doi.org/10.1016/j.advms.2014.08.009

14.

Lang J (1991) Anatomy of the posterior skull base. Rivista di Neuroradiologia 4:125–134

15.

Li Z-Y, Li M-C, Liang J-T et al (2017) Usefulness of intraoperative electromyographic monitoring of oculomotor and abducens nerves during skull base surgery. Acta Neurochir 159:1925–1937. https://doi.org/10.1007/s00701-017-3268-z

16.

Miyagi A, Maeda K, Sugawara T (1998) Usefulness of neuroendoscopy and a neuronavigator for removal of clival chordoma. No Shinkei Geka 26:169–175

17.

Nathan H, Ouaknine G, Kosary IZ (1974) The abducens nerve. Anatomical variations in its course. J Neurosurg 41:561–566. https://doi.org/10.3171/jns.1974.41.5.0561

18.

Ono K, Arai H, Endo T et al (2004) Detailed MR imaging anatomy of the abducent nerve: evagination of CSF into Dorello canal. Am J Neuroradiol 25:623–626

19.

Oostra A, van Furth W, Georgalas C (2012) Extended endoscopic endonasal skull base surgery: from the sella to the anterior and posterior cranial fossa. ANZ J Surg 82:122–130. https://doi.org/10.1111/j.1445-2197.2011.05971.x

20.

Ozer E, Icke C, Arda N (2010) Microanatomical study of the intracranial abducens nerve: clinical interest and surgical perspective. Turk Neurosurg 20:449–456. https://doi.org/10.5137/1019-5149.JTN.3303-10.1

21.

Özgür A, Esen K, Kara E, Temel GO (2017) Visualization of the abducens nerve in its petroclival segment using contrast-enhanced FIESTA MRI: the size of the petroclival venous confluence affects detectability. Clin Neuroradiol 27:97–103. https://doi.org/10.1007/s00062-015-0415-x

22.

Schlake HP, Goldbrunner R, Siebert M et al (2001) Intra-Operative electromyographic monitoring of extra-ocular motor nerves (Nn. III, VI) in skull base surgery. Acta Neurochir (Wien) 143:251–261

23.

Thirumala PD, Mohanraj SK, Habeych M et al (2013) Value of free-run electromyographic monitoring of extraocular cranial nerves during expanded endonasal surgery (EES) of the skull base. J Neurol Surg Rep 74:43–50. https://doi.org/10.1055/s-0033-1346975

24.

Tubbs RS, Radcliff V, Shoja MM et al (2012) Dorello canal revisited: an observation that potentially explains the frequency of abducens nerve injury after head injury. World Neurosurg 77:119–121. https://doi.org/10.1016/j.wneu.2011.03.046

25.

Vail HH (1922) Anatomical studies of Dorello's canal. Laryngoscope 32:569–575. https://doi.org/10.1288/00005537-192208000-00001

26.

Zada G, Agarwalla PK, Mukundan S et al (2011) The neurosurgical anatomy of the sphenoid sinus and sellar floor in endoscopic transsphenoidal surgery. J Neurosurg 114:1319–1330. https://doi.org/10.3171/2010.11.JNS10768

27.

Zhang Y, Yu H, Shen B-Y et al (2011) Microsurgical anatomy of the abducens nerve. Surg Radiol Anat 34:3–14. https://doi.org/10.1007/s00276-011-0850-6

28.

(2016) Comparative analysis of the anterior transpetrosal approach with the endoscopic endonasal approach to the petroclival region. J Neurosurg 125(5). https://thejns.org/view/journals/j-neurosurg/125/5/article-p1171.xml. Zugegriffen: 20, April 2020
Acknowledgements
We would like to express our gratitude to all donors to the anatomy laboratory.
Ethics declarations
Conflict of interest
The authors declare no conflict of interest.
Additional information
Publisher's Note
Springer Nature remains neutral with regard to jurisdictional claims in published maps and institutional affiliations.
About this article
Cite this article
Jecko, V., Sesay, M. & Liguoro, D. Anatomical location of the abducens nerves (VI) in the ventral approach of clival tumors. Surg Radiol Anat (2020). https://doi.org/10.1007/s00276-020-02525-4
Received:

Accepted:

Published:
Keywords
Abducens nerve

Petrous apex

Petro-sphenoidal foramen

Anterior clival surgical approach