Abstract
Purpose
Knowledge of rare variants of the FDP is of high clinical importance for physicians examining patients for tendon lacerations and especially for hand surgeons operating tendon injuries.
Methods
During routine dissection at our Department of Anatomy both cases were observed.
Results
Variations of flexor digitorum superficialis and flexor digitorum profundus muscles of the little finger were observed in two cadavers. In both cases, the flexor digitorum profundus muscle for the little finger was absent. Moreover, in the first case, the flexor digitorum superficialis muscle for the little finger was hypoplastic and in the second case it featured variable insertion.
Conclusion
There were found only four cases in previous literature describing absent flexor digitorum profundus tendon without any muscle attachment to the base of the distal phalanx. Furthermore, all previously described cases were observed in living patients. To our best knowledge, a case report in cadaver has yet not been reported and is of high importance for hand surgeons examining the hand for tendon injuries.
Access options
Buy single article
Instant access to the full article PDF.
US$ 39.95
Tax calculation will be finalised during checkout.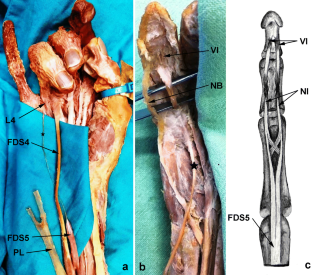 References
1.

Cho KH, Kim JH, Ha YS, Murakami G, Cho BH, Abe S (2012) Development of the deep flexor tendons and lumbricalis muscle in the hand and foot: a histological study using human mid-term foetuses. Folia Morphol (Warsz) 71:154–163

2.

Chujo T, Manabe T, Hasegawa T et al (2003) Congenital defects of the little finger flexor tendon a case report. Chugokushikokuzasshi 15:288–289 (in Japanese)

3.

Dylevský I (1968) Tendons of the m. flexor digitorum superficialis et profundus in the ontogenesis of the human hand. Folia Morphol (Praha) 16:124–130

4.

Fukuoka M, Takayama S, Seki A (2014) Congenital defects of the flexor digitorum profundus tendon of the little finger. Hand Surg 19:253–256

5.

Furnas DW (1965) Muscle-tendon variations in the flexor compartment of the wrist. Plast Reconstr Surg 36:320–323

6.

Furrer M, Schweizer A, Meuli-Simmen C (2007) Aplasia of the flexor digitorum profundus tendon of the small finger. J Hand Surg Eur 32:111–112

7.

Gonzalez MH, Whittum J, Koggan M, Weinzweig N (1997) Variations of the flexor digitorum superficialis tendon of the little finger. J Hand Surg Br 22:277–280

8.

Gruber W (1886) Musculus flexor digitorum profundus mit Mangel einer Sehne zum Mittelfinger. Archiv f pathol Anat 103:473

9.

Hyatt B, Rhee PC, Moran SL, Steinmann SP (2016) Absent ring finger flexor digitorum profundus presenting as a jersey finger. J Hand Surg Am 41:e95–97

10.

Kaplan EB (1969) Muscular and tendinous variations of the flexor superficialis of the fifth finger of the hand. Bull Hosp Jt Dis 30:59–67

11.

Kay SPJ, Lees VC (2000) Anomalies of digital flexor tendons. In: Gupta A, Kay SPJ, Scheker LR (eds) The growing hand, 1st edn. Mosby, London, pp 326–329

12.

Kisner WH (1980) Double sublimis tendon to fifth finger with absence of profundus. Plast Reconstr Surg 65:229–230

13.

Miura T, Tokuyama N, Ohya J (2010) Spontaneous rupture of the flexor digitorum superficialis tendon of the little finger with aplasia of the flexor digitorum profundus tendon. J Hand Surg Eur 35:237–238

14.

Wahba MY, Singh GD, Lozanoff S (1998) An anomalous accessory flexor digiti minimi profundus muscle: a case study. Clin Anat 11:55–59

15.

Yaminne K, Erić M (2018) Agenesis, functional deficiency and the common type of the flexor digitorum superficialis of the little finger: a meta-analysis. Hand Surg Rehabil 37:77–85

16.

Yilmaz A, Bozer C, Uluçam E, Taşkinalp O (2009) An anomaly of flexor muscles of the fifth (little) finger of the hand: an anatomical case report. Clinics (Sao Paulo) 64:1133
Acknowledgements
We are very thankful to all the body donors for their kind donation, to Dr. Shilu Shrestha and Dr. David Veigl for hand surgery consultations, Michal Beneš for English language corrections, Nastasia Iashchenko for drawing a scheme and to anonymous reviewer for the help with the current version of this manuscript.
Ethics declarations
Conflict of interest
The authors declare that they have no conflict of interest. Institutional support was received from Charles University as Grant PROGRES Q37.
Ethical approval
All procedures performed in studies involving human participants were in accordance with the ethical standards and with the 1964 Helsinki declaration and its later amendments or comparable ethical standards.
Additional information
Publisher's Note
Springer Nature remains neutral with regard to jurisdictional claims in published maps and institutional affiliations.
About this article
Cite this article
Belbl, M., Kunc, V. & Kachlik, D. Absence of flexor digitorum profundus muscle and variation of flexor digitorum superficialis muscle in a little finger: two case reports. Surg Radiol Anat 42, 945–949 (2020). https://doi.org/10.1007/s00276-020-02420-y
Received:

Accepted:

Published:

Issue Date:
Keywords
Anatomical variation

Flexor digitorum profundus

Flexor digitorum superficialis

Hand surgery

Musculoskeletal system