Abstract
The irrigating winter wheat one or two times each season was practiced in Huanghuai Winter Wheat Region in order to reduce the over-exploitation of groundwater. In this study, plant height (PH) and its relationship with yield were analyzed in a field study conducted over three growing seasons with 102 wheat varieties irrigated zero to two times at different growth stages. Here, we found that irrigation at the jointing stage increased wheat PH by 6.60–9.70%. Whereas irrigation at the early milking stage had almost no effect on it. Against the wildtype alleles Rht-B1a and Rht-D1a, the genetic background of Rht-B1b and Rht-D1b significantly reduced PH by 14.40–15.50% and 16.90–19.10%, respectively. The combined Rht-B1b and Rht-D1b can reduce PH by 29.10–32.50%. PH was strongly, negatively correlated with grain yield in jointing irrigation (W1) or jointing + milking irrigation (W2) over three growing seasons. In contrast, a significant positive correlation was detected in no-irrigation (W0) in the 2012/2013 wheat growing season, yet no correlation was found in 2013/2014 and 2014/2015. PH was positively correlated with drought coefficient (DRC) in W1 and W2. These results augment our understanding of the relationship between PH and grain yield in different irrigation regimes and provide PH traits for wheat improvement on water saving.
This is a preview of subscription content, log in to check access.
Access options
Buy single article
Instant access to the full article PDF.
US$ 39.95
Price includes VAT for USA
Subscribe to journal
Immediate online access to all issues from 2019. Subscription will auto renew annually.
US$ 99
This is the net price. Taxes to be calculated in checkout.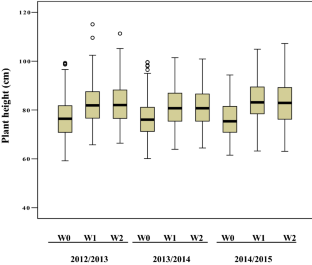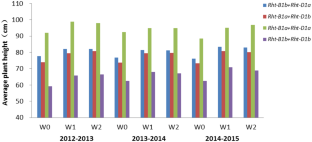 References
Bellucci A, Torp AM, Bruun S, Rasmussen SK (2015) Association mapping in Scandinavian winter wheat for yield, plant height, and traits important for second-generation bioethanol production frontiers in plant. Science 6:1–12

Butler JD, Byrne PF, Mohammadi V, Haley S (2005) Agronomic performance of alleles in a spring wheat population across a range of moisture levels. Crop Sci 45:939–946

Flintham JE, Borner A, Worland AJ, Gale MD (1997) Optimizing wheat grain yield: effects of Rht (gibberellin-insensitive) dwarfing genes. J Agric Sci 128:11–25

Gao Z, Shi Z, Zhang A, Guo J (2015) Distribution of genes associated with yield potential and water-saving in Chinese Zone II wheat detected by developed functional markers. J Genet 94:35–42

Harberd NP, Belfield E, Yasumura Y (2009) The angiosperm gibberellin–GID1–DELLA growth regulatory mechanism: how an "inhibitor of an inhibitor" enables flexible response to fluctuating environments. Plant Cell 21:1328–1339

Hassan MA, Yang M, Fu L, Rasheed A, Zheng B, Xia X, Xiao Y, He Z (2019) Accuracy assessment of plant height using an unmanned aerial vehicle for quantitative genomic analysis in bread wheat. Plant Methods 15:37

Hedden P (2003) The genes of the green revolution. Trends Genet 19:5–9

Ji T, Zhang C, Yang Z, Meng L, Guo J, Zhang K (2007) Study on resistance drought identify method and evaluation index of wheat III the comparative study on synthesis evaluation index Chinese agricultural. Sci Bull 23:422–426

Kang S, Zhang L, Liang Y, Cai H (2002) Effects of limited irrigation on yield and water use efficiency of winter wheat on the loess plateau of China. Agric Water Manag 55:203–216

Li Y (1993) Requirements for a water-saving agriculture in northern China. Irrig Drain (Chinese) 12:10–20

Li A et al (2013) Novel natural allelic variations at the Rht-1 Loci in wheat. J Integr Plant Biol 55:1026–1037

Lou X et al (2016) The 160 bp insertion in the promoter of Rht-B1i plays a vital role in increasing wheat height. Front Plant Sci 7:307–319

Lv G, Kang Y, Li L, Wan S (2010) Effect of irrigation methods on root development and profile soil water uptake in winter wheat. Irrig Sci 28:387–398

Man J, Shi Y, Yu Z, Zhang Y (2015) Dry matter production, photosynthesis of flag leaves and water use in winter wheat are affected by supplemental irrigation in the Huang-Huai-Hai Plain of China. PLoS ONE 10:1–18

Mañas F, Ramos AB, Cortés CF, González DF, Córcoles HL (1999) Improvement of irrigation management towards the sustainable use of groundwater in Castilla-La Mancha, Spain. Agricu Water Manag 40:195–205

Monneveux P, Rekika D, Acevedo E, Merah O (2006) Effect of drought on leaf gas exchange, carbon isotope discrimination, transpiration efficiency and productivity in field grown durum wheat genotypes. Plant Sci 170:867–872

Monneveux P, Jing R, Misra SC (2012) Phenotyping for drought adaptation in wheat using physiological traits. Front Physiol 3:429–440

Nicholas P, Harberd, Belfield E, Yasumura Y (2009) The angiosperm Gibberellin–GID1–DELLA growth regulatory mechanism: how an "inhibitor of an Inhibitor" enables flexible response to fluctuating environments. Plant Cell 21:1328–1339

Passioura JB (2012) Phenotyping for drought tolerance in grain crops: when is it useful to breeders? Funct Plant Biol 39:851–859

Pearce S et al (2011) Molecular characterization of Rht-1 dwarfing genes in hexaploid wheat. Plant Physiol 157:1820–1831

Peng J et al (1999) 'Green revolution' genes encode mutant gibberellin response modulators. Nature 400:256–261

Qi W et al (2011) Rice ethylene-response AP2/ERF factor OsEATB restricts internode elongation by down-regulating a gibberellin biosynthetic gene. Plant Physiol 157:216–228

Qiu GY, Wang L, He X, Zhang X, Chen S, Chen J, Yang Y (2008) Water use efficiency and evapotranspiration of winter wheat and its response to irrigation regime in the north China plain. Agric For Meteorol 148:1848–1859

Van De Velde K, Chandler PM, Van Der Straeten D, Rohde A (2017) Differential coupling of gibberellin responses by Rht-B1c suppressor alleles and Rht-B1b in wheat highlights a unique role for the DELLA N-terminus in dormancy. J Exp Botany 68:443–455

Wang C et al (2014) Effects of different irrigation and nitrogen regimes on root growth and its correlation with above-ground plant parts in high-yielding wheat under field conditions. Field Crops Res 165:138–149

Wang Y, Zhao J, Lu W, Deng D (2017) Gibberellin in plant height control: old player, new story. Plant Cell Rep 36:391–398

Wild M et al (2012) The Arabidopsis DELLA RGA-LIKE3 is a direct target of MYC2 and modulates Jasmonate signaling responses. Plant Cell 24:3307–3319

Xue Q, Zhu Z, Musick JT, Stewart BA, Dusek DA (2006) Physiological mechanisms contributing to the increased water-use efficiency in winter wheat under deficit irrigation. J Plant Physiol 163:154–164

Zanke CD et al (2014) Whole genome association mapping of plant height in winter wheat (Triticum aestivum L.). PLoS ONE 9:e113287

Zhang H, Oweis T (1999) Water–yield relations and optimal irrigation scheduling of wheat in the Mediterranean region. Agric Water Manage 38:295–311

Zhang J, Sui X, Li B, Su B, Li J, Zhou D (1998) An improved water-use efficiency for winter wheat grown under reduced irrigation. Field Crops Res 59:91–98

Zhang X, Pei D, Hu C (2003) Conserving groundwater for irrigation in the North China Plain. Irrig Sci 21:159–166
Acknowledgements
This study was supported by The National Key Research and Development Program of China (Grant no. 2016YFD0300407) and The Science Technology Research and Development Program of Shijiazhuang (Grant no. 181490392A). We also thank Dr. Wenlong Yang, IVF·CAAS, China, and Dr. Guangbin Luo, UFL, USA, for their excellent assistance in the structure and grammar of the English manuscript.
Ethics declarations
Conflict of interest
We declare that we have no financial and personal relationships with other people or organizations that can inappropriately influence our work, there is no professional or other personal interest of any nature or kind in any product, service and/or company that could be construed as influencing the position presented in, or the review of, the manuscript entitled, "Plant Height and Its Relationship with Yield in Wheat under Different Irrigation Regime".
Additional information
Publisher's Note
Springer Nature remains neutral with regard to jurisdictional claims in published maps and institutional affiliations.
About this article
Cite this article
Gao, Z., Wang, Y., Tian, G. et al. Plant height and its relationship with yield in wheat under different irrigation regime. Irrig Sci (2020). https://doi.org/10.1007/s00271-020-00678-z
Received:

Accepted:

Published: