Abstract
Introduction
Twitter is the most used social media platform by medical professionals and has become an effective way to disseminate ideas and information.
Aim
To evaluate Twitter usage by some of the larger diagnostic radiology (DR) and interventional radiology (IR) societies.
Materials and Methods
Data were collected from the publicly available Twitter analytics platform, Twitonomy™. Data collected included the number of followers, Twitter output, user engagement and changes of these parameters between January 2017 and January 2019.
Results
DR societies have the largest number of followers. The IR group increased its number of followers by 5139 (55%) compared with 10013 (18%) by the DR group during the period studied. In both years, the IR group posted more tweets/day compared with the DR group (6.6 vs. 4.7). Although user engagement increased for both IR and DR societies, the IR subgroup had a highly engaged user audience with a similar number of 'likes' to the DR group despite their larger Twitter following (DR 65500 vs. IR 14411 in 2019).
Conclusions
The IR societies studied experienced comparable Twitter engagement to the larger DR societies. The societies with the smallest number of followers (BSIR and CIRSE) enjoyed the largest relative increase in followers over the study period. IR societies should be encouraged by these results to continue to publicize their work on social media and increase awareness of the specialty.
This is a preview of subscription content, log in to check access.
Access options
Buy single article
Instant access to the full article PDF.
US$ 39.95
Price includes VAT for USA
Subscribe to journal
Immediate online access to all issues from 2019. Subscription will auto renew annually.
US$ 99
This is the net price. Taxes to be calculated in checkout.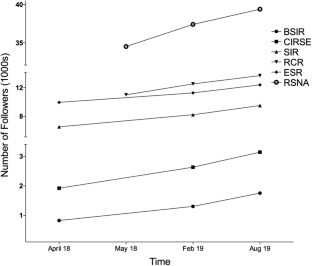 References
1.

Wadhwa V, et al. #TwittIR: understanding and establishing a twitter ecosystem for interventional radiologists and their practices. J Am Coll Radiol. 2018;15(1, Part B):218–23.

2.

Ranginwala S, Towbin AJ. Use of social media in radiology education. J Am Coll Radiol. 2018;15(1, Part B):190–200.

3.

Pershad, Y., et al. Social medicine: twitter in healthcare. J Clin Med. 2018; 7(6):121. https://doi.org/10.3390/jcm7060121.

4.

Hawkins CM, Duszak R, Rawson JV. Social media in radiology: early trends in Twitter microblogging at radiology's largest international meeting. J Am Coll Radiol. 2014;11(4):387–90.

5.

Ishak R, Fishman EK, Bedi H. Social media in radiology: a primer. J Am Coll Radiol. 2017;14(2):290–3.

6.

Cosco TD. Medical journals, impact and social media: an ecological study of the Twittersphere. CMAJ: Can Med. 2015;187(18):1353–7.

7.

Pathiraja F, Little D. Social media: the next frontier in radiology. Clin Radiol. 2015;70(6):585–7.

8.

Lovejoy K, Waters RD, Saxton GD. Engaging stakeholders through Twitter: how nonprofit organizations are getting more out of 140 characters or less. Public Relat Rev. 2012;38(2):313–8.

9.

Bundy JJ, et al. #Radiology: a 7-year analysis of radiology-associated hashtags. Curr Probl Diagn Radiol. 2018;47(5):296–301.

10.

Hage AN, et al. #InterventionalRadiology. J Vasc Interv Radiol. 2018;29(5):669–75.

11.

Klingman, H. 15 Tactics to boost Twitter engagement backed by research Coschedule Blog; Available from: https://coschedule.com/blog/twitter-engagement-tactics/.

12.

Statsoft. Statistica. 2019; Available from: https://www.statsoft.de/en/software.

13.

GMC. Doctors' use of social media. GMC, 2013.

14.

Twitter. Q4 and Fiscal Year 2018 Letter to Shareholders, T. Inc., Editor 2019.
Funding
This research did not receive any specific grant from funding agencies in the public, commercial, or not-for-profit sectors.
Ethics declarations
Conflict of interest
The authors have no conflict of interest to declare.
Ethics Approval
No ethics approval was required to conduct this study.
Research Involving Human Participants and/or Animals
No patients were involved in this study, which used freely available data in the public domain.
Additional information
Publisher's Note
Springer Nature remains neutral with regard to jurisdictional claims in published maps and institutional affiliations.
About this article
Cite this article
Rostampour, S., Hamady, M.S. & Alsafi, A. To Tweet or Not to Tweet? A Look at Radiology Societies' Use of Twitter. Cardiovasc Intervent Radiol 43, 1070–1074 (2020). https://doi.org/10.1007/s00270-020-02437-1
Received:

Accepted:

Published:

Issue Date:
Keywords
Twitter

Hashtag

#

#IRAD

#Interventionalradiology

IR