Abstract
Purpose
To evaluate the effect of percutaneous transluminal angioplasty (PTA) on haemodialysis fistulas utilising drug-coated balloons with plain balloon vessel preparation (DCB).
Materials and Methods
In the study group, 31 patients (16 men; mean age 62.8 ± 17.2 years) with failing arteriovenous fistulas were treated, with DCB, and compared with a control group (31 patients; 15 men; mean age 67.0 ± 8.44 years), in which only plain balloon PTA was performed. All stenoses were dilated with regular PTA balloons. After achieving haemodynamic success (< 30% residual stenosis), drug-coated balloons were used for drug administration in the study group. The follow-up intervals were 6, 12 and 24 months. Target lesion primary patency, primary assisted patency and secondary patency were compared. The statistical significance was set at 0.05.
Results
Target lesion primary patency was compared in both groups and was significantly higher in the study group (DCB) at 6 months (90.3 vs. 61.3%; p = 0.016), 12 months (77.4 vs. 29%; p = 0.0004) as well as 24 months (45.2 vs. 16.1%; p = 0.026). Kaplan–Meier survival curves also showed a significant difference for target lesion primary patency (534.2 vs. 315.7 days; p = 0.0004). There were no significant differences in target lesion primary assisted patency and in secondary patency. However, only 38.7% of patients in the study group were treated twice or more versus 80.6% in the control group (p = 0.002).
Conclusion
DCB increases target lesion primary patency during the first 24 months and decreases the rate of reinterventions.
Access options
Buy single article
Instant access to the full article PDF.
USD 39.95
Price includes VAT (USA)
Tax calculation will be finalised during checkout.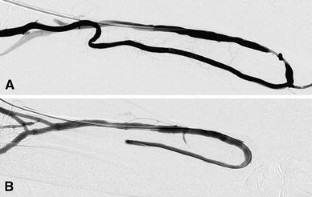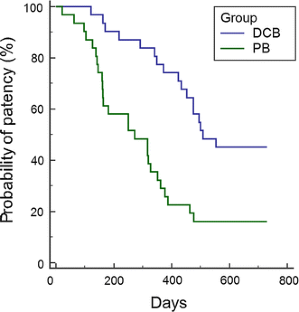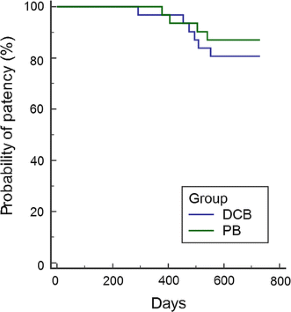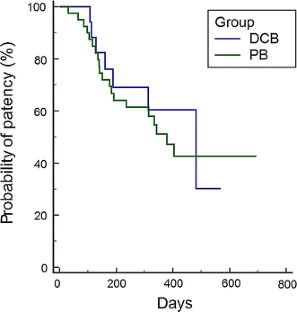 References
1.

Bittl JA. Catheter interventions for hemodialysis fistulas and grafts. JACC Cardiovasc Interv. 2010;3(1):1–11.

2.

Katsanos K, Karnabatidis D, Kitrou P, Spiliopoulos S, Christeas N, Siablis D. Paclitaxel-coated balloon angioplasty vs plain balloon dilation for the treatment of failing dialysis access: 6-month interim results from a prospective randomized controlled trial. J Endovasc Ther. 2012;19(2):263–72.

3.

Patane D, Giuffrida S, Morale W, L'Anfusa G, Puliatti D, Bisceglie P, et al. Drug-eluting balloon for the treatment of failing hemodialytic radiocephalic arteriovenous fistulas: our experience in the treatment of juxta-anastomotic stenoses. J Vasc Access. 2014;15(5):338–43.

4.

Buturovic-Ponikvar J, Gubensek J, Arnol M, Adamlje T, Ceglar Z, Damevska G, et al. Renal replacement therapy in Slovenia: excerpts from 2013 data. Ther Apher Dial. 2016;20(3):223–8.

5.

Asif A, Gadalean FN, Merrill D, Cherla G, Cipleu CD, Epstein DL, et al. Inflow stenosis in arteriovenous fistulas and grafts: a multicenter, prospective study. Kidney Int. 2005;67(5):1986–92.

6.

Daugirdas JT, Depner TA, Inrig J, Mehrotra R, Rocco MV, Suri RS, et al. KDOQI clinical practice guideline for hemodialysis adequacy: 2015 update. Am J Kidney Dis. 2015;66(5):884–930.

7.

Feldman HI, Kobrin S, Wasserstein A. Hemodialysis vascular access morbidity. J Am Soc Nephrol JASN. 1996;7(4):523–35.

8.

Huber TS, Carter JW, Carter RL, Seeger JM. Patency of autogenous and polytetrafluoroethylene upper extremity arteriovenous hemodialysis accesses a systematic review. J Vasc Surg. 2003;38(5):1005–11.

9.

Long B, Brichart N, Lermusiaux P, Turmel-Rodrigues L, Artru B, Boutin JM, et al. Management of perianastomotic stenosis of direct wrist autogenous radial-cephalic arteriovenous accesses for dialysis. J Vasc Surg. 2011;53(1):108–14.

10.

Malka KT, Flahive J, Csizinscky A, Aiello F, Simons JP, Schanzer A, et al. Results of repeated percutaneous interventions on failing arteriovenous fistulas and grafts and factors affecting outcomes. J Vasc Surg. 2016;63(3):772–7.

11.

Roy-Chaudhury P, Sukhatme VP, Cheung AK. Hemodialysis vascular access dysfunction: a cellular and molecular viewpoint. J Am Soc Nephrol JASN. 2006;17(4):1112–27.

12.

Caplice NM, Wang S, Tracz M, Croatt AJ, Grande JP, Katusic ZS, et al. Neoangiogenesis and the presence of progenitor cells in the venous limb of an arteriovenous fistula in the rat. Am J Physiol Renal Physiol. 2007;293(2):F470–5.

13.

Asif A, Lenz O, Merrill D, Cherla G, Cipleu CD, Ellis R, et al. Percutaneous management of perianastomotic stenosis in arteriovenous fistulae: results of a prospective study. Kidney Int. 2006;69(10):1904–9.

14.

Croatt AJ, Grande JP, Hernandez MC, Ackerman AW, Katusic ZS, Nath KA. Characterization of a model of an arteriovenous fistula in the rat: the effect of L-NAME. Am J Pathol. 2010;176(5):2530–41.

15.

Mezzano D, Pais EO, Aranda E, Panes O, Downey P, Ortiz M, et al. Inflammation, not hyperhomocysteinemia, is related to oxidative stress and hemostatic and endothelial dysfunction in uremia. Kidney Int. 2001;60(5):1844–50.

16.

Lai CC, Fang HC, Tseng CJ, Liu CP, Mar GY. Percutaneous angioplasty using a paclitaxel-coated balloon improves target lesion restenosis on inflow lesions of autogenous radiocephalic fistulas: a pilot study. J Vasc Interv Radiol JVIR. 2014;25(4):535–41.

17.

Baek I, Hwang J, Park J, Kim H, Park JS, Kim DJ. Paclitaxel coating on the terminal portion of hemodialysis grafts effectively suppresses neointimal hyperplasia in a porcine model. J Vasc Surg. 2015;61(6):1575-82.e1.

18.

Kitrou PM, Katsanos K, Spiliopoulos S, Karnabatidis D, Siablis D. Drug-eluting versus plain balloon angioplasty for the treatment of failing dialysis access: final results and cost-effectiveness analysis from a prospective randomized controlled trial (NCT01174472). Eur J Radiol. 2015;84(3):418–23.

19.

Portugaller RH, Kalmar PI, Deutschmann H. The eternal tale of dialysis access vessels and restenosis: are drug-eluting balloons the solution? J Vasc Access. 2014;15(6):439–47.

20.

Mortamais J, Papillard M, Girouin N, Boutier R, Cougnaud L, Martin X, et al. Endovascular treatment of juxta-anastomotic venous stenoses of forearm radiocephalic fistulas: long-term results and prognostic factors. J Vasc Interv Radiol JVIR. 2013;24(4):558–64 (quiz 65).

21.

Zeller T. Current state of endovascular treatment of femoro-popliteal artery disease. Vasc Med (London, England. 2007;12(3):223–34.

22.

Sidawy AN, Gray R, Besarab A, Henry M, Ascher E, Silva M Jr, et al. Recommended standards for reports dealing with arteriovenous hemodialysis accesses. J Vasc Surg. 2002;35(3):603–10.

23.

Owens CD, Wake N, Kim JM, Hentschel D, Conte MS, Schanzer A. Endothelial function predicts positive arterial-venous fistula remodeling in subjects with stage IV and V chronic kidney disease. J Vasc Access. 2010;11(4):329–34.

24.

III. NKF-K/DOQI Clinical Practice Guidelines for Vascular Access: update 2000. Am J Kidney Dis. 2001;37(1 Suppl 1):S137–81.

25.

Baker LD Jr, Johnson JM, Goldfarb D. Expanded polytetrafluoroethylene (PTFE) subcutaneous arteriovenous conduit: an improved vascular access for chronic hemodialysis. Trans Am Soc Artif Intern Organs. 1976;22:382–7.

26.

Ravani P, Brunori G, Mandolfo S, Cancarini G, Imbasciati E, Marcelli D, et al. Cardiovascular comorbidity and late referral impact arteriovenous fistula survival: a prospective multicenter study. J Am Soc Nephrol JASN. 2004;15(1):204–9.

27.

Rayner HC, Pisoni RL, Gillespie BW, Goodkin DA, Akiba T, Akizawa T, et al. Creation, cannulation and survival of arteriovenous fistulae: data from the Dialysis Outcomes and Practice Patterns Study. Kidney Int. 2003;63(1):323–30.

28.

Saran R, Dykstra DM, Pisoni RL, Akiba T, Akizawa T, Canaud B, et al. Timing of first cannulation and vascular access failure in haemodialysis: an analysis of practice patterns at dialysis facilities in the DOPPS. Nephrol Dial Transpl. 2004;19:2334–40.

29.

Brunori G, Ravani P, Mandolfo S, Imbasciati E, Malberti F, Cancarini G. Fistula maturation: doesn't time matter at all? Nephrol Dial Transpl. 2005;20(4):684–7.

30.

Wang N, Fulcher J, Abeysuriya N, Adams M, Lal S. Predictors of successful chronic total occlusion percutaneous coronary interventions: a systematic review and meta-analysis. Heart. 2018;104(6):517–24.

31.

Kleber FX, Mathey DG, Rittger H, Scheller B. How to use the drug-eluting balloon: recommendations by the German consensus group. EuroIntervention. 2011;7(Suppl K):K125-8.

32.

Posa A, Hemetsberger R, Petnehazy O, Petrasi Z, Testor M, Glogar D, et al. Attainment of local drug delivery with paclitaxel-eluting balloon in porcine coronary arteries. Coron Artery Dis. 2008;19(4):243–7.

33.

Tepe G, Laird J, Schneider P, Brodmann M, Krishnan P, Micari A, et al. Drug-coated balloon versus standard percutaneous transluminal angioplasty for the treatment of superficial femoral and popliteal peripheral artery disease: 12-month results from the IN.PACT SFA randomized trial. Circulation. 2015;131(5):495–502.

34.

Herten M, Torsello GB, Schönefeld E, Stahlhoff S. Critical appraisal of paclitaxel balloon angioplasty for femoral–popliteal arterial disease. Vasc Health Risk Manag. 2016;12:341–56.

35.

Marzullo RAA, Biondi-Zoccai G, et al. Drug-eluting balloon technology. Card Interv Today. 2011;2011:40–9.

36.

Bountouris I, Kristmundsson T, Dias N, Zdanowski Z, Malina M. Is repeat PTA of a failing hemodialysis fistula durable? Int J Vasc Med. 2014;2014:6.

37.

Speck U, Scheller B, Hamm B. Drug-coated balloons for restenosis prophylaxis. RoFo : Fortschritte auf dem Gebiete der Rontgenstrahlen und der Nuklearmedizin. 2014;186(4):348–58.

38.

Scheller B, Speck U, Abramjuk C, Bernhardt U, Bohm M, Nickenig G. Paclitaxel balloon coating, a novel method for prevention and therapy of restenosis. Circulation. 2004;110(7):810–4.

39.

Yin S, Bhattacharya R, Cabral F. Human mutations that conferpaclitaxel resistance. Mol Cancer Ther. 2010;9(2):327.

40.

Sugimoto K, Higashino T, Kuwata Y, Imanaka K, Hirota S, Sugimura K. Percutaneous transluminal angioplasty of malfunctioning Brescia-Cimino arteriovenous fistula: analysis of factors adversely affecting long-term patency. Eur Radiol. 2003;13(7):1615–9.

41.

Soder HK, Manninen HI, Rasanen HT, Kaukanen E, Jaakkola P, Matsi PJ. Failure of prolonged dilation to improve long-term patency of femoropopliteal artery angioplasty: results of a prospective trial. J Vasc Interv Radiol JVIR. 2002;13(4):361–9.

42.

Lantis JC II, Boone D. Standard versus prolonged inflation time in balloon angioplasty of atherosclerotic rat aortas. J Vasc Surg. 2011;54(3):925.

43.

Humphrey WR, Simmons CA, Toombs CF, Shebuski RJ. Induction of neointimal hyperplasia by coronary angioplasty balloon overinflation: comparison of feeder pigs to Yucatan minipigs. Am Heart J. 1994;127(1):20–31.

44.

Pavo N, Samaha E, Sabdyusheva I, von Strandmann RP, Stahnke S, Plass CA, et al. Coating of intravascular balloon with paclitaxel prevents constrictive remodeling of the dilated porcine femoral artery due to inhibition of intimal and media fibrosis. J Mater Sci Mater Med. 2016;27:131.
Acknowledgements
This work was previously presented as an electronic poster (P-114) during CIRSE 2017 meeting in Copenhagen, September 16–20 and as oral scientific presentation (B-0864) during the European Congress of Radiology (ECR) 2018 in Vienna, February 28–March 4.
Ethics declarations
Conflict of interest
The authors declare that there are no conflicts of interests.
Ethical Approval
The authors declare that all procedures performed in studies involving human participants were in accordance with the ethical standards of the institutional and/or national research committee and with the 1964 Helsinki declaration and its later amendments or comparable ethical standards.
Informed Consent
The authors declare that informed consent was obtained from all individual participants included in the study.
About this article
Cite this article
Lučev, J., Breznik, S., Dinevski, D. et al. Endovascular Treatment of Haemodialysis Arteriovenous Fistula with Drug-Coated Balloon Angioplasty: A Single-Centre Study. Cardiovasc Intervent Radiol 41, 882–889 (2018). https://doi.org/10.1007/s00270-018-1942-z
Received:

Accepted:

Published:

Issue Date:
Keywords
Haemodialysis fistula

Percutaneous transluminal angioplasty

Drug-coated balloon

Vessel preparation

Paclitaxel