Abstract
Background
The accurate evaluation of perioperative risk is crucial to facilitate the shared decision-making process. Surgical outcome risk tool (SORT) has been developed to provide enhanced and more feasible identification of high-risk surgical patients. Nonetheless, SORT has not been validated for patients with colorectal cancer undergoing surgery. Our aim was to determine whether SORT can accurately predict mortality after surgery for colorectal cancer and to compare it with traditional risk models.
Method
526 patients undergoing surgery performed by a colorectal surgical team in a single Greek tertiary hospital (2011–2019) were included. Five risk models were evaluated: (1) SORT, (2) Physiology and Operative Severity Score for the enumeration of Mortality and Morbidity (POSSUM), (3) Portsmouth POSSUM (P-POSSUM), (4) Colorectal POSSUM (CR-POSSUM), and (5) the Association of Great Britain and Ireland (ACPGBI) score. Model accuracy was assessed by observed to expected (O:E) ratios, and area under Receiver Operating Characteristic curve (AUC).
Results
Ten patients (1.9%) died within 30 days of surgery. SORT was associated with an excellent level of discrimination [AUC:0.81 (95% CI:0.68–0.94); p = 0.001] and provided the best performing calibration of all models in the entire dataset analysis (H–L:2.82; p = 0.83). Nonetheless, SORT underestimated mortality. SORT model demonstrated excellent discrimination and calibration predicting perioperative mortality in patients undergoing (1) open surgery, (2) emergency/acute surgery, and (3) in cases with colon-located cancer.
Conclusion
SORT is an easily adopted risk-assessment tool, associated with enhanced accuracy, that could be implemented in the perioperative pathway of patients undergoing surgery for colorectal cancer.
Access options
Buy single article
Instant access to the full article PDF.
US$ 39.95
Tax calculation will be finalised during checkout.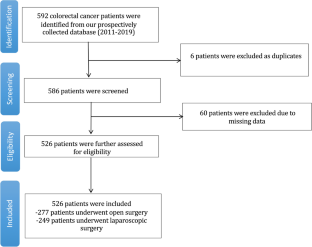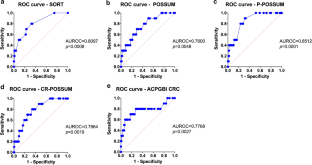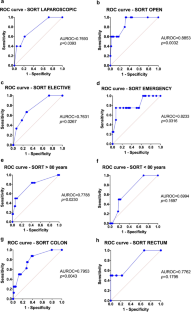 References
1.

Torre LA, Bray F, Siegel RL, Ferlay J, Lortet-Tieulent J, Jemal A (2015) Global cancer statistics, 2012. CA Cancer J Clin 65:87–108. https://doi.org/10.3322/caac.21262

2.

Moonesinghe SR, Mythen MG, Das P, Rowan KM, Grocott MP (2013) Risk stratification tools for predicting morbidity and mortality in adult patients undergoing major surgery: qualitative systematic review. Anesthesiology 119(4):959–981. https://doi.org/10.1097/ALN.0b013e3182a4e94d

3.

Protopapa KL, Simpson JC, Smith NC, Moonesinghe SR (2014) Development and validation of the surgical outcome risk tool (SORT). Br J Surg 101(13):1774–1783. https://doi.org/10.1002/bjs.9638

4.

Marufu TC, White SM, Griffiths R, Moonesinghe SR, Moppett IK (2016) Prediction of 30-day mortality after hip fracture surgery by the nottingham hip fracture score and the surgical outcome risk tool. Anaesthesia 71(5):515–521. https://doi.org/10.1111/anae.13418

5.

Wong GTC, Ang WC, Wong TCL, Choi SW (2017) Surgical outcome risk tool (SORT) validation in hepatectomy. Anaesthesia 72(10):1287–1289

6.

Copeland GP, Jones D, Walters M (1991) POSSUM: a scoring system for surgical audit. Br J Surg 78(3):355–60.22

7.

Prytherch DR, Whiteley MS, Higgins B, Weaver PC, Prout WG, Powell SJ (1998) POSSUM and portsmouth POSSUM for predicting mortality. Physiological and operative severity score for the enUmeration of mortality and morbidity. Br J Surg 85(9):1217–1220

8.

Tekkis PP, Prytherch DR, Kocher HM, Senapati A, Poloniecki JD, Stamatakis JD, Windsor AC (2004) Development of a dedicated risk-adjustment scoring system for colorectal surgery (colorectal POSSUM). Br J Surg 91(9):1174–1182

9.

Ferjani AM, Griffin D, Stallard N, Wong LS (2007) A newly devised scoring system for prediction of mortality in patients with colorectal cancer: a prospective study. Lancet Oncol 8(4):317–322

10.

DeLong ER, DeLong DM, Clarke-Pearson DL (1988) Comparing the areas under two or more correlated receiver operating characteristic curves: a nonparametric approach. Biometrics 44:837–845

11.

Hosmer DW, Hosmer T, Le Cessie S, Lemeshow S (1997) A comparison of goodness-of-fit tests for the logistic regression model. Stat Med 16:965–980

12.

von Elm E, Altman DG, Egger M, Pocock SJ, Gøtzsche PC, Vandenbroucke JP (2007) STROBE initiative. The strengthening the reporting of observational studies in epidemiology (STROBE) statement: guidelines for reporting observational studies. Ann Intern Med 147(8):573–577 (Erratum in: Ann Intern Med. 2008 Jan 15;148(2):168. PMID: 17938396)

13.

Bagnall NM, Pring ET, Malietzis G et al (2018) Perioperative risk prediction in the era of enhanced recovery: a comparison of POSSUM, ACPGBI, and E-PASS scoring systems in major surgical procedures of the colorectal surgeon. Int J Colorectal Dis 33:1627–1634. https://doi.org/10.1007/s00384-018-3141-4

14.

Richards SJG, Cherry TJ, Frizelle FA, Eglinton TW (2020) Pre-operative frailty is predictive of adverse post-operative outcomes in colorectal cancer patients. ANZ J Surg. https://doi.org/10.1111/ans.16319

15.

Ragg JL, Watters DA, Guest GD (2009) Preoperative risk stratification for mortality and major morbidity in major colorectal surgery. Dis Colon Rectum 52(7):1296–1303. https://doi.org/10.1007/DCR.0b013e3181a0e639

16.

García-Torrecillas JM, Olvera-Porcel MC, Ferrer-Márquez M et al (2020) Predictive model of the risk of in-hospital mortality in colorectal cancer surgery, based on the minimum basic data set. Int J Environ Res Public Health 17(12):4216. https://doi.org/10.3390/ijerph17124216

17.

Regenbogen SE, Bordeianou L, Hutter MM, Gawande AA (2010) The intraoperative surgical apgar score predicts postdischarge complications after colon and rectal resection. Surgery 148(3):559–566. https://doi.org/10.1016/j.surg.2010.01.015 (Epub 2010 Mar 12)

18.

Kong CH, Guest GD, Stupart DA, Faragher IG, Chan ST, Watters DA (2013) Recalibration and validation of a preoperative risk prediction model for mortality in major colorectal surgery. Dis Colon Rectum 56(7):844–849. https://doi.org/10.1097/DCR.0b013e31828343f2

19.

Degett TH, Roikjær O, Iversen LH, Gögenur I (2018) A model predicting operative mortality in the UK has only limited value in Denmark. Int J Colorectal Dis 33:141–147. https://doi.org/10.1007/s00384-017-2937-y
Acknowledgements
The present study was originally written as part of a UCL Master's degree within the UCL Centre for Perioperative Medicine.
Ethics declarations
Conflicts of interest
All authors declare no conflicts of interest regarding the present study. This research did not receive grants from any funding agency in the public, commercial or not-for-profit sectors.
Ethical approval
Ethical approval was obtained by the Scientific Committee of the University Hospital of Larissa (Protocol number: 33606/16–07-19).
Additional information
Publisher's Note
Springer Nature remains neutral with regard to jurisdictional claims in published maps and institutional affiliations.
Supplementary information
Below is the link to the electronic supplementary material.
1. STROBE Checklist
Supplementary material 1 (DOCX 22 kb)
About this article
Cite this article
Magouliotis, D.E., Walker, D., Baloyiannis, I. et al. Validation of the Surgical Outcome Risk Tool (SORT) for Predicting Postoperative Mortality in Colorectal Cancer Patients Undergoing Surgery and Subgroup Analysis. World J Surg (2021). https://doi.org/10.1007/s00268-021-06006-6