Abstract
Background
The aim of this prospective study was to analyze the impact of abdominal incision type on postoperative pain and quality of life (QOL) in hepatectomy.
Methods
In patients undergoing hepatectomy by open, hybrid, or pure laparoscopic approaches, we classified abdominal incisions as: pure laparoscopic (LAP), midline (MID), J-shaped (J), and J-shaped incision plus thoracotomy (TRC). Postoperative pain was measured on postoperative day (POD) 3, 7, 30, and 90 using a visual analog scale (VAS). QOL was evaluated using the short-form-36 questionnaire preoperatively and on POD 30 and 90.
Results
We categorized 165 patients into LAP (n = 9, 5%), MID (n = 21, 13%), J (n = 95, 58%), and TRC (n = 40, 24%) groups. Median VAS scores on PODs 3/7/30/90 were: LAP, 27.5/7.5/10/10; MID, 30/10/15/5; J, 50/27.5/20/10, and TRC, 50/30/30/19. The J and TRC groups had significantly higher VAS scores vs. MID on PODs 3 and 7; the LAP and MID groups did not differ significantly. No significant positive correlations were observed between incision length and postoperative VAS, when we stratified patients into two groups according to the presence or absence of a transverse incision. Physical QOL summary scores did not return to preoperative levels even on POD 90, in patients with an additional transverse incision. Mental QOL summary scores worsened with postoperative complications rather than with abdominal incision type.
Conclusions
Transverse incisions, rather than incision length, led to worse midline incision pain and poorer QOL recovery post-hepatectomy. A hybrid approach may be a considerable option when pure laparoscopic hepatectomy is technically difficult.
Trial registration
This study was registered in the UMIN Clinical Trials Registry (registration number: UMIN000017467; http://www.umin.ac.jp/ctr/index.htm)
Access options
Buy single article
Instant access to the full article PDF.
US$ 39.95
Tax calculation will be finalised during checkout.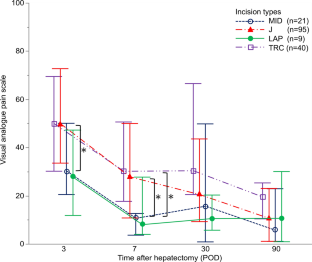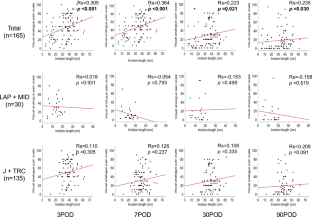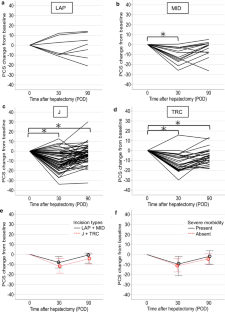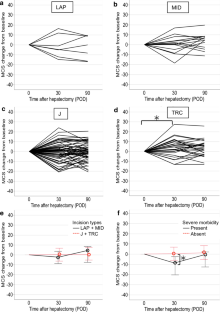 Abbreviations
QOL:

Quality of life

VAS:

Visual analog scale

POD:

Postoperative day

LAP:

Pure laparoscopic incision

MID:

Midline incision

J:

J-shaped incision

TRC:

J-shaped incision plus thoracotomy
References
1.

Hu Y, Huang C, Sun Y et al (2016) Morbidity and mortality of laparoscopic versus open D2 distal gastrectomy for advanced gastric cancer: a randomized controlled trial. J Clin Oncol 34:1350–1357

2.

Nelson H, Sargent DJ, Wieand HS et al (2004) A comparison of laparoscopically assisted and open colectomy for colon cancer. N Engl J Med 350:2050–2059

3.

de Rooij T, van Hilst J, van Santvoort H et al (2019) Minimally invasive versus open distal pancreatectomy (LEOPARD). Ann Surg 269:2–9

4.

Fretland AA, Dagenborg VJ, Bjørnelv GMW et al (2018) Laparoscopic versus open resection for colorectal liver metastases. Ann Surg 267:199–207

5.

Wakabayashi G, Cherqui D, Geller D et al (2015) Recommendations for laparoscopic liver resection. Ann Surg 261:619–629

6.

Mise Y, Satou S, Ishizawa T et al (2014) Impact of surgery on quality of life in patients with hepatocellular carcinoma. World J Surg 38:958–967

7.

Ishizawa T, Hasegawa K, Kokudo N et al (2009) Risk factors and management of ascites after liver resection to treat hepatocellular carcinoma. Arch Surg 144:46–51

8.

Lim C, Ishizawa T, Miyata A et al (2016) Surgical indications and procedures for resection of hepatic malignancies confined to segment VII. Ann Surg 263:529–537

9.

Ishizawa T, Kokudo N, Makuuchi M (2008) Right hepatectomy for hepatocellular carcinoma. Is the anterior approach superior to the conventional approach? Ann Surg 247:390–400

10.

Ishizawa T, Gumbs AA, Kokudo N et al (2012) Laparoscopic segmentectomy of the liver: from segment I to VIII. Ann Surg 256:959–964

11.

Oba A, Ishizawa T, Mise Y et al (2019) Possible underestimation of blood loss during laparoscopic hepatectomy. BJS Open 3:336–343

12.

Fukuhara S, Bito S, Green J et al (1998) Translation, adaptation, and validation of the SF-36 Health Survey for use in Japan. J Clin Epidemiol 51:1037–1044

13.

Fukuhara S, Ware JE, Kosinski M et al (1998) Psychometric and clinical tests of validity of the Japanese SF-36 Health Survey. J Clin Epidemiol 51:1045–1053

14.

Torphy RJ, Chapman BC, Friedman C et al (2019) Quality of life following major laparoscopic or open pancreatic resection. Ann Surg Oncol 26:2985–2993

15.

Seiler CM, Deckert A, Diener MK et al (2009) Midline versus transverse incision in major abdominal surgery: a randomized, double-blind equivalence trial (POVATI: ISRCTN60734227). Ann Surg 249:913–920

16.

Proske JM, Zieren J, Müller JM (2005) Transverse versus midline incision for upper abdominal surgery. Surg Today 35:117–121

17.

Jain A, Nemitz P, Sharma R et al (2009) Incidence of abdominal wall numbness post-liver transplantation and its complications. Liver Transpl 15:1488–1492

18.

Imamura H, Soyama A, Takatsuki M et al (2013) Self-assessment of postoperative scars in living liver donors. Clin Transplant 27:E605-610

19.

Soyama A, Takatsuki M, Hidaka M et al (2012) Standardized less invasive living donor hemihepatectomy using the hybrid method through a short upper midline incision. Transplant Proc 44:353–355
Funding
This study was supported by a Joint Research Fund from Nipro Corporation.
Ethics declarations
Conflict of interest
None of the authors have actual or potential conflicts of interest regarding the submission of this article.
Ethics statement
This study was performed in accordance with the guidelines of the Declaration of Helsinki.
Informed consent
Informed consent was obtained from all individual participants included in the study.
Additional information
Publisher's Note
Springer Nature remains neutral with regard to jurisdictional claims in published maps and institutional affiliations.
Supplementary information
About this article
Cite this article
Watanabe, G., Ishizawa, T., Yamamoto, S. et al. Impact of Abdominal Incision Type on Postoperative Pain and Quality of Life Following Hepatectomy. World J Surg (2021). https://doi.org/10.1007/s00268-021-05992-x