Abstract
Background
Treatment of anismus usually starts with biofeedback therapy and injection of botulinum toxin in the puborectalis muscle (PRM). Patients refractory to conservative treatment may require surgery. The present cohort study aimed to assess a combined technique of partial division of PRM and tailored lateral internal sphincterotomy (LIS) in treatment of anismus.
Methods
Patients with anismus who failed conservative treatments were assessed clinically and with high-resolution anal manometry (HRAM), EMG, defecography, and underwent combined partial division of PRM on one side and tailored LIS on the contralateral side. Main outcome measures were improvement in symptoms and quality of life, changes in HRAM and defecography postoperatively, complications, and patient satisfaction.
Results
A total of 73 patients (61 male) of a mean age of 37 years were included to the study. In total, 89% of patients showed a significant improvement in symptoms at 12 months postoperatively. The mean modified Altomare score decreased significantly (p < 0.0001) from 16.4 ± 1.7 to 6.6 ± 1 at 12 months postoperatively. There was a significant increase in the mental and physical components of quality of life at 12 months postoperatively. The numbers of patients with positive findings of anismus in postoperative defecography, EMG, and balloon expulsion test were significantly less than before surgery. The mean total satisfaction score was 86.5 ± 8.7. Five (6.5%) patients developed minor complications.
Conclusion
Partial division of puborectalis muscle combined with LIS is an effective technique in the management of anal hypertonia-associated anismus with satisfactory results and low incidence of complications
Access options
Buy single article
Instant access to the full article PDF.
US$ 39.95
Tax calculation will be finalised during checkout.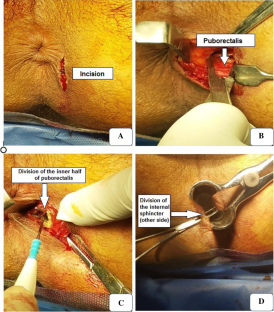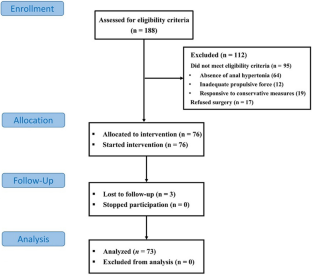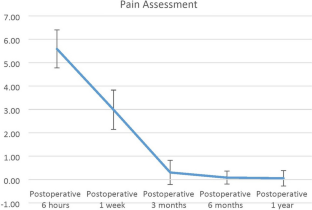 References
1.

Simón MA, Bueno AM, Otero P, Vázquez FL, Blanco V (2019) A randomized controlled trial on the effects of electromyographic biofeedback on quality of life and bowel symptoms in elderly women with dyssynergic defecation. Int J Environ Res Publ Health 16(18):3247

2.

Emile SH, Elfeki HA, Elbanna HG, Youssef M, Thabet W, Abd El-Hamed TM et al (2016) Efficacy and safety of botulinum toxin in treatment of anismus: a systematic review. World J Gastrointest Pharmacol Ther 7(3):453–462

3.

Patcharatrakul T, Valestin J, Schmeltz A, Schulze K, Rao SS (2018) factors associated with response to biofeedback therapy for dyssynergic defecation. Clin Gastroenterol Hepatol 16(5):715–721

4.

Rao SS, Leelasinjaroen P, Amieva-Balmori M, Sharma A, Patcharatrakul T, DeWitt A (2016) 771 Characterization of dyssynergia phenotypes with high resolution anorectal manometry (HRAM). Gastroenterol 150(4):S158–S159

5.

Kim JH (2010) How to interpret conventional anorectal manometry. J Neurogastroenterol Motil 16(4):437–439

6.

Rao SS, Patcharatrakul T (2016) Diagnosis and treatment of dyssynergic defecation. J Neurogastroenterol Motil 22(3):423–435

7.

Wasserman IF (1964) Puborectalis syndrome (rectal stenosis due to anorectal spasm). Dis Colon Rectum 7(2):87–98

8.

Wallace CW, Madden WM (1969) Experience with partial resection of the puborectalis muscle. Dis Colon Rectum 12(3):196–200

9.

Barnes PRH, Hawley PR, Preston DM, Lennard-Jones JE (1985) Experience of posterior division of the puborectalis muscle in the management of chronic constipation. Br J Surg 72(6):475–477

10.

Kamm MA, Hawley PR, Lennard-Jones JE (1988) Lateral division of the puborectalis muscle in the management of severe constipation. Br J Surg 75(7):661–663

11.

Park UC, Choi SK, Piccirillo MF, Verzaro R, Wexner SD (1996) Patterns of anismus and the relation to biofeedback therapy. Dis Colon Rectum 39(7):768–773

12.

Farid M, El Nakeeb A, Youssef M, Omar W, Fouda E, Youssef T et al (2009) Idiopathic hypertensive anal canal: a place of internal sphincterotomy. J Gastrointest Surg 13(9):1607–1613

13.

von Elm E, Altman DG, Egger M, Pocock SJ, Gøtzsche PC, Vandenbroucke JP (2007) STROBE initiative the strengthening the reporting of observational studies in epidemiology (strobe) statement: guidelines for reporting observational studies. Ann Intern Med 147(8):573–577. https://doi.org/10.7326/0003-4819-147-8-200710160-00010

14.

Simren M, Palsson OS, Whitehead WE (2017) Update on Rome IV criteria for colorectal disorders: implications for clinical practice. Curr Gastroenterol Rep 19(4):15

15.

Sharma S, Agarwal BB (2012) Scoring systems in evaluation of constipation and obstructed defecation syndrome (ODS). JIMSA January–March 25(1):57–60

16.

Ware J Jr, Kosinski M, Keller SD (1996) A 12-Item short-form health survey: construction of scales and preliminary tests of reliability and validity. Med Care 34(3):220–233

17.

Asciore L, Pescatori LC, Pescatori M (2015) Semi-closed bilateral partial miotomy of the puborectalis for anismus: a pilot study. Int J Colorectal Dis 30(12):1729–1734

18.

Jorge MJN, Wexner SD (1993) Etiology and management of fecal incontinence. Dis Colon Rectum 36(1):77–97

19.

Dindo D, Demartines N, Clavien PA (2004) Classification of surgical complications: a new proposal with evaluation in a cohort of 6336 patients and results of a survey. Ann Surg 240:205–213

20.

Haff RE, Stoltzfus J, Lucente VR, Murphy M (2011) The surgical satisfaction questionnaire (SSQ-8): a validated tool for assessment of patient satisfaction following surgery to correct prolapse and/or incontinence. J Minim Invasive Gynecol 18(6):S49–S50

21.

Murphy M, Sternschuss G, Haff R, van Raalte H, Saltz S, Lucente V (2008) Quality of life and surgical satisfaction after vaginal reconstructive versus obliterative surgery for the treatment of advanced pelvic organ prolapse. Am J Obstet Gynecol 198(5):573.e1-573.e7

22.

Elsebae MM (2007) A study of fecal incontinence in patients with chronic anal fissure: prospective, randomized, controlled trial of the extent of internal anal sphincter division during lateral sphincterotomy. World J Surg 31(10):2052–2057. https://doi.org/10.1007/s00268-007-9177-1

23.

Rosa G, Lolli P, Piccinelli D et al (2005) Calibrated lateral internal sphincterotomy for chronic anal fissure. Tech Coloproctol. 9(2):127–132. https://doi.org/10.1007/s10151-005-0210-9

24.

Farid M, Youssef T, Mahdy T, Omar W, Moneim HA, El Nakeeb A, Youssef M (2008) Comparative study between botulinum toxin injection and partial division of puborectalis for treating anismus. Int J Colorectal Dis 24(3):327–334

25.

Rao SS, Patcharatrakul T (2016) Diagnosis and treatment of dyssynergic defecation. J Neurogastroenterol Motil 22(3):423–435. https://doi.org/10.5056/jnm16060

26.

Gosselink MJ, Schouten WR (2001) Rectal sensory perception in females with obstructed defecation. Dis Colon Rectum 44(9):1337–1344

27.

Garg P1, Garg M, Menon GR (2013) Long-term continence disturbance after lateral internal sphincterotomy for chronic anal fissure: a systematic review and meta-analysis. Colorectal Dis 15(3):104–117. https://doi.org/10.1111/codi.12108
Ethics declarations
Conflict of interests
None to be disclosed by the authors
Additional information
Publisher's Note
Springer Nature remains neutral with regard to jurisdictional claims in published maps and institutional affiliations.
Appendices
Appendix 1
See Table 5
Appendix 2
See Table 6
Appendix 3
See Table 7
Appendix 4
Surgical satisfaction questionnaire ssq-8. Instructions: following are a list of questions about your satisfaction with your surgery. all information is strictly confidential. Please check the box that best answers the question for you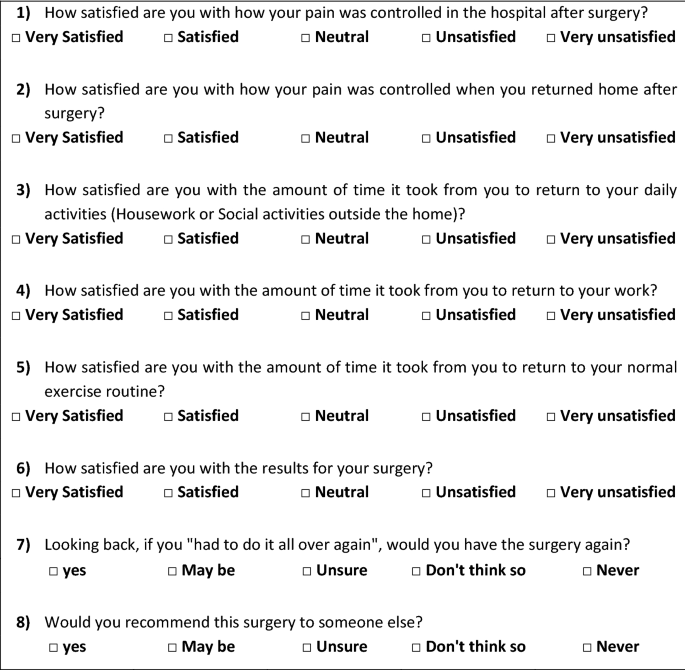 About this article
Cite this article
Abdelnaby, M., Fathy, M., Mikhail, H.M. et al. Partial Division of Puborectalis Muscle with Lateral Internal Sphincterotomy: A Novel Surgical Technique for Management of Anal Hypertonia-Associated Anismus. World J Surg (2021). https://doi.org/10.1007/s00268-020-05919-y